Garden Lifestyle
How to Grow the Flavor of the Year: Cucumber
Cucumbers have been around for more than 3,000 years, and they're finally getting the recognition they deserve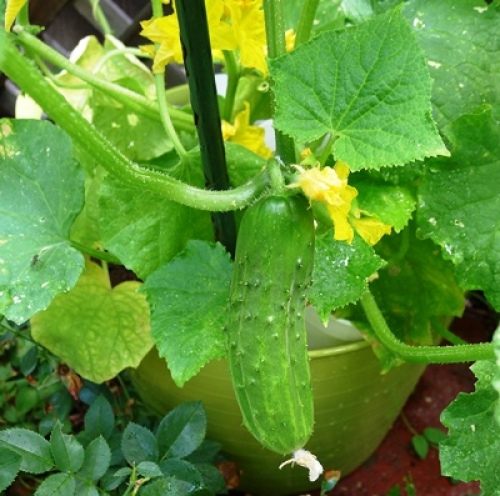 Cucumbers have always been a popular fruit. Their high water content and cooling properties have long been valued for helping with hydration, relieving stomach upset, and taking the sting from insect bites.
Whether made into pickles or used to flavor healthy drinks, cucumbers are now in the spotlight as the 2017 Flavor of the Year. Firmenich, the world's largest privately owned fragrance and flavor company, selected cucumbers for the same reasons vegetable gardeners plant and grow them in their gardens—the light, fresh, and green flavor.
Fortunately, cucumbers are an easy-to-grow garden plant that's as beautiful as it is delicious. Whether you have a large garden space or a small container garden, there's a cucumber for you. Cukes range in size from the familiar hybrid slicers to the short, blocky lime green picklers.
As a vining plant, cucumbers will need a tall trellis, except for bush types that can grow on a shorter trellis in a large container.
The following gardening tips will help you get the most from your cucumber crop:
Select a full sun location where cucumbers haven't grown in the last several years.
Amend the soil to a loamy, slightly sandy soil that's rich in organic matter.
Set up a tall trellis (5 to 6 feet tall) unless you're growing bush-type varieties.
Plant seeds after the danger of frost have passed and when the soil has warmed to 70°F.
Keep soil moist but not soggy, and don't let it dry out.
Water at the soil level, and try to keep leaves from getting wet.
Train vines to grow up the trellis by gently tying or using clips.
Keep seedlings safe with row cover cloth or plant collars.
Fertilize at planting with a balanced fertilizer; mulch after plants grow several inches tall. Fertilize again after plants bloom and every few weeks through the season.
Harvest fruits early and often to keep plants productive. Cut cucumbers from their vines when they're still young and firm.
Make the most of the cucumber flavor by eating the fruits raw in salads, juicing them, stirring them into smoothies, chopping and adding them to plain yogurt, pickling them, and fermenting them. The key is to enjoy all the homegrown cucumber flavor before the summer ends.
View Comments