How-To
How to Grow Radishes
Around the world, people celebrate the flavor and quirky nature of this diverse group of vegetables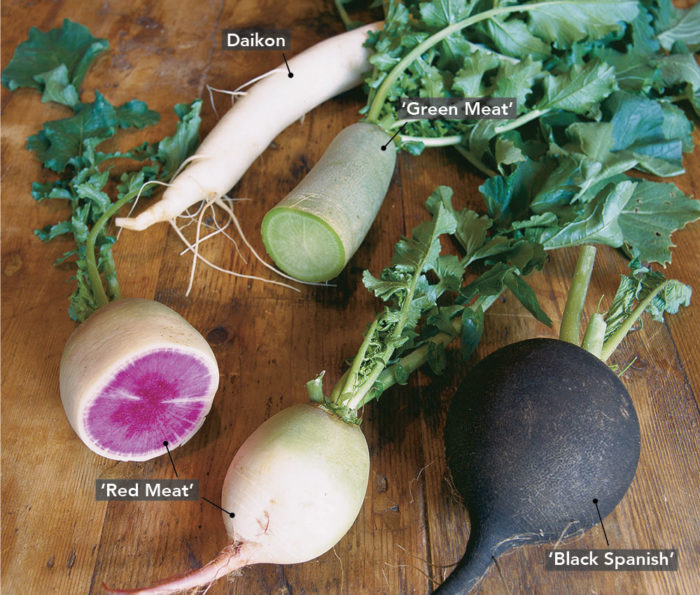 The first time I took radishes seriously was at a dinner party several years ago. I was assisting Scott Peacock, then executive chef at the Georgia Governor's Mansion in Atlanta. The day of the party, he filled me in on the menu; it started with a platter of fresh radishes.
I wondered briefly if this was to be a 1950s theme party. I hadn't seen anyone put radishes out for noshing in a long time, and they certainly didn't fit in with my idea of a state dinner. So I wasn't prepared for the tiny, perfect 'Marabelle' radishes Chef Peacock presented that night, fragrant with spring and sweetly spicy. He served them as a first course with sea salt and homemade butter and bread. They were a sensation, and I was converted.
Radishes' crisp texture and jeweled colors should be enough to get them onto any gardener's and cook's "must have" list. Their lineage gives us more reason. Radishes are members of the mustard family, the famous Cruciferae. This is the group of vegetables under scrutiny for their role in cancer prevention. Like broccoli and cabbage, radishes are rich in phytochemicals that are thought to enhance the immune system and boost production of enzymes that help excrete carcinogens.
The first radishes—large, coarse things—fed the earliest inhabitants of western Asia. Some grew as big as 100 lb. and, like their relatives the cabbages and turnips, were hardy winter keepers. The weedy tops were among the first potherbs. Long before olives, radish seeds were pressed for oil.
Around the world, people have celebrated the flavor and quirky nature of radishes. It is a Chinese New Year's custom to eat julienned radishes with dried apricots. In Oaxaca, Mexico, giant radishes are carved into fanciful animal shapes for a Christmas Eve festival known as Night of the Radishes. And the Brits used to celebrate May 11 with a radish feast.
Radish varieties range from the classic to the zany
Spring radishes are perfect for folks who want a crop in hand by the time the first robin sings. Most are ready in three to four weeks. One thing I especially appreciate about radishes is that they give the garden a mature look when it needs it the most.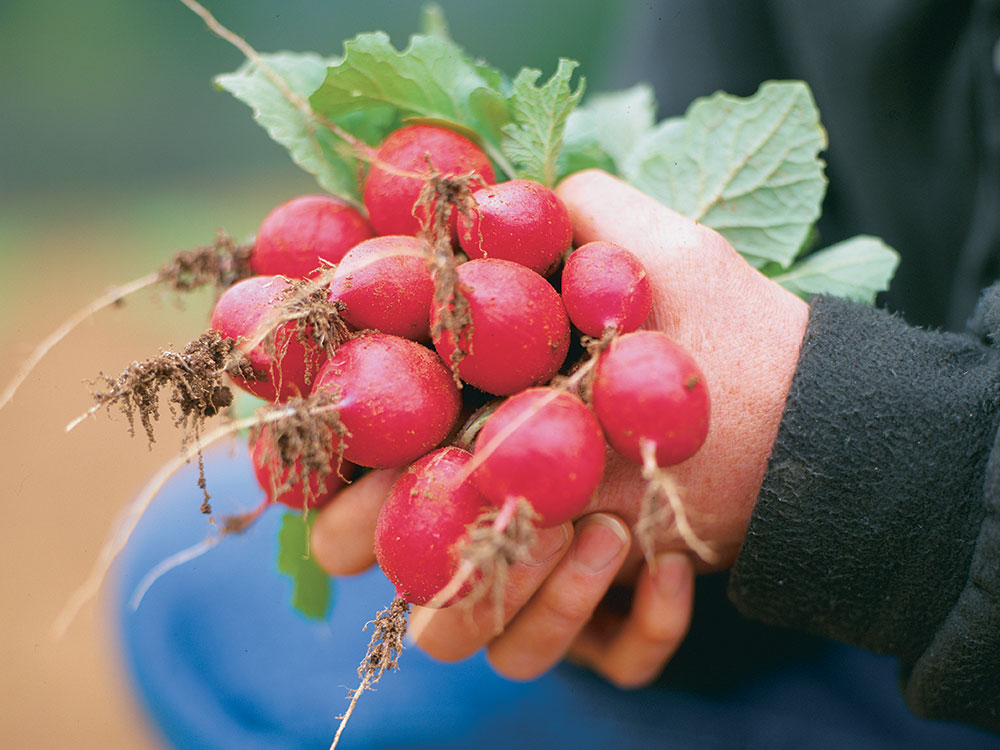 Radish lovers will find many varieties to try. 'Champion' likes cold weather and stays firm at maturity. 'Marabelle' produces beautiful, marble-size roots with small crowns of greens. 'Sora' handles warm weather better than other varieties. Globe shapes also come in white, red dipped in white, and shades of purple and pink. 'Easter Egg' is a mix of red, white, and pastels.
Then there are the cylindrical spring radishes. The extra-mild French Breakfast types grow 3 in. to 4 in. long, red on the top and white on the bottom. 'White Icicle' is an old-fashioned variety whose name is more descriptive of its appearance than of its flavor, which can be nicely pungent.
A radish for every season. Round and fat or long and skinny, there's a spring radish (left) for every taste. Denser, sturdier, and more pungent than spring radishes, winter varieties (right) are best cooked. Counterclockwise from top are daikon, 'Red Meat', cut and whole, Black Spanish, and 'Green Meat'.
Grow any of the spring radishes in spring or fall. Once they're ready, pick and use them within a few days. They taste lightly peppery, and have skins thin enough to peel with your fingernail. Left in the ground, spring radishes grow large and indelicate in looks and flavor, and they'll split. Purple radishes seem particularly prone to cracking, while the sturdy reds hold up longest.
Winter radishes are starchier, larger, and tend to be stronger in flavor. Sow them in late summer for fall and winter harvests. Sown in the spring, they'll bolt without making a radish.
Winter radishes take six to eight weeks to mature. With tougher skins and denser flesh, they keep well for months, and they can be used at any size. Daikon may be the most famous type of winter radish. Some cultivars of this mild, all-white radish can grow to 2 ft. in loose soils. Other winter varieties I've grown include 'Red Meat', a baseball-size cultivar from China with white skin and hot-pink flesh. It cooks quickly and tastes like turnip. Raw, it's pretty hot. 'Green Meat' is a long, green and white cylinder similar to a daikon. Its bright green flesh is pleasantly spicy. Both green and red types hold their color in cooking.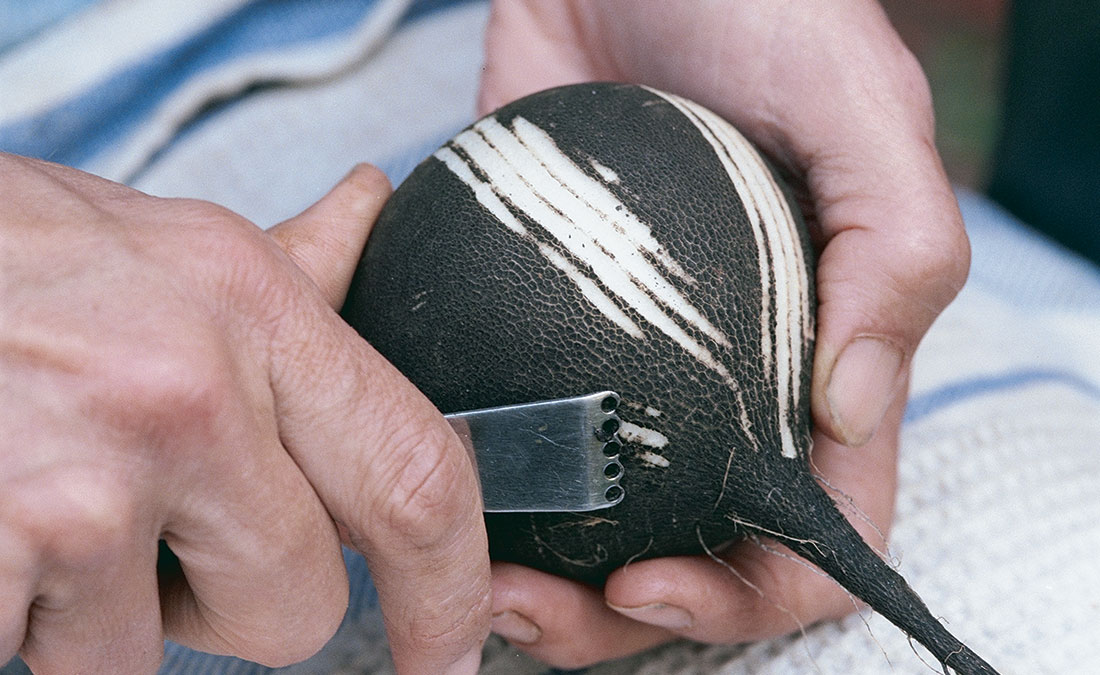 Black Spanish radishes are round, with an ebony peel and peppery white flesh that sweetens in cooking. Its flesh is denser and so takes longer to cook than other winter types. The black peel looks tough, but don't be too zealous in cleaning, or you'll scrub it right off. I like to carve designs in the skin with a zester.
Radishes need plenty of water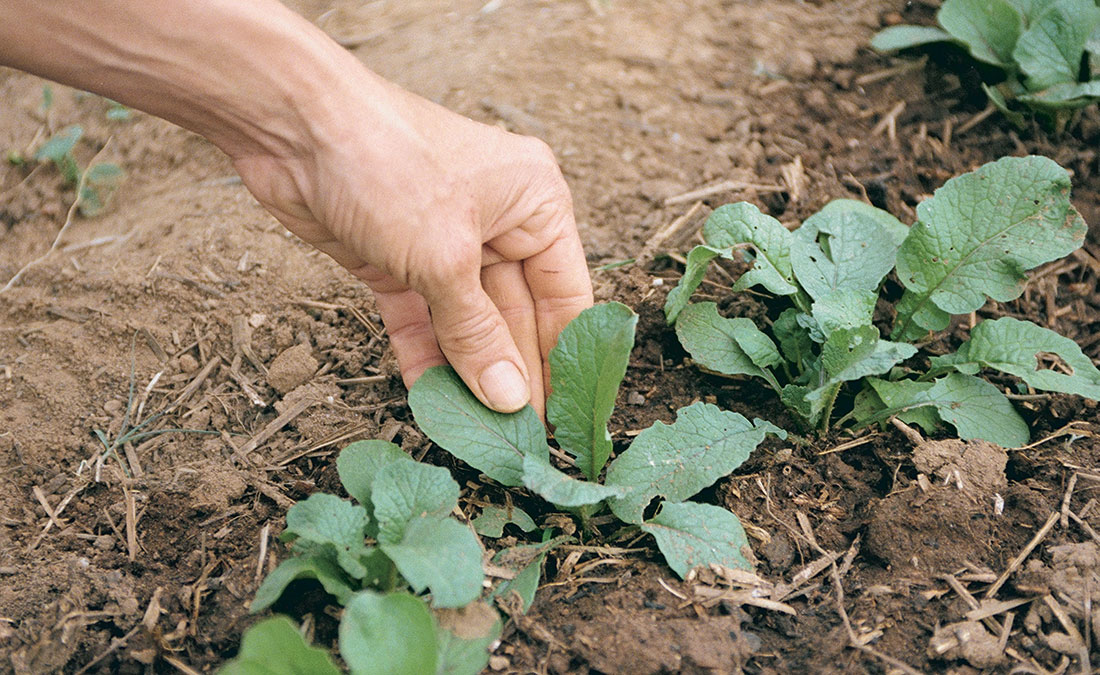 Radishes are best when grown quickly in cool weather with constant moisture. Being root vegetables, they're potassium users. A minimally fertile soil is adequate for most crops. Don't give the plants too much nitrogen, or you'll get more greens than root. A bit of composted manure will do for nitrogen, and some wood ashes or greensand in the fall will provide plenty of potassium.
More important is having a light, airy soil. Clay soil encourages hotter, muddy-tasting radishes. Daikons, especially, when grown in heavy soil, turn twisted and taste of dirt rather than of sweet water.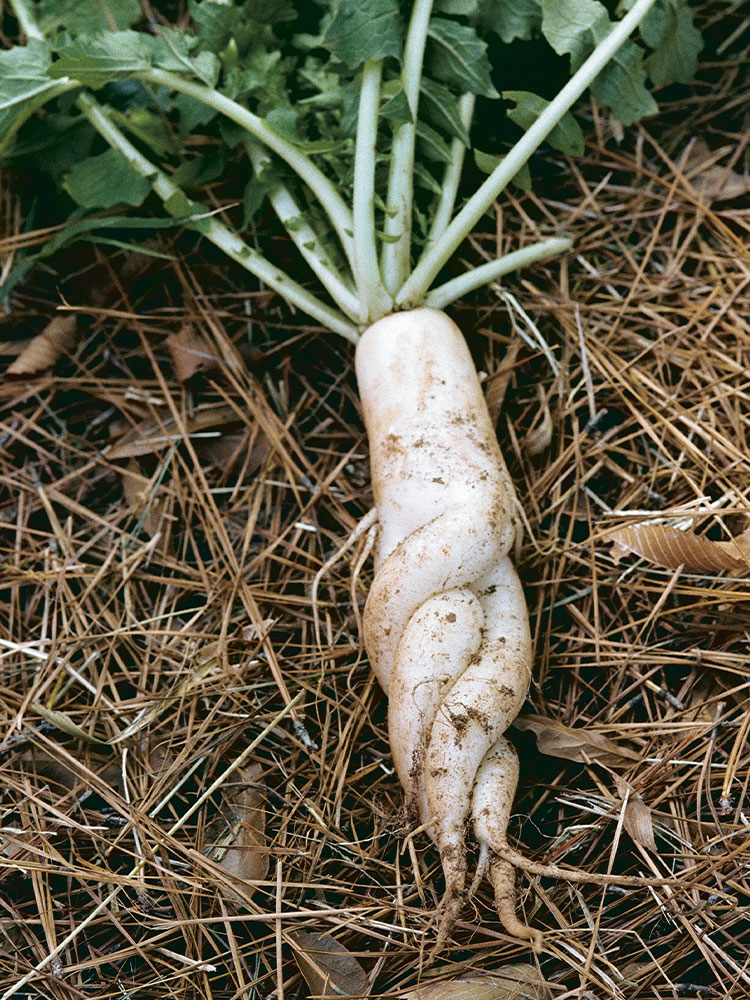 You can plant radishes with other leaf crops, but they shouldn't follow cabbages, since the two are susceptible to the same maladies. I sow radishes in the same part of my garden as my other root crops, since they all have the same nutritional needs.
Cool, quick, and moist is the way to grow radishes

Plant seed in cold soil, as soon as it can be worked.
Thin seedlings to 1½ in. apart.
Keep soil evenly moist.
To prevent flea beetles, cover beds with floating row cover right after planting.
Hollow radishes indicate irregular watering or too-hot weather. Oddly shaped radishes are due to stress from lack of water or heavy soil.
---
This article first appeared in Kitchen Gardener #8.
View Comments