Mountain West Regional Reports
Growing Chilis and Hot Peppers in the Mountain West
Your guide to cultivating, harvesting, using, and preserving these versatile veggies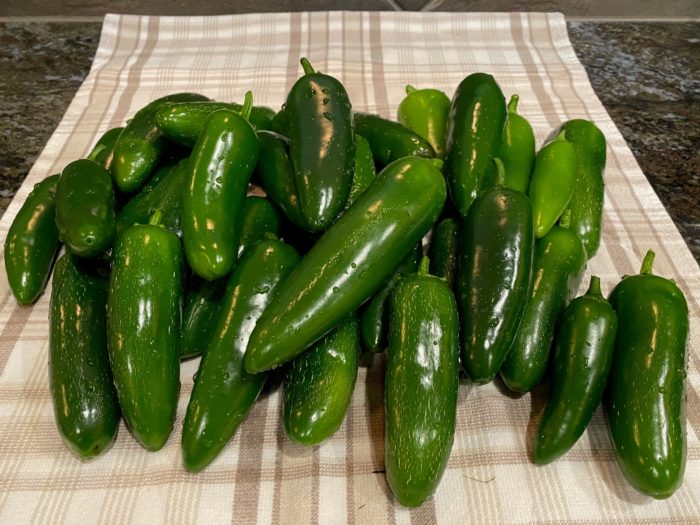 The Mountain West is known for hot pepper selection, with New Mexico as the home of the Hatch green chili and Colorado as the home of the Pueblo chili, so my husband decided to try growing our own chili and hot pepper crops. After several years of increasing success, this year we grew 10 varieties and 36 plants of our own chilis, jalapeños, and other specialty hot peppers in our backyard garden. Varieties grown this year include 'Big Jim' and 'NuMex Joe E. Parker' chilis; 'Mucho Nacho' and 'Jalafuego' jalapeños; habanero, 'Cayenne', and Serrano hot peppers; and my husband's favorite, Padron peppers. I also managed to sneak in six bell pepper plants and two 'Shishito' peppers—but I was hard-pressed to find space!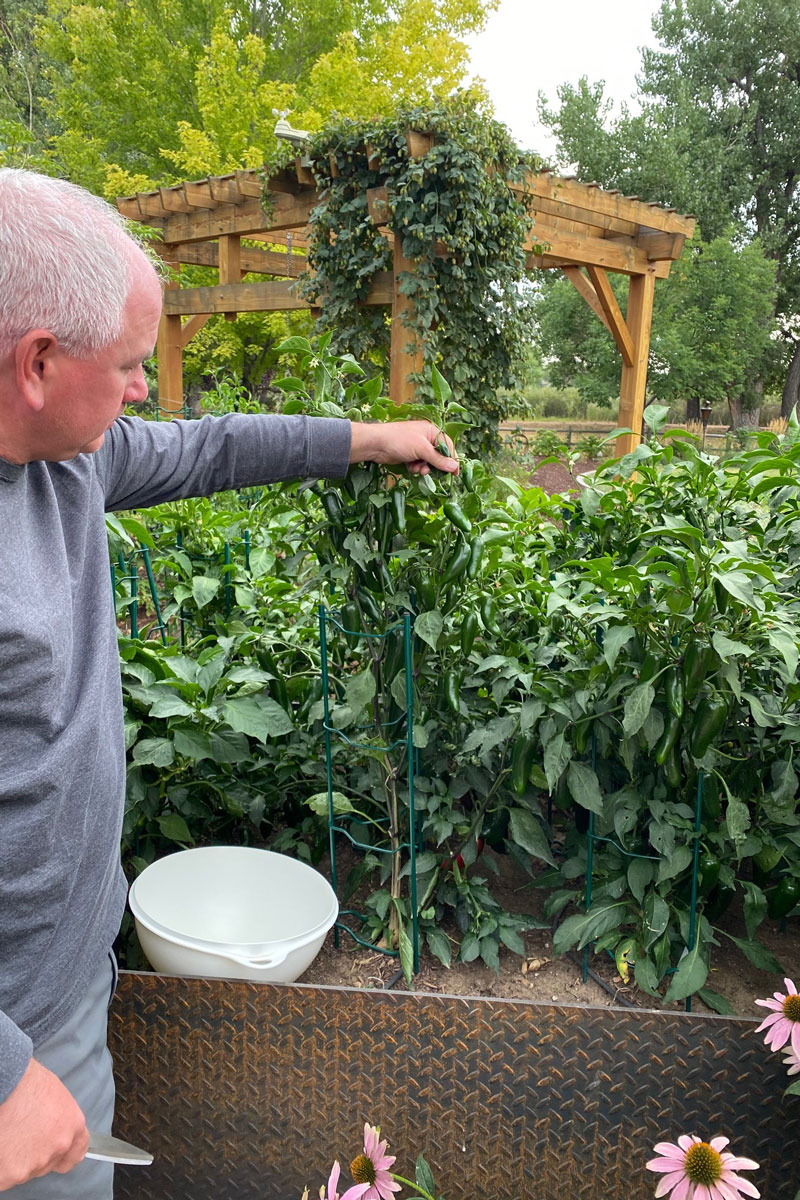 Growing tips
We grow peppers in raised vegetable beds. They get full sun and are on drip irrigation, which runs for one hour every other day. We fertilize every three weeks with an organic fertilizer through foliar feeding and soaking the bed with the mixture in a watering can. I started using a grow-type fertilizer with more nitrogen to establish the plants and switched to a bloom-type fertilizer in mid-June to promote flowering and fruit production.
Several years ago, we invested in several pepper and eggplant stakes, which keep the peppers supported during heavy winds and thunderstorms. I've had much less breakage since using these stakes. They also store easily in the winter. These stakes are placed when planting and help hold the irrigation lines in the beds.
Then we watch and wait. The peppers really liked this year's hot, dry weather, although we did provide supplemental water by hand three or four times. This year, we have not had meaningful rainfall at our home since early June (in August we saw 0.14 inches of rain total). When we aren't happy with the flower production, we use a fertilizer with more potassium and phosphorous.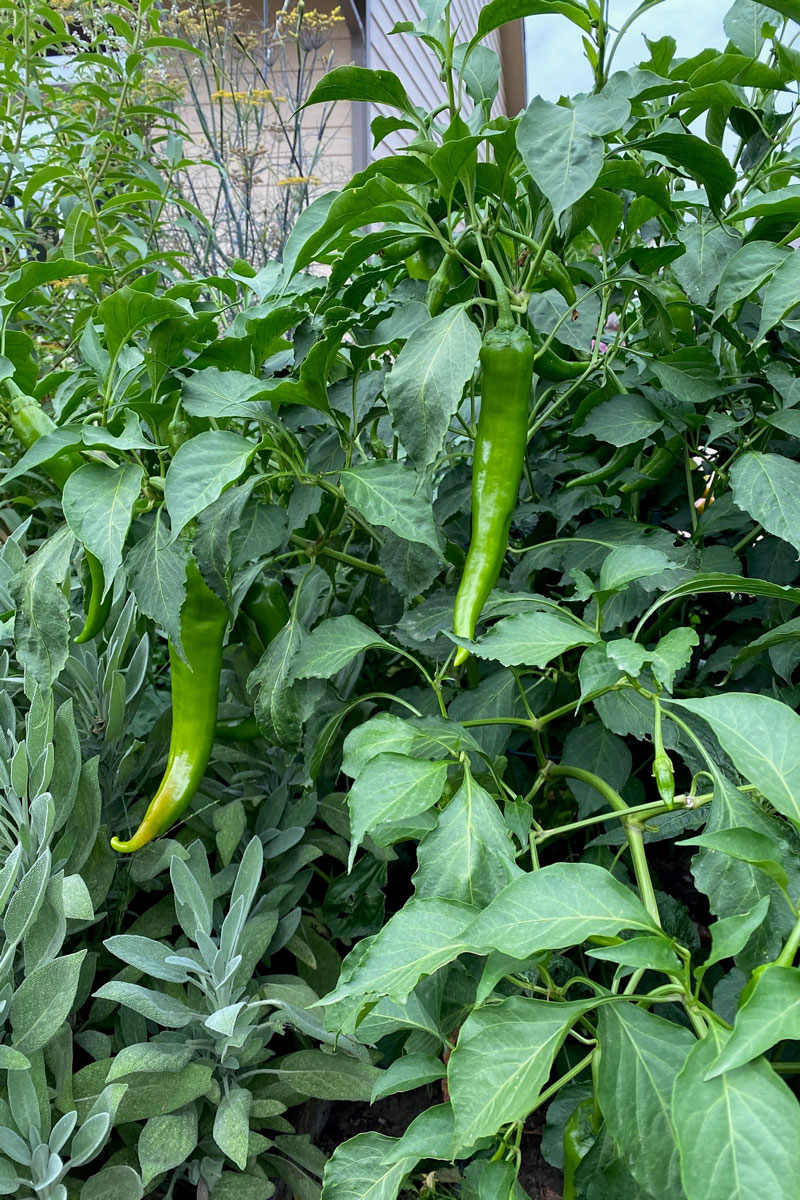 Harvesting
First of all, remember that the more you harvest, the more peppers you will get. These plants are prolific producers, so stay on top of the harvesting.
The 'Shishito' peppers are always the first that are ready to be picked in July (similar to cherry tomatoes). We toss them in olive oil and salt and blister them on the grill for a perfect appetizer. Next come the jalapeños. I picked a few early ones to add to salsa and other dishes.
Then mid-August arrives with its onslaught of peppers. As you might imagine, we get bushels of peppers from our garden. You may be wondering what can possibly be done with that many peppers. We have a few strategies.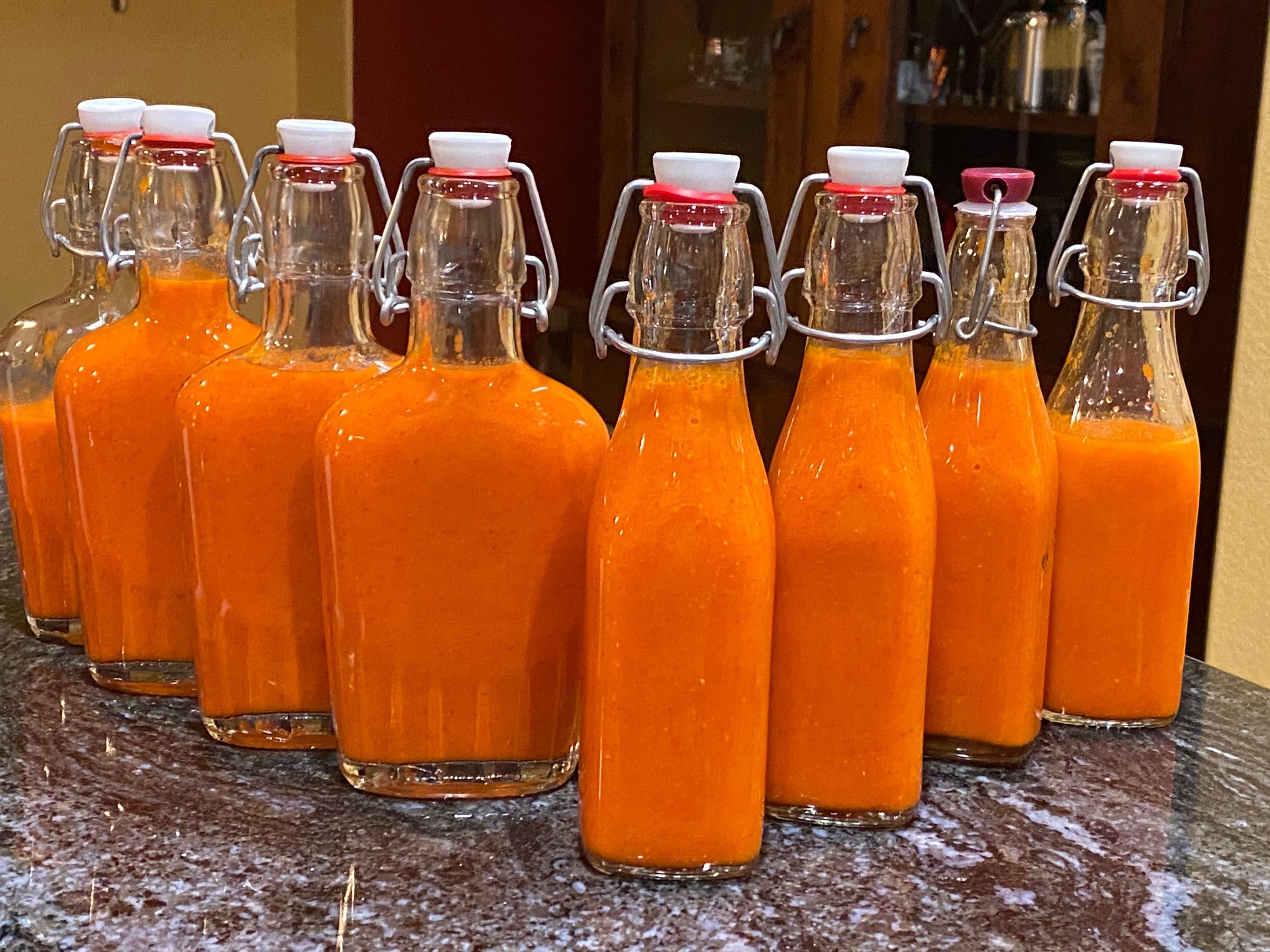 Using and preserving
Green chilis: We harvest our 'NuMex Joe E. Parker' peppers regularly, roast them on the grill, and peel and seed them. We use some immediately by stuffing them or chopping them for recipes. Others we vacuum-seal and freeze for use throughout the winter.
Jalapeños: We have three primary uses for these peppers. First, we use some of them fresh as long as possible in salsas and other dishes. Some we pickle and can for use throughout the winter. And lastly, my husband uses them to make hot sauce.
Specialty hot peppers: We use these peppers primarily to make hot sauce. Over the years my husband has become renowned for his hot sauce, sharing it with friends and family. He chops up the peppers (keeping them in batches of the same variety) along with onions, and briefly sautés them with garlic and salt in oil. Then he adds water to cook them down. He purees the mixture with vinegar in a blender or food processor, strains it, bottles it, and refrigerates it for use throughout the winter or to share as gifts. If you try this, you may want to cook outside on a burner, because cooking this many peppers indoors can be irritating.
For more ideas on preserving peppers, read on here and here. If you love hot peppers, I encourage you to try them in your garden next year. They are not too difficult to grow, and the fruits of your labor can last throughout the year.
—Michelle Provaznik is executive director of the Gardens on Spring Creek in Fort Collins, Colorado.
View Comments