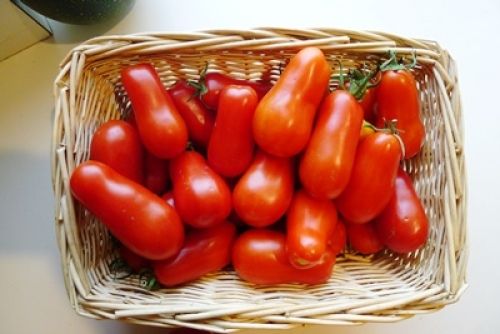 The vegetables in my garden have ripened in fits and starts this season. Unpredictable weather is to blame. Those unseasonably cool, wet days keep fruits from ripening and then record-breaking heat gets them going again.
Instead of bemoaning the fact that I don't have a large amount of ripe tomatoes to can all at once, I've celebrated by making the most of small-batch preserving.
Smaller batches means there's time to do the preserving and time to enjoy the fall days.
I've always been interested in taking short cuts, like pickling beans, saving herbs in butter, and preserving peppers simply and quickly.
These ideas for preserving small batches of tomatoes, chile peppers and zucchini, are another way to make the most of the harvest:
Tomatoes
Select ripe, unblemished tomatoes for freezing.
Wash tomatoes; lightly cut an X in the bottom end of the tomato.
Place tomatoes in a pot of boiling water for about 3 minutes or until the skin begins to loosen.
Remove tomatoes from boiling water with a slotted spoon and place them in a bowl of ice water.
When tomatoes have cooled, remove from the ice water; core the tomatoes and peel.
Place whole tomatoes in a plastic freezer pint or quart-size bag; remove air.
Label bag and place in freezer.
 Peppers
Select ripe, unblemished chile peppers (such as Anaheim, Poblano, Jalapeno, etc.).
Wash and dry peppers.
Place peppers on hot grill or on a baking sheet under the broiler in the oven.
Roast peppers for about 5 minutes on each side or until the skin starts to blacken.
Remove peppers from grill/oven; cover the peppers with a lid or place them in a bowl and cover to allow the peppers to steam and then cool.
Wearing plastic or kitchen gloves, carefully peel the skin from the peppers, cut off the stem, slice on one side and remove seeds.
Place peppers in a plastic freezer bag, remove air and seal.
Label bag and place flat in freezer.
  Zucchini
Select small-size, unblemished zucchini (or other summer squash).
Wash and remove the stem end.
Shred squash using a food processor or hand grater.
Place 2 cups of shredded squash in a plastic freezer bag.
Remove air; and seal.
Label and place flat in the freezer.
Use the frozen tomatoes and peppers to create warming soups, stews and sauces. The shredded zucchini makes delicious, moist breads and snack cakes.
Do you have other ideas for small-batch preserving? Please share them here!