Kitchen Gardening
Grow Some Interesting Heirloom Onion Varieties
All of the varieties presented here are both beautiful and flavorful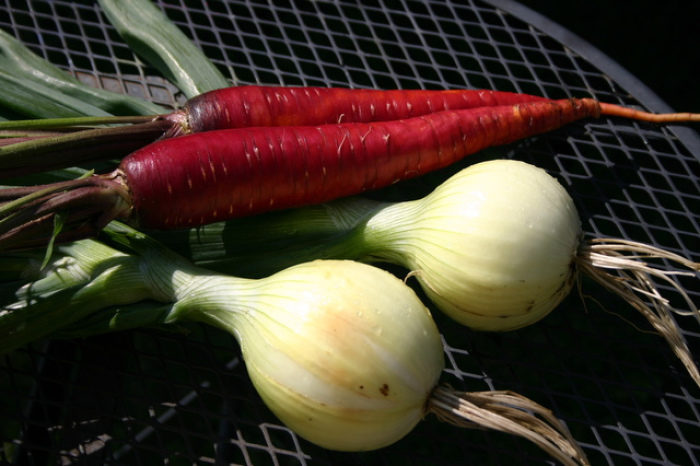 In my opinion, there are very few dishes that can't benefit from a handful of onions, so they're a "must have" in my fall/winter garden. Grocery stores do an injustice to onions by only introducing us to a few everyday varieties, when in truth (like all vegetables) there is so much more for our taste buds to discover. So I thought I'd share a short list of heirloom onion varieties that you may not have had the pleasure of meeting. All of them are both beautiful and flavorful.
If you've never planted onions before, it might seem seem as if they're tricky to grow. But they're actually one of the easiest vegetables if you offer them good soil and, most importantly, know whether you should be planting "long-day" or "short-day" onion varieties.
Long-day (LD) and short-day (SD) simply refers to when that particular variety begins to form bulbs. Onions that form them when the day length is longer than 15 or 16 hours are called long-day; onions that form bulbs when day lengths are longer than 11 or 12 hours are called short-day.
In general, long day onions work best for northern gardens, while southern gardeners will want to choose short day varieties. Then there are "intermediate-day" onions, which don't have a strong preference one way or the other. Intermediate-day onions begin forming bulbs when day lengths are between 12 and 14 hours. These types are sort of a free for all and can be planted almost everywhere (with the exception of the super-southern areas of Florida and Texas). If you're still unsure which is best for your zone, contact a local nursery or your master gardener desk at the Cooperative Extension Office.
Onion's desires are simple: loamy, friable, organic-filled, and well-draining soil. So don't skimp with the organic matter and compost. Most gardeners that start onions from seed will start them indoors 6 to 8 weeks before planting them outdoors. Others take the simple route and purchase seedlings that can be planted directly into the garden bed.
Grocery stores do an injustice to onions—and us—by only introducing us to a few everyday varieties, when in truth (like all vegetables) there is so much more for our taste buds to discover.
Ailsa Craig—This long-day variety was introduced in 1887 and has a large, globe shape with a solid 2 pound bulb.
Bianca di Maggio—This long-day, Italian heirloom produces a small, white onion with a flat shape.
Bronze D'Amposta—This is a good-size, intermediate-day onion that has a lovely red-bronze color.
Flat of Italy—Old Italian intermediate-day onion that dates back to 1885. It's a beautiful, bright red, flat onion.
Jaune Paille Des Vertus—This long-day was introduced around 1793. It's a flat, brown-yellow onion that can't be beat for its storing ability.
Long Red Florence (Red of Florence)—Long-day Italian heirloom with bright, bottle-shaped red bulbs.
Red Wethersfield—This large, long-day variety was said to be grown by Thomas Jefferson at Monticello.

Rossa di Milano—An intermediate to long-day type with gorgeous, glossy red skin and a high sugar content.
Stuttgarter—Long-day yellow, medium-large onion that has a wonderful and pungent flavor.

Texas Early Grano—This 1933 Texas heirloom is a short-day variety that's a nice choice for Southern gardeners.
Tropeana Lunga (Torpedo)—Intermediate-day from Tropea, Italy. It's a beautiful red onion that's popular with chefs across the Mediterranean.
Yellow of Parma—This rare, long-day Italian onion has 1-pound, globe-shaped, gold bulbs.
Violet di Galmi—Short-day variety with thick, flat, and pretty purple-pink bulbs.
View Comments