Garden Lifestyle
Green Garlic
Green garlic is a gourmet delight that is best harvested when it is about the size of a pencil or a green onion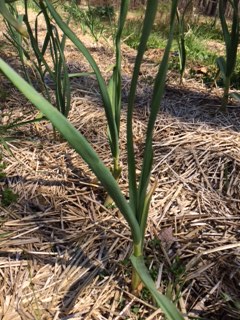 Green garlic is a gourmet delight. You can't really have it unless you grow it—or live near a garlic farmer who thins it in the spring or brings it to the farmers market. These delightful early garlics are delicious and easy to prepare and are well worth growing or seeking out.
One of the benefits of growing garlic is that you can harvest the young tender green garlic before the individual cloves form. It is delicate and fresh in flavor, and resembles a very long scallion, with a white, tender bulb about two inches long, and a medium green-yellow stalk 14 to 18 inches long. Green garlic may be used anywhere garlic is called for, though more of it may be necessary because it is mild.The stalks are a bit fibrous, but when sliced thin they are very good in salads, sauces, soups, scrambled eggs and as a garnish.
Harvest the green garlic when they are about the size of a pencil to a green onion. If it is any bigger than that it gets fibrous and tough. I often plant my garlic a bit close together in order to have enough to thin and eat as green garlic in the spring.
| | | |
| --- | --- | --- |
| Just-harvested green garlic is about the size of a scallion. Photo: Susan Belsinger | To prepare, wash the garlic and peel off the outer covering if need be. Slice off the root end and trim the green stems back. Photo: Susan Belsinger | So simple and so tasty—fresh minced green garlic in olive oil—with a little sea salt and fresh ground pepper. This makes a great dipping sauce for bread, or just about anything. Photo: Susan Belsinger |
Green garlic dipping sauce
The easiest recipe for green garlic is to wash and mince it fine and place it in a shallow dish, cover it with extra-virgin olive oil and season with a little sea salt and freshly ground pepper. I use this to dunk bread in, however I also like to use it with artichokes, asparagus, beets, radishes, or spooned over potatoes in just about any form or brassicas like broccoli or cauliflower. Add a bit of red wine or balsamic vinegar for a vinaigrette.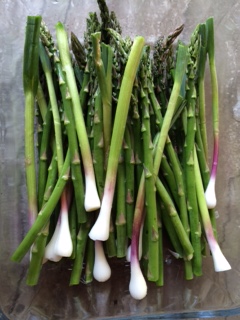 Oven-roasted green garlic and asparagus
One of my most favorite recipes featuring spring produce is to combine the cleaned and trimmed green garlic with fresh asparagus in a baking dish and drizzle with olive oil. Bake in preheated 350-degree oven for about 20 minutes, turning once or twice. The veggies should be sizzling and crisp-tender; cooked through so they are tender though not soft and mushy. Cook a few minutes more if need be. Season with sea salt and freshly ground pepper and serve hot. They are also delightful at room temperature, or use them in a potato or pasta salad or omelet.
Here's hoping there is some green garlic in your garden. Enjoy!
View Comments