Garden Lifestyle
Double-Duty Vegetable Gets Deserved Recognition
2018 was the Year of the Beet, an overdue recognition of a plant with both edible roots and leaves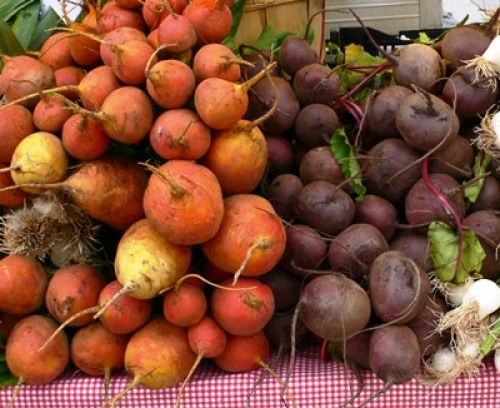 Food historians believe the humble beetroot originated along the Mediterranean coast. For many years, people ate the delicious wild beet leaves and eventually found out the roots are edible too.
Beets are one of those tasty double-duty vegetables because both the plant's roots and leaves are edible. Gardeners often plant an extra row of beets to just enjoy the greens. Beets are high in fiber, vitamins A and C and have more iron than most vegetables, says the National Garden Bureau. The NGB selects vegetables to celebrate every year, and 2018 was the Year of the Beet.
If the word beet conjures thoughts or typical dark red beets, consider planting and growing other kinds, like gold, white and some with red and white interior rings. Beets also have different shaped roots from perfect globes to long cylindrical roots, carrot-shaped roots, and flat roots.
Beets are a terrific cool-season crop because they can take a light frost early in the season. Plant beets from seeds or transplants. Many beets can be ready between 55 to 70 days.
To plant beets, select a spot that gets about 6 hours of sun every day. If you'd like a large crop of beets, plant them in a vegetable bed or raised bed. Beets grow in containers, too, but you'll get a smaller yield.
Make sure the soil is light and loamy, free of rocks, tree roots, and soil clods to encourage beautiful beets. Dig in compost and composted manure to improve soil fertility. Beet seeds need to germinate quickly so help them sprout through soft soil. Plan for drip irrigation or a soaker hose to ensure consistently and even soil moisture.
If you plant beet seeds, remember each "seed" is made up of a cluster of several seeds that may sprout at different times. Beets need to be thinned several times over the season to make sure each root has room to grow.
When plants are about 2 inches tall, use small scissors and thin to about 1½ inch apart. Cut all but the sturdiest seedling in each seed cluster. Don't pull or you could disturb the roots of the other plants. Be sure to rinse and eat the thinnings.
Then, when beets are about 3 to 4 inches tall and the top of the root is about 1 to 2 inches in diameter, dig up every other one. Beets should be spaced about 4 inches apart. These small beets and greens are also good for eating.
Keep soil evenly and consistently moist. As beets continue to grow, keep beet shoulders covered with soil and don't let them dry out.
A side-dressing of a well-balanced fertilizer around four to six weeks after planting can give plants a boost. Sprinkle dry fertilizer on both sides of the rows and away from the root. Rake the fertilizer into the soil and then water.
Beets are deliciously roasted, baked, and even grilled. There are plenty of other uses for beets, including baking them into a chocolate beet cake.
If you have other interesting ways to use beets in the kitchen, please share them with us!
View Comments