Kitchen Gardening
Cut-and-Come-Again Lettuce Sampler
A whole palette of colorful varieties delivers a leafy feast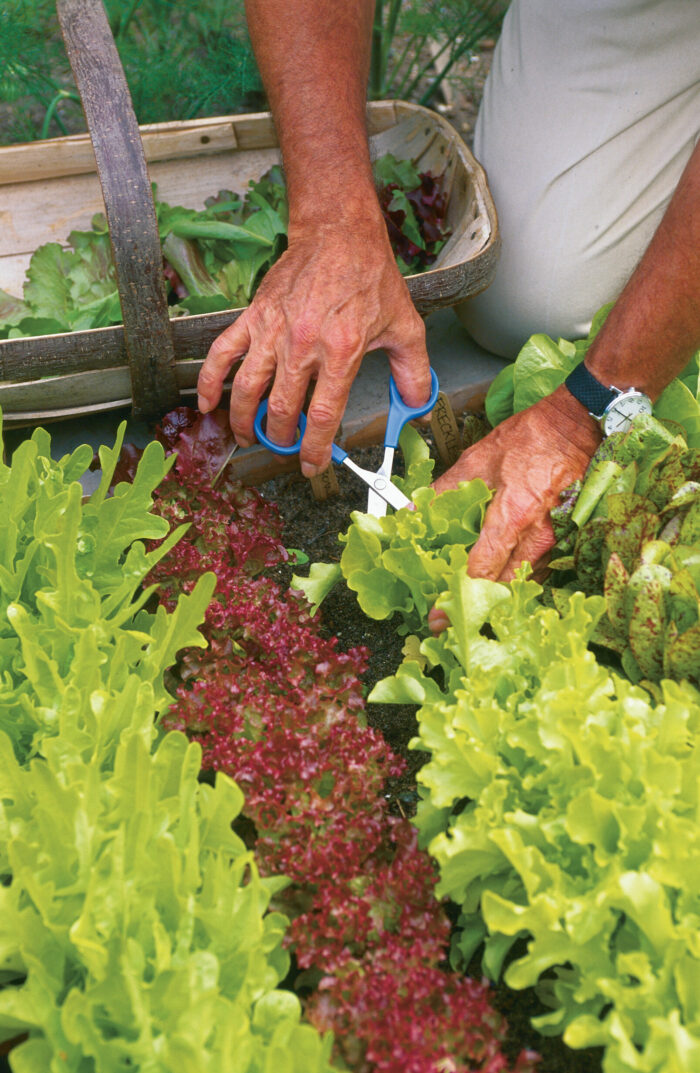 When I had a market garden, I grew 200-foot rows of lettuce. The rows contained my own mixture of lettuce varieties, chosen for taste, color, and leaf shape, and I cut the leaves young for the mesclun mix I sold to local chefs. Twice a week my two young assistants and I knelt in the white clover pathways to shear the baby plants.
Most of the dozen or so lettuce varieties were the type described as cutting lettuces, which obligingly and vigorously sprout a fresh crop of leaves when they are snipped off just a couple of inches above the ground. They are often called cut-and-come-again lettuces.
Cutting lettuces are mostly nonheading leaf varieties from two groups, Grand Rapids and oakleaf. The Grand Rapids group produces broad, crinkled, and frilly leaves, while the oakleaf varieties have flatter and distinctively lobed leaves. Both groups include red and green varieties and several red-green combinations. All make great garden design elements.
Paint the garden with lettuce
Whatever else I grow, I always have plenty of 'Black-Seeded Simpson', an heirloom. I don't bother with little packets; I buy it by the ounce, about 25,000 seeds. Properly stored, lettuce seed stays viable for three years. 'Black-Seeded Simpson' is so reliable I use it as the standard for judging the germination success of other varieties. A fast grower, it produces crinkly, juicy, yellowish-green leaves. Its only shortcoming is a tendency to bolt in summer heat; it does best in spring and fall here on Long Island.
One of the best summer performers I have found is romaine: a French cos, 'Craquerelle du Midi'. When every other lettuce in my garden is getting bitter or defiantly announcing its plans to set seed, this one stays mild and leafy.
The red or green lobed leaves of the oakleaf types are pillars of the looseleaf establishment. There are at least half a dozen varieties of each color commonly found in seed catalogs. 'Oakleaf' is the original old standby that yields crisp, tender, light green leaves and keeps going through moderate heat. Although it has deeply lobed leaves, 'Salad Bowl' is not a true oakleaf. But it is an All-America Selections winner that produces rosettes of delicate lime-green leaves and also has good heat tolerance.
Tops for reliability, even through a hot summer, is 'Red Sails'. Another All-America Selections winner, it's a fast grower with green and reddish-bronze leaves.
A 1998 introduction that did well for me was 'Green Vision', which produces dark-green, glossy, savoyed leaves; it is a slow bolter. 'Lollo Rossa' has light-green leaves with elegant rosy margins, while its cousin, 'Lollo Biondo', is pure pale green. Both 'Lollo' cultivars are deeply curled, heat tolerant, and very decorative both in the garden and in salads.
Stepping beyond the looseleaf varieties, there are some butterheads and romaine I like to grow as cutting lettuces. They will also sprout new leaves, if less energetically than the looseleaf varieties.
Of the butterheads, 'Ermosa' has dark green leaves and stands up to a fair amount of summer heat. In a weak prespring moment, I ordered seed for romaine called 'Freckles' or 'Trout Back', simply because I liked its name. I wish all my weak moments worked out this well. It is a beautiful lettuce—lime green flecked with wine-red markings—and has a fresh, delicate taste.
Better ways to sow small seeds
Because they are harvested while very young, cutting lettuces can be planted in fairly dense bands. Instead of broadcasting seed, it is just as easy to sow rows about 3 inches apart, with ½ inch to 1 inch between plants in the row. I have found that it takes less time to plant seed carefully than to thin seedlings; besides, if not done properly, thinning often disturbs the roots of the seedlings that are left.
There are several ways to sow seed to eliminate thinning. The simplest is to mix the seed with dry builder's sand (not salty beach sand), using about twice as much sand as seed. This makes it easier to dribble seeds at fairly even spacing down a marked row. An inexpensive little gadget that distributes seed much better than a seed packet is the Seed Sower, which has five different-size outlets to control the flow of seeds down a tapered spout.
| | |
| --- | --- |
| The author uses the Seed Sower to deliver a thin, evenly distributed line of lettuce seeds. | Cut carefully while harvesting. Damaging the crown will hinder the plant's ability to resprout. |
For garden rows, my old reliable is an Earthway Seeder, for which I now have a dozen seed plates for different seed types and spacings. It makes a furrow, plants the seed at whatever depth I want, covers it, and firms the ground, all in one pass.
Last season I experimented with the Pinpoint Precision Seeder, which can handle six seed sizes. It's smaller and more maneuverable than the Earthway, and it works well with a finely tilled, debris-free bed; however, it is a bit finicky in less-than-perfect conditions. A larger version sows four rows 2¼ inches apart, perfect for mesclun.
If enough space is available, or just to confuse pests, I sometimes skip the cut-and-come-again routine in favor of harvest, hoe, rake, and reseed. I harvest the young plants, roots and all, stir the soil up with a stirrup hoe, rake the bed flat, and sow fresh seed.
Keep the soil rich
Lettuce likes a fairly rich, sandy loam. I till the beds and let them settle for a week before applying about an inch of well-rotted manure or compost, which I work into the near-surface zone with the stirrup hoe. After harvesting leaves, I revive the plants with a weakfish or seaweed emulsion, or a manure tea. I have a siphon gadget on my drip-irrigation system that allows me to feed emulsion or filtered manure tea down the lines. Most drip systems can be fitted with something similar.
Lettuce will grow, if not thrive, in less than ideal soil, but one thing it must have is water, about an inch per week. Drip irrigation puts water only where a plant needs it. Overhead watering wastes a lot of water, and at the wrong time—such as late in the day or in hot, muggy weather—it encourages fungal diseases.
Slugs love lettuce as much as I do, but luckily they seem to prefer beer. A few saucers of stale beer help them drown their sorrows and themselves. I tried sugar water once, which worked, but my bees liked it even more than the slugs did.
Cutworms can be a hassle, but usually they won't do too much damage to a fairly dense band of plants. Untilled soil can harbor cutworms, so I till my beds in spring while the weather is still cold enough to kill overwintered cutworm pupae and eggs. If cutworms become a real problem, I add parasitic nematodes to the soil about a week before planting.
How to grow lettuce

In the home garden, sowing every week will ensure a constant and generous supply of lettuce. Each sowing yields three or four cuttings before the plants are exhausted. As a rough guide to quantity, sowing about 3 feet of row every week will keep one omnivorous adult well supplied with salad from spring to fall; a vegetarian might consume twice as much.
Lettuces prefer cool temperatures, but by sowing every week, choosing heat-tolerant varieties, and using shade-cloth tunnels, I can produce lettuce right through my Zone 7 summers. It is easy to keep the supply going right into winter by growing winter varieties in cold frames or tunnels of row-cover fabric. The same tunnels can be used, covered instead with 50 percent shade cloth, to protect heat-sensitive lettuce from the summer sun.
And just because it's hot doesn't mean I stop sowing lettuce. When temperatures hit the 80s, lettuce seeds will not germinate, so I start seeds in flats in a cool room indoors and set the plants in the garden when they have two sets of true leaves.
From early spring until the start of winter, I cut lettuces and keep several salad bowls generously supplied. But lettuce is good for more than just salads. Try it in a creamy soup or wrapped around vinegared sushi rice for a tempting appetizer.
---
Sources
Burpee
300 Park Ave.
Warminster, PA 18991
800-888-1447
www.burpee.com
The Cook's Garden
PO Box 535
Londonderry, VT 05148
800-457-9703
Hermosa Valley Garden Seeds
PO Box 1409
Santa Maria, CA 93456
877-834-7333
Johnny's Selected Seeds
955 Benton Avenue
Winslow, ME 04901
877-564-6697
www.johnnysseeds.com
View Comments