Garden Lifestyle
Brussels Sprouts
These veggies are best eaten in late fall or early winter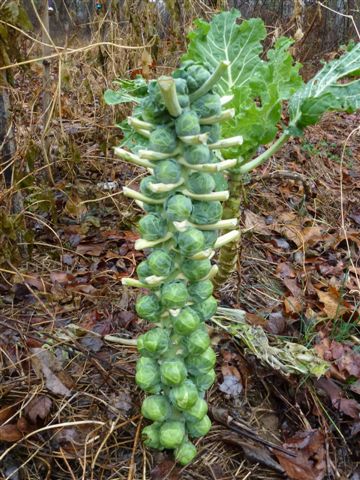 Late fall or early winter is the best season for the brassicas, or members of the Cruciferae family. Although I love eating them in spring, when they are new and tender, this family of vegetables turns sweet and downright appealing once the weather turns cold and we have a frost or two. So growing your own in a cool-weather climate produces a sweeter and better-tasting vegetable than importing them from a warm climate that doesn't get a frost.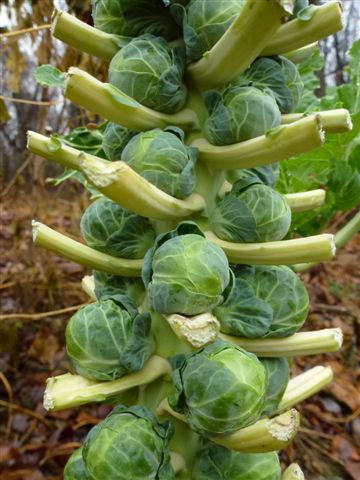 Brussels sprouts (Brassica oleracea gemmifera) are probably one of the strangest-looking of all vegetables, vying with the Sputnik-looking kohlrabi for most-peculiar vegetable. If you have never grown these slow-growing biennial plants, you might have seen them in the farmers market or upscale groceries sold on a single large stalk covered with tiny baby cabbages, which are actually auxiliary buds. Cabbage-like leaves grow out of the top of the stalk, and there can be anywhere from more than 20 and up to 50 sprouts per plant. The sprouts (or buds) mature on the stalk, which might be 2 to 3 feet tall, from the bottom upwards and are about 1 to 2 inches in size.
They are purported to have originated from a wild cabbage near Brussels, Belgium. Plants need a rich, sandy loam, good drainage, lots of sun, plenty of moisture, and about 100 to 110 days to mature. They should be mulched and fertilized, and the lower leaves should be snapped off so the sprouts can form.
Prepping in the kitchen

Harvest the sprouts when they are firm; don't let them get too big and tough or start to yellow. In a vented bag, they will keep in the fridge for a few weeks. To prepare for recipes, I slice off the base and remove any dirt, spotted, or yellowed outer leaves. If I am using them whole, I cut an X in the base so that the core cooks evenly with the leaves. I often halve them for cooking and sometimes even shred them to make a sprout slaw.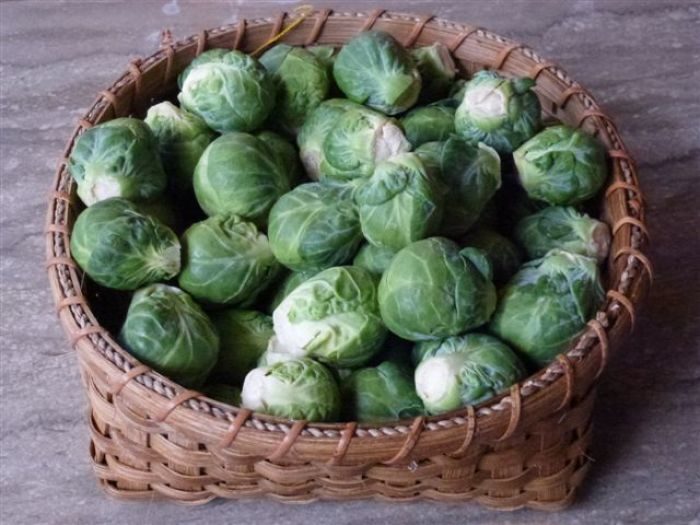 Brussels sprouts pack a nutritional punch
Since they are a member of the cabbage family, they have similar nutritional value, containing vitamins A, B1, B2, C, K, calcium, potassium, and some iron and protein. According to Pat Crocker in her book The Vegetarian Cook's Bible, cruciferous vegetables are immune building, antibacterial, and antioxidant, and they appear to lower our risk of cancer more effectively than any other vegetables or fruits—all the more reason to grow and eat these miniature cabbages.
Cook brussels sprouts so they taste good
Be careful not to overcook brussels sprouts; steam, blanch, braise, stir fry, or sauté them until they are tender and still bright green. Once overcooked, they turn army green and are mushy in the mouth. They are traditionally cooked with a white sauce or a mustard sauce; however, I eat them plain, with a little butter or olive oil, parmesan, and a dash of nutmeg. They are wonderful when combined with nuts, especially chestnuts. I like them with a touch of bitterness from mustard or horseradish—or the zing of balsamic vinegar for tartness. Garlic, ginger, or even curry are spices that work well with brussels sprouts.  Recently I tried a delicious dish featuring them, which inspired me to create brussels sprouts seasoned with pantry condiments, which might even convert the skeptic. Enjoy!
The following article includes an even simpler (but still delicious) recipe: Tasting Brussels Sprouts in a New Way
View Comments