Design
Tough Tropicals Make Great Thrillers in Fall Containers—Planting Plans
The fiery oranges and flame reds of certain tropicals can be just the thing to celebrate autumn colors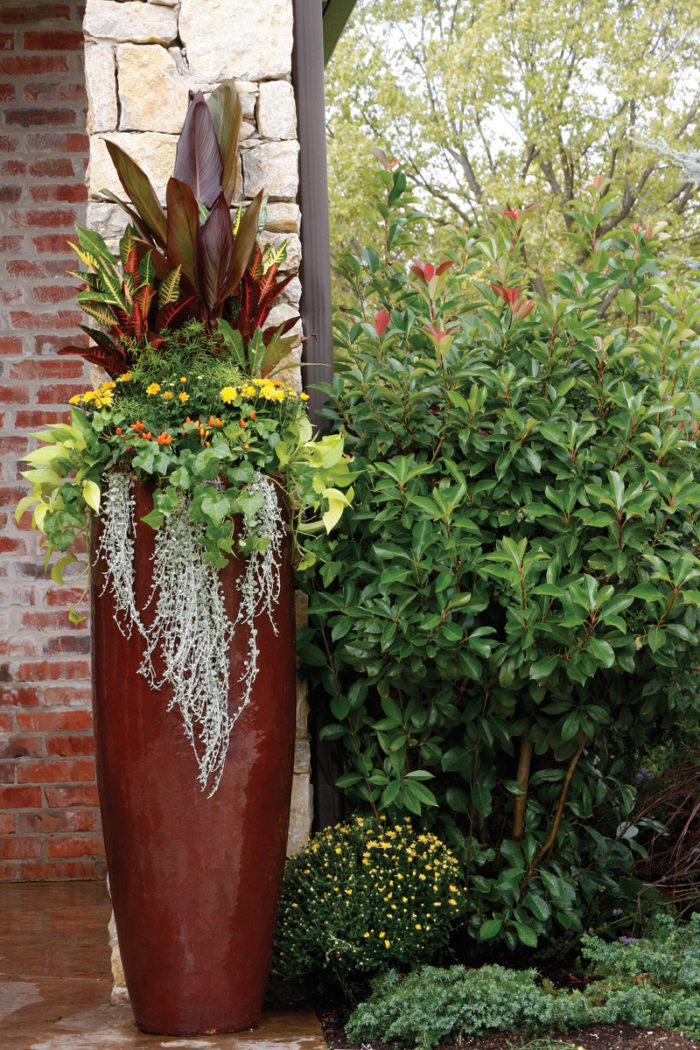 While including tropicals in a fall container planting may seem unusual, the fiery oranges and flame reds of plants such as canna can be just the thing to celebrate autumn colors, especially if you live in a climate where the cold sets in a bit later. Succulent plants, too, offer a range of festive colors that are perfect for fall combinations. For instance, the pairing of the echeveria (Echeveria cv., Zones 9–11) and the black mondo grass (Ophiopogon planiscapus 'Nigrescens', Zones 6–11) below would be a wonderful addition to the front stoop for a festive Halloween display, especially when joined with alien-esque additions such as paddle plant (Kalanchoe thyrsiflora, Zone 11) or blue chalk sticks (Senecio mandraliscae, Zones 10–11).
Put foliage first (photo above)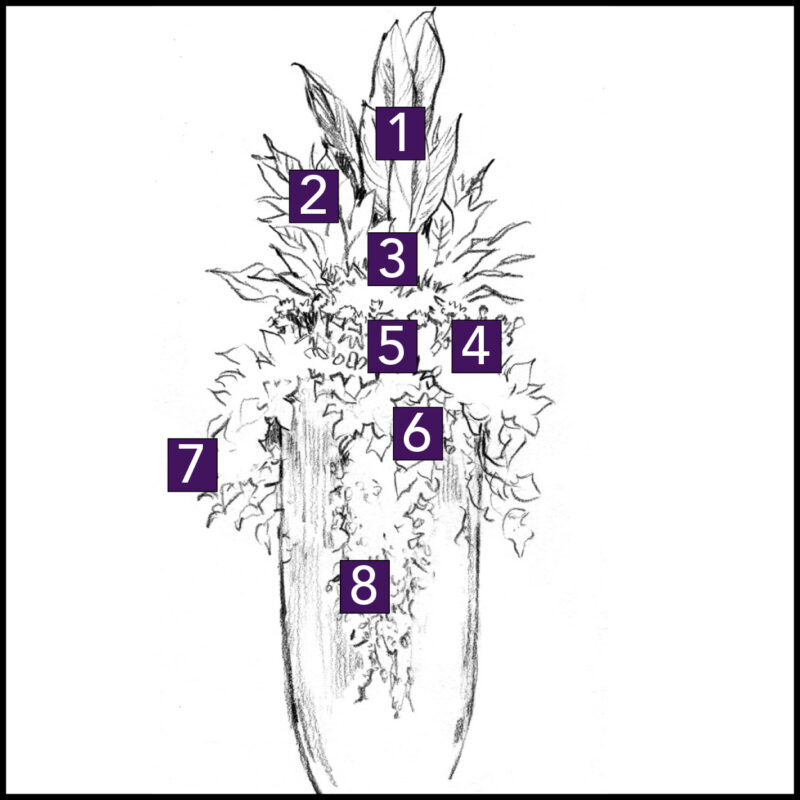 Mums take a back seat in this combination, which highlights leaf shapes and colors more than blooms. From finely textured to bold and bright, upright leaves and a medley of spillers give the planter moxie, while the yellow mums supply just the right punch.
1. 'Australia' canna (Canna 'Australia', Zones 8–11)
2. 'Fantasy' croton (Codiaeum variegatum 'Fantasy', Zone 11)
3. Foxtail fern (Asparagus densiflorus 'Myersii', Zones 9–11)
4. Chrysanthemum (Chrysanthemum cv., annual)
5. 'Salsa Orange' ornamental pepper (Capsicum annuum 'Salsa Orange', annual)
6. English ivy (Hedera helix cv., Zones 5–11)
7. 'Neon' pothos (Epipremnum aureum 'Neon', Zone 13)
8. 'Silver Falls' dichondra (Dichondra argentea 'Silver Falls', Zones 10–11)
Add a light touch to heavy plants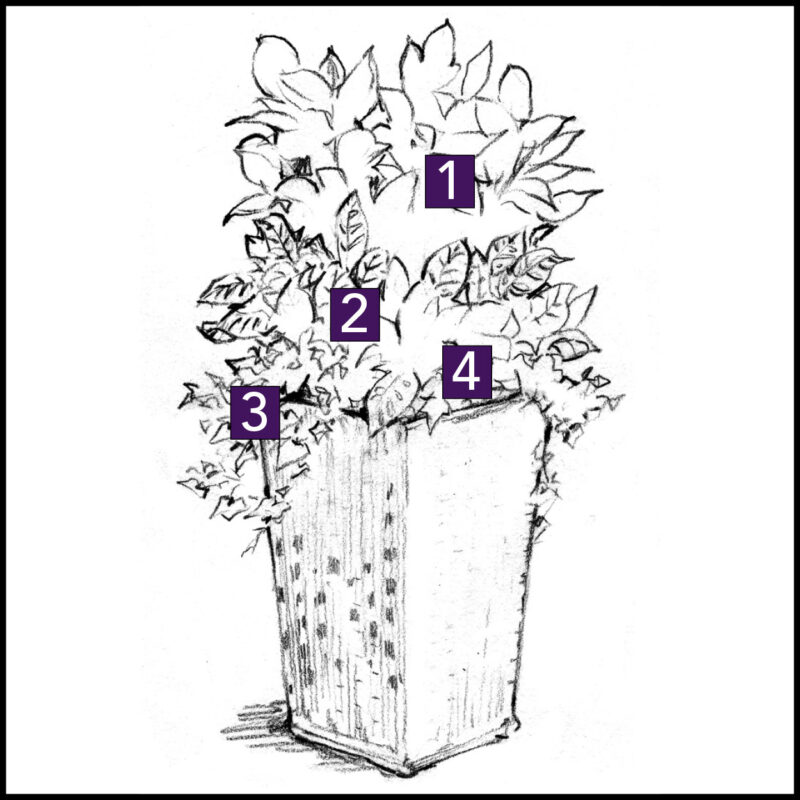 The dark upright leaves of a rubber plant and the bright foliage of a croton stand proud and accentuate the stone columns at this home's entrance. But both plants might have felt too heavy if not for the addition of soft, spilling ivy and the lightness of blue violas.
1. 'Black Burgundy' rubber plant (Ficus elastica 'Black Burgundy', Zone 13)
2. 'Petra' croton (Codiaeum variegatum 'Petra', Zone 11)
3. English ivy (Hedera helix cv., Zones 5–11)
4. 'Azure Blue' viola (Viola cornuta 'Azure Blue', Zones 6–8)
Not all succulents are created equal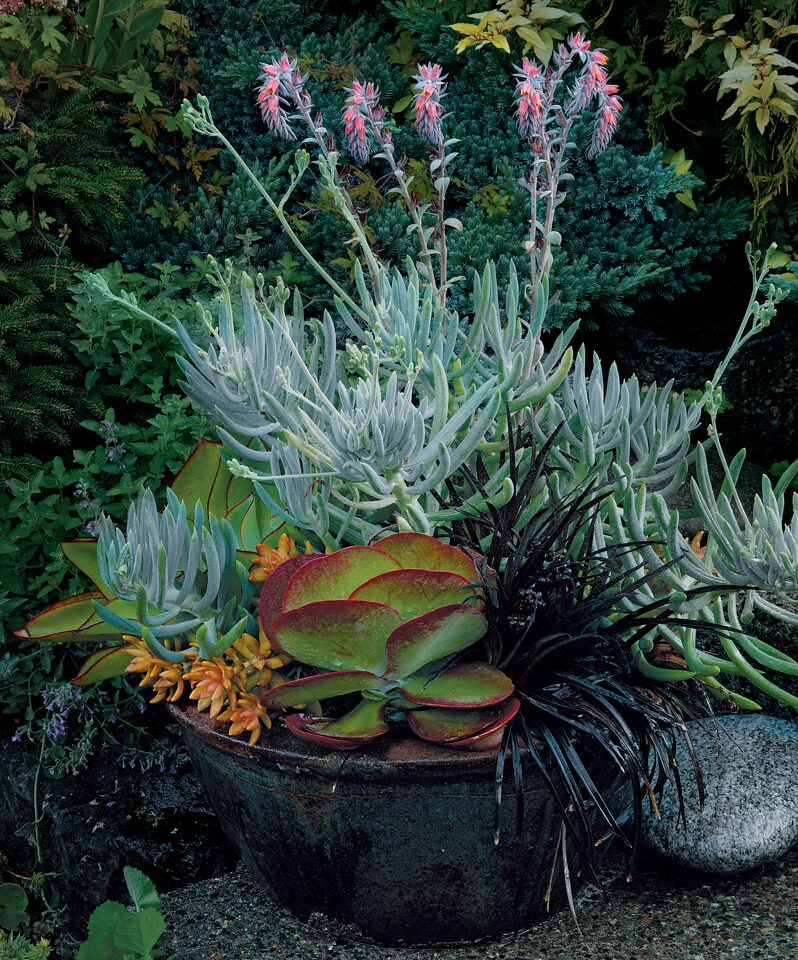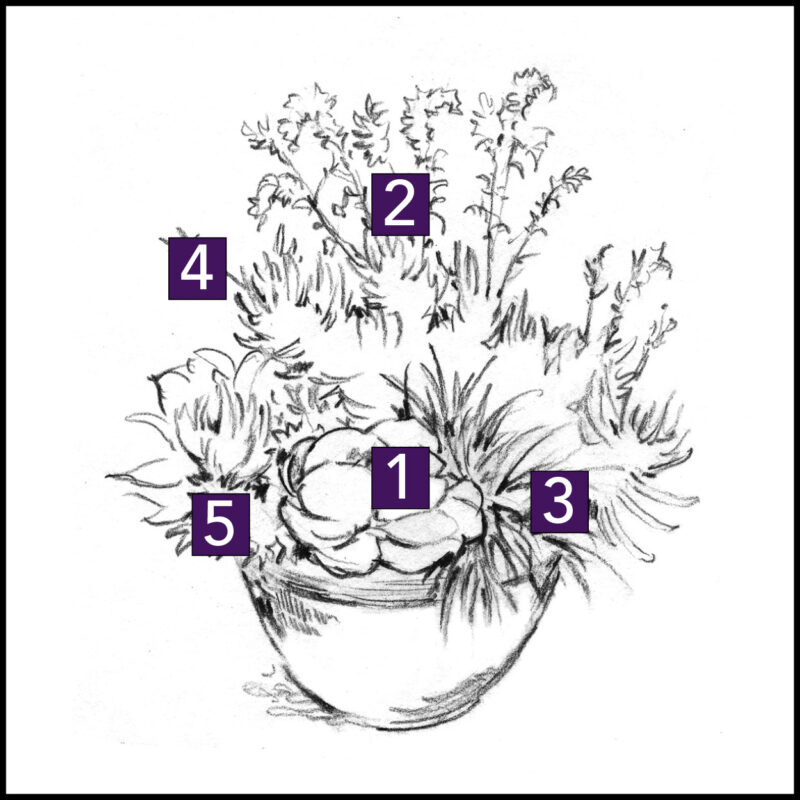 The fingerlike form of blue chalk sticks sets the tone and shows off the unique shapes and colors of the echeveria and sedum. And black mondo grass adds just the right amount of contrast to make the succulents pop.
1. Paddle plant (Kalanchoe thyrsiflora, Zone 11)
2. Blue chalk sticks (Senecio mandraliscae, Zones 10–11)
3. Black mondo grass (Ophiopogon planiscapus 'Nigrescens', Zones 6–11)
4. Echeveria (Echeveria cv., Zones 9–11)
5. Sedum (Sedum cv., Zones 3–11)
---
Illustrations: Elara Tanguy
View Comments