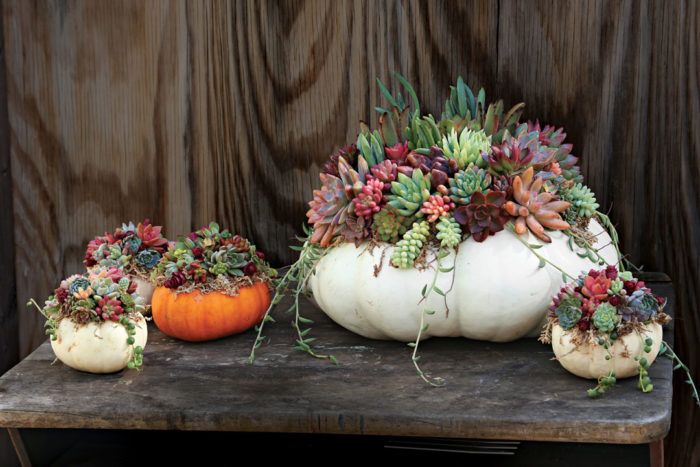 Ghosts, goblins, gourds, and . . . succulent pumpkins? For many gardeners, fall signals a time to get back outside to undertake chores put on hold when the summer temps soared. No one likes to be dripping in sweat while they try to prune back their perennials or re-edge a garden bed. Autumn is indeed a great time to catch up on pressing garden tasks. But it's also a time to enjoy the fruits of your labor and use some goodies from your garden for craft projects or seasonal decorations. After all, you may have planted pumpkins in order to make some delicious pies, but you likely were thinking about using them for autumnal embellishments as well.
And we're not just talking about carving jack-o'-lanterns. In this collection you'll find unique ideas such as creating a pumpkin tower out of rebar and a classic container. Or if you're looking for table decor that will last longer than a bouquet of cut flowers, why not create a pumpkin-succulent centerpiece?
No stoop can be considered ready for Halloween without a container sporting some black plants. We provide options for jazzing up those pots with moody-hued annuals, and we highlight some ways to use specific dark-leaved perennials to enhance your landscape throughout the rest of the year.
As fall progresses, we've got a great idea for what to do with all those panicle hydrangeas (Hydrangea paniculata and cvs., Zones 3–9) that are blushing pink: make an autumnal wreath. This step-by-step project is easy and inexpensive, and the result is a gorgeous decoration that lasts for years.
And last but certainly not least is a feature on winter squash that make beautiful additions to your seasonal displays but also taste incredible. You're likely familiar with butternut and acorn squashes, but after reading this article by Amy Goldman you might be more inclined to grow lesser-known varieties like 'Sugar Loaf' delicata squash or 'Tennessee Sweet Potato' pumpkin.