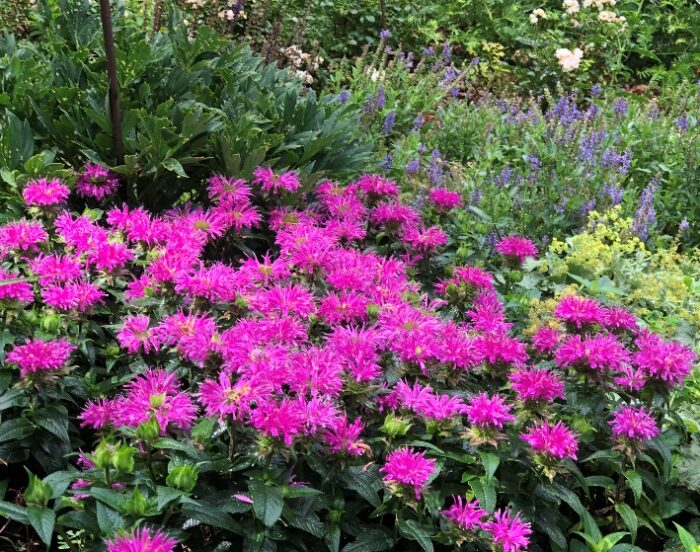 Today we're visiting with Gail Bromer.
For most of my life, I worked, renovated an antique farmhouse in Connecticut, and was a mom to our growing boys. I created small gardens that our neighbors could enjoy as they drove by, adding one or two shrubs a year and a smattering of perennials. I had neither the time nor the money to do it any other way.
Six years ago we moved to the mountains of western North Carolina, bought a home that we've remodeled, and more recently, I've retired. Because I was creating on a nearly blank slate, and I wasn't getting any younger(!), I didn't want to wait too long to see results. I plant now in far greater quantities than ever before. It's a whole new approach to gardening for me. I spend more time now designing my gardens instead of just walking through the garden shops picking up things that catch my eye. Five years ago I created our first garden area here, starting with 60 shrubs. I've since added eight other areas, including our front wildflower slope (featured in the GPOD here). I add in shrubs that have died, replace/move those that aren't doing well, and can't resist the occasion good deal back in the bargain section of my local nurseries.
In the growing season, I walk in my garden every day to see what's new. What has come up? What leaves are showing? What flower buds? And every season I look to old favorites that bring those pops of color that I love so much.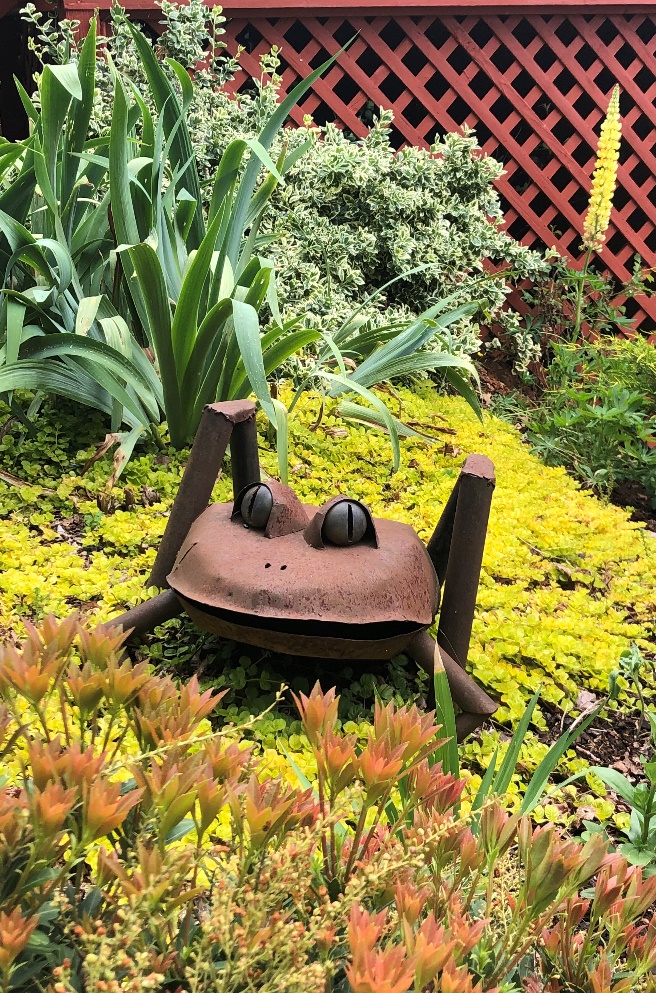 I love green on green and repeating colors. Here are creeping jenny (Lysimachia nummularia 'Aurea', Zones 3–9), a yellow lupine (Lupinus hybrid, Zones 3–8), blades of iris (Iris hybrid, Zones 3–8), and 'Emerald Gaity' euonymus (Euonymous fortunie 'Emerald Gaity', Zones 5–9), along with the bronzy new growth of a Pieris 'Cavatine' (Zones 5–8), my ever-faithful garden frog, and the latticework in the background.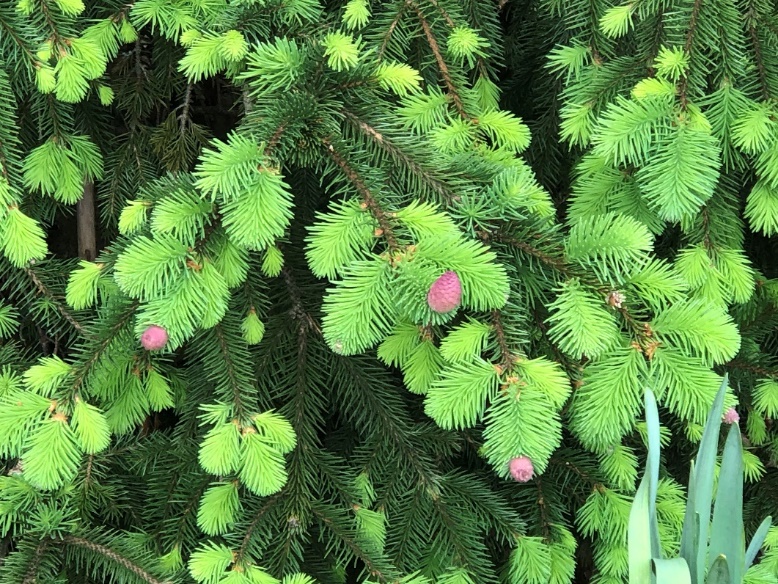 It just doesn't get any better than Picea abies 'Acrocona' (Zones 3–7). It has lime-green new growth with pink pinecones against the darker green needles. Beautiful!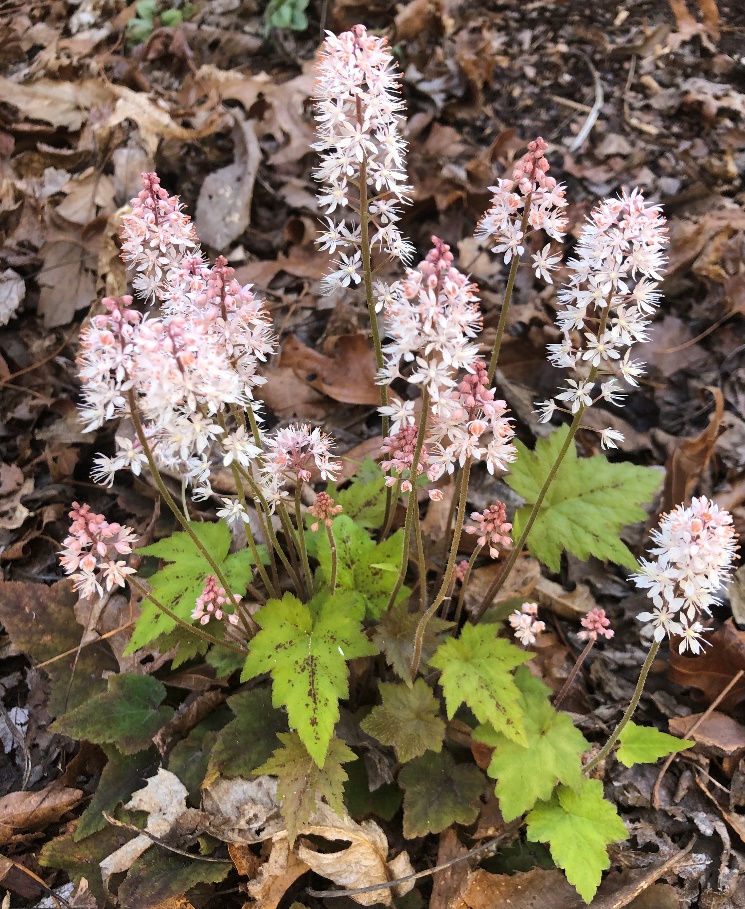 How sweet are these? Tiarella cordifolia (Zones 4–9) are consistent, long bloomers in my dry shade garden.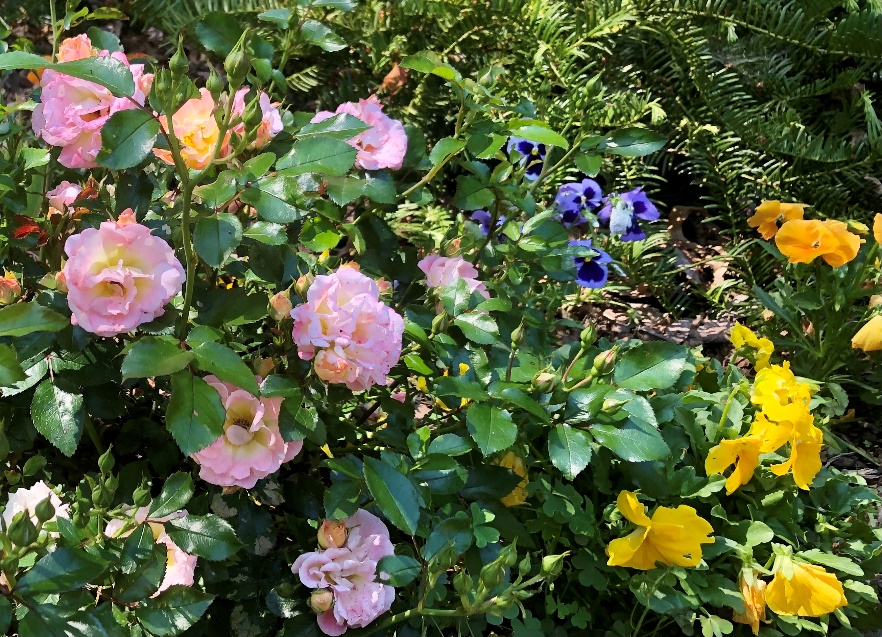 I love surprises. The pink rose on the left was a 'Popcorn Drift' rose that reverted to its pink "roots." It really pops in the spring with the multicolored pansies. (Editor's note: Curious about this, I did some searching, and it seems that 'Popcorn Drift' commonly blushes pink in certain weather conditions and is yellow-fading-to-white at other times.)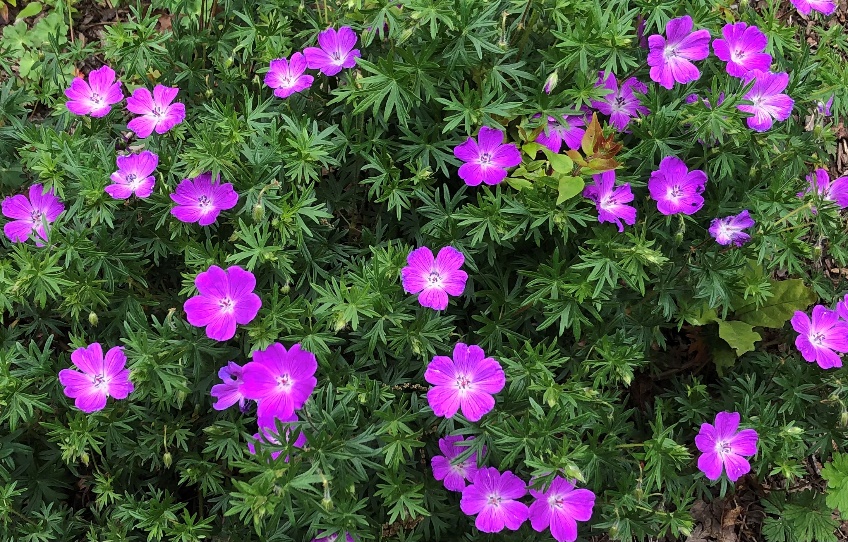 Beautiful geraniums (this looks like Geranium sanguineum, Zones 3–9) aren't new, but who wouldn't want some of this wonderful long-lasting color in your garden?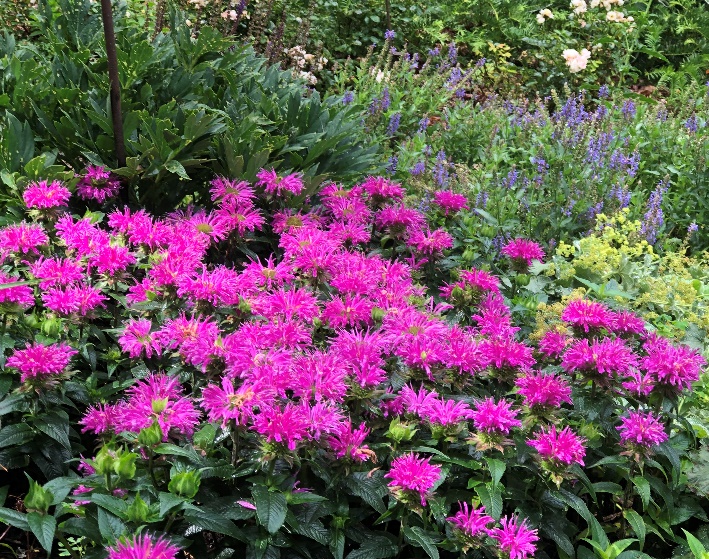 An electric pink bee balm (Monarda hybrid, Zones 4–8) set against lady's mantle (Alchemilla mollis, Zones 3–8) and salvia (Salvia nemorosa, Zones 4–8). Wow.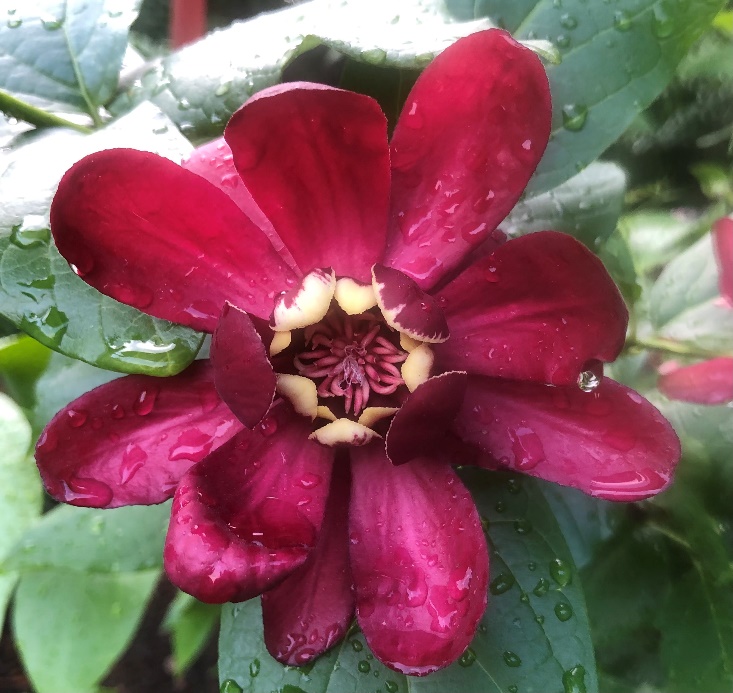 Carolina allspice (Calycanthus [looks like the variety 'Aphrodite', Zones 5–9]) is my favorite find since coming to North Carolina. What beautiful blossoms.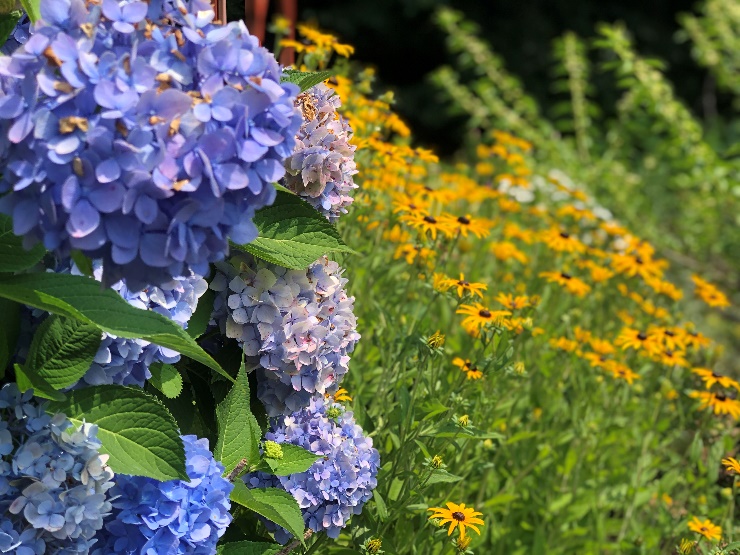 As summer moves toward fall, the rudbeckia (Rudbeckia fulgida, Zones 5–9) create one last burst of color sensation, here set against the fading blossoms of an Endless Summer hydrangea (Hydrangea macrophylla, Zones 5–9).
I know it won't be long now before I am strolling through my garden to see what's new. Now I am pouring over back issues of Fine Gardening, looking for inspiration. Next month I'll start pruning my shrubs, and by March I'll be looking for some warmer days and the first shoots of daffodils. Happy gardening!