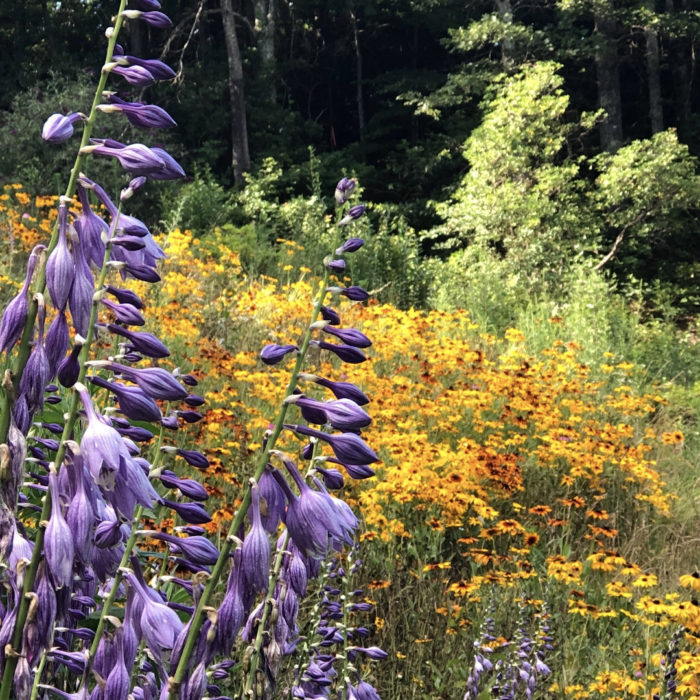 My name is Gail Bromer. I created mostly shade gardens at my home in Connecticut for over 30 years before transplanting to the mountains of western North Carolina four years ago. We were very fortunate to find a wonderful property sitting at 3300 feet in elevation with a southeast-facing exposure that is somewhat protected from the prevailing winter winds from the northwest. The house had good bones and a view. The gardens were virtually nonexistent. I consider this a Zone 6 or 7 garden. There's a lot of variation due to the elevation, the southern slope, and the wind.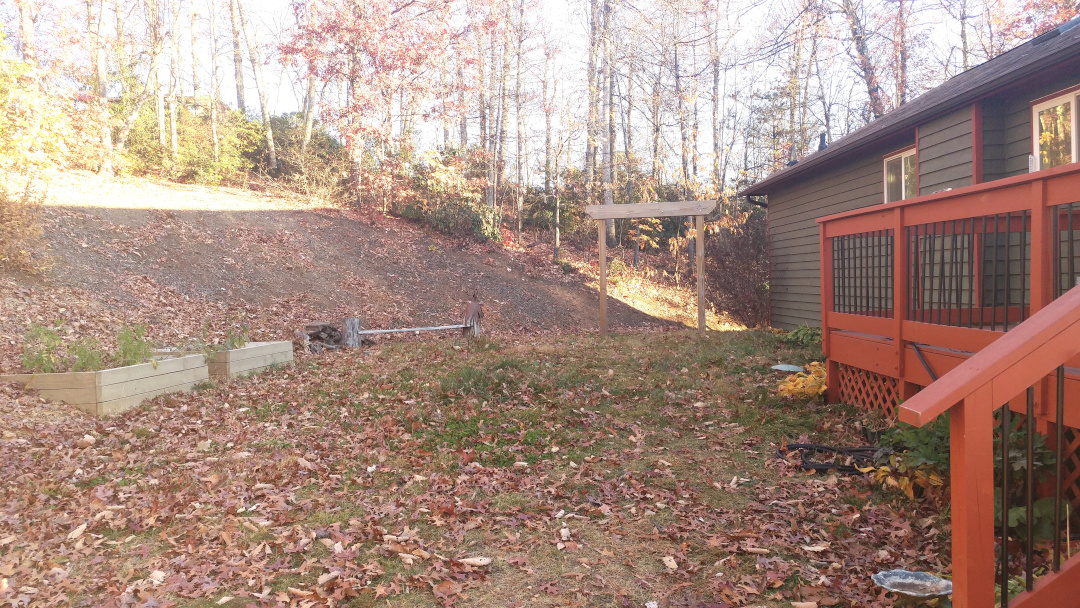 This is what we started with. The slope on the left was covered in forsythia (Forsythia hybrid, Zones 5–8) when we arrived. I transplanted all but a few to the bigger slope on the other side of the house. Our first January here we had a lovely warm spell of 50-degree temperatures, and we took full advantage. I hired a local landscape crew to get rid of the grass and augment the clay soil, lay out a path, and put in the first 50 shrubs and trees. The shrubs looked so small!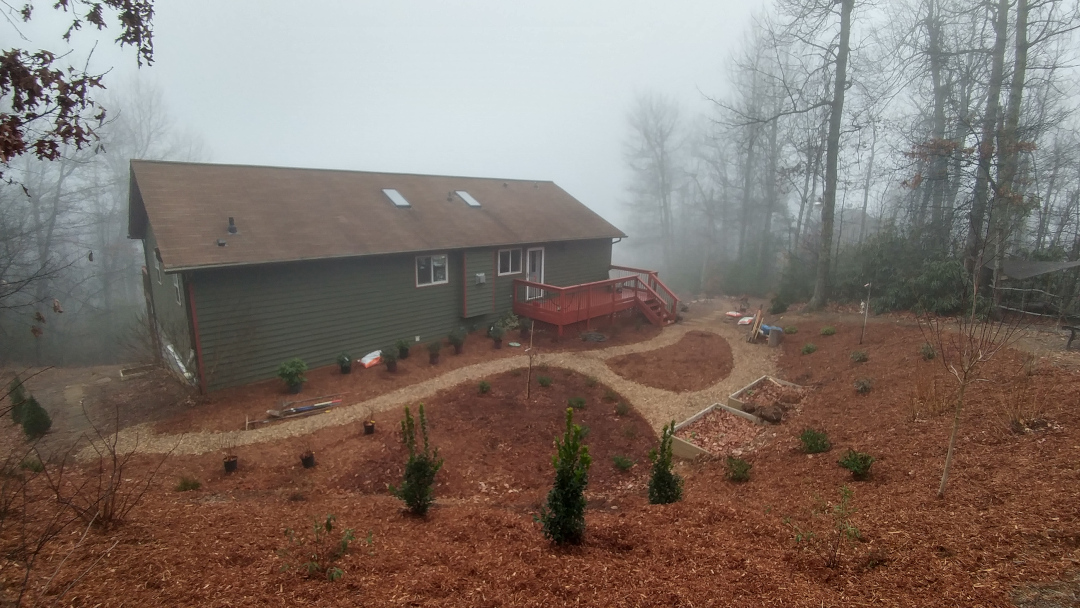 Since then I've planted hundreds of perennials and am creating gardens all around the house and along the driveway.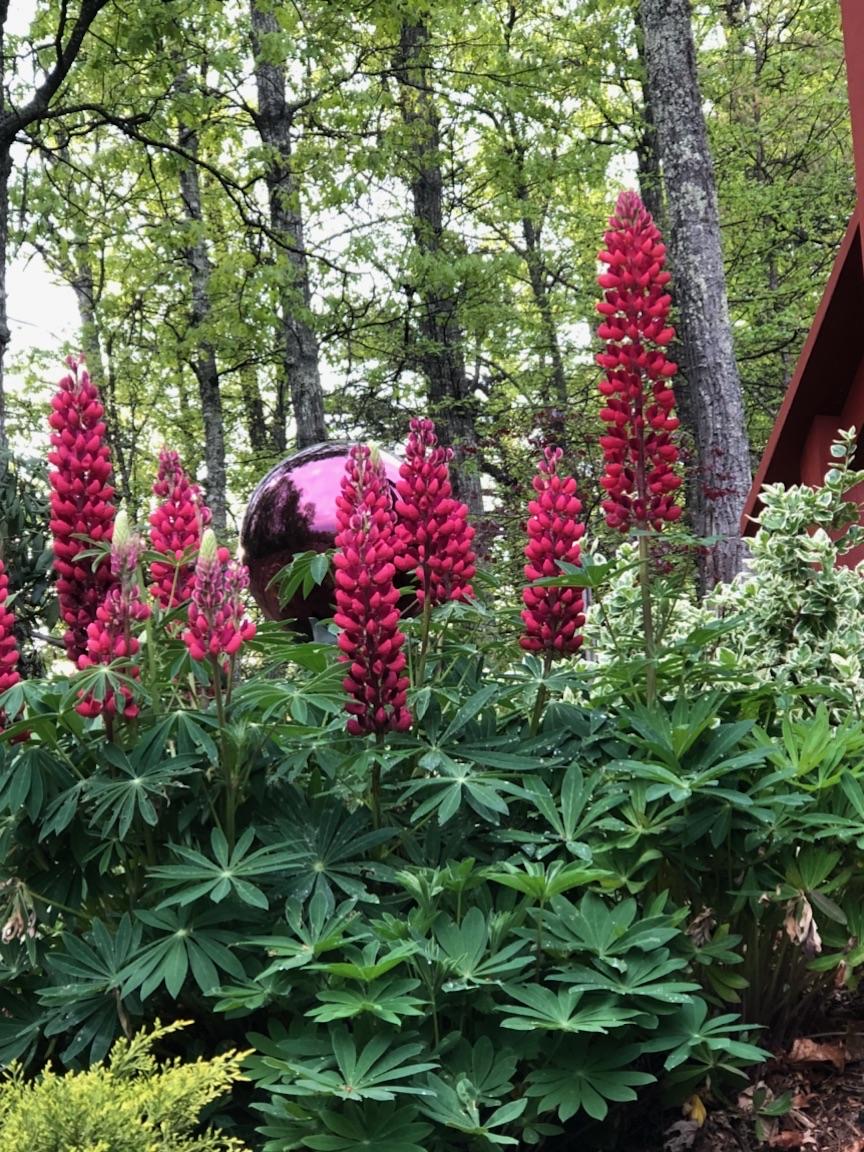 This is one of my favorite images from my garden. I was on vacation at the time and never saw it in person, but one of my sons shared this picture knowing how much I would love it. I've planted lupine (Lupinus polyphyllus, Zones 3–8) several times, and it often didn't survive into a second year, but I keep trying to find a place where it will. This is a 'My Castle' lupine, with an 'Emerald Gaity' euonymus (Euonymus fortunei 'Emerald Gaiety', Zones 5–8), an 'Old Gold' juniper (Juniperus × pfitzeriana 'Old Gold, Zones 4–9), and a gazing ball in the back.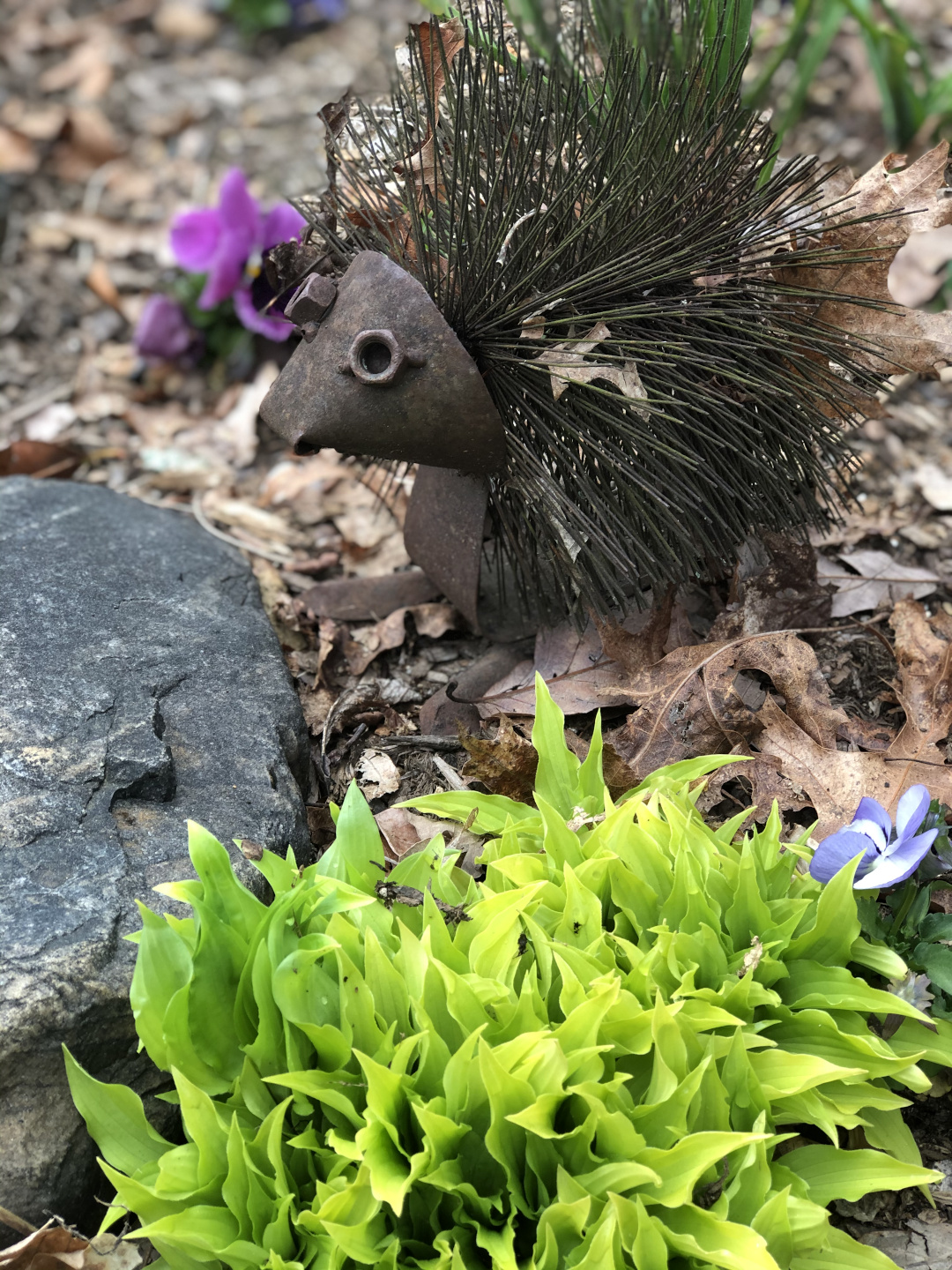 I enjoy creating vignettes in the garden and am happy to have some metal sculptures to include. Here's an early spring porcupine with pansies and a miniature 'Lemon Lime' hosta (Zones 3–8).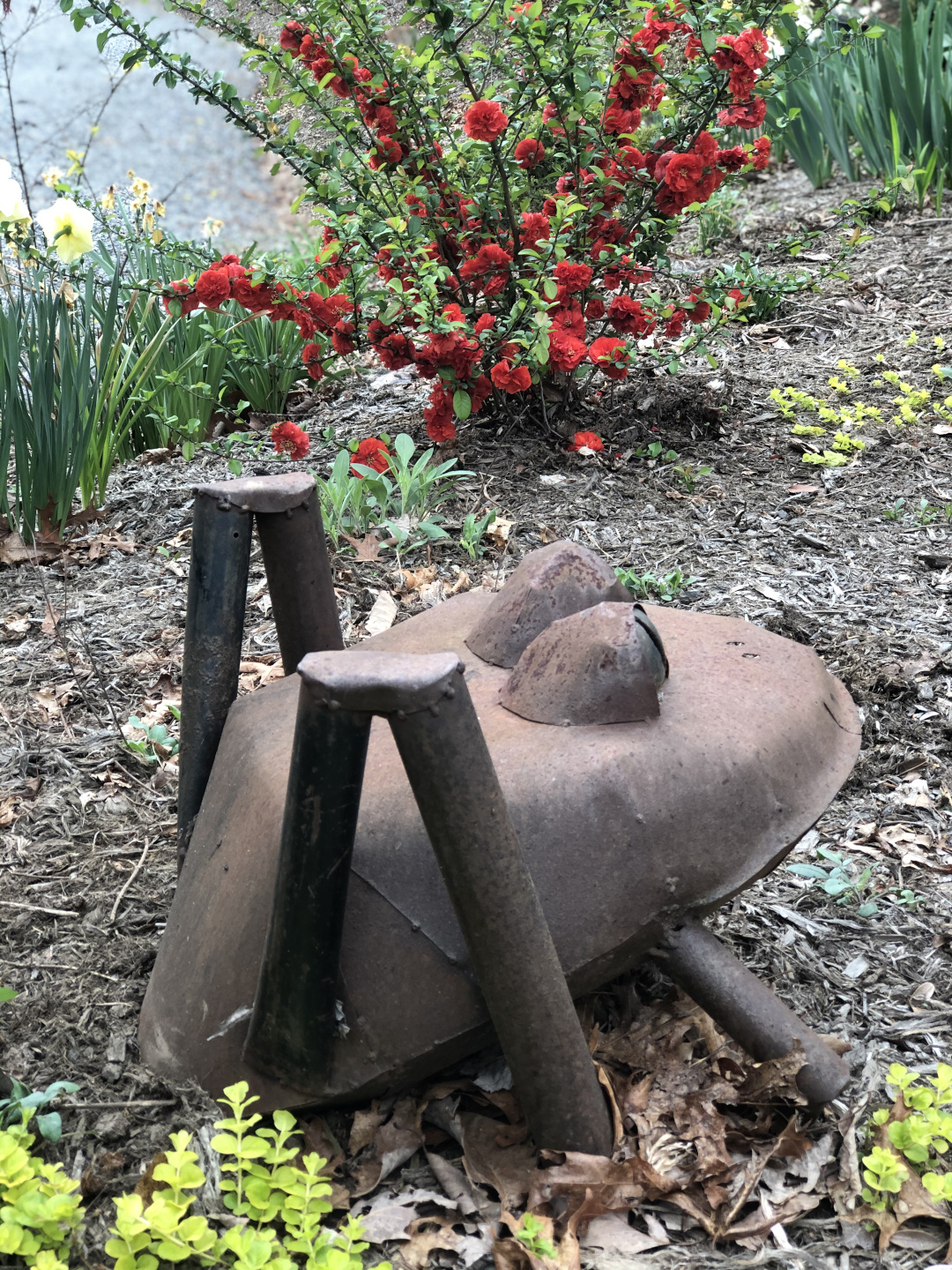 A large frog with a young 'Double Take Orange' quince (Chaenomeles speciosa 'Double Take Orange', Zones 5–8).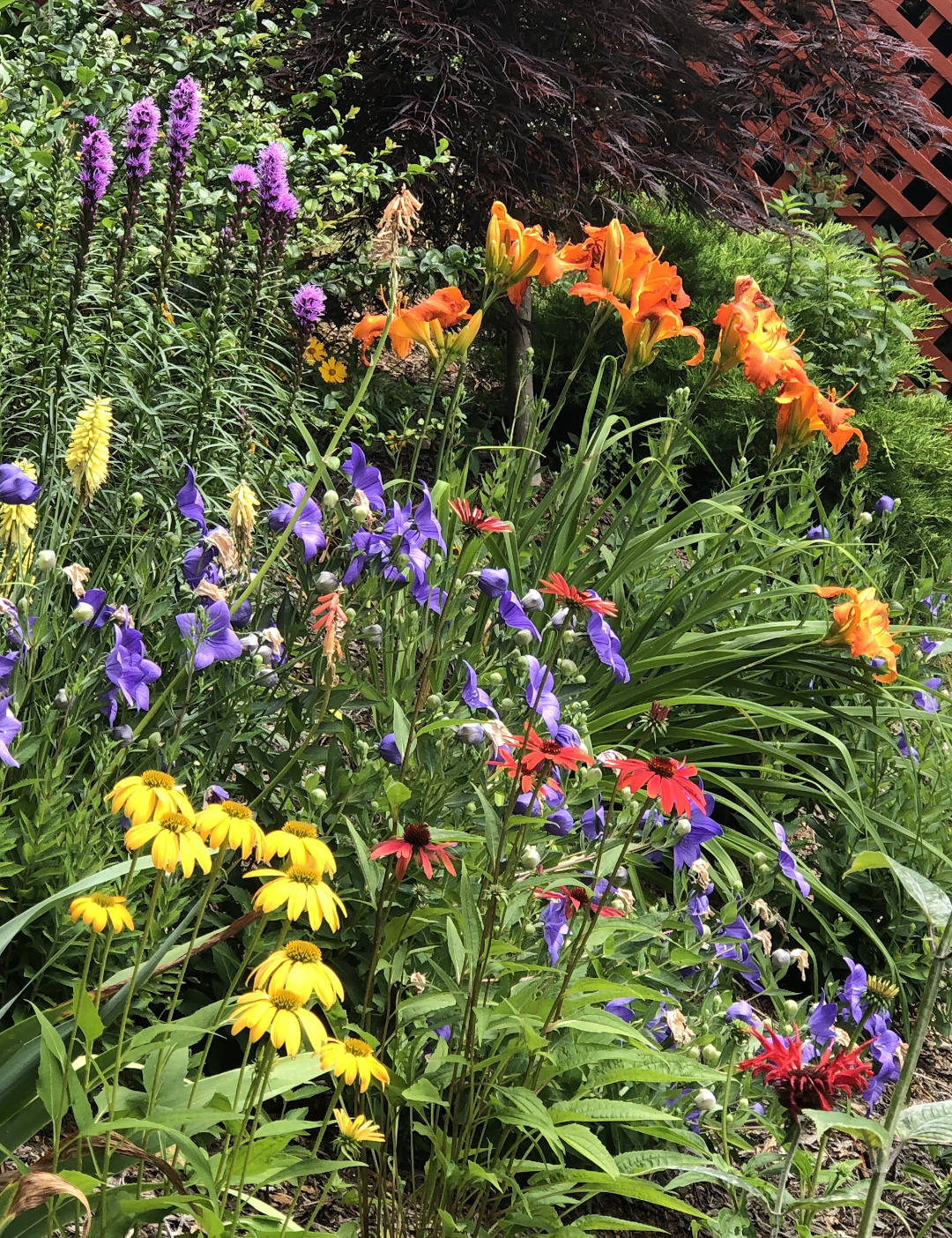 That same garden really comes alive in summer. Coneflowers (Echinacea hybrids, Zones 4–9) in red and yellow, liatris (Liatris spicata, Zones 3–9), yellow red-hot poker plants (Kniphofia hybrid, Zones 5–9), beautiful daylilies (Hemerocallis hybrid, Zones 3–9), and blue balloon flowers (Platycodon grandiflorus, Zones 3–8) come together to put on quite a show. Be careful with balloon flowers. While they are lovely to look at, it's a constant effort to keep them in control. I cut the seed heads as soon as they're done flowering and am vigilant about digging up new plants that have spread elsewhere in the gardens.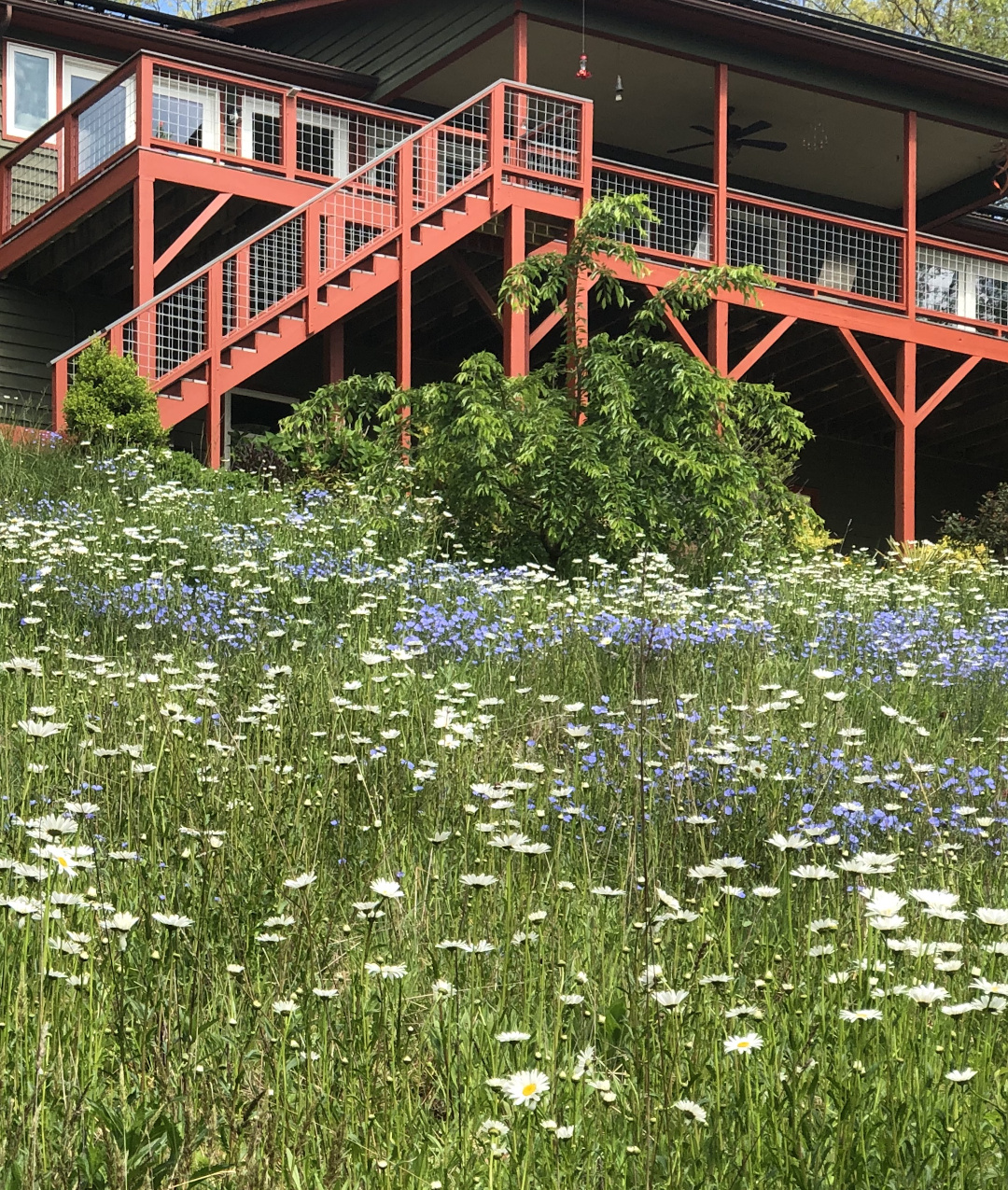 We decided before moving to North Carolina that we no longer wanted to cut grass. The house had a very steep front slope. Half of it had some mulch and a few azaleas. The other half, about a third of an acre, was covered in grass. A year and a half ago I bought 10 lbs. of perennial wildflower seeds, waited until after the first frost, and broadcast them by hand over newly trimmed grass. Every spring and fall since, I have dug out some of the largest clumps of grass to allow the flowers to take over and yet not lose the slope during heavy rains. The first year the blooms seemed a little light, but by the second year everything had matured.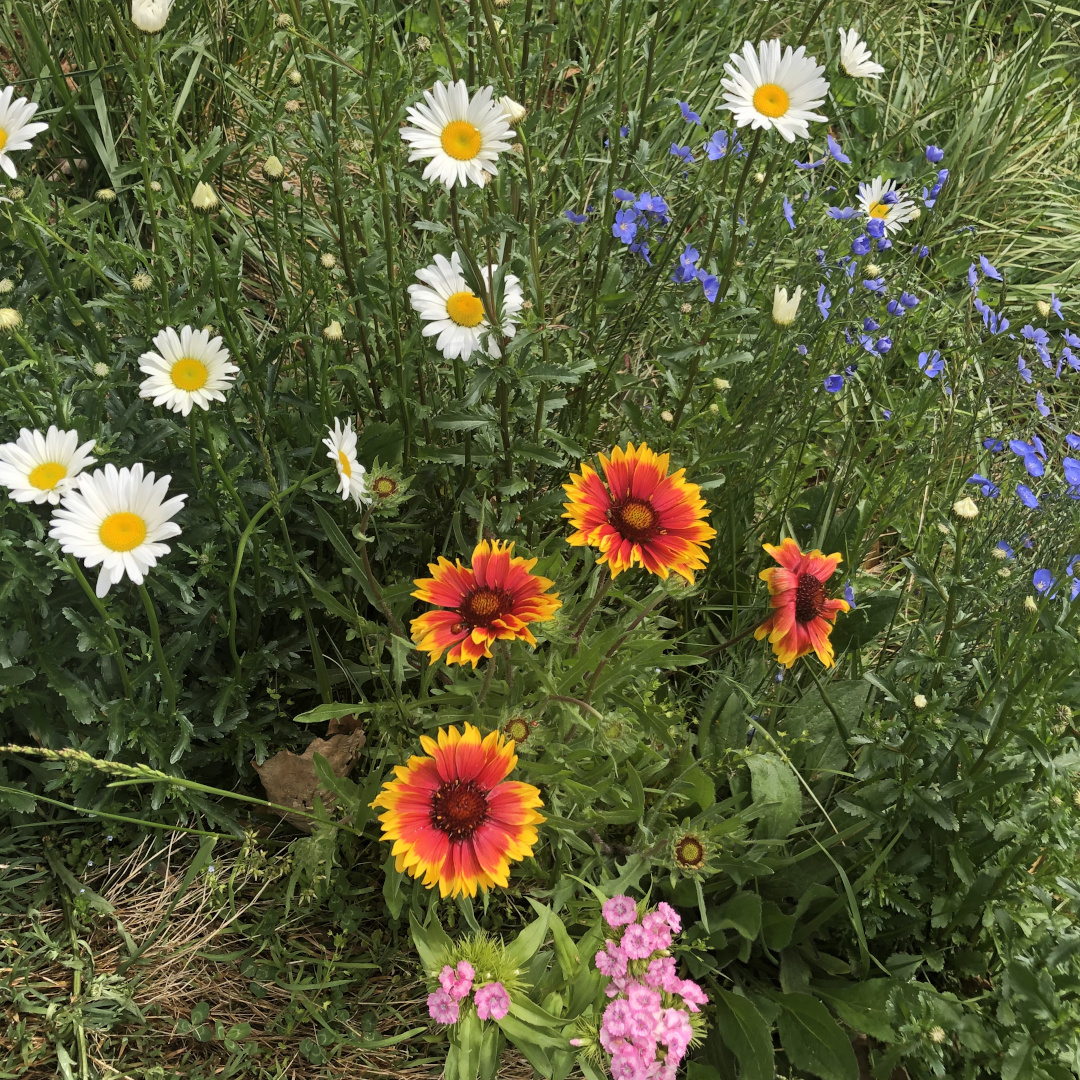 The spring bloom on the front slope starts with daisies (Leucanthemum vulgare, Zones 3–9) and blue flax (Linum perenne, Zones 5–9). Coreopsis and sweet william (Dianthus barbatus, Zones 3–9) bloom next, followed by foxgloves (Digitalis, Zones 3–9) and purple lupine.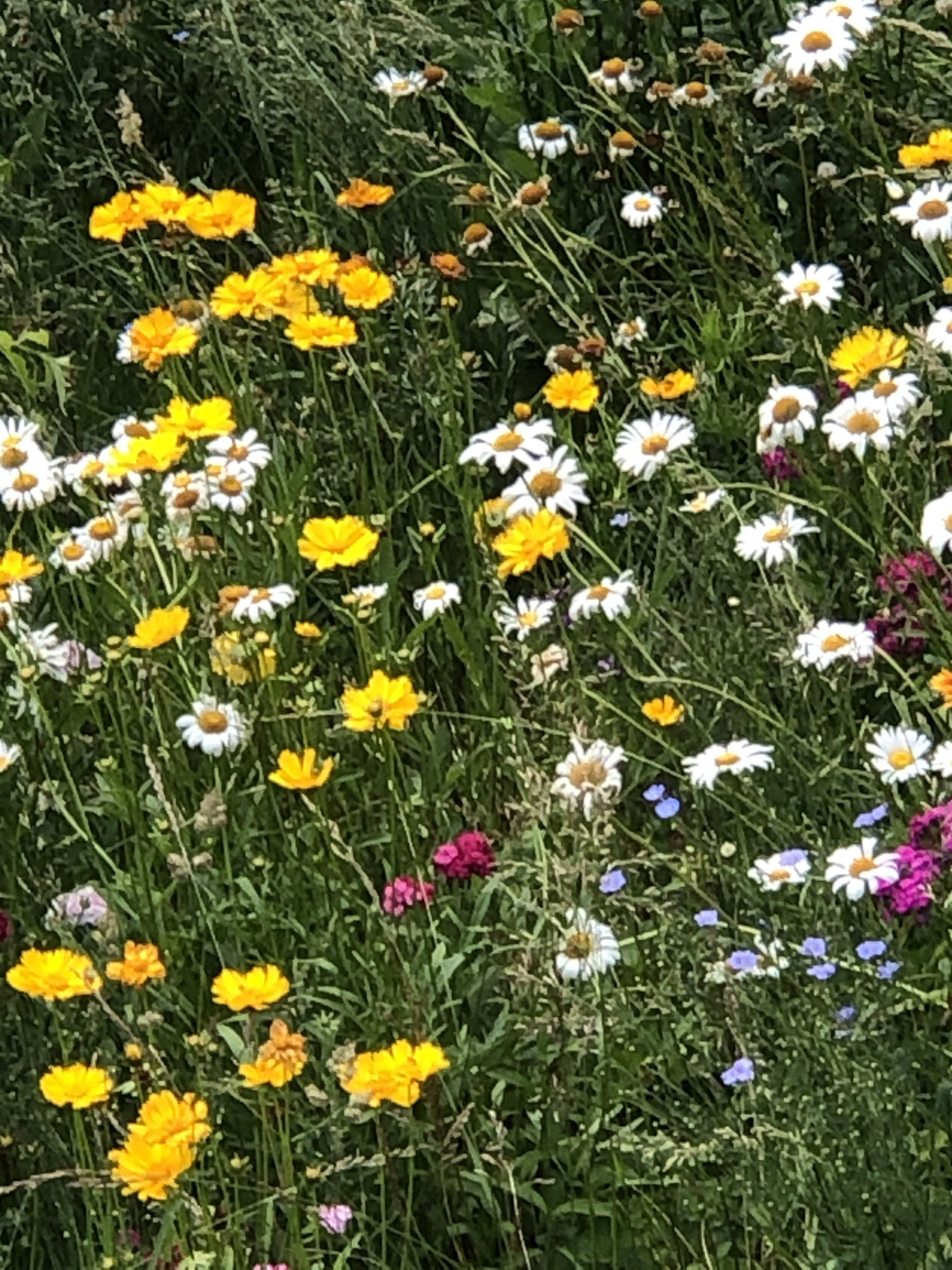 More of the front slope in bloom.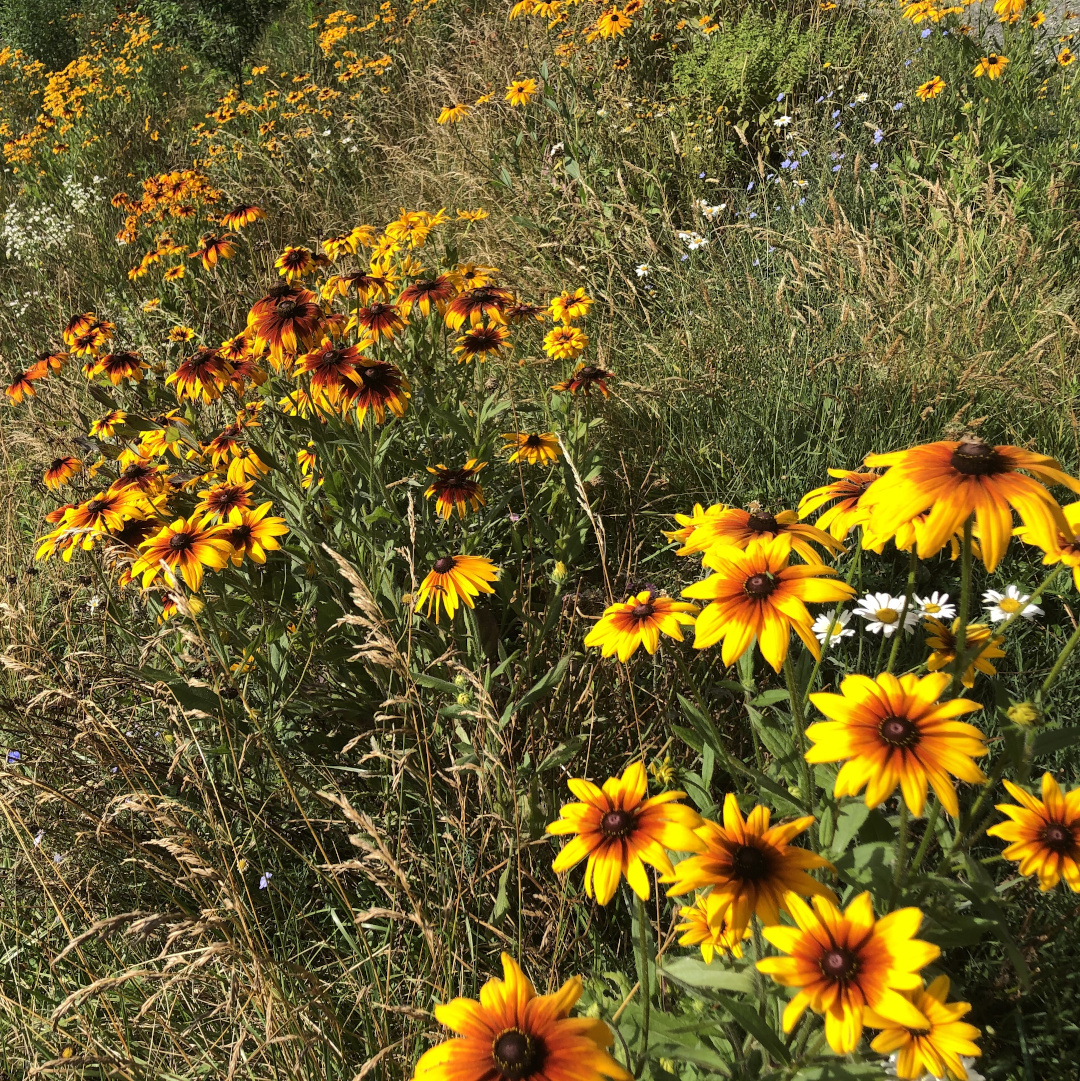 In the heat of summer the slope is full of rudbeckia (Rudbeckia hirta, Zones 3–7) and gallardia (Gallardia spp. Zone 3–9).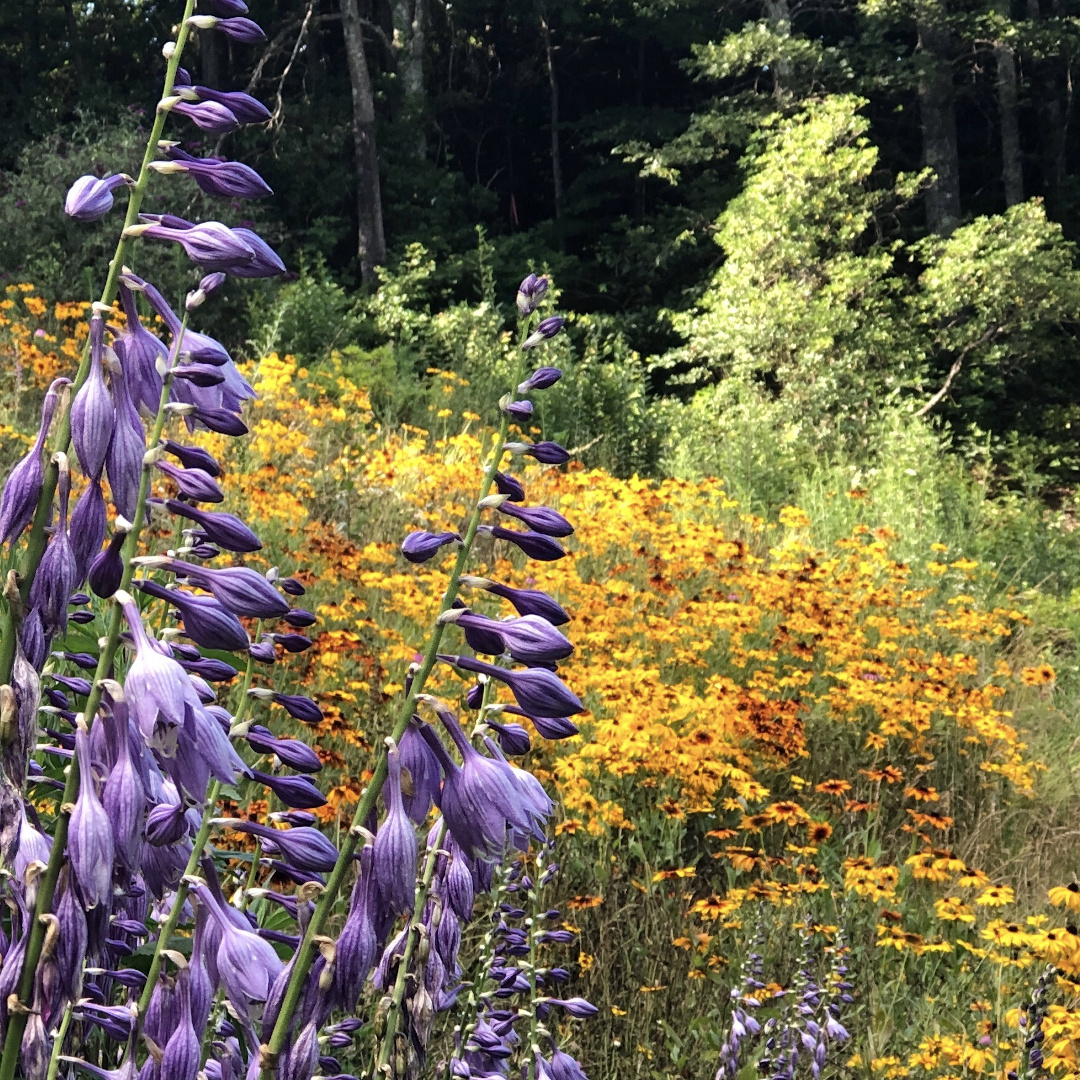 One last view of the slope, with some hosta blooms from one of the gardens along the driveway.
Have a garden you'd like to share?
Have photos to share? We'd love to see your garden, a particular collection of plants you love, or a wonderful garden you had the chance to visit!
To submit, send 5-10 photos to [email protected] along with some information about the plants in the pictures and where you took the photos. We'd love to hear where you are located, how long you've been gardening, successes you are proud of, failures you learned from, hopes for the future, favorite plants, or funny stories from your garden.
If you want to send photos in separate emails to the GPOD email box that is just fine.
Have a mobile phone? Tag your photos on Facebook, Instagram or Twitter with #FineGardening!
You don't have to be a professional garden photographer – check out our garden photography tips!
Do you receive the GPOD by email yet? Sign up here.