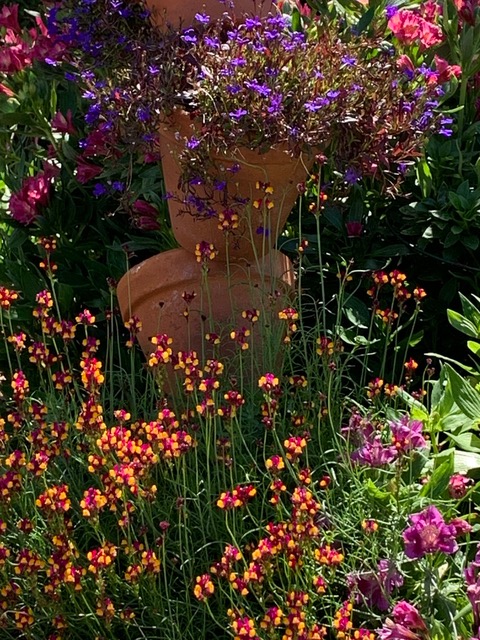 We're visiting Catherine's Dickerson's garden today in San Diego. We've visited before (A Little Slice of Heaven in San Diego), and it is always a pleasure to see what is growing there.
This is our year of volunteers! They have added a wonderful richness to the garden. The forget-me-nots are ubiquitous every year, but this year they've been joined by the rich purple-blue lobelia. Poppies and lunaria are doing their best to keep up. These are not plants that simply reseeded, but ones that are coming up in places as distant from the original plant as you can get in a little 1/4-acre garden.
My husband spreads mulch twice a year, and the resulting soil is delicious. The rains this year helped as well.
The only plants named in the pictures below that I actually planted are the Shasta daisies, the alstroemeria, the pink geranium, and the pink cosmos, together in one picture. Almost everything else named came up as happy surprises. Our response: "Welcome! Please make yourself at home!" And boy, have they.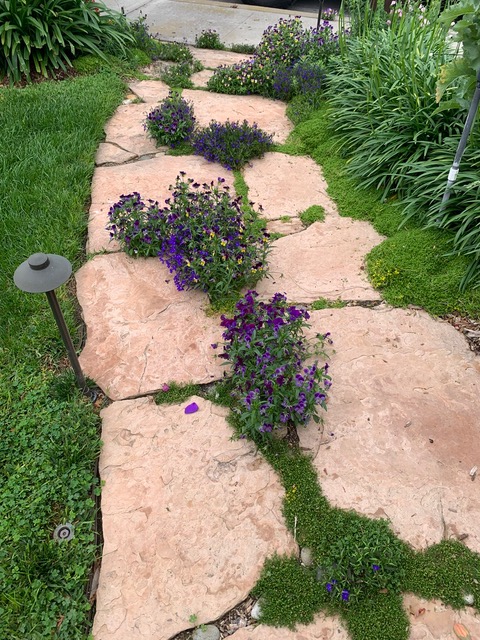 Johnny jump-ups (Viola tricolor, annual) living up to their name in our front path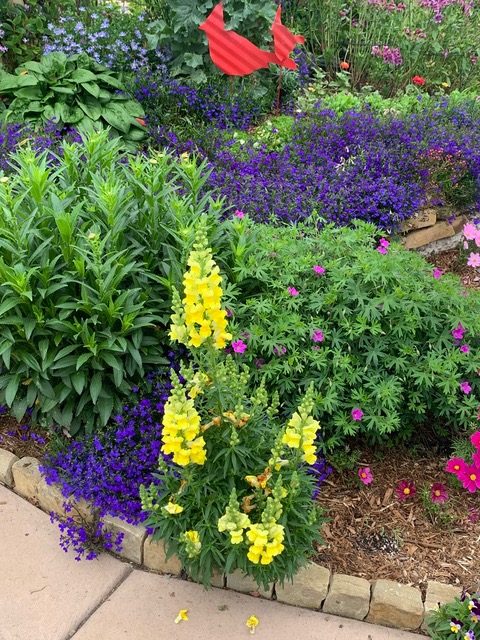 A true geranium (Geranium sanguineum, Zones 3–9), lots of lobelia (Lobelia erinus, Zones 10–11 or as an annual), a peak of pink cosmos (Cosmos bipinnatus, annual), and a beautiful yellow snapdragon (Antirrhinum majus, Zones 7–10 or as an annual) that volunteered right in front! The soon-to-be white Shasta daisies (Leucanthemum × superbum, Zones 5–9) in the lower left are from Luther Burbank's home in Santa Rosa—a lovely place to visit!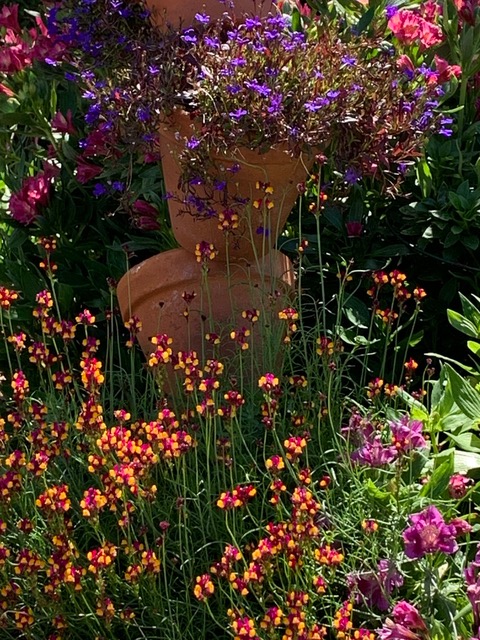 Nemesia from the backyard, now in front with . . . lobelia! The pink is Alstroemeria.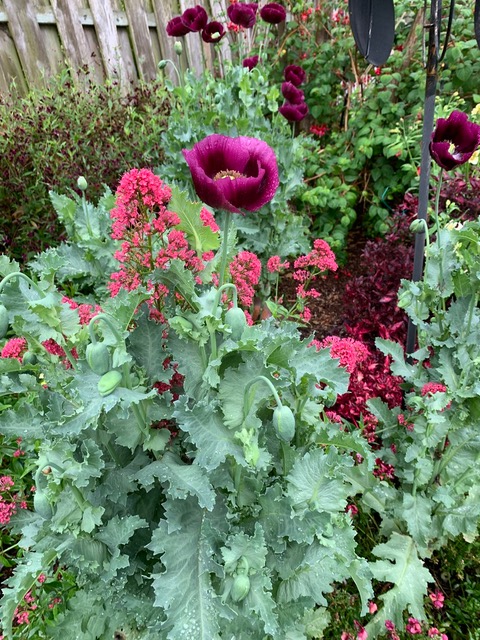 Red valerian (Centranthus ruber, Zones 4–9) was flown or blown over from a neighbor's yard, along with annual poppies (Papaver somniferum, annual). These volunteer poppies have popped up around the back and front yards and are the best I've ever grown—though I can't actually say that I grew them!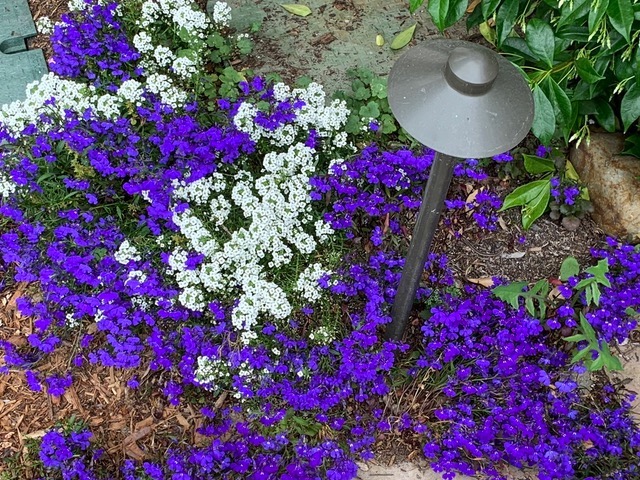 More lobelia, intermingled with white alyssum (Lobularia maritima, Zones 9–11 or as an annual)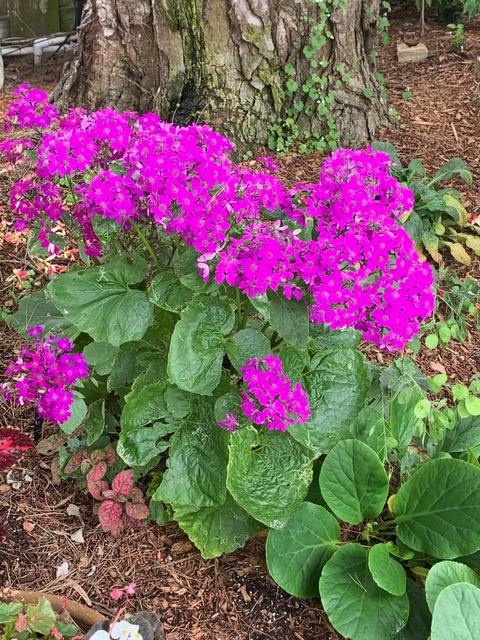 Cineraria (Pericallus × hybrida, Zones 9–11)! The nurseries here in San Diego only carry the shorter versions; these tall ones (30 inches or more) originated from Annie's Annuals in northern California. A little pink polka-dot plant (Hypoestes phyllostachya, Zones 10–11 or as an annual) volunteered nearby. Lush leaves from Bergenia (Zones 3–8) planted years ago are in the lower right.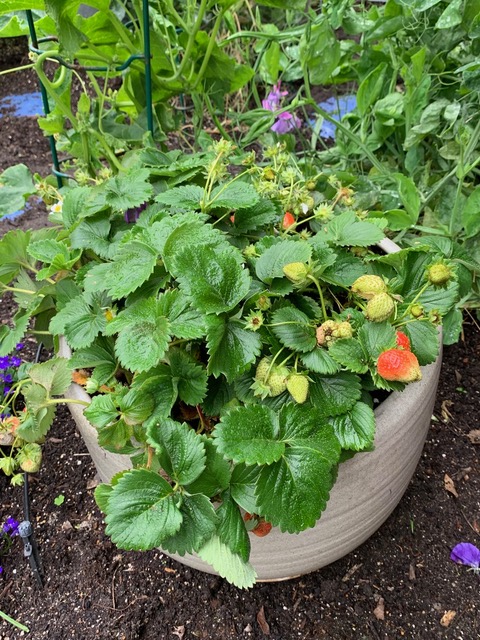 Strawberries! They were being devoured by slugs on the ground, so I stuffed them into this pot. Snow peas are growing behind them.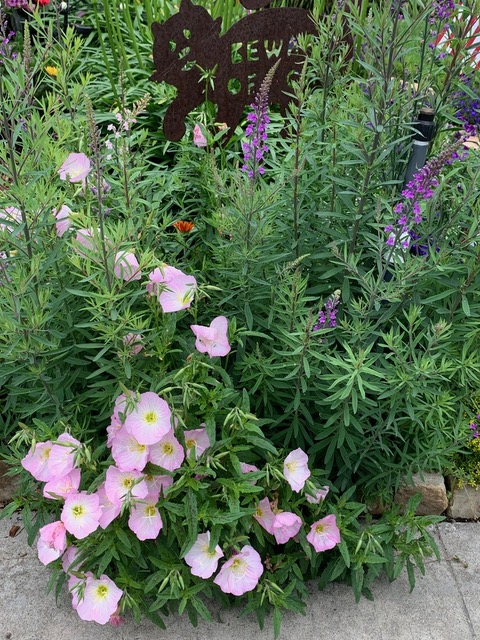 A combination of pink evening primrose (Oenothera speciosa, Zones 4–9) and purple toadflax (Linaria purpurea, Zones 5–9), of unknown origin, both of which will try to take over the garden. I've already pulled out dozens of them.
Thank you for letting me share these surprise delights. Gardening is absolutely the most rewarding activity I know.
Have a garden you'd like to share?
Have photos to share? We'd love to see your garden, a particular collection of plants you love, or a wonderful garden you had the chance to visit!
To submit, send 5-10 photos to [email protected] along with some information about the plants in the pictures and where you took the photos. We'd love to hear where you are located, how long you've been gardening, successes you are proud of, failures you learned from, hopes for the future, favorite plants, or funny stories from your garden.
Have a mobile phone? Tag your photos on Facebook, Instagram or Twitter with #FineGardening!
Do you receive the GPOD by email yet? Sign up here.