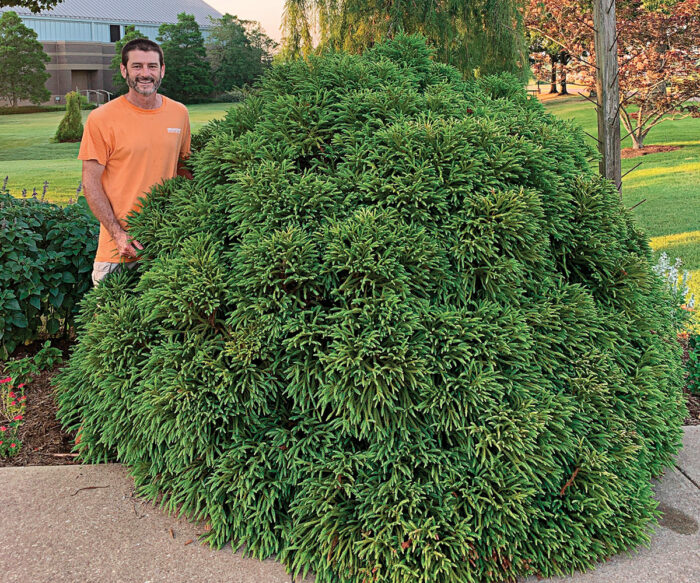 Japanese cedar is an extremely beautiful, variable, and overlooked conifer that offers much appeal in the landscape. Not an actual cedar at all, Japanese cedar is in the genus Cryptomeria, which is in the family Taxodiaceae—the same family that includes bald cypress (Taxodium spp. and cvs., Zones 5–11). Cryptomeria japonica can reach 50 to 60 feet tall in cultivation and 80 feet tall in the wild. It can be kept more compact with careful pruning, but proper cultivar selection can eliminate the need to prune entirely. Japanese cedars are drought tolerant once established, and they also tolerate the humidity of southeastern gardens. Over 100 cultivars of Japanese cedar are available in the United States, including 12-inch dwarf forms.
'Globosa Nana' has long been my favorite cultivar. As the name suggests, it forms a natural globular, billowy shape without pruning. Its soft needles make you want to pet it, and it jiggles when you hug it! The spirally arranged needles are bright green in summer and deepen to dark green in winter. In colder, more exposed sites, foliage may develop attractive tones of bronze and even gold. Some cultivars of Japanese cedars produce an overabundance of male cones that can take away from a plant's overall look, but 'Globosa Nana' is not one of those. It requires little care and grows well with average moisture in good, well-drained garden soil in full sun to dappled shade.
In 10 years, 'Globosa Nana' can reach 4 feet tall and wide. A 30-year-old specimen at the National Arboretum in Washington, D.C., is 8 feet tall and wide. It makes a good substitute for boxwoods (Buxus spp. and cvs., Zones 5–9), dwarf yaupon hollies (Ilex vomitoria cvs., Zones 7–11), Japanese hollies (I. crenata and cvs., Zones 5–7), and other common foundation plants. If the need arises to prune 'Globosa Nana', I like to do so in November and December, when I can make use of its soft foliage in holiday decorations. It works well in tabletop arrangements and makes excellent holiday wreaths. I have 20 growing at my farm just for use as cut greenery.
If you're looking for dwarf Japanese cedars that are even smaller, consider Dragon Warrior™ (C. japonica 'sPg-3-005'), which reaches 3 to 4 feet tall and 2 to 3 feet wide in 10 years, and Dragon Prince™ (C. japonica 'sPg-3-014'), which gets 2 to 3 feet tall and 3 to 4 feet wide in 10 years. With its blue-green foliage, Chapel View™ (C. japonica 'PIICJ-I') is also a notable option; it reaches 7 to 8 feet tall and 5 to 6 feet wide in 10 years.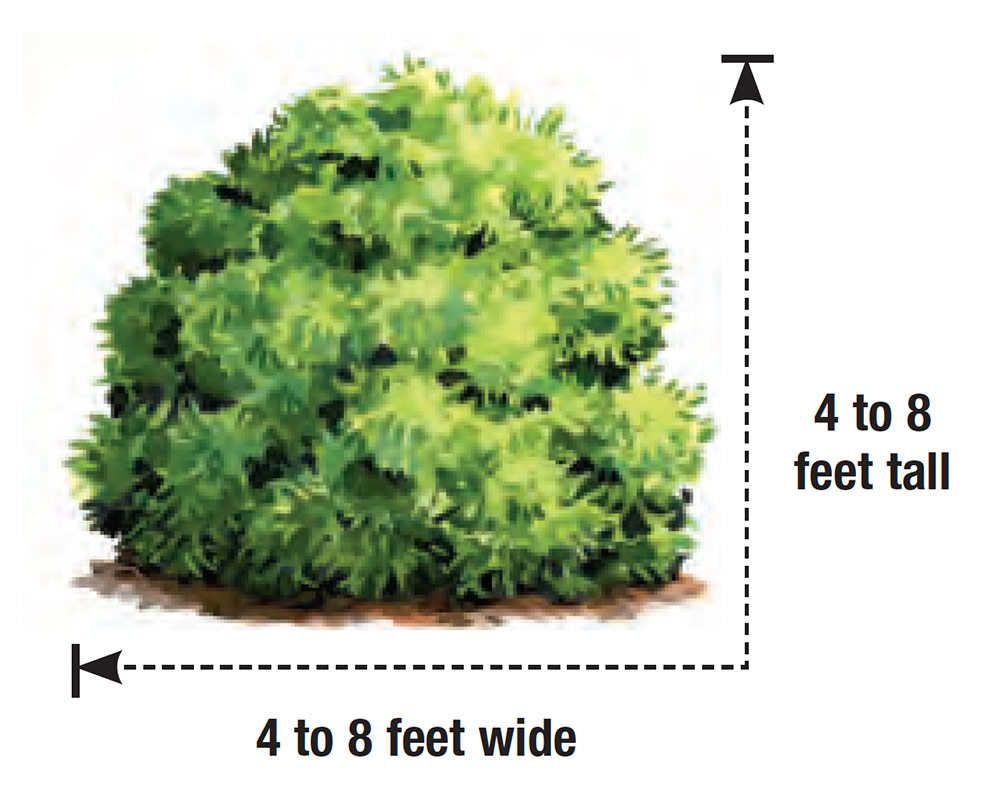 'Globosa Nana' Japanese cedar
Cryptomeria japonica 'Globosa Nana'
Zones: 6–9
Conditions: Full sun to partial shade; well-drained soil
---
Jason Reeves has been putting plants to the test at the University of Tennessee in Jackson since 2002 and can be followed on Facebook at "Jason Reeves – in the garden."
Illustration: Elara Tanguy
Sources