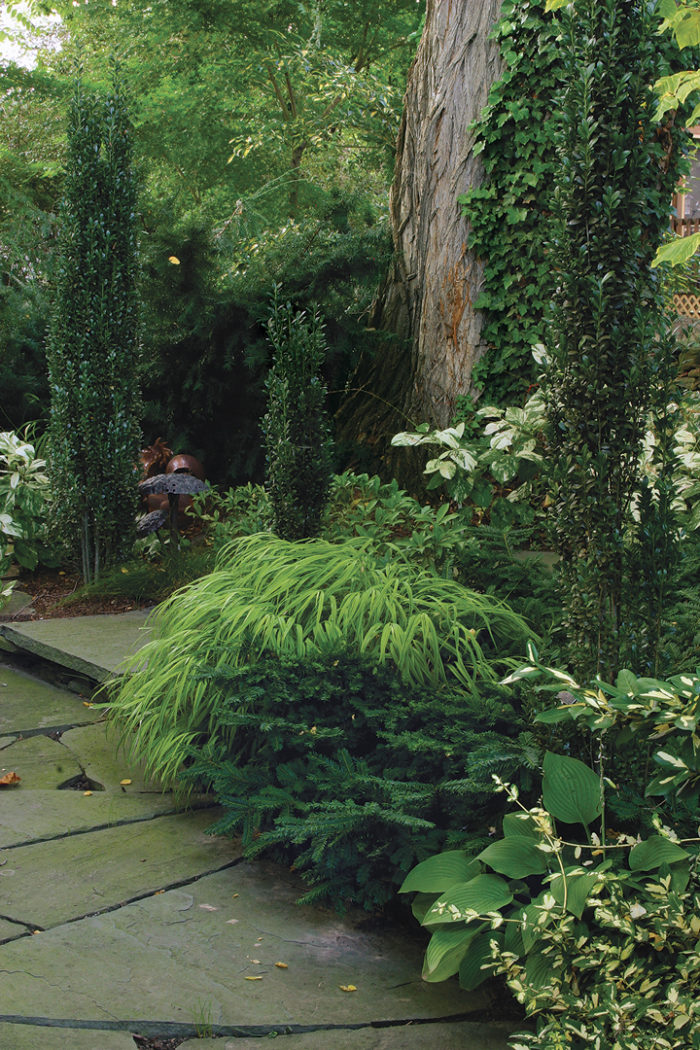 Several years ago, my husband and I relocated from Connecticut to the shores of Lake Ontario. I brought along a few truckloads of my favorite perennials and happily plunked them into the backyard, creating an instant garden that I could see from our living-room window. I didn't think about winter, and when it hit, I wasn't happy.
It snowed endlessly that year, and the white fence enclosing my new garden stared back at me accusingly, begging for a better solution. Because going south for the winter wasn't part of the plan, I decided to invest in some conifers to jazz up the view. But spring brought some problems I hadn't considered. The site had more shade and many more tree roots than I had originally thought.
Fortunately, dwarf conifers tend to be shade tolerant because they push their new growth earlier in the spring (before the deciduous trees really leaf out) and need less photosynthesis to remain happy. Many varie­gated conifers will burn out in the afternoon sun, and they appreciate shady conditions to keep their striking colors brilliant. Surprisingly, even a couple of reported sun lovers perform better in some degree of shade. Here are some conifers that have proven to be standouts in the shade.
Mounding forms fill in gaps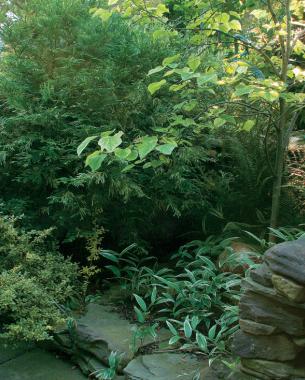 Conifers with a mounding habit usually have a fluffy texture, adding softness to the garden. These shrubs can have a loose branching structure or a creeping growth pattern, but either way, they fill in the middle ground between taller trees and the ground layer. Not all medium-size, mounding conifers will grow in the shade, but some do.
Don't confuse Emerald Spreader™ Japanese yew (Taxus cuspidata* 'Monloo', Zones 5–7) with those overgrown blobs flanking foundations across the country. This prostrate grower is far handsomer than those yews commonly used for hedging. Its small, dense, dark green needles and low, spreading habit set Emerald Spreader™ apart. It can be used as a billowy ground cover (quickly reaching its maximum size of 3 feet tall and 9 feet wide) and helps add depth, texture, and contrast to the garden floor. Emer­ald Spreader™ does not like root competition, so it usually does best when planted in dense shade under trees with deep root systems, like tulip poplars (Liriodendron tulipifera, Zones 4–9). Deer like to graze most yews, so take the proper precautions.
I sometimes find mounded shapes difficult to work with because of their loose habit, but the bold presence of variegated elkhorn cedar (Thujopsis dolabrata 'Nana Variegata', Zones 5–7) lends itself to a variety of uses. It makes an impressive focal point and looks equally good integrated with other low-growing conifers and perennials. Its moderate size (6 feet tall and 4 feet wide, growing 3 to 4 inches per year) is nothing special, but the bright green-and-white foliage is strong yet delicate. Deer will nibble on its bright white tips, so offer it some sort of protection. Partial shade and moist, well-drained soil are best.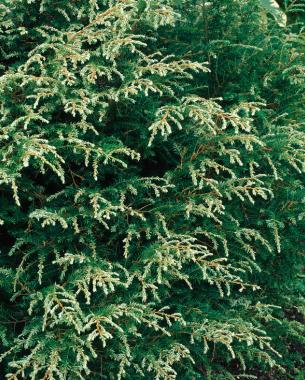 If you want a conifer that is subtle but has an arresting presence, 'Snow' false cypress (Chamae­cyp­aris pisifera 'Snow', Zones 4–8) is one worth trying. This shrub is slow growing, putting on only a few inches per year and eventually reaching only 6 feet tall and wide. The best attribute of 'Snow' is its loosely rounded shape accented by delicate gray-green foliage that is lightly frosted with white. The fuzzy appearance of this conifer will make you want to hug it. For the best variegation, keep it in partial shade and well-drained soil. One word of caution: Deer love all Chamaecyparis, so be sure to protect this beauty.
Hemlocks perform especially well in shade, but only certain varieties are immune to the woolly adelgid, a tree-killing bug. I love 'Gentsch White' hemlock (Tsuga canadensis 'Gentsch White', Zones 4–8) because the new growth is white in the shade, giving it a frosted look, and because it stays pest-free. 'Gentsch White' provides stark contrast to dark greens, and it lights up any shady corner. Its small, 4-foot-tall by 4-foot-wide stature allows it to fit under taller trees or shrubs. Expect it to put on 1 to 3 inches of growth each year. As with most shade-loving conifers, hemlocks prefer a little morning sun and well-drained soil.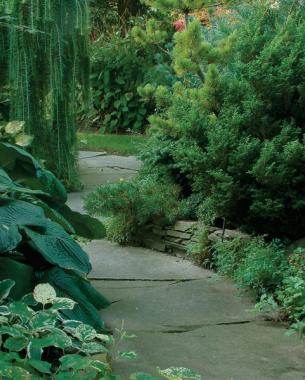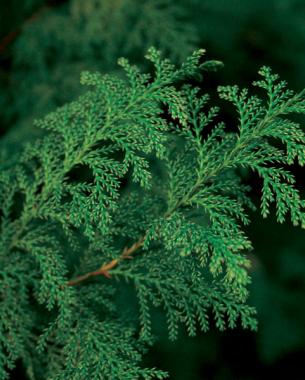 Balance size and accentuate colors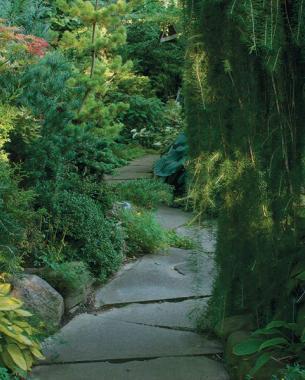 Be sure to plant shade-loving conifers that will stay within the scale of the existing trees on your site.
If you have smaller, deciduous shade trees, don't plant a conifer that is going to tower over its buddies.
Accent the foliage of your coni­fers by planting them with perennials that have contrasting or complementary hues.
Upright habits catch the eye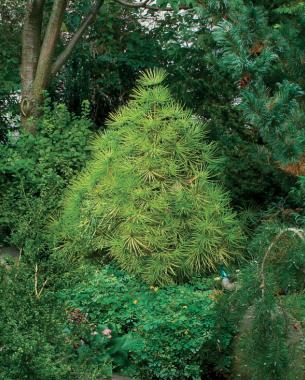 When many of us think of conifers, we think of towering trees. This can be the case, but there are a number of great shade-loving choices that have an upright habit without getting 50 feet tall. The vertical lines of these trees are eye-catching, so if you need a focal point, this is the group for you.
One of these pyramidal options is 'Joe Kozey' Japanese umbrella pine (Sciadopitys verticillata 'Joe Kozey', Zones 5–9). It has rubberlike needles and an intense yellow color in the shade. It grows moderately—putting on only 4 to 6 inches of new growth each year, reaching just 6 feet tall and a mere 3 feet wide at maturity, so it can fit into any-size garden. Deer tend to avoid this tree when other options are available. For the best success, site 'Joe Kozey' in moist but well-drained soil and partial shade.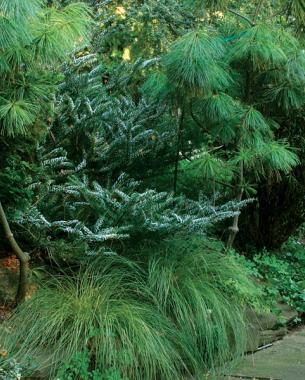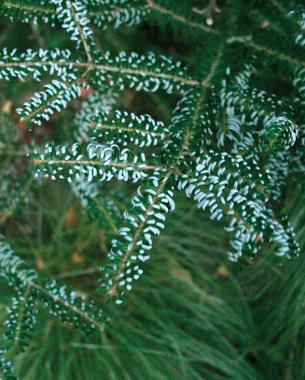 Like 'Joe Kozey', 'Silberlocke' Korean fir (Abies koreana 'Silberlocke', Zones 5–8) has a compact, vertical habit that makes it good for small gardens, like mine. It can eventually get 20 feet tall and wide but is fairly slow growing, only adding 6 inches a year. The silvery backside of its needles gives it an icy appearance that lights up the shade. 'Silberlocke' is another good option for those with deer problems because deer usually steer clear of this particular fir. It prefers some morning sun and mostly afternoon shade. To keep it happy, be sure your soil is well drained.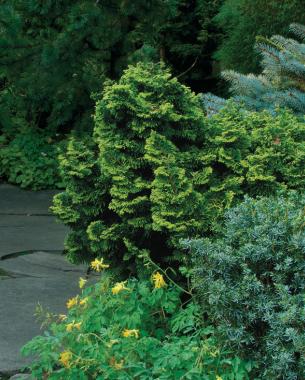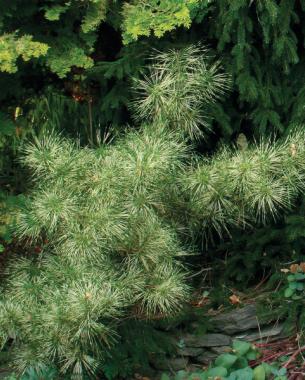 I have long admired many of the gold-variegated false cypresses but don't have room to grow them. Thankfully, golden dwarf hinoki cypress ( Chamaecyparis obtusa 'Nana Lutea') is a slower-growing (putting on about 1 inch of new growth a year), shorter variety. Over time, it will only get 3 to 5 feet tall and wide. The delicate, golden-tipped foliage and twisted branches stand out handsomely, especially in winter. As with 'Snow' false cypress, this tree belongs to a genus that the deer love to eat.
Dragon's eye pine (Pinus densiflora 'Oculus-draconis') is a conversation piece like no other. The dark green eye that emerges from the center of the variegated yellow-and-green needles illuminates the garden and provides exceptional contrast. Dragon's eye pine can reach 15 to 20 feet tall and wide, growing only 4 to 6 inches a year, if given ideal conditions (filtered shade and moist, well-drained soil). This tree is best when pruned to give it a lower profile, making the dark green eye more visible as you walk by. And although deer might munch on them occasionally, pines are generally not the first item on the deer buffet menu.
I've found that once you start planting conifers, it's hard to stop. There seems to be no end to the exciting color and texture interests they provide. And while winters here haven't improved much, the view from my window into the back garden certainly has.