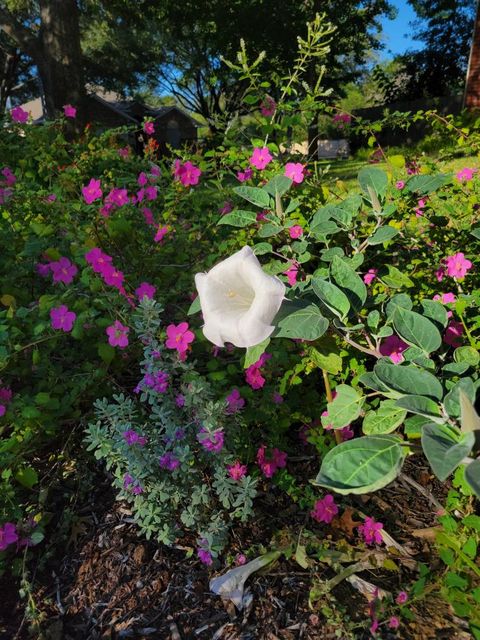 My name is Ryan Harvey, and I have been gardening with my wife, Kristin, and our Yorkie, Emmitt, for eight years in Austin, Texas, Zone 8b. We focus mainly on edibles, perennials, native plants, and enjoying views of the garden and wildlife. It all began with one garden bed in the midst of dying grass, already dead clay soil, and invasive running bamboo that threatened to take over our house itself. Years later, our one-sixth-acre lot has over 100 trees on it, multiple vegetable beds, and countless native and adapted perennial plants. Paths connect various outdoor rooms we have created around our property, each of which is a seating area from which to enjoy our National Wildlife Federation–certified habitat. Sharing our garden with others is one of our great joys, and we spend as much time outside in it as we can.
The birds, insects, and other animals, including our kale-loving dog, give us more than enough entertainment. Since most of our fruit-producing trees and shrubs are young, we are excited to begin harvesting this bounty in the coming years, sharing it with our outdoor wildlife friends, of course.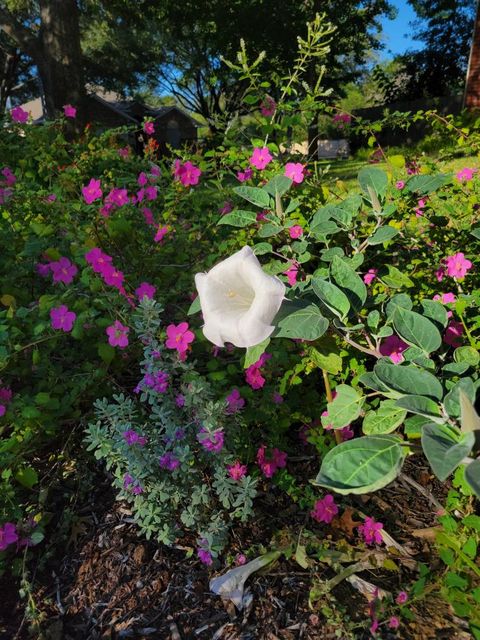 A huge, fragrant flower of Datura inoxia (Zones 9–10 or as an annual) is backed up by the magenta flowers of rock rose (Pavonia lasiopetala, Zones 7–9).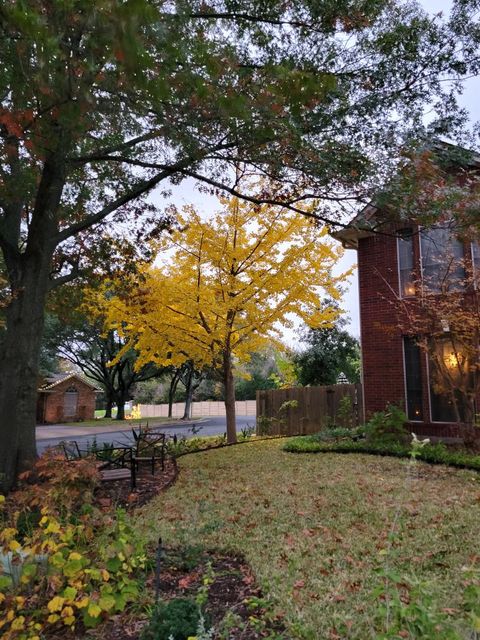 A gingko tree (Gingko biloba, Zones 5–9) is dressed in gold for the fall.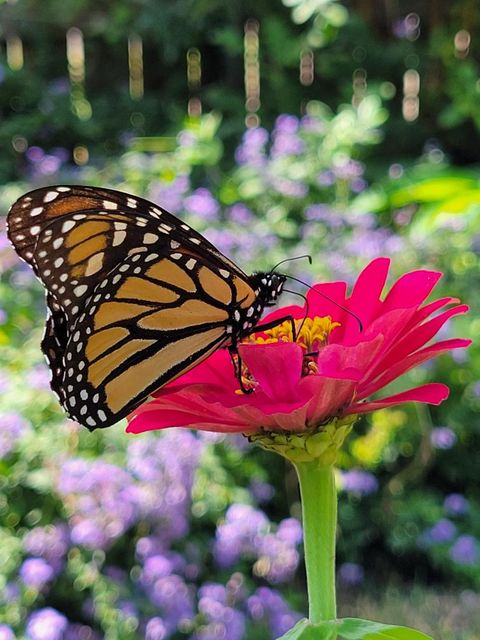 A monarch butterfly sips nectar from a zinnia (Zinnia elegans 'Will Rogers', annual).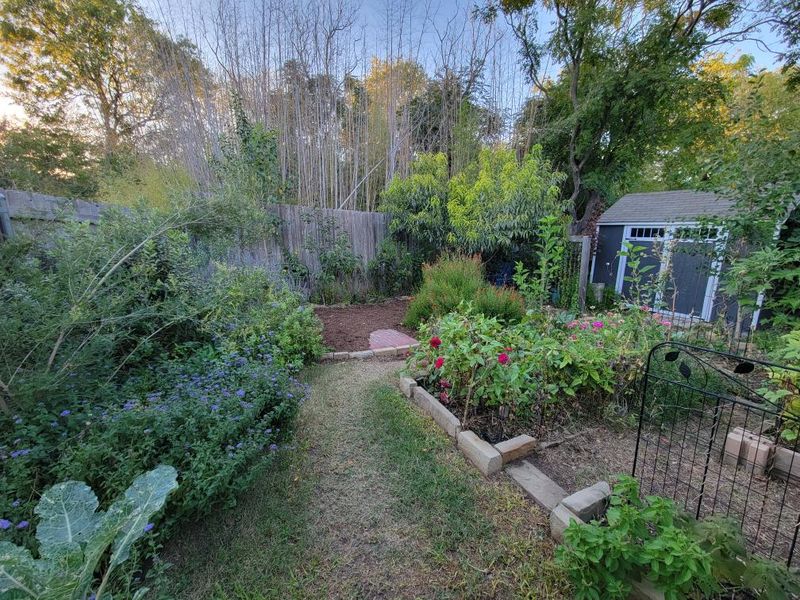 The garden is full of life, providing beauty and food for human and nonhuman residents.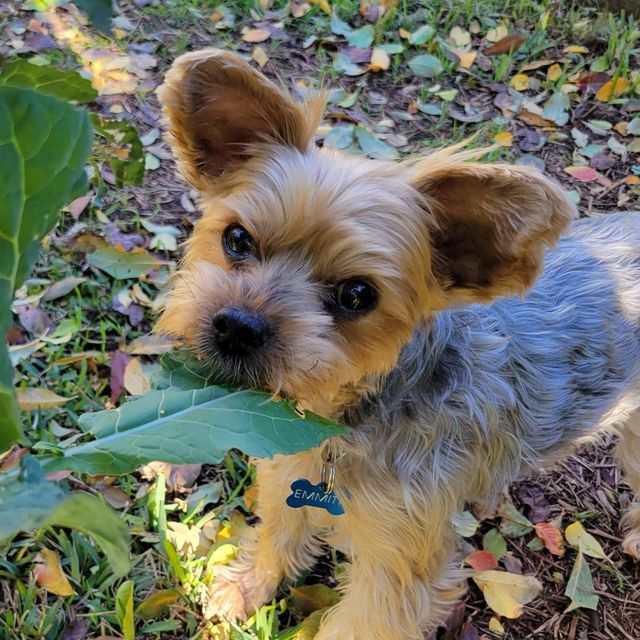 One of the nonhuman residents is Emmitt, who is a huge fan of kale.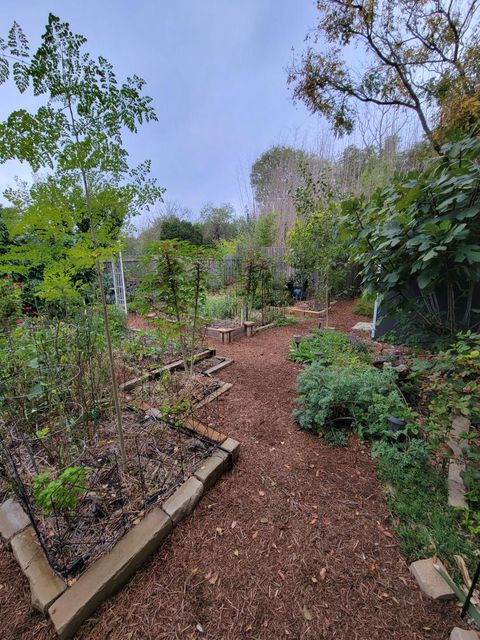 Paths wind through the garden beds, with everything thickly mulched to conserve water and suppress weeds.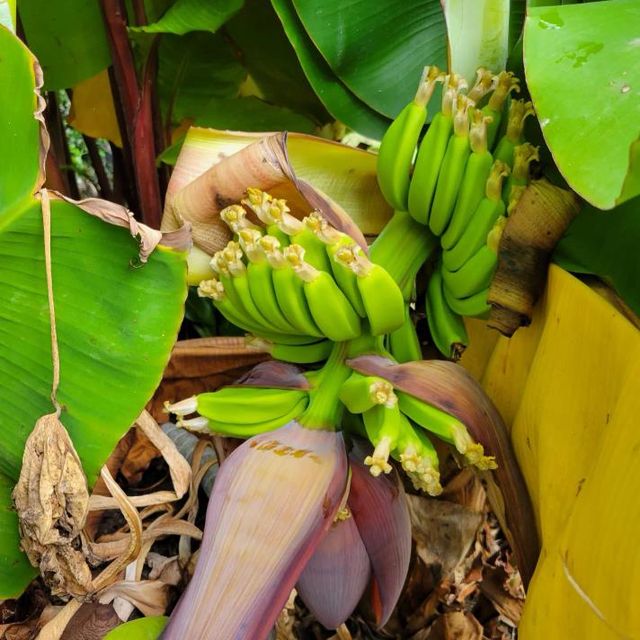 An unusual banana variety, Musa 'Truly Tiny' (Zones 8–11) is an extremely small version of the classic Cavendish banana you are used to buying at the grocery store. The small size means it can be grown to produce fruit even in climates where you need to overwinter it indoors.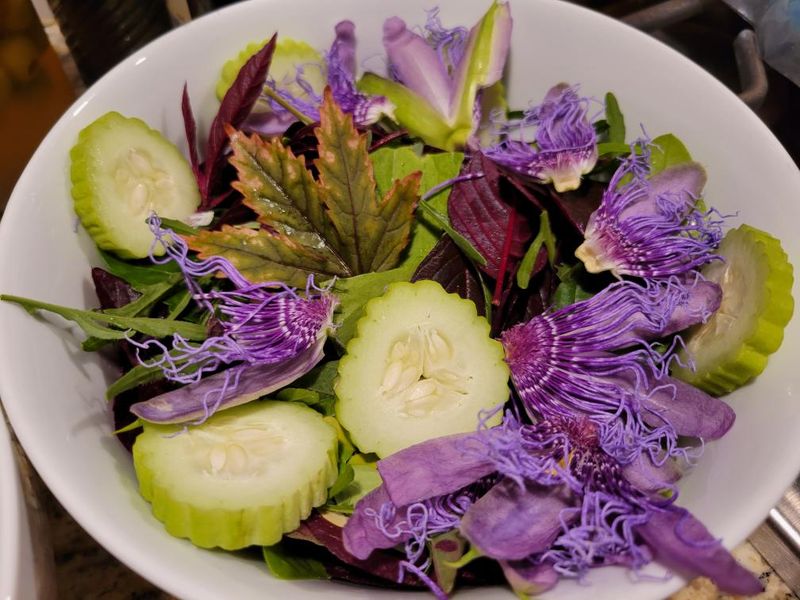 This delicious-looking salad was harvested entirely from the garden, with edible passionflower (Passiflora incarnata, Zones 6–10) blooms making it beautiful as well as tasty.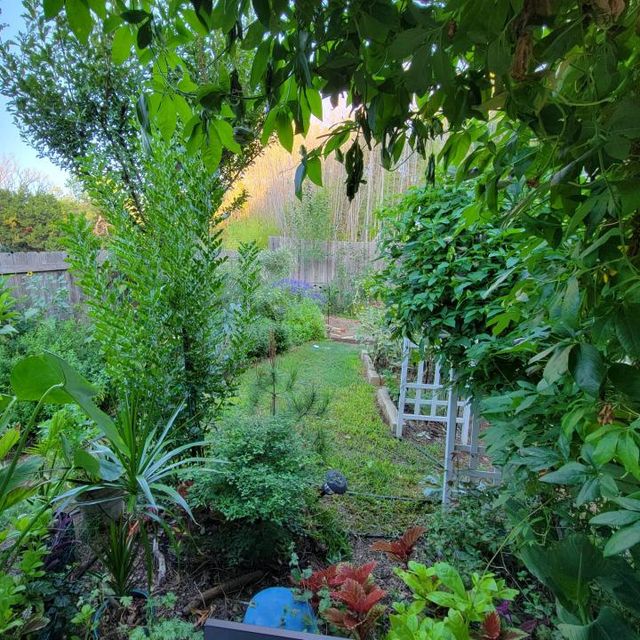 This is a lush and productive garden space.
If you'd like to see more from this garden, check out Ryan and Kristin's Instagram: @theharveygarden
Have a garden you'd like to share?
Have photos to share? We'd love to see your garden, a particular collection of plants you love, or a wonderful garden you had the chance to visit!
To submit, send 5-10 photos to [email protected] along with some information about the plants in the pictures and where you took the photos. We'd love to hear where you are located, how long you've been gardening, successes you are proud of, failures you learned from, hopes for the future, favorite plants, or funny stories from your garden.
Have a mobile phone? Tag your photos on Facebook, Instagram or Twitter with #FineGardening!
Do you receive the GPOD by email yet? Sign up here.