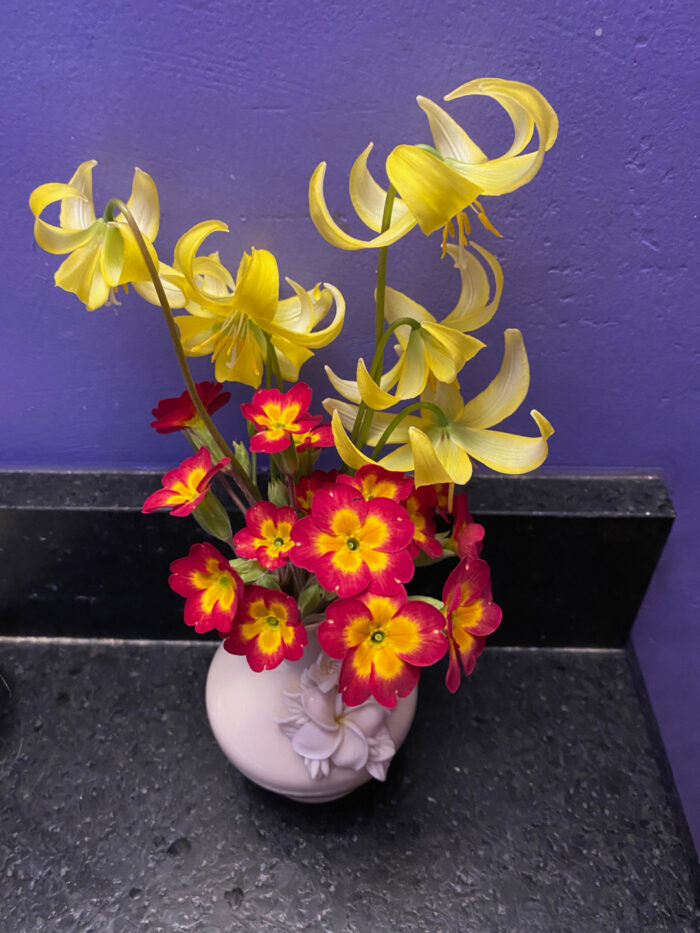 My name is Fran Cohen, and this is my second submission to GPOD. (Check out Fran's first submission here.) I've been gardening here in Rhode Island for more than 30 years. This time of year I find it especially warming to go through last year's photos that bring the outside in with bouquets big and small. Matching the blossoms to the vase is important, but where to put the vase is just as important. A favorite location is the windowsill over the kitchen sink, where I can study things up close. Another is in the downstairs powder room with its vivid blue-purple walls.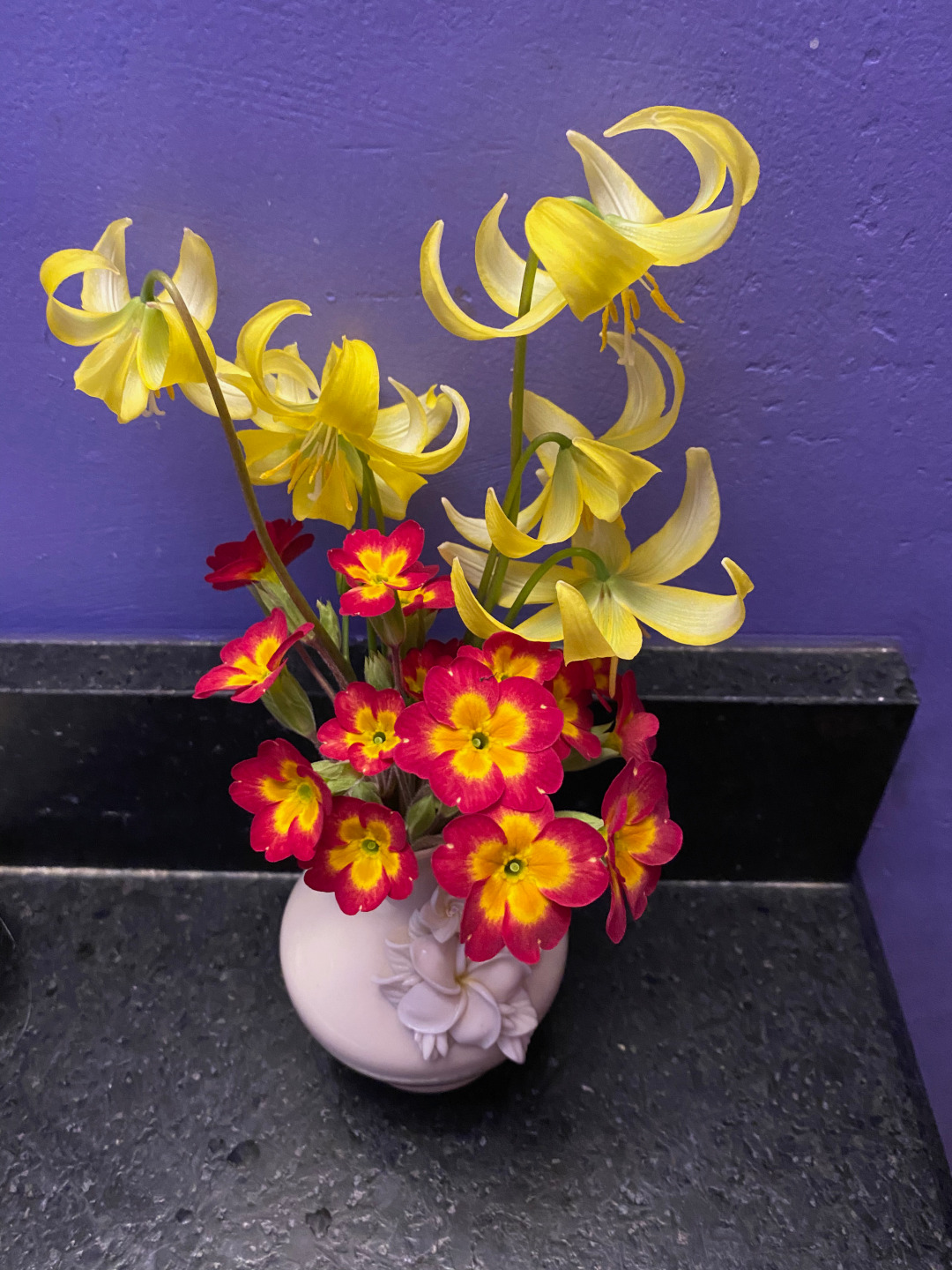 Dog tooth violets (Erythronium 'Pagoda', Zones 4–9) are a recent addition, and I'm sorry I didn't discover them sooner. They're graceful but robust among the other fragile ephemerals. These red-and-yellow primroses (Primula hybrid, Zones 4–8) are cheerful, bulletproof, and easy to divide and spread around.
The purple clematis is 'Vyvyan Pennel' (Zones 4–9), but I have forgotten the name of the white one. While I now prefer a simpler flower form, these were acquired many years ago when I was seduced by outrageous catalog pictures.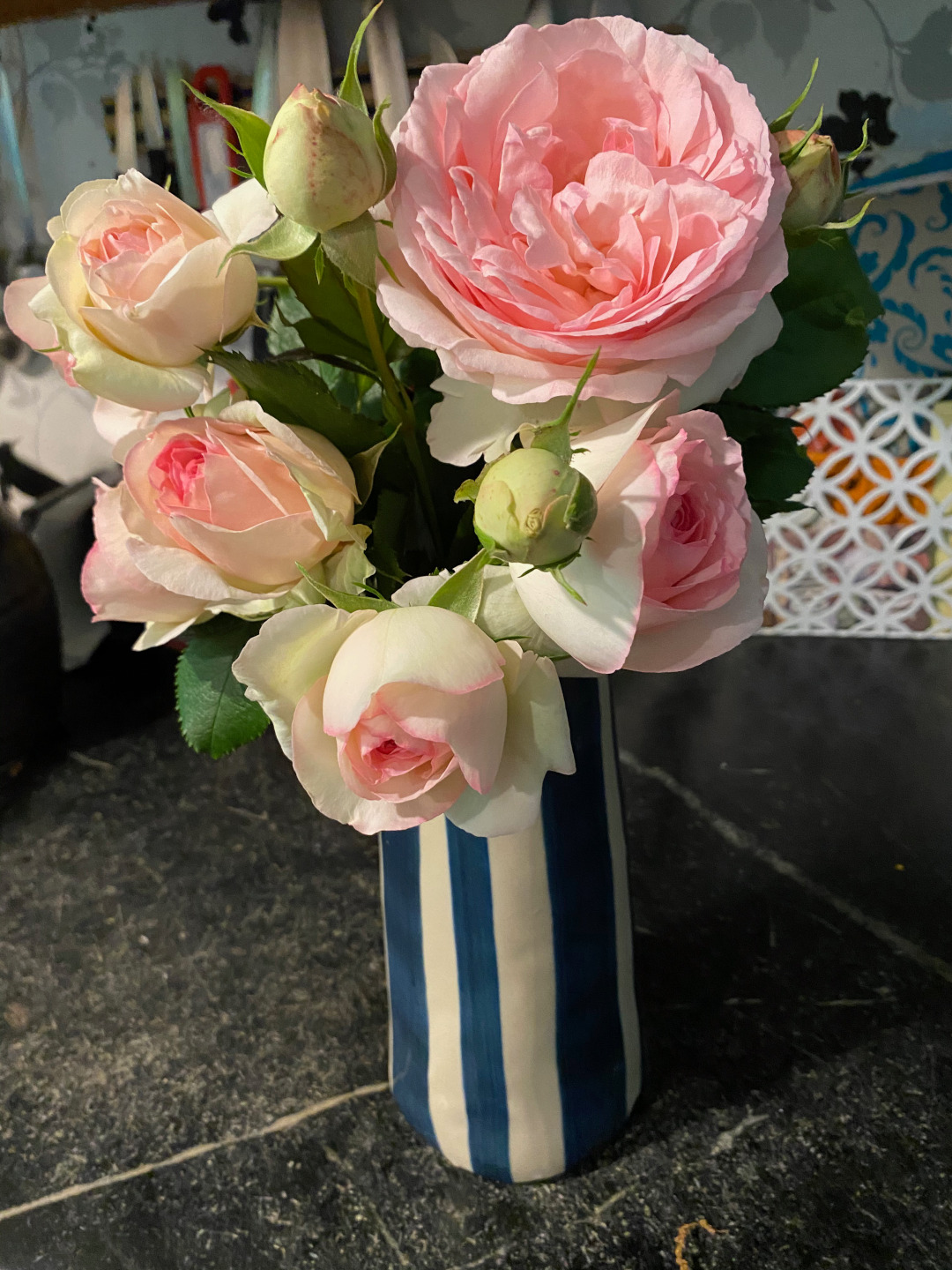 Eden rose (Rosa 'Eden', Zones 5–10) climbs against the stone chimney and blooms for a long time with a scent that can make you swoon. Such a full and generous rose. I even found a bud to bring inside in November.
Some alliums get lost among other show-offs, but these Allium siculum (Zones 4–8) can be fully appreciated on the windowsill.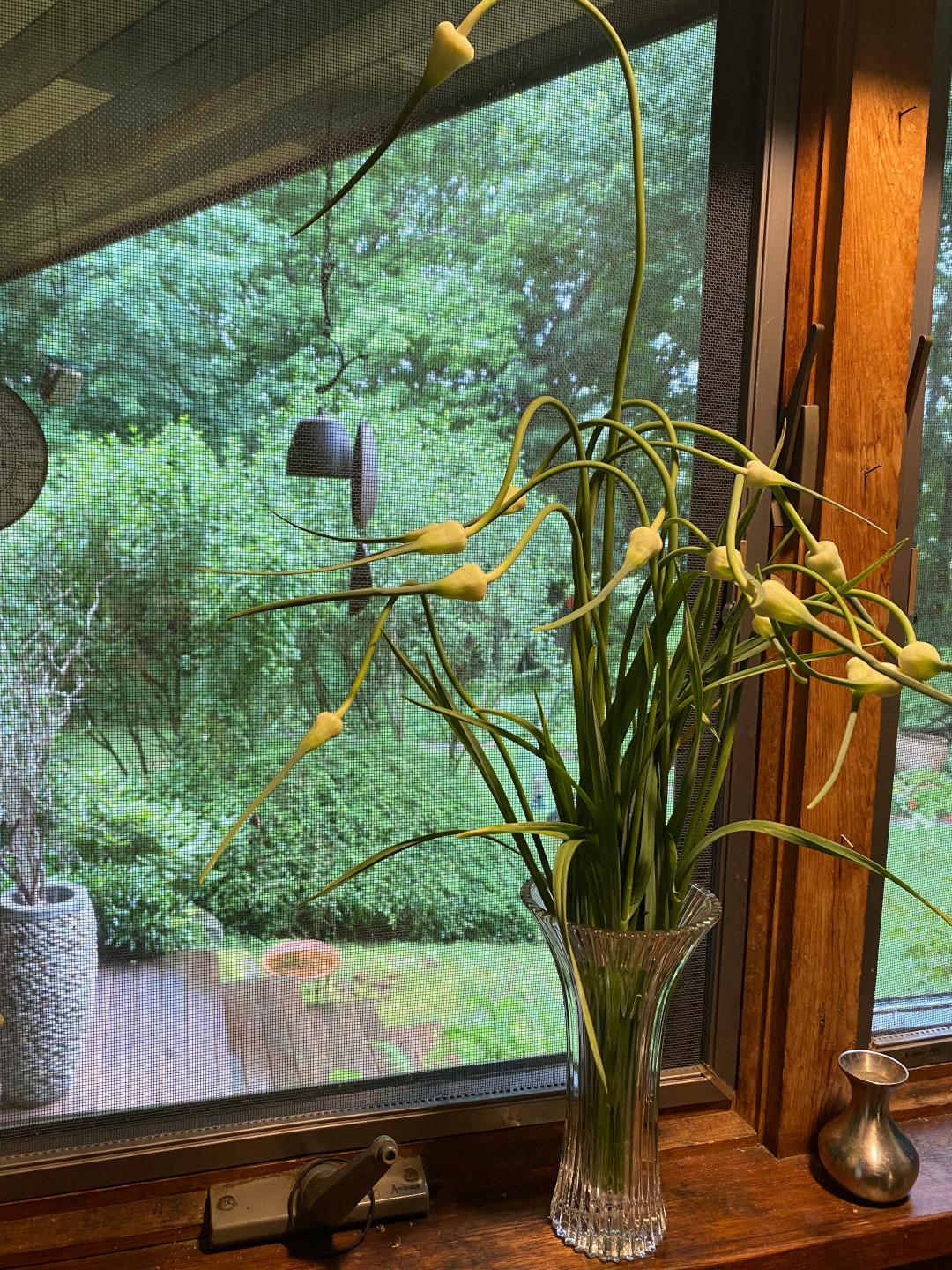 Cut garlic scapes (the flowering stems of garlic plants) look modern and architectural when brought inside. And you can always snip some to add flavor as you cook.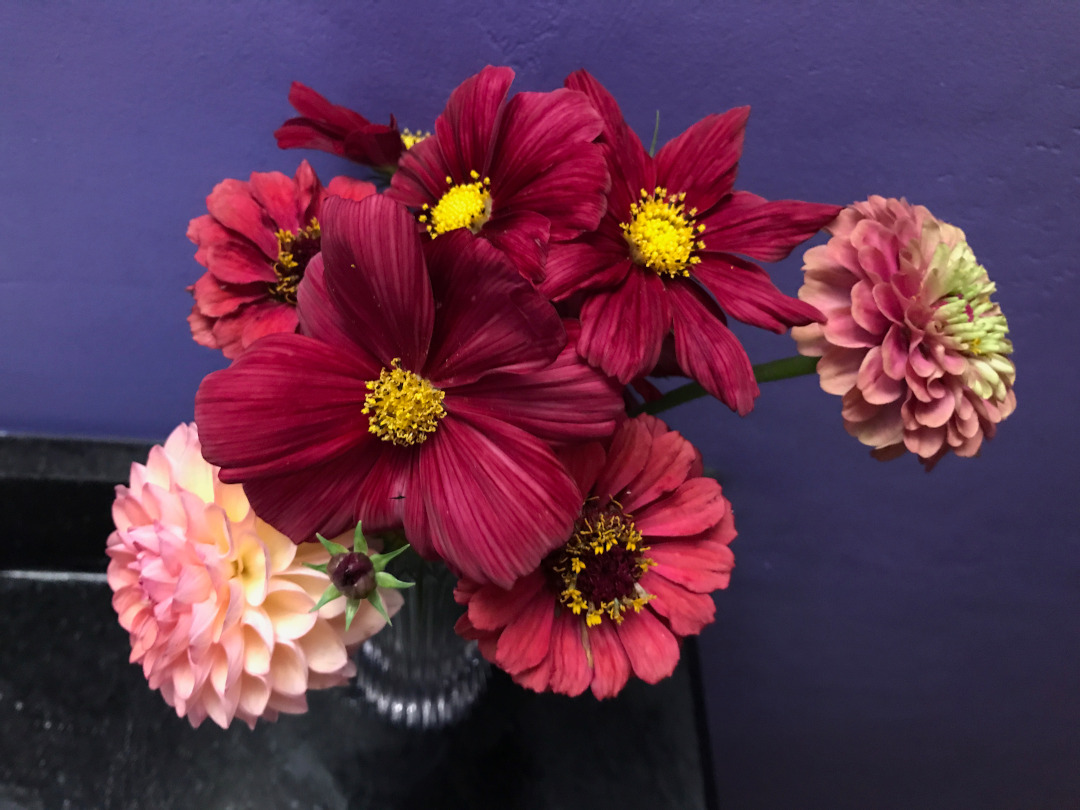 I plan to always grow 'Rubenza' cosmos (Cosmos bipinnatus 'Rubenza', annual) with their stunning color and subtle shadings. Here they combine well with some zinnias (Zinnia elegans, annual) the rabbits spared and a lone dahlia (Dahlia variabilis, Zones 8–10 or as a tender bulb).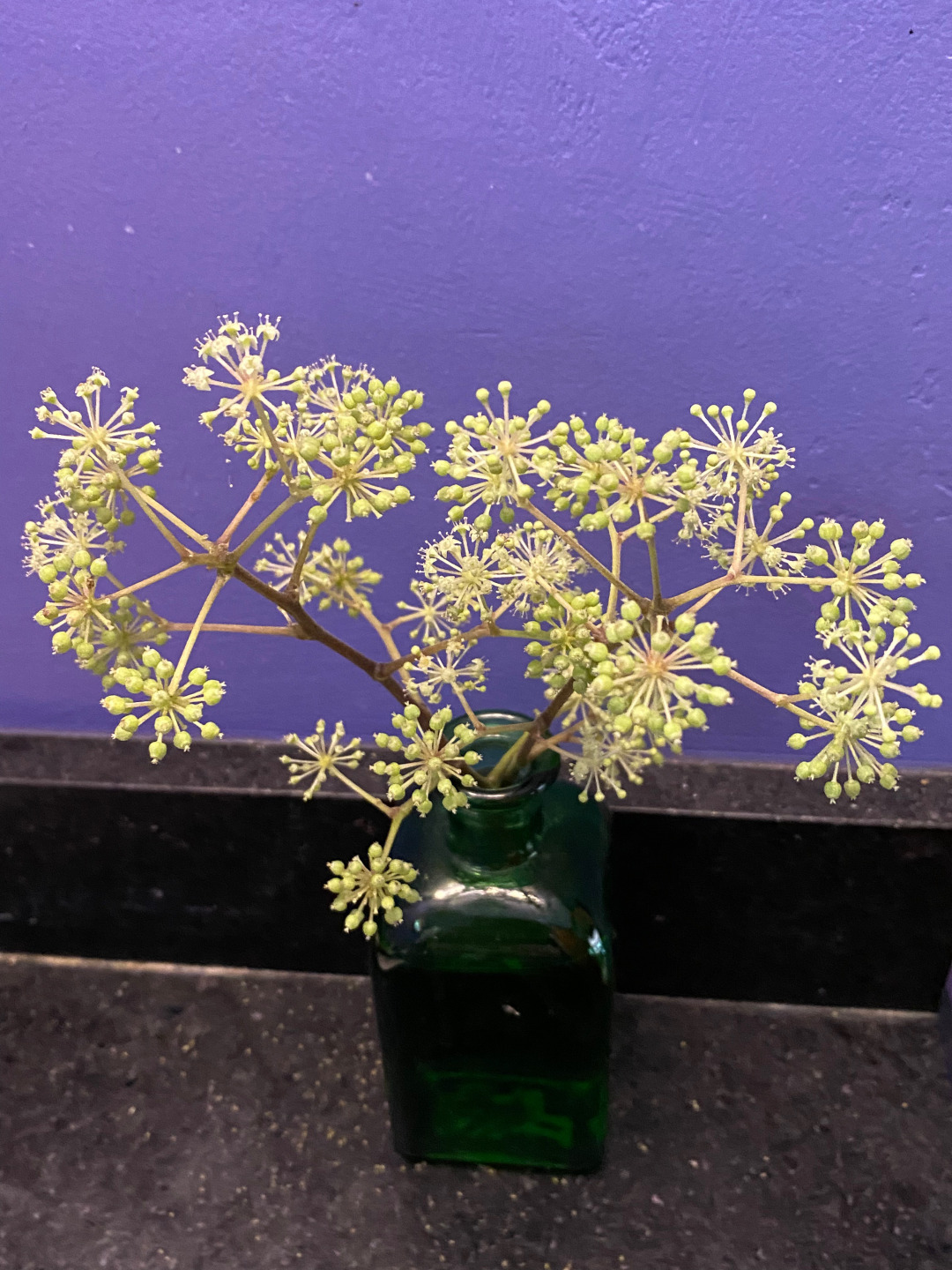 Aralia 'Sun King' (Zones 3–9) has brightened the shady shrub border for years, but this is the first time I noticed its delicate white flowers.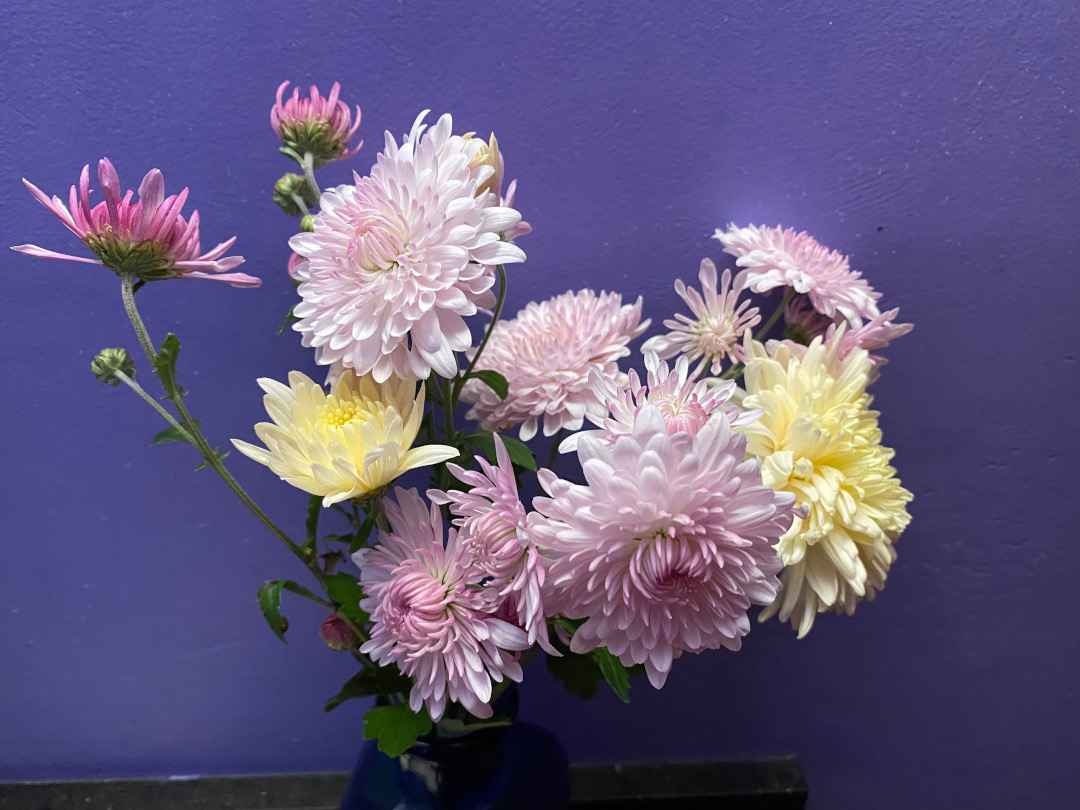 These mums (Chrysanthemum hybrids, hardiness varies by cultivar) are always worth waiting for, though I wish they bloomed earlier.