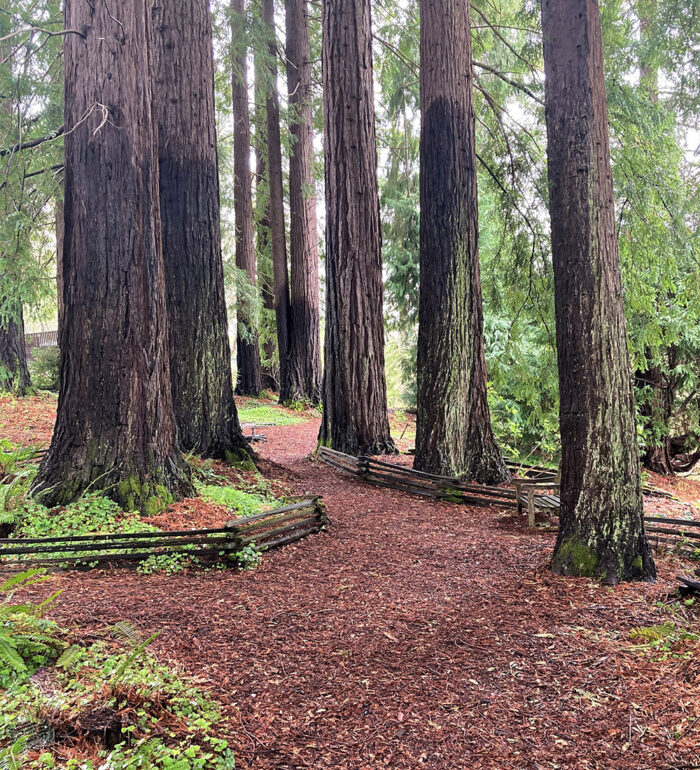 Founded in 1940 and located within Tilden Park in the canyon above Berkeley, California, a wild, 10-acre botanical garden awaits your discovery. Created to serve as a living museum of California's vastly diverse native plants, the Tilden Regional Parks Botanical Garden is pure joy. Miles of rambling trails invite you to explore the 10 beautifully landscaped sections, each one planted up with a unique collection representative of each one of California's most distinctive regions. Because the site is influenced by both inland dryness and coastal fog and is comprised of slopes facing every direction possible, an exceptionally diverse range of plant species—many of them threatened, rare, or endangered—thrives here.
| | |
| --- | --- |
| A formidable patch of prickly pears native to dry areas is impressive. | Chatterberry (Arctostaphylos nummularia, Zones 8–9) is native to Mendocino County. |
California native plant species abound at the Regional Parks Botanical Garden
You'll find species that hail from the High Sierras and the coastal bluffs, from the rain forests in the north to the deserts in the southern part of the state. The gardens support towering redwoods (Sequoia sempervirens, Zones 7–9), most of California's conifers and oaks (Quercus spp., Zones 8–10), native bulbs, succulents, ferns, perennials and annuals, plus an outstanding collection of California lilacs (Ceanothus spp., Zones 8–10) and manzanitas (Arctostaphylos spp., Zones 8–10). Flowers bloom throughout the year (with the peak display occurring from spring through midsummer), while fall and winter bring colorful foliage and ripening berries. A bonus is the delightful Wildcat Creek running through the gardens, providing habitat and water for mammals, birds, and insects and is the perfect environment for native streamside and aquatic plants to grow.
| | |
| --- | --- |
| Western redbud reaches peak bloom in early spring, and that display is followed by the unfurling of green, heart-shaped leaves. | Enjoy an inviting bench under a canopy of pink-flowering currant. |
The Regional Parks Botanical Garden is an educational resource for California native-plant enthusiasts
A visit to the Regional Parks Botanical Garden, which is open to the public year-round, is always rewarding. Weekly plant and seed sales are on Mondays and Wednesdays and on the first Saturday of each month. The botanical garden's classes, field trips, online courses, and workshops are suspended until fall of 2022 due to ongoing COVID concerns. But a stroll through the garden offers the plant lover plenty of learning opportunities. You'll learn not just about the individual plants themselves and how to grow them, but also about their natural habitats. Additionally, the conservation work being done at the garden and the horticultural experimentation there (which hopefully will result in the introduction of new native-plant cultivars to California gardeners) is fascinating.
| | | |
| --- | --- | --- |
| From the Channel Islands off the coast of Southern California comes white-felted paintbrush (Castilleja hololeuca, Zones 8–11). | Henderson's shooting star (Dodecatheon hendersonii, Zones 5–7) is a spring bloomer from Santa Clara County. | Lush leather-leaf ferns (Polypodium scouleri, Zones 8–9) hail from Santa Cruz County. |
Spring is a great time to experience a plethora of blooms at the Regional Parks Botanical Garden
I spent a spring morning at the Regional Parks Botanical Garden and truly enjoyed every minute. A plant lover can't help but appreciate the pendulous blooms of a pink-flowering currant (Ribes sanguineum var. glutinosum, Zones 8–10), the ruggedness of Western prickly pears (Opuntia spp., Zones 8–11), the lushness of the numerous leafy perennials and ferns, and the diversity of the (all-blooming) manzanitas and California lilacs. I was fascinated by the plants from the Channel Islands and particularly delighted by a clump of Contra Costa County's own native trillium, the colorful giant wake robin (Trillium chloropetalum, Zones 8–11). A Western redbud (Cercis occidentalis, Zones 6–9) in full bloom was a charming sight, but one of my favorite vignettes involved a cluster of tiny yellow redwood violets (Viola sempervirens, Zones 6–9) blooming at the base of a massive redwood tree. It's a wonderful place to visit, and I am confident that I will be captivated by even more beauty and blooms next time I visit this veritable California native-plant treasure trove.
For more on Northern California native plants, go here
For more information on this botanic garden, go here
—Fionuala Campion is the owner and manager of Cottage Gardens of Petaluma in Petaluma, California.
Photos: Fionuala Campion