One of the most diverse landscapes you'll ever visit, the University of California Botanical Gardens were originally established in 1890 in order to create a living collection of the native trees, shrubs, and plants of California. It quickly expanded to include native plants collected from California's neighboring states and subsequently added native wild-origin plants from the rest of the world to its extraordinarily varied collection. The garden's 34 acres are located in the Berkeley Hills overlooking the San Francisco Bay and are organized geographically into nine principal regions—from Asia to South Africa—and also into Ethnobotanical and Taxonomic Collections. These collections boast gorgeously landscaped naturalistic plantings filled with over 10,000 types of horticulturally important plants, many of them rare or endangered, and all of them fascinating.
The garden's living plant collections are not only invaluable resources for the scientific community but are wonderfully inspiring for us "regular" gardeners too. The hillside setting incorporates miles of rambling pathways that lead the explorer through one fabulous collection after another and offer beauty, color, and textural interest all year long. And don't forget the flowers! There is always something in bloom at the UC Botanical Gardens, and the summer months are no exception. On a recent visit, I found the South American collection particularly captivating. Beginning in the 1930s, these plants were collected over several botanical expeditions to regions ranging from the Chilean highlands to the southernmost deserts of Argentina, and their descendants can now be enjoyed growing in 25 landscaped beds and borders spread out over 2 acres.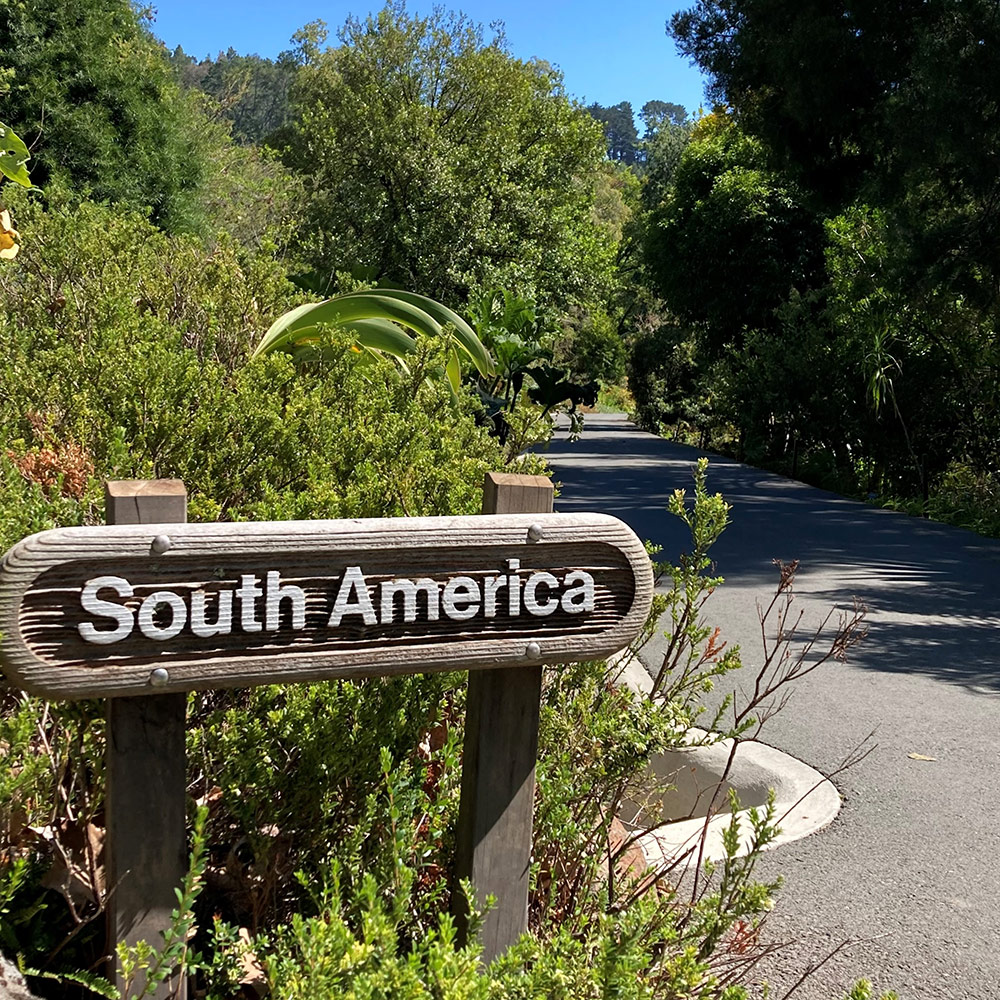 South American native plants that are well-suited to Northern California gardens
---
There were so many intriguing plants in the South American collection, but I narrowed my list of favorites down to these beauties.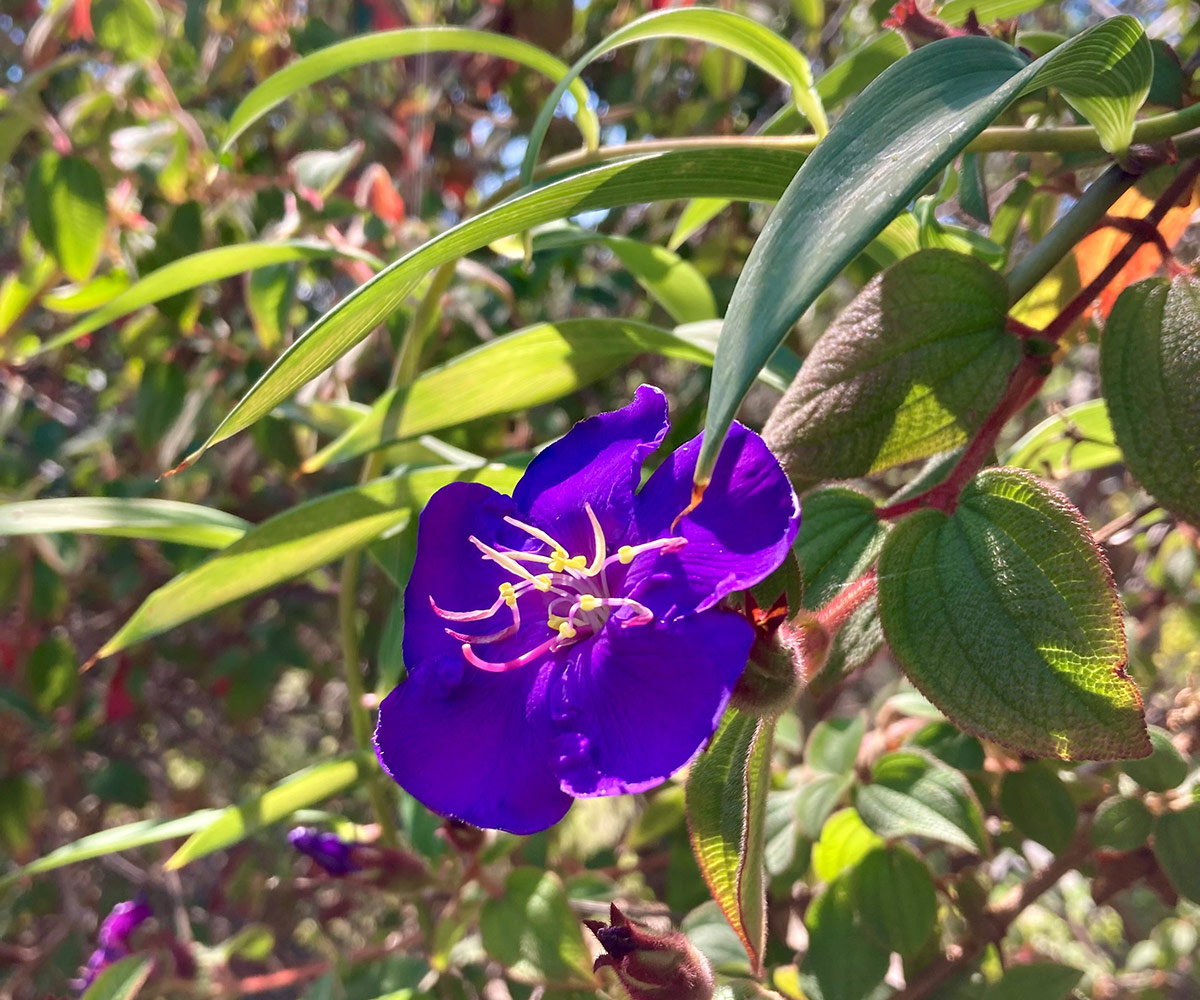 Glory bush
(Tibouchina laxa, Zones 9–11)
This is a rambling, informal, yet striking shrub native to Ecuador and Peru. Its long, slender stems are clothed in fuzzy, green, crinkled leaves all year long and brilliant violet-colored blooms from spring through summer. Glory bush reaches 4 to 5 feet tall and wide and does best when planted in well-drained, slightly acidic soil, with some afternoon shade in the hotter regions of NorCal. Protect it from frost in winter.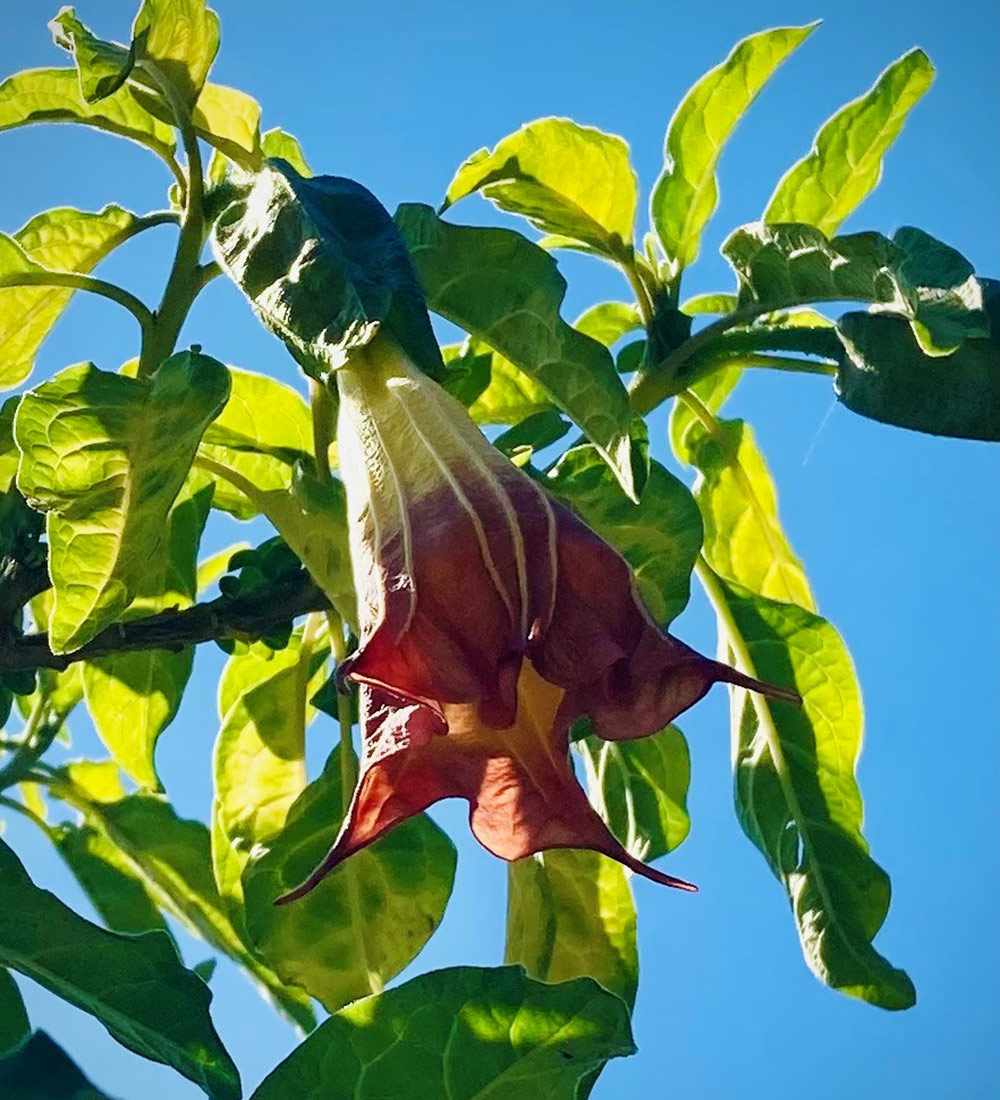 Red angel's trumpet
(Brugmansia sanguinea, Zones 9–11)
A small, semi-evergreen tree, this beauty gets 6 to 8 tall. It is covered with lush, oversized, apple green leaves during the warmer months and a traffic-stopping flower show of big, bright, scarlet-orange tubular "angel trumpet" blooms from late spring through summer. Red angel's trumpet comes from the highlands of Colombia and loves afternoon shade and rich, well-drained, evenly moist soil. Feed it two to three times during the growing season for best results. Though it's reputed to be the hardiest of the Brugmansia, frost protection is advised.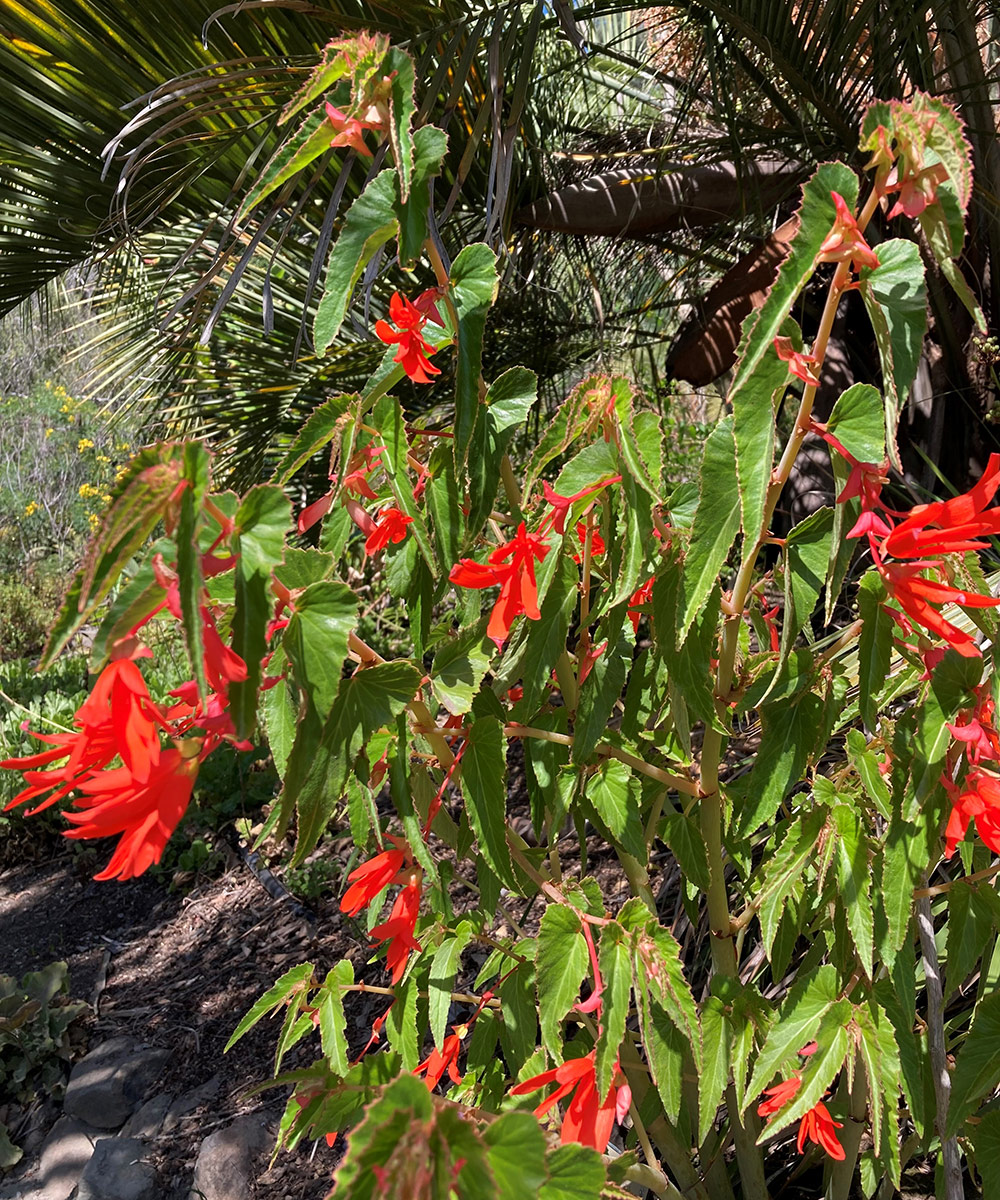 Bolivian begonia
(Begonia boliviensis, Zones 7–11)
Spectacular flamelike flowers in fiery red almost cover the mounding, deep green foliage of this plant all the way from spring through fall. The blooms only quit when hit by winter's first frost. This showy, long-blooming beauty grows happily in rich, well-drained soil, does fabulously in hanging baskets or window boxes, prefers afternoon shade, and is quite heat and drought tolerant for such a lush and lovely perennial. Bolivian begonia reaches 12 to 16 inches tall and trails to be a bit wider. It is deciduous but returns reliably each spring.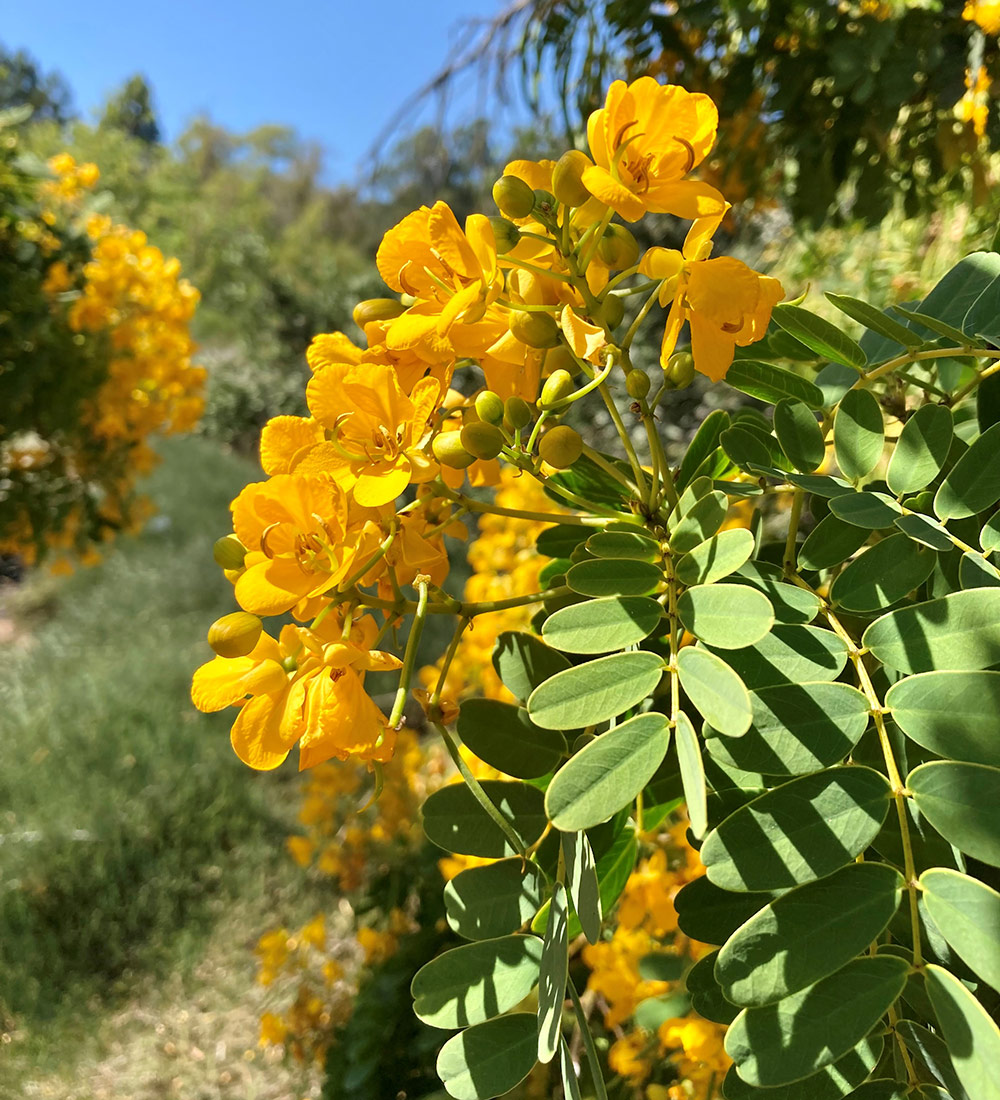 Golden cassia
(Senna candolleana, Zones 9–11)
From Chile comes this evergreen, long-blooming, shrubby tree that grows 10 to 12 feet tall and wide. With attractive, deeply divided pea-green leaves, golden cassia is ornamental even when it's not blooming, but it's quite spectacular from spring through summer when it's adorned by large clusters of sunny, golden-yellow flowers. It is drought and heat tolerant and is able to take a light freeze. Golden cassia likes full sun and well-drained soil and has low water needs.
Lesser-known South American plants that are worth a try in NorCal
---
These plants aren't as readily available in nurseries but are great options for adding continuous color to a NorCal garden—if you can find them for sale.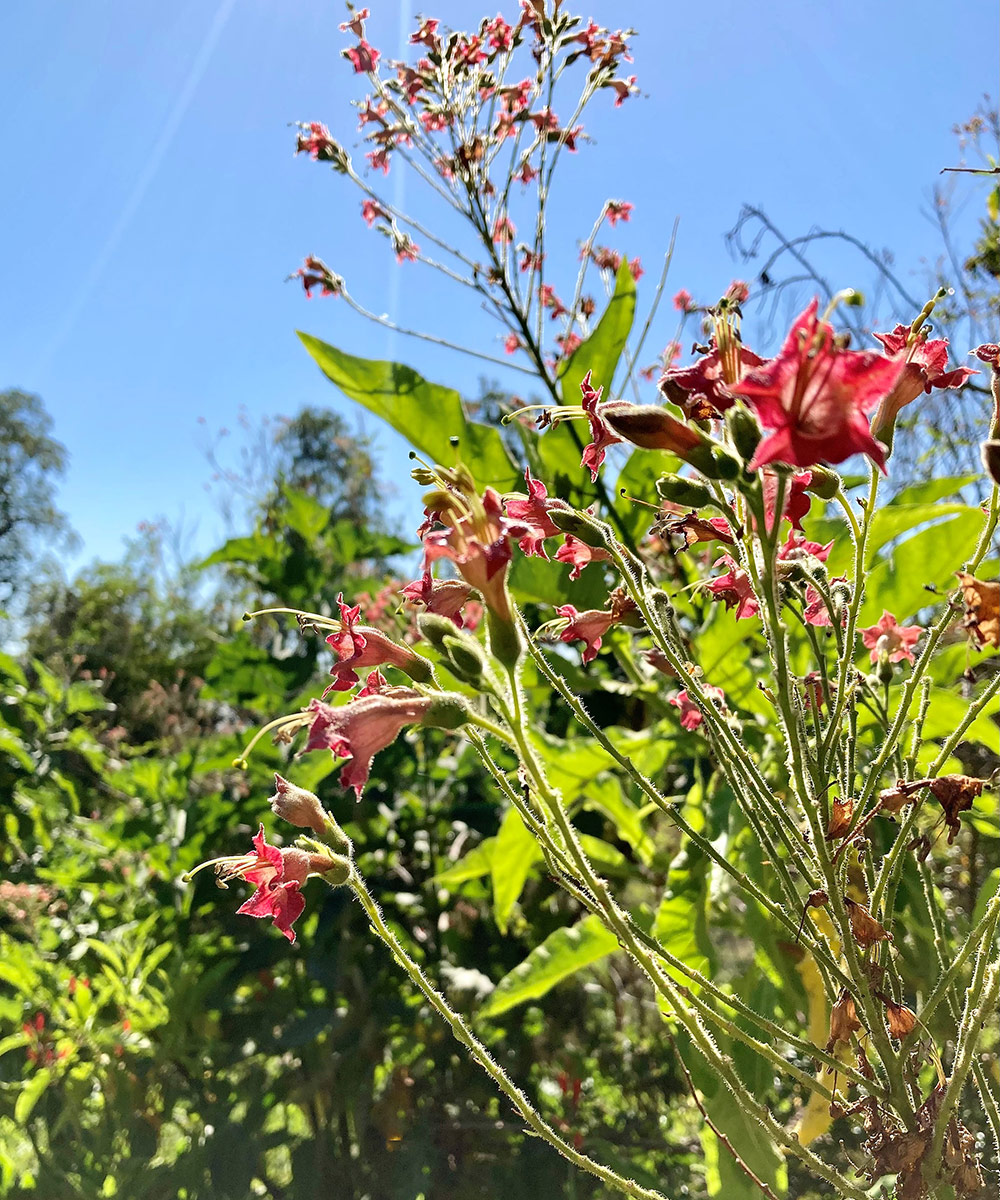 Wild tree tobacco
(Nicotiana tomentosa var. leguiana, annual)
This is an enormous (10 feet tall) flowering tobacco from Peru covered with large sprays of big, deep, dusk-pink blooms almost all season long.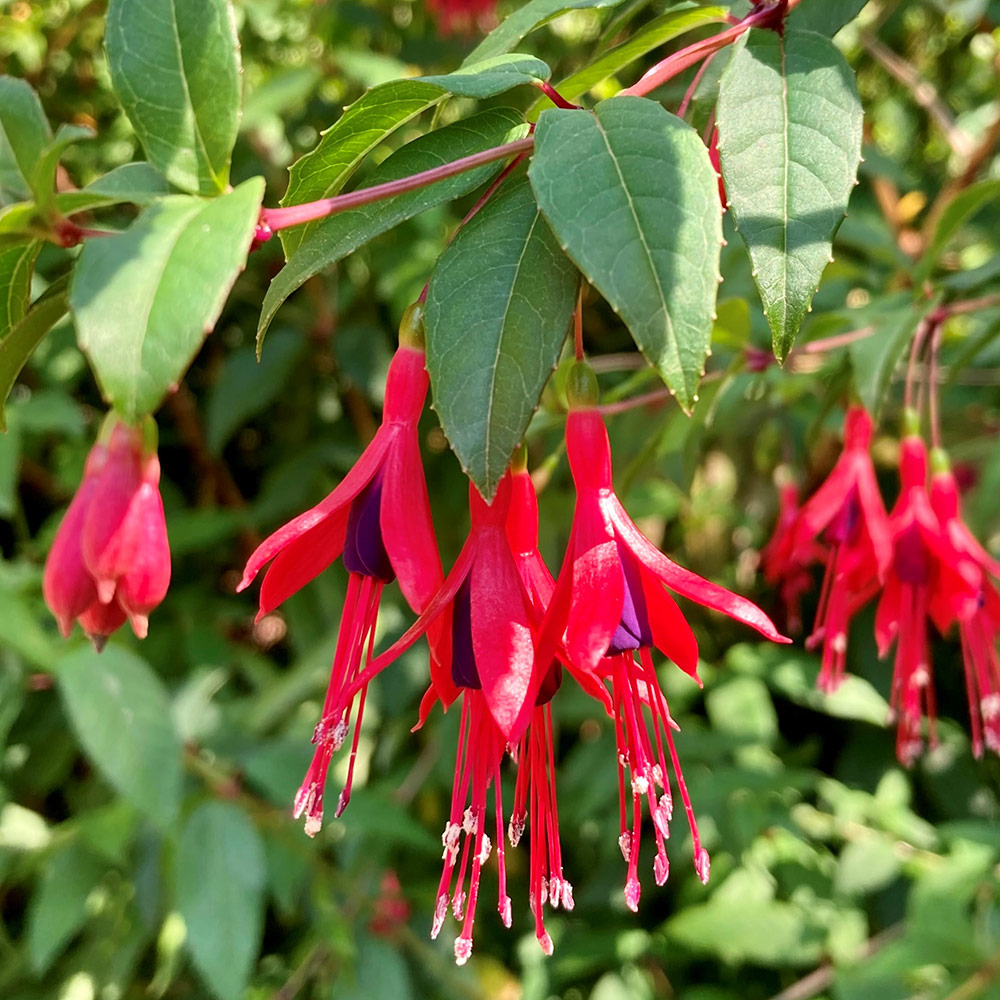 Lady's eardrops fuchsia
(Fuchsia campos-portoi, Zones 7–10)
This relatively cold-hardy, long-blooming Brazilian beauty reaches 3 to 4 feet tall and wide and is graced with abundant dainty, dangling purple-and-red blooms from spring through fall.
For more on Northern California native plants, go here.
—Fionuala Campion is the owner and manager of Cottage Gardens of Petaluma in Petaluma, California.
Photos: Fionuala Campion