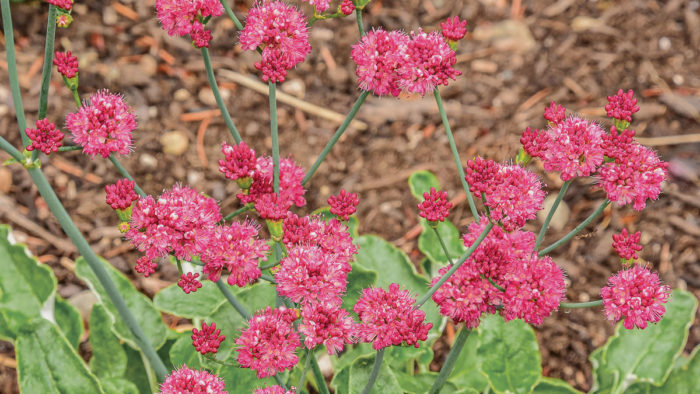 Top Pick: Red-flowered buckwheat may be small, but it has focal-point power
Name: Eriogonum grande var. rubescens
Zones: 8–10
Size: 2 feet tall and 2 to 3 feet wide
Conditions: Full sun to partial shade; moist, well-drained soil
This small, clumping perennial, endemic to the Channel Islands off the coast of Ventura, is a standout in the vast world of buckwheats (Eriogonum spp. and cvs., Zones 4–10) for its ease of growth and striking flower color. Its compact nature lends itself to corners and edges, but it can also be planted en masse for a powerful impact from late spring throughout summer. Combine it with other middle- to late-season perennials such as sage (Salvia spp. and cvs., Zones 3–9), gumweed (Grindellia spp. and cvs., Zones 9–10), and milkweed (Asclepias spp. and cvs., Zones 4–9) for a pollinator buffet. Red-flowered buckwheat is also superb in rock gardens and can be planted with native geophytes and other coastal cliff-dwelling plants, such as giant coreopsis (Leptosyne gigantea, Zones 9–11). While this species is tolerant of the SoCal heat, inland gardeners should plant it in a spot with partial shade. It also needs a spot that will get occasional to moderate moisture.
More Favorite Picks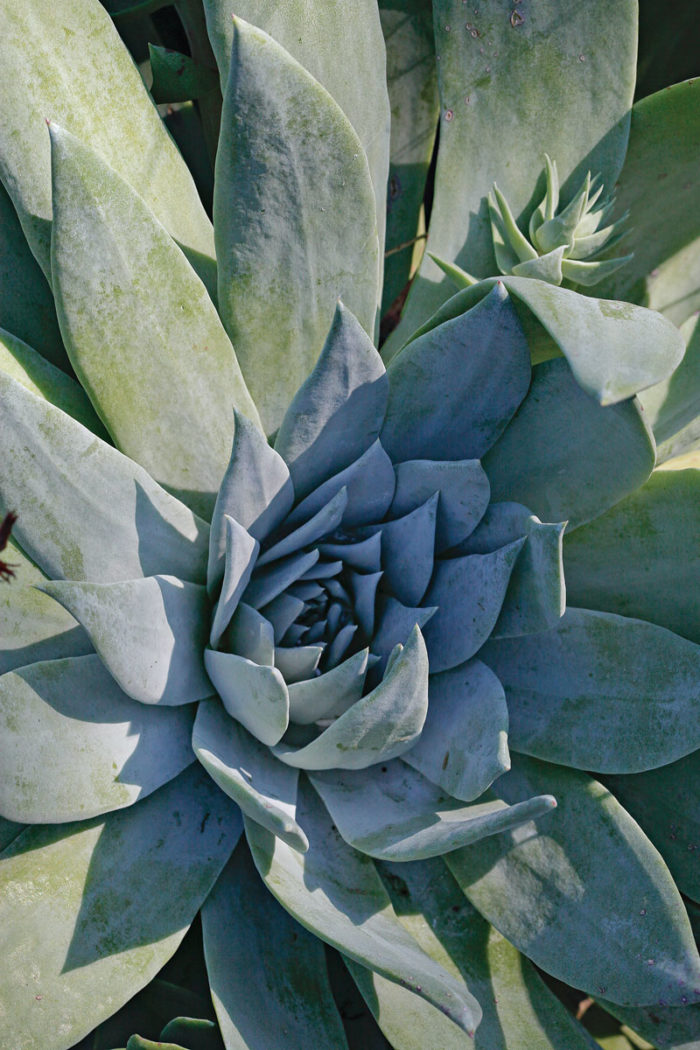 Giant chalk dudleya
Name: Dudleya brittonii
Zones: 9–10
Size: 1 to 2 feet tall and wide
Conditions: Full sun to partial shade; well-drained soil
This evergreen species in the Crassulaceae family is well known to many xeriscape gardeners. Although its native range is in Baja California, it falls within the California Floristic Province and makes a great addition to any garden featuring coast sage scrub or chaparral plant communities. Its large, succulent foliage is typically white and chalky with a salmon-colored inflorescence emerging in May to June. Giant chalk dudleya pairs well with evergreen shrubs such as chamise (Adenostoma fasciculatum, Zones 7–10) as well as with many other native coastal perennials, including deerweed (Acmispon glaber, Zones 7–9). It will also stand up well in a succulent border or as a container plant, and it enjoys being sited adjacent to cobbles and small boulders for the radiant heat. Planting it at a slight slant will help reduce water collection in the rosette and rotting. Giant chalk dudleya prefers good drainage or, in heavy soils, to be part of a bermed planting.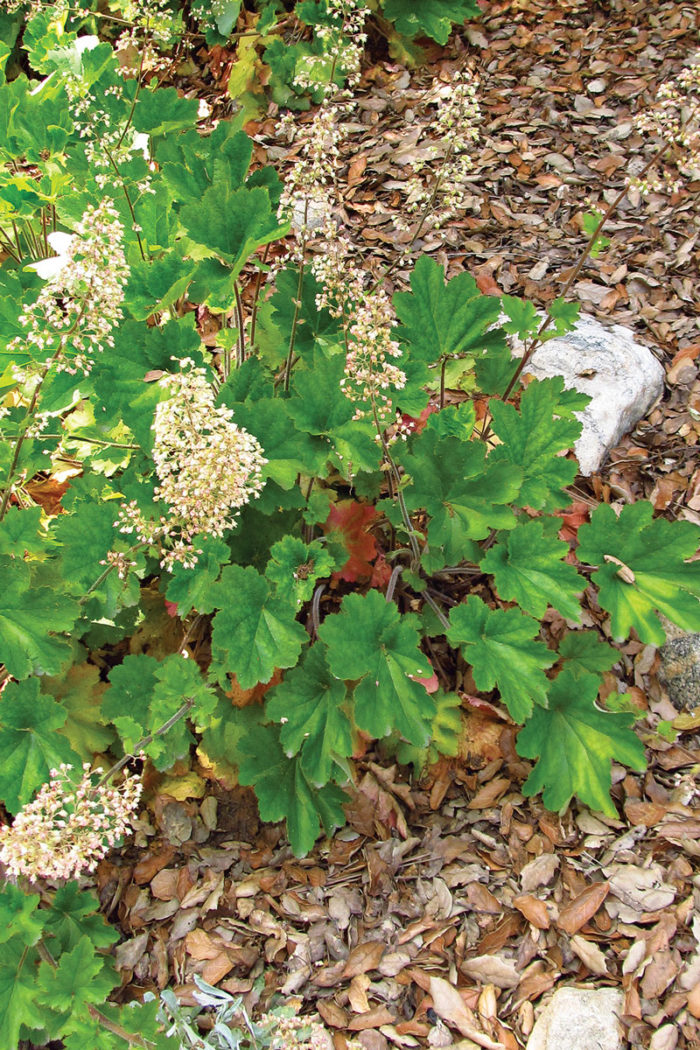 Island alum root
Name: Heuchera maxima
Zones: 8–10
Size: 2 feet tall and wide
Conditions: Partial to full shade; sandy or rocky, well-drained soil
A staple of many woodland gardens, island alum root is a fantastic and easy-to-grow perennial that California native plantsman Theodore Payne introduced into cultivation in the early 20th century. Many of the well-known hybrids of coral bells include H. maxima in their parentage. This native is essential if you are looking for a vibrant burst of long-lasting color throughout spring and into early summer. The flowers hold well when cut and so are great addi­tions to garden bouquets. Island alum root pairs well with other understory native plants, such as creeping barberry (Berberis aquifolium var. repens, Zones 7–11). It has the most impact in mass plantings but can also be an attractive container plant.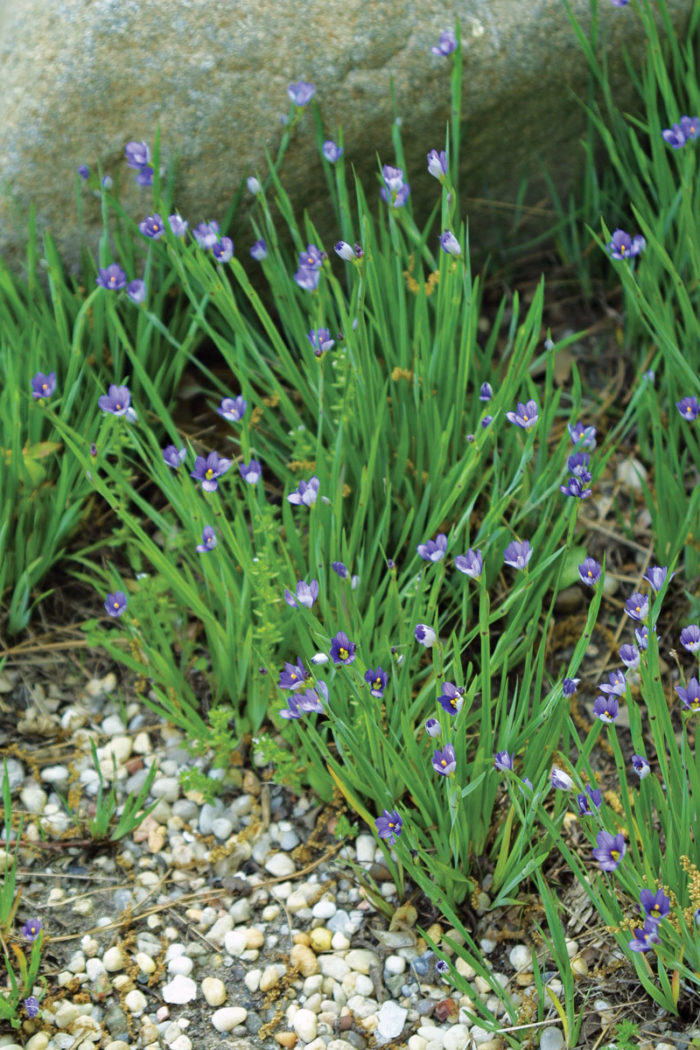 Western blue-eyed grass
Name: Sisyrinchium bellum
Zones: 8–11
Size: 1 foot tall and wide
Conditions: Full sun to full shade; adaptable to a wide range of soil
This plant has several cultivars to its name, but the straight species never fails to perform extremely well in a variety of garden conditions. Slender, monocot foliage emerges with the fall rains and becomes a lush 1-foot-tall clump that mixes well with perennial grasses and sedges (Carex spp. and cvs., Zones 5–9). Western blue-eyed grass also makes a great understory plant in more wooded settings. It can be used as a border and edging plant in chaparral and coast sage scrub gardens, disappearing seasonally and adding beautiful deep purple splashes of color during spring. It is a great companion for a number of ­native annual wildflowers and is a great rock garden filler.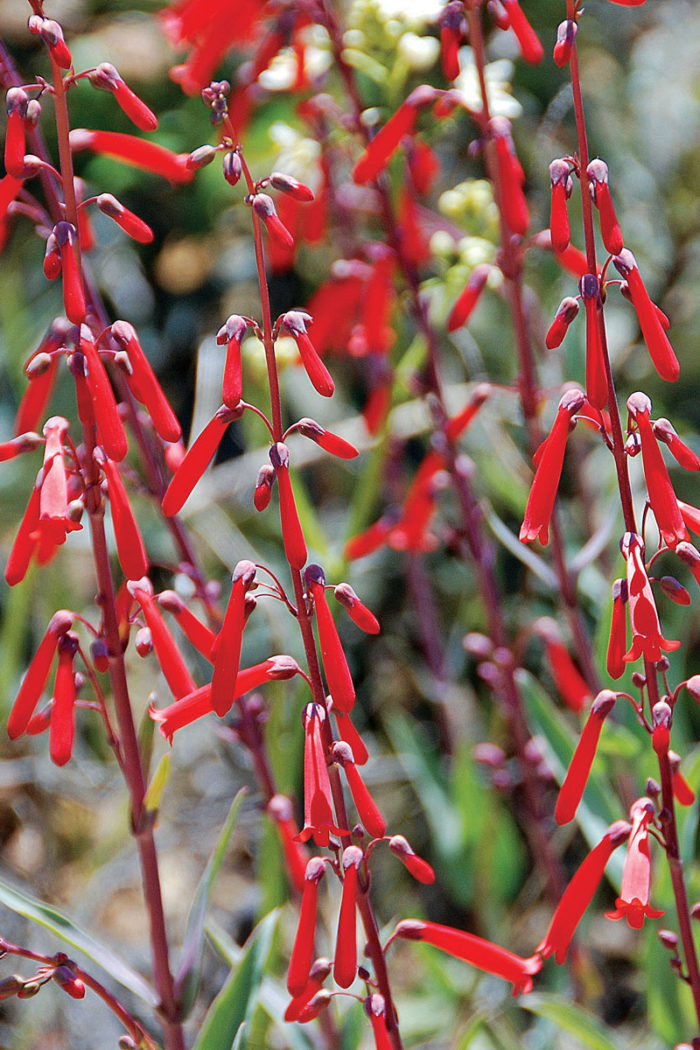 Scarlet bugler
Name: Penstemon centranthifolius
Zones: 8–10
Size: 2 feet tall and 2 to 3 feet wide
Conditions: Full sun; adaptable to a wide range of soil
If you are trying to bring hummingbirds to the garden, then look no further than scarlet bugler. This beautiful species of penstemon, occurring predominately in the California coastal mountain ranges at elevations of 3,000 to 6,000 feet, is a heavy bloomer from spring into summer. Its glaucous foliage clasps tightly to erect inflorescences that can number in the dozens. The profusion of orange-to-deep-red, 2-inch-long tubular flowers is a beacon for hummingbirds. Plants in ideal conditions readily reseed and develop into colonies over the years. Scarlet bugler is another great candidate for the rock garden. Be careful with summer irrigation; this plant doesn't need supplemental water.
Noteworthy native nurseries in your area
Theodore Payne Foundation for Wild Flowers and Native Plants, Sun Valley, CA; 818-768-1802; theodorepayne.org
Oaktown Native Plant Nursery, Berkeley, CA; 510-387-9744; oaktownnursery.com
Floral Native Nursery, Chico, CA; 530-892-2511; floralnativenursery.com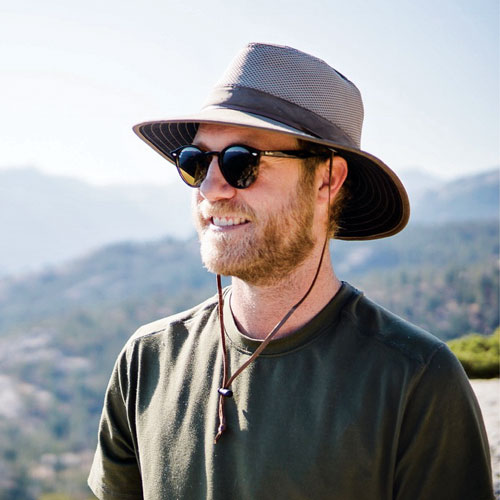 The expert: Tim Becker is the director of horticulture for the Theodore Payne Foundation for Wild Flowers and Native Plants in Sun Valley, California.
From Fine Gardening #196