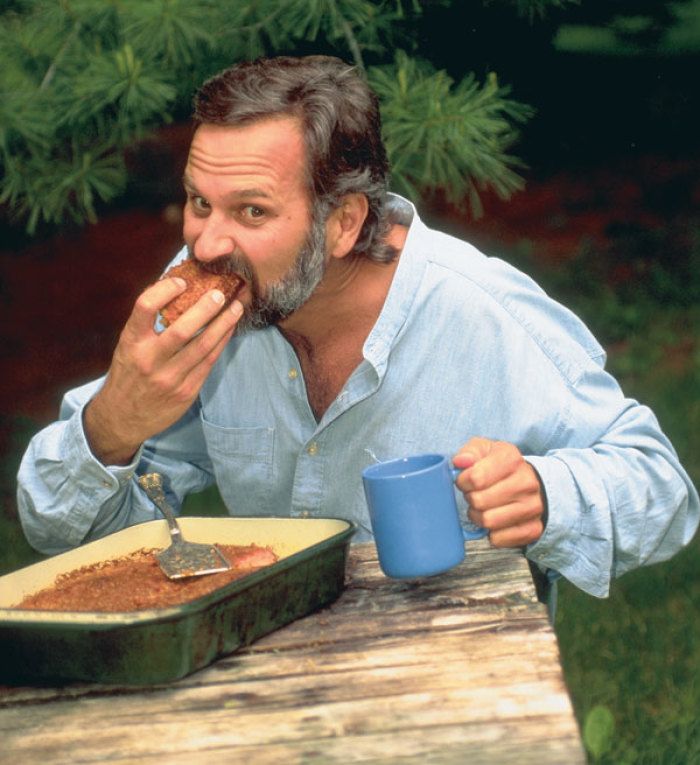 Ingredients:
1 pkg. (about 2 tsp.) active dry yeast
1/4 cup warm water
1 cup baked sweet potato flesh (2 good-size potatoes)
1/2 cup milk at room temperature
1/4 cup packed light brown sugar
1 egg at room temperature
1 tsp. salt
3 Tbs. vegetable oil
1/2 cup whole wheat flour
2-3/4 cups (approximately) unbleached all-purpose flour
Topping:
3/4 cup packed light brown sugar
1/2 cup walnuts
1 tsp. cinnamon
5 Tbs. unsalted butter, melted and slightly cooled
12 servings
In a small bowl, sprinkle yeast over the water; set aside 5 min. Meanwhile, purée the sweet potato, milk, brown sugar, egg, salt, and vegetable oil in a food processor.
Transfer to a large mixing bowl and stir in the dissolved yeast and whole wheat flour. Stir in 11⁄2 cups of the unbleached flour. Using a wooden spoon, beat vigorously for 100 strokes. Cover the bowl with plastic wrap and set aside at room temperature for 15 min.
Beat in enough of the remaining unbleached flour, 1⁄4 cup at a time, to make a very soft but kneadable dough. (I use a large rubber spatula at this point, paddling the dough in the bowl as I add the flour.)
Turn the dough out onto a well-floured surface and knead for 5 to 6 min., until the dough is smooth and bouncy; use enough of the remaining flour to keep the dough from sticking. Don't knead too roughly or the dough will stick to your hands. Return the dough to the bowl, cover with plastic wrap, and set aside in a warm, draft-free spot until doubled in bulk, 1 to 1-1⁄2 hours. Butter a 9 in. by 13 in. shallow baking dish and set aside.
When the dough has doubled, deflate it by tapping it down gently, but don't knead it. Turn the dough into the center of the buttered dish, cover loosely with plastic wrap, let rest for 10 min., then pat it evenly into the pan. Cover loosely again, and set aside in a warm spot for 15 min. Preheat the oven to 350°F.
Make the topping: Put the brown sugar, walnuts, and cinnamon in a food processor and process until the nuts are chopped fine. Spread the topping evenly over the dough. Poke 12 deep indentations in the dough with your finger, making three evenly spaced rows of four. Spoon the melted butter over the surface, and a little into the holes. Let the dough rise, uncovered, for 10 min.
Bake 35 min. The top will become dark brown and crusty. Cool in the pan, on a rack, for 10 min.
Recipe by Ken Haedrich
October 1997
from issue #11