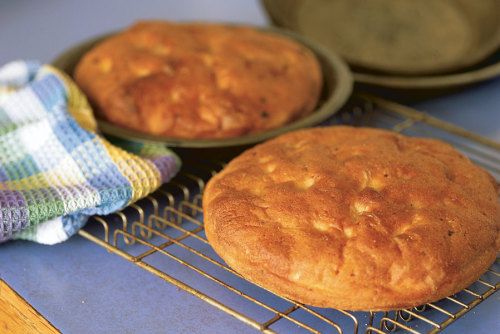 Ingredients:
1 cup peeled and diced all-purpose potato (1 large)
3 cups water, very lightly salted
1 package (about 2 tsp.) active dry yeast
5-1/2 cups (approximately) unbleached flour
2 tsp. salt
1 tsp. crushed dried rosemary or 2 tsp. fresh, chopped
4 to 5 Tbs. olive oil
1 large onion, chopped fine
Makes three 10-in. round loaves
Put the potato and water in a small saucepan. Bring to a boil and cook gently for about 10 min., until very tender. Drain, reserving 2 cups of the potato water in a large mixing bowl. Finely mash or rice the potato; stir into the potato water. Cool to lukewarm, then sprinkle on the yeast. Set aside for 5 min.
Using a wooden spoon, stir 3-1⁄2 cups of the flour into the potato water. Beat vigorously for 100 strokes. Cover the bowl with plastic wrap and set aside for 15 min.
Stir salt and rosemary into the dough. Beat in 1-1⁄2 cups more flour, 1⁄4 cup at a time, to make a soft dough. Turn the dough out onto a well-floured surface and knead, gently at first, for 8 min. Place the dough in an oiled bowl.
Cover the bowl with plastic wrap and set aside in a warm, draft-free spot until doubled in bulk, 1 to 1-1⁄2 hours. Lightly oil 3 deep-dish 9-in. pie or cake pans.
While the dough rises, heat 2 Tbs. of the oil in a large skillet. Add the onion and sauté over medium heat for 8 to 9 min., until golden. Remove from heat and cool.
Once the dough has doubled, deflate it by tapping it down, then turn it onto a well-floured surface. Spread the onions over the dough, pull up the sides of the dough, and knead in the onions for 1 min. (see photos above). Divide the dough into equal thirds, and knead each piece into a ball. Place a piece in each pan, seam down, cover loosely with plastic wrap, and let rest for 10 min. Press the dough into the pans, up to the edges. Brush the top of each bread with some of the remaining olive oil. Set the pans aside in a warm spot, loosely covered, and let rise for 20 min. Preheat oven to 425°F.
After 20 min., make 10 to 12 deep indentations in each focaccia with outstretched fingers (see photo above). Drizzle 1 tsp. olive oil over the top of each dough; let rest 10 min. Bake the breads for 25 to 30 min., until dark golden brown. Cool in the pans for 1 min., then slip them onto a cooling rack. Cool 10 to 15 min. before slicing.
Recipe by Ken Haedrich
October 1997
from issue #11