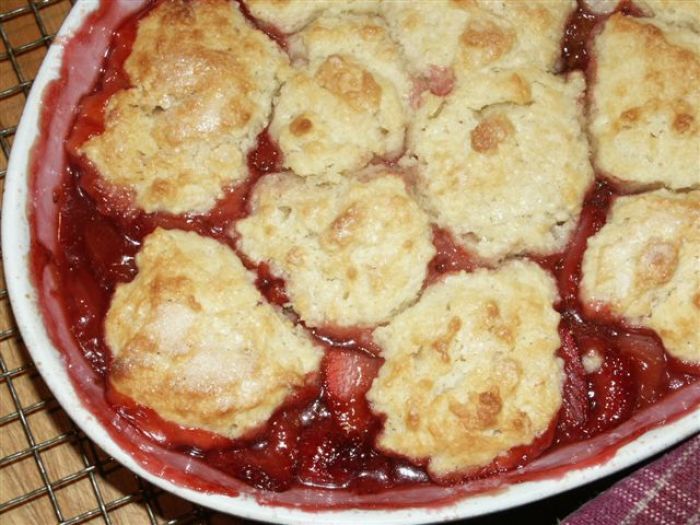 Ingredients:
Serves 8
12 sprigs sweet woodruff about 3 inches long
4 cups rhubarb, scrubbed and cut into 1/2-inch dice
4 cups fresh strawberries, halved; or if large, slice them
About 1 cup sugar
1 tablespoon and 2 teaspoons cornstarch
1-2/3 cups unbleached flour
2-1/2 tablespoons vanilla sugar, or plain sugar
1/2 teaspoon salt
2-1/2 teaspoons baking powder
6 tablespoons cold unsalted butter, cut into pieces
1 cup milk
Vanilla sugar for sprinkling
Sweet woodruff doesn't have much of an aroma when picked fresh, but when it is dried, infused, or cooked it imparts a homey flavor, rather like adding a taste of vanilla and a scent of fresh mown hay. If you don't have sweet woodruff, lemon balm or orange mint are both tasty alternatives. The vanilla-scented sugar adds a lovely dimension—if you don't have any—just use regular sugar. Though be sure to make some to use in the future. Serve this dessert warm or at room temperature, just as it is, or with vanilla ice cream or fresh whipped cream, garnished with a sprig of sweet woodruff.
Holding the woodruff sprigs, gently slide your thumb and forefinger together down the stem to remove the whorls of leaves; discard the stems. Place rhubarb, sugar, cornstarch, and sweet woodruff leaves in a heavy-bottomed saucepan and bring to a simmer. Reduce heat, stir, and cook for about 4 minutes. Add the berries, stir and cook for 2 or 3 minutes. Remove from heat and set aside. Let the mixture cool a bit and remove the woodruff sprigs.
Preheat oven to 400ºF and butter a 2-1/2-quart baking dish. Transfer the fruit to the buttered dish.
Combine the flour, sugar, salt, and baking powder in a bowl. Cut the butter into the flour mixture until it is in pea-sized lumps. Add the milk to the flour mixture and mix with a fork until just blended.
Drop the dough from large spoonfuls over the fruit. Sprinkle the dough lightly with vanilla sugar. Bake the cobbler for about 35 to 40 minutes, or until the fruit is bubbling and the dough is turning golden brown. Serve warm or at room temperature.