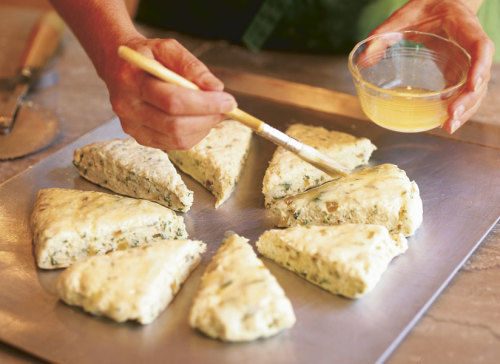 Ingredients:
2-1/2 cups plus 2 Tbs. unbleached flour
3 Tbs. sugar
3/4 tsp. salt
3 tsp. baking powder
1/2 tsp. baking soda
4 Tbs. unsalted butter
1/4 cup finely chopped candied ginger
1/2 cup buttermilk
1/2 cup cream or milk
1/4 cup chopped lemon basil leaves
1 heaping Tbs. lemon zest
2 Tbs. freshly squeezed lemon juice
About 1 Tbs. melted butter, optional
About 2 tsp. sugar, optional
Marmalade or preserves
Lightly whipped cream sweetened with a little sugar
Makes 8 large or 12 medium scones
These delicious scones can be prepared for a special breakfast, brunch, tea party, or even served as dessert. If you don't have lemon basil, try substituting a combination of sweet green basil and lemon balm. The candied ginger is a nice counterpoint here; however, if you don't have it on hand, try using minced dried apricots. I serve these with lightly sweetened whipped cream and lemon marmalade or a peach or ginger preserve.
Preheat the oven to 400°F. Combine the flour, sugar, salt, baking powder, and baking soda in a large bowl and blend thoroughly. With a pastry cutter or 2 kitchen knives, cut the butter into the dry ingredients until the butter is about the size of small peas. Stir in the candied ginger.
Stir the buttermilk and cream together with the lemon basil, zest, and lemon juice. Add the liquid to the dry ingredients and stir to form a soft dough.
Turn the dough onto a floured pastry marble or board, knead gently until it just comes together and shape into a ball. Press the dough with your hands to flatten the ball. Using a rolling pin, roll the dough into a round about 1-inch thick. Cut the dough with a sharp knife or pizza cutter into 8 or 12 wedges.
Place the scones about 1 inch apart on an ungreased baking sheet. Brush the tops with melted butter and sprinkle with sugar, if desired. Bake the scones for about 18 minutes or until golden brown. Transfer them to a baking rack to cool slightly.
Scones are best served warm right after baking. To eat one, split it apart and spread the halves with marmalade or preserves, then top with a generous spoonful of lightly whip­ped cream.