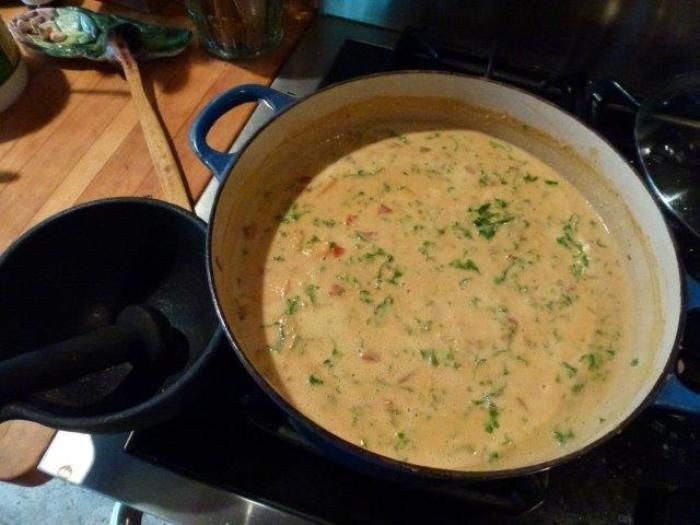 Ingredients:
Makes a generous 2 quarts
3 tablespoons coconut or olive oil
1 medium onion, chopped
1 red or orange bell pepper, chopped
2 large sweet potatoes, chopped into bite-size pieces
About 4 cloves garlic, chopped
1 jalapeno or serrano pepper or 1/2 habanero, minced
14-to 15-ounce can diced tomatoes or 1 1/2 cups diced tomatoes
Scant cup all-natural crunchy peanut butter
3 cups hot vegetable stock or water
13-to 14-ounce can coconut milk
About 2 teaspoons curry powder
About 1/2 teaspoon fresh ground grains of paradise or black pepper
About 1 teaspoon fresh ground ginger
About 1/4 teaspoon ground cloves
Salt
2 lightly-packed cups finely shredded kale, collard leaves, or other greens, stems removed
This soup was inspired by the African ingredients, which are indigenous there, as well as some crops that have become part of the diet of the many countries from this continent. It is full of flavor, rich and hardy, and vegan though not on purpose. Add double the amount of chile peppers if you like it hot. Use any greens that you have: kale, collards, chard, spinach, field or watercress, orach, dandelion, or a mixture thereof.
Heat the coconut oil in a soup pot over medium heat and add the onion and bell pepper. Sauté for a few minutes, stirring occasionally. Add the sweet potatoes, stir well and cover the pot, sauté for about 5 minutes, stirring a few times. Add the garlic and chile pepper, cover and cook another few minutes.
Add the tomatoes, stir and continue cooking until heated through. Meanwhile in a large measuring cup or bowl, stir the peanut butter together with 1 cup of the hot stock or water. Add the coconut milk and peanut mixture to the soup pot. Use the remaining 2 cups stock or water to rinse the measuring cup and coconut milk can and add it to the soup pot. Add the curry powder, ground pepper, ginger and cloves, season with salt, stir well and cover.
Bring the soup to a simmer and reduce heat to medium low, stir occasionally, cover and cook for 10 minutes or so. Carefully puree about half of the soup, so there are still plenty of vegetable pieces. Shred and measure the greens and add them to the soup, stir and cover and let cook for another 5 minutes. Taste for seasoning and adjust with more salt, pepper, or spices.
Serve hot, or this soup is even better made ahead, refrigerated, and then gently reheated.