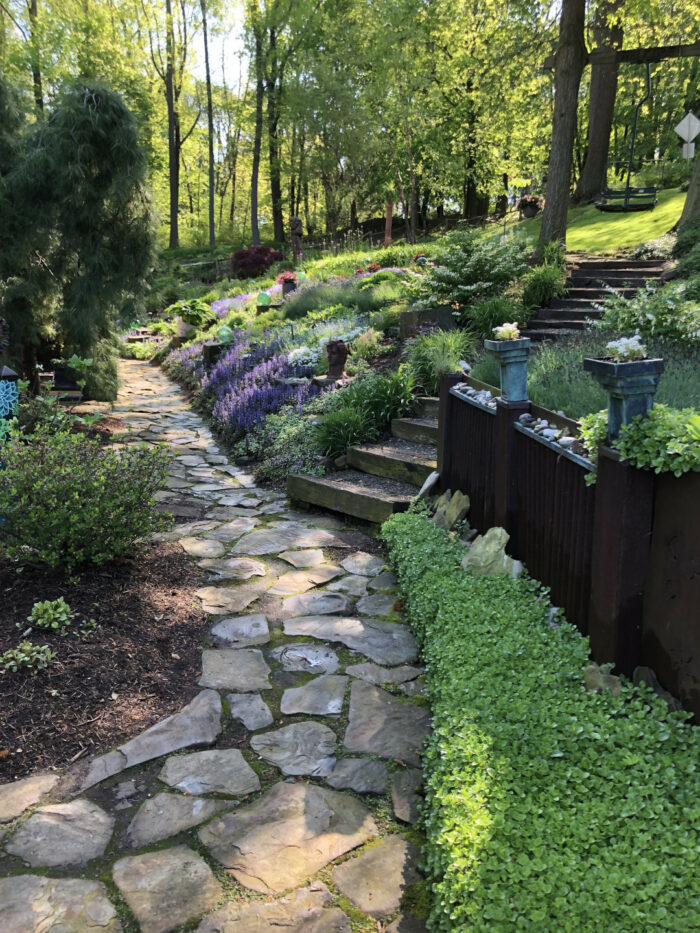 Sue McCreary is sharing their garden with us today.
I live in North East, Pennsylvania, a small town in northwestern Pennsylvania, Zone 5A. My husband and I have been gardening at our current home for 22 years. The three-acre lot had not been developed with plants and is situated on a hill. Our garden started on the hill when I suggested we create a rock garden so my husband would not have to mow it and would be less work. He believed me, and so began the creation of our garden moments.
With Geoff's artistic eye, he created the hardscape and artistic creations, and I planted the plants and shrubs. I'm a planter and a mover, so he became an expert on digging holes as well. He has learned to enjoy gardening almost as much as I do.
We're downsizing to a much smaller property this summer and will miss the seasons of gardening. I'd like to share some of my favorite pictures throughout the year.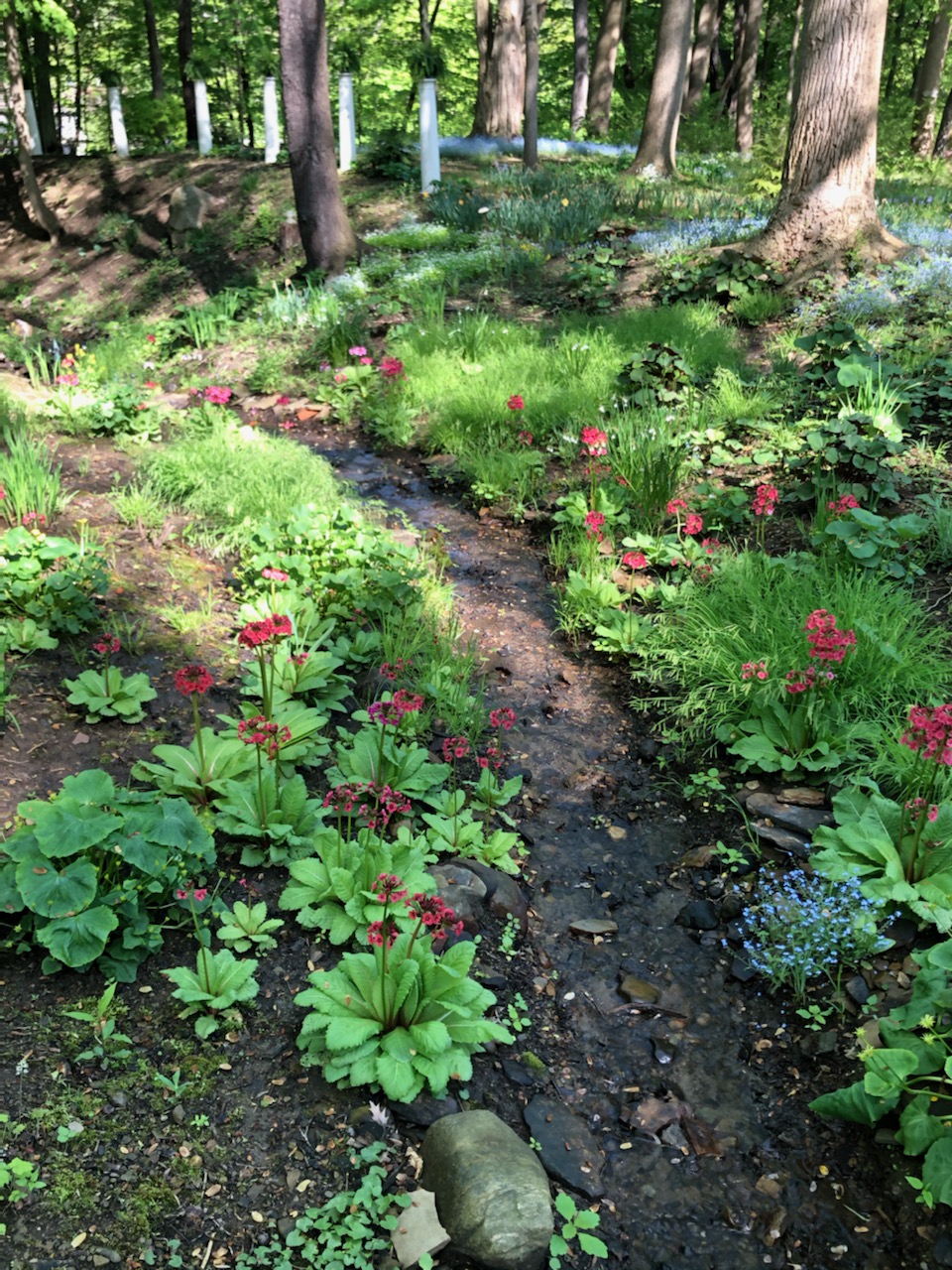 A natural spring creates a water feature in the woods. Candelabra primrose (Primula japonica, Zones 4–8), marsh marigolds (Caltha palustris, Zones 3–7), Leucojum (Zones 4–8), plus native trillium are now growing there.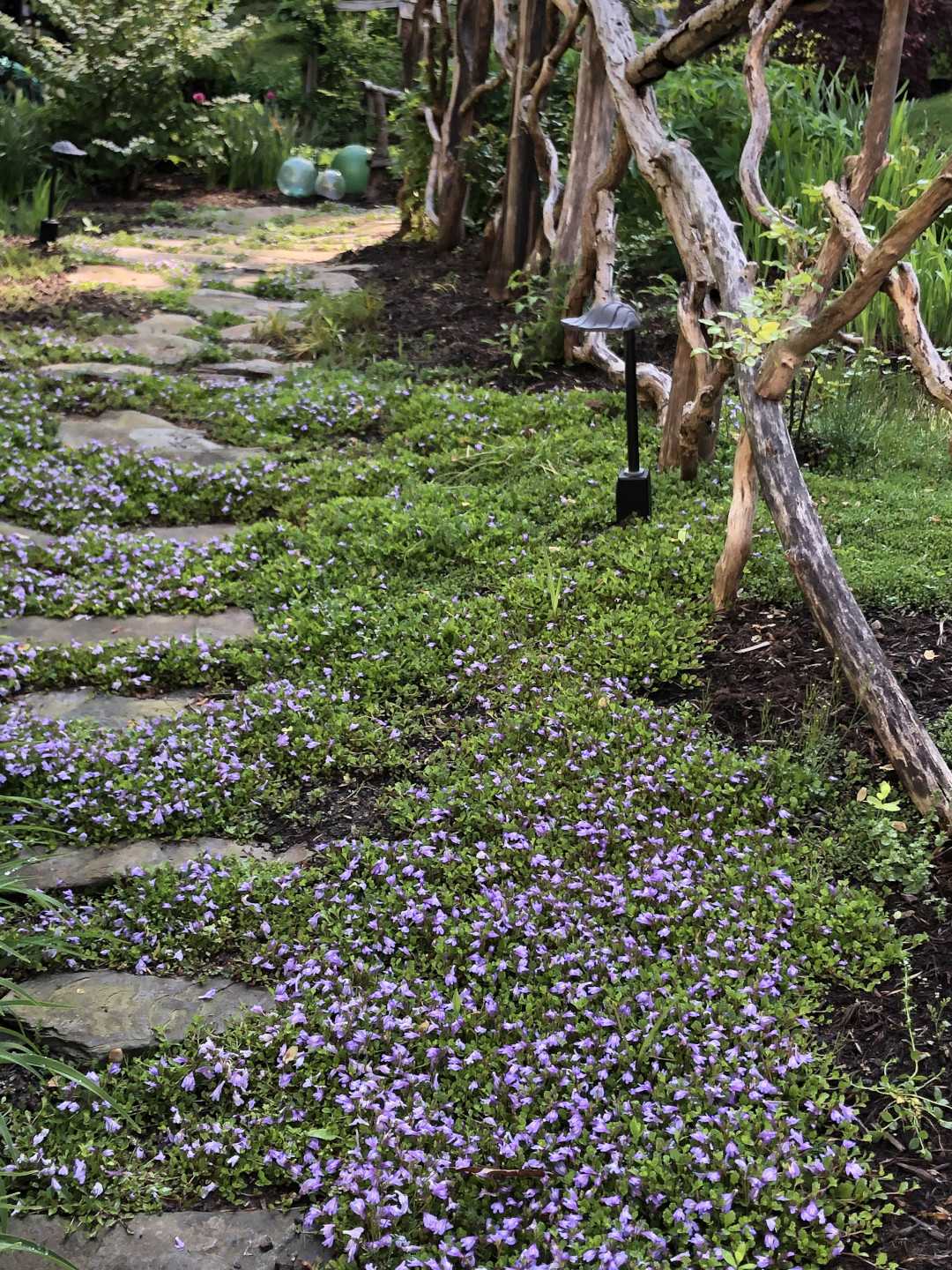 Ground cover mazus (Mazus reptans, Zones 5–8) blooms for two to three weeks on this path. The railing was made with limbs found in the woods.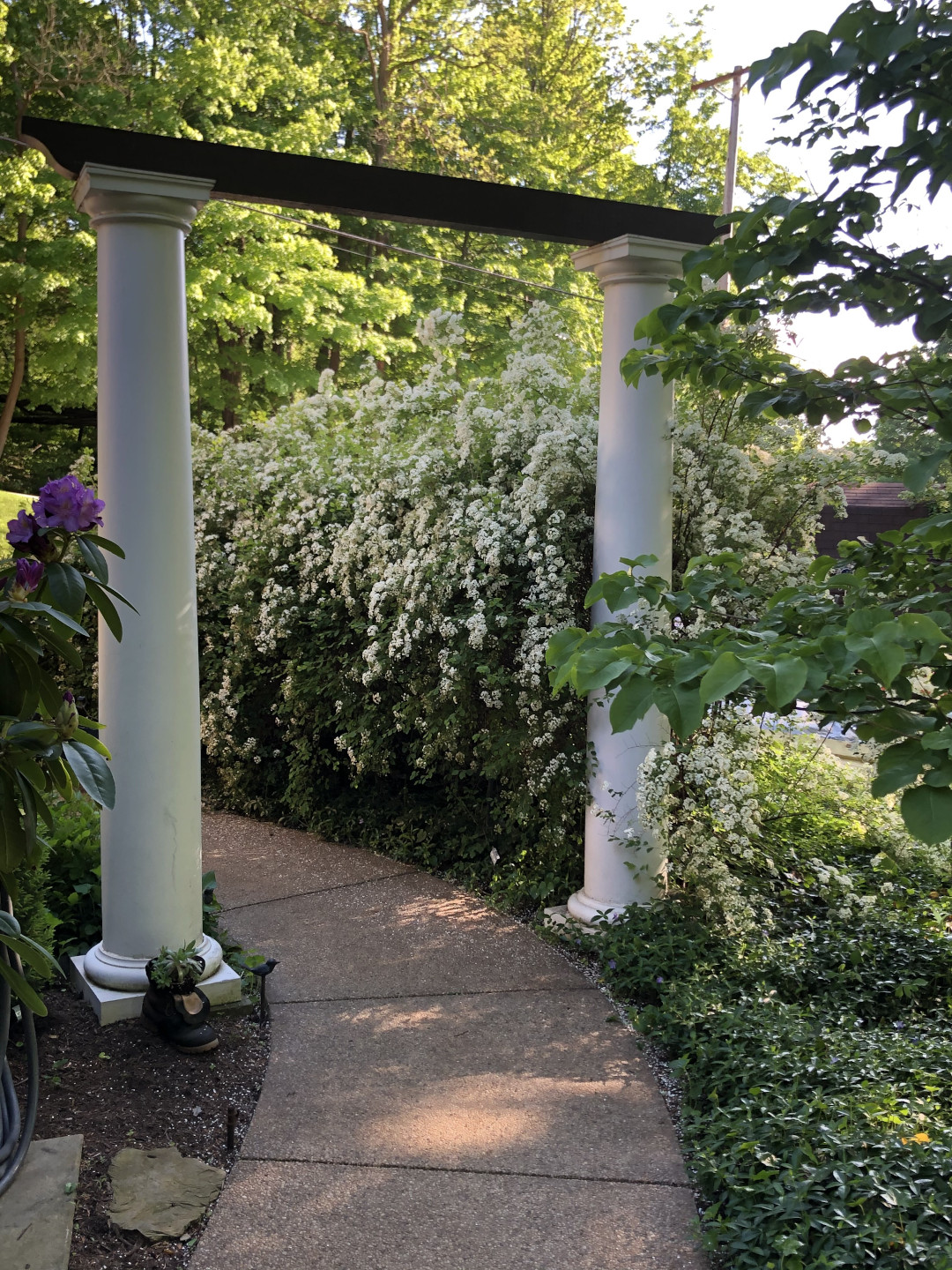 Bridal wreath spirea (Spirea prunifolia, Zones 5–8) in full bloom makes a statement through the archway.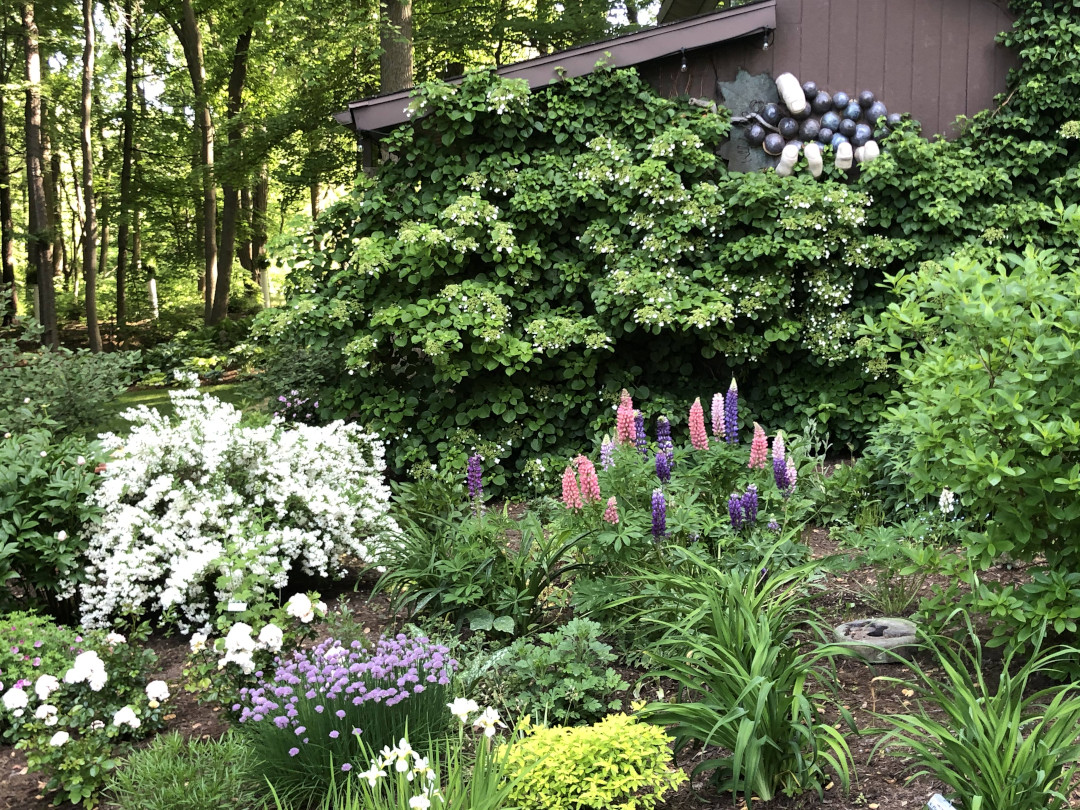 Climbing hydrangeas (Hydrangea petiolaris, Zones 4–8) have covered our shed over the years. My husband created the "hand of grapes" when we first moved here over 20 years ago, since we live in wine country.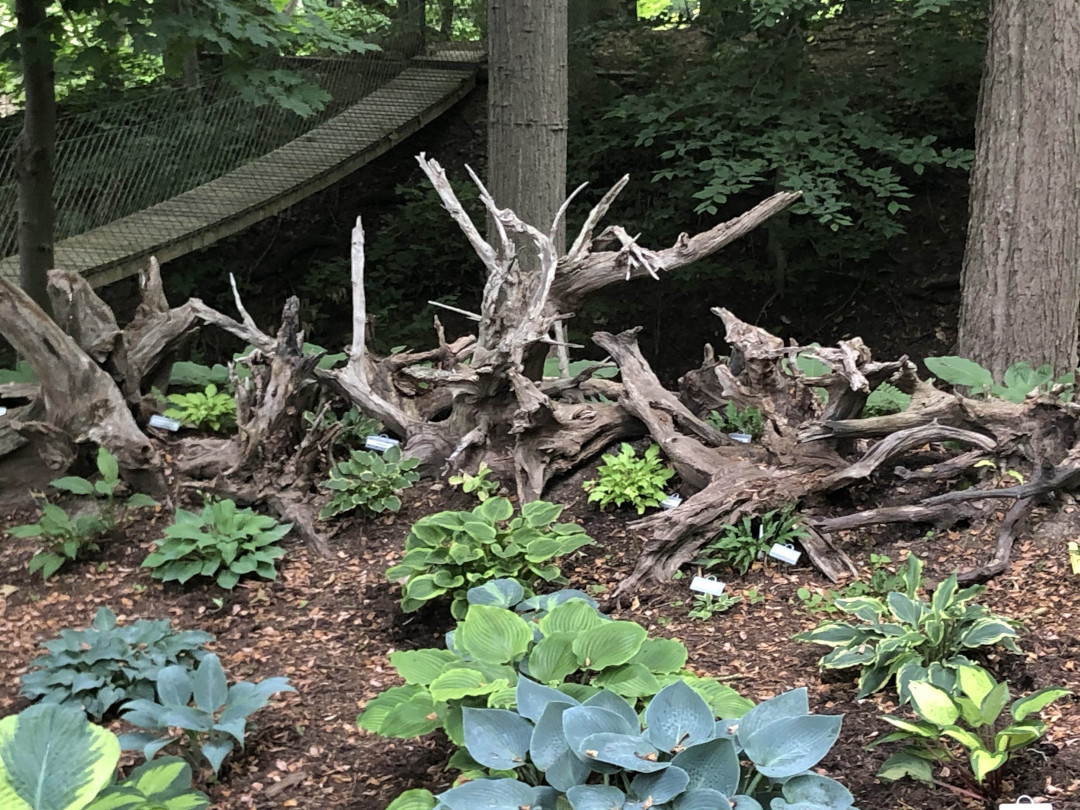 Our love of hostas is probably the surprise joy we've discovered. We created this "stumpery" from found stumps. The swinging bridge in the background was inspired by visits to Chile and Switzerland.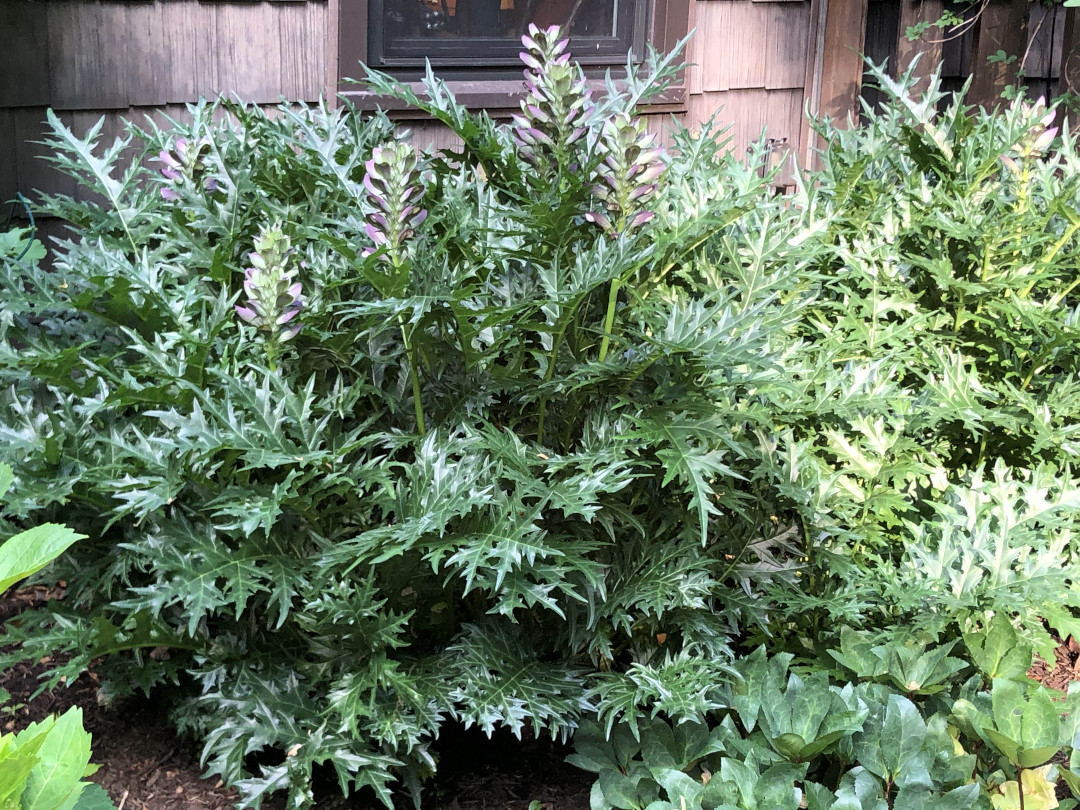 One of my most unusual plants is bear's britches (Acanthus spinosus, Zones 5–9). This show-stopper multiplies easily and grows well in our Zone 5b garden.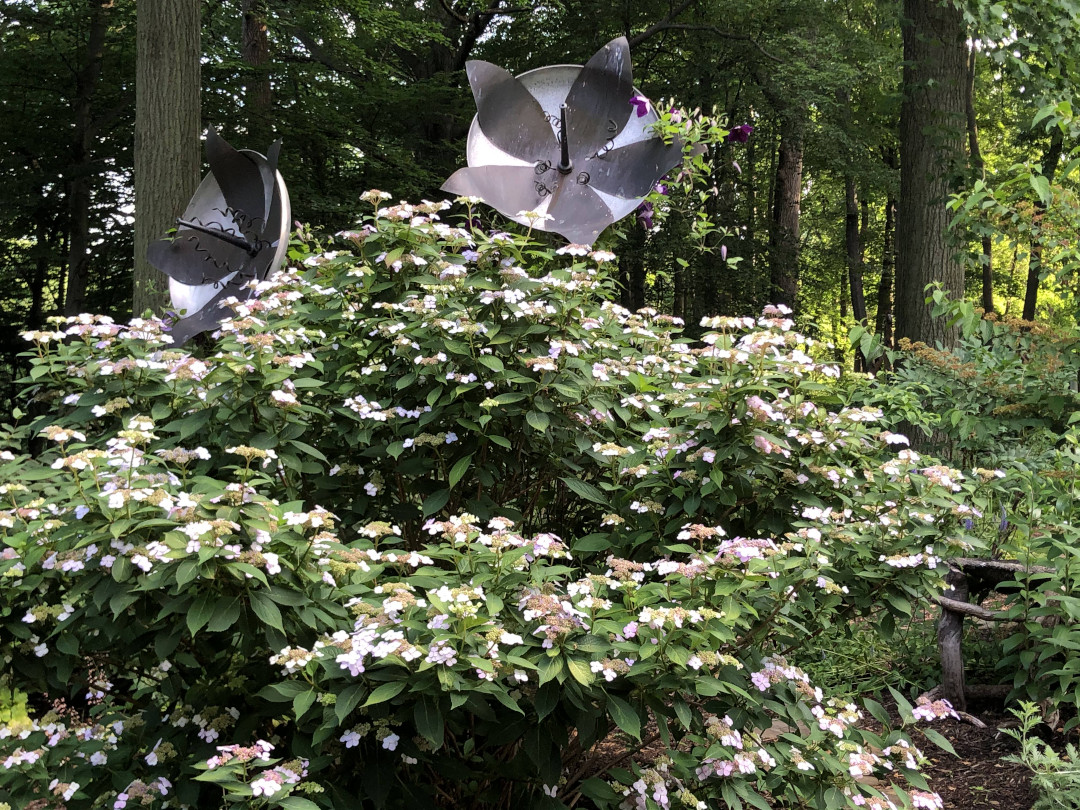 A lacy hydrangea (possibly the variety Hydrangea serrata 'Diadem', Zones 5–9) was a gift from my husband for our anniversary 20 years ago. It surrounds "flowers" created by him from repurposed fire nozzles and the tops of exhaust fans from a roof.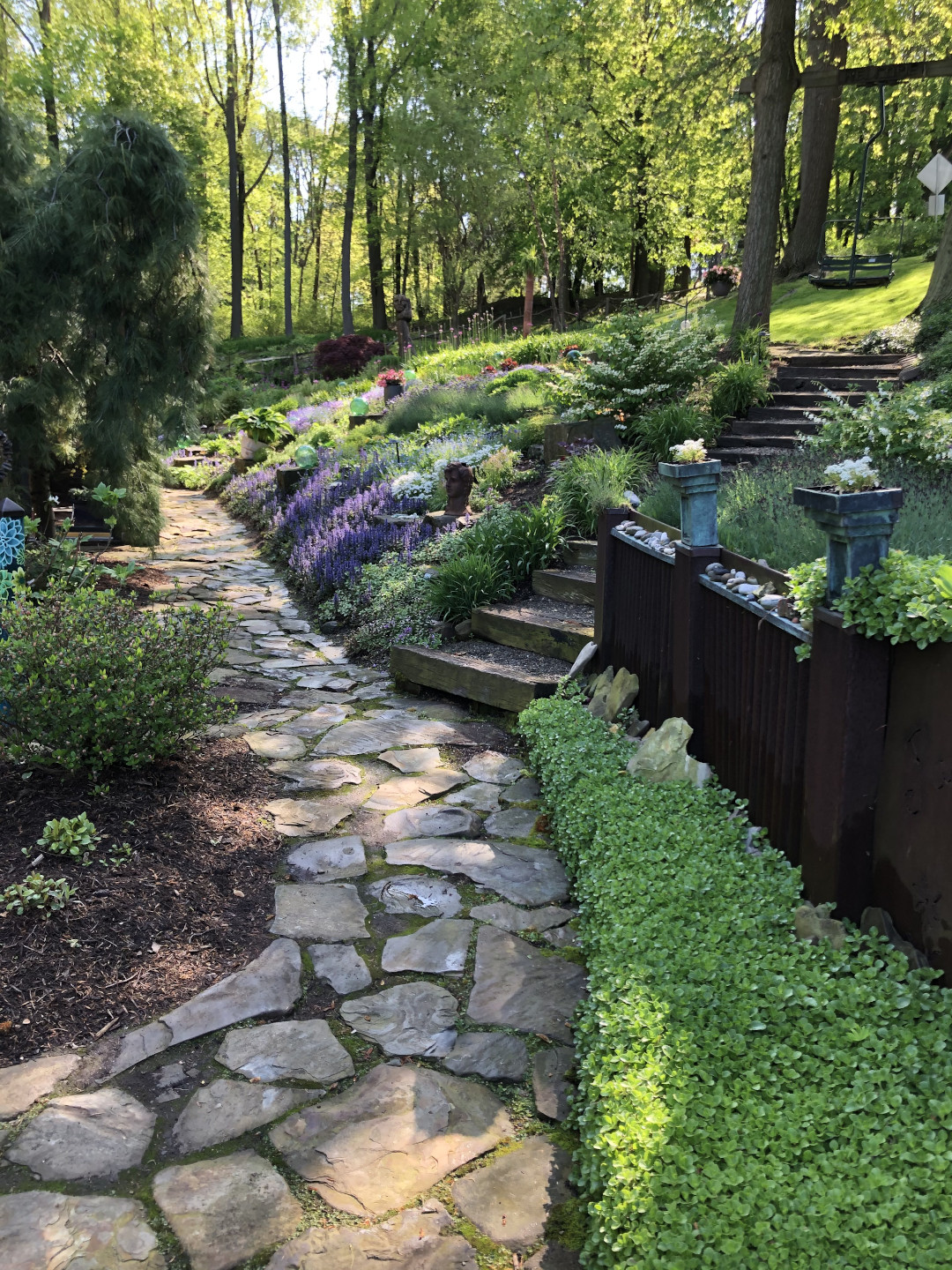 Our hill in June, with ajuga (Ajuga reptans, Zones 3–10), Allium, rockcress (Aubrieta deltoidea, Zones 4–8) and more. 
Have a garden you'd like to share?
Have photos to share? We'd love to see your garden, a particular collection of plants you love, or a wonderful garden you had the chance to visit!
To submit, send 5-10 photos to [email protected] along with some information about the plants in the pictures and where you took the photos. We'd love to hear where you are located, how long you've been gardening, successes you are proud of, failures you learned from, hopes for the future, favorite plants, or funny stories from your garden.
If you want to send photos in separate emails to the GPOD email box that is just fine.
Have a mobile phone? Tag your photos on Facebook, Instagram or Twitter with #FineGardening!
You don't have to be a professional garden photographer – check out our garden photography tips!
Do you receive the GPOD by email yet? Sign up here.