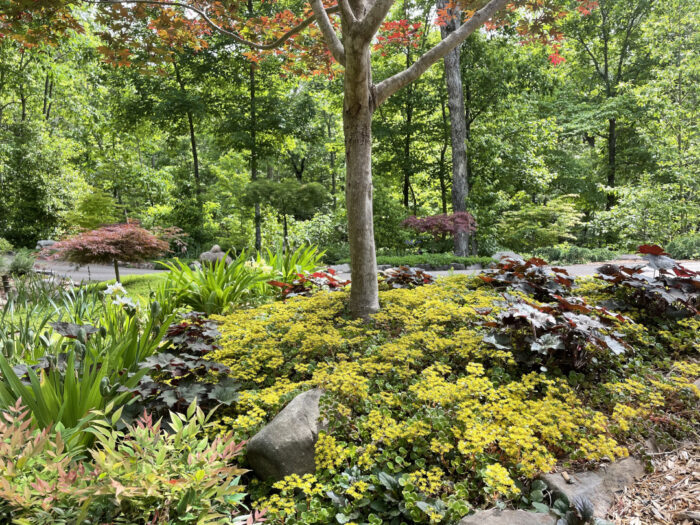 Today we're visiting with Bonnie Plikaytis.
Here are a few images of spring arriving in our Zone 7 woodland garden in North Georgia.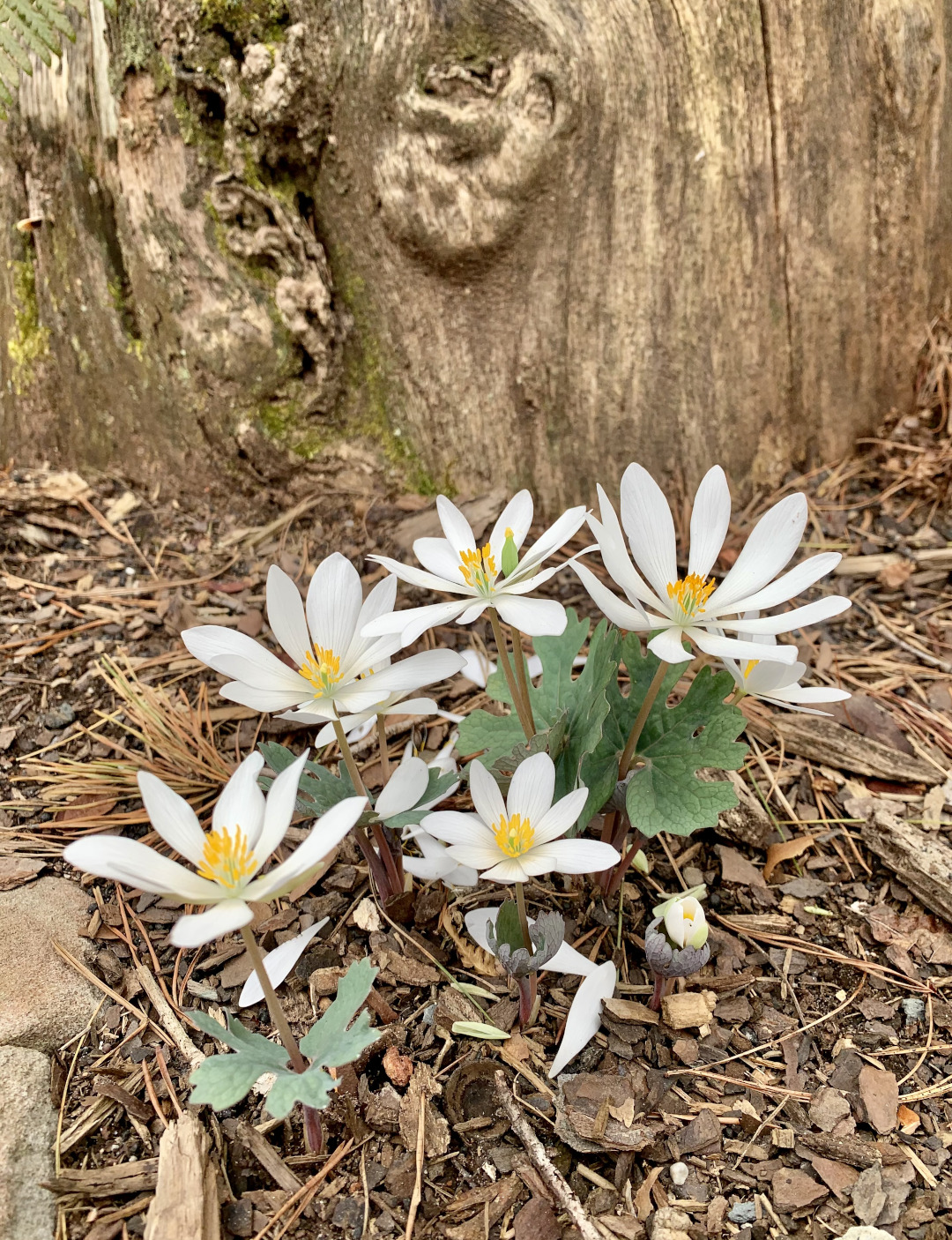 Nothing denotes spring as much as the blooms of bloodroot (Sanguinaria canadensis, Zones 3–8). In late March or early April, the blooms of this native plant bring immense joy with their stunning simplicity. We have the good fortune to have a gardening friend who graciously shared some of their bloodroot colony, and the plants continue to spread by rhizomes. Deciduous shade is perfect for bloodroot, as it allows the plant to take advantage of early sunshine to develop strong roots to continue spreading.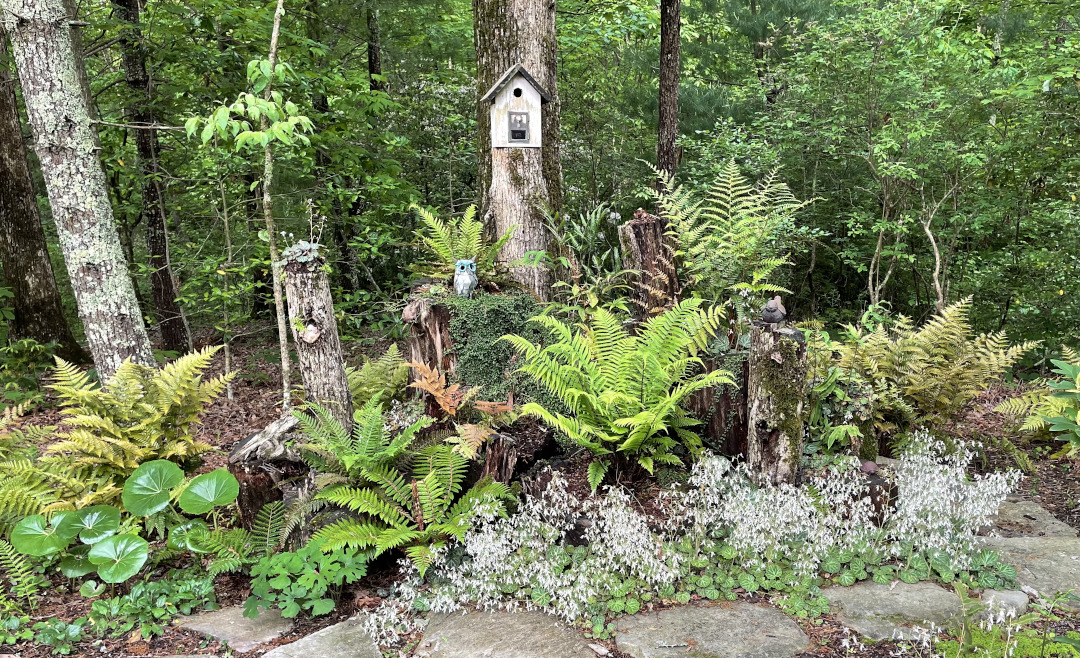 This stumpery was built in late 2018 and continues to take on a life of its own. (See a previous GPOD post to learn more about the construction of this stumpery and all the plants included.) This spring the shaggy shield fern (Dryopteris cycadina, Zones 5–8), in the center, has a striking presence with its symmetrical fountain of bright green and black fronds. The strawberry geranium (Saxifraga stolonifera, Zones 6–9), in full bloom at the base of the stumpery, provides a lacy white border.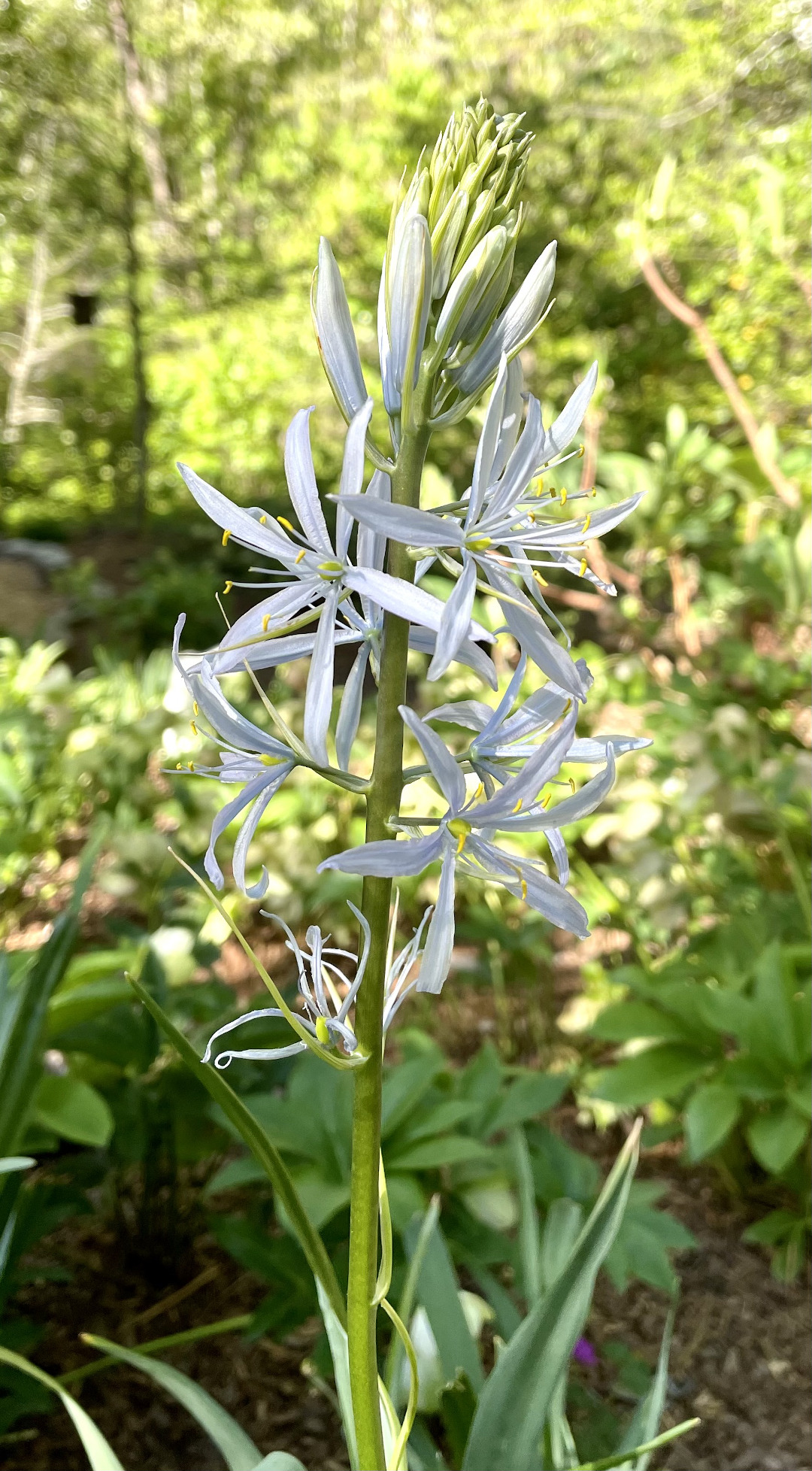 Wild hyacinth (Camassia scilloides, Zones 4–8) are bulbs that produce lovely pale blue flowers in April or early May.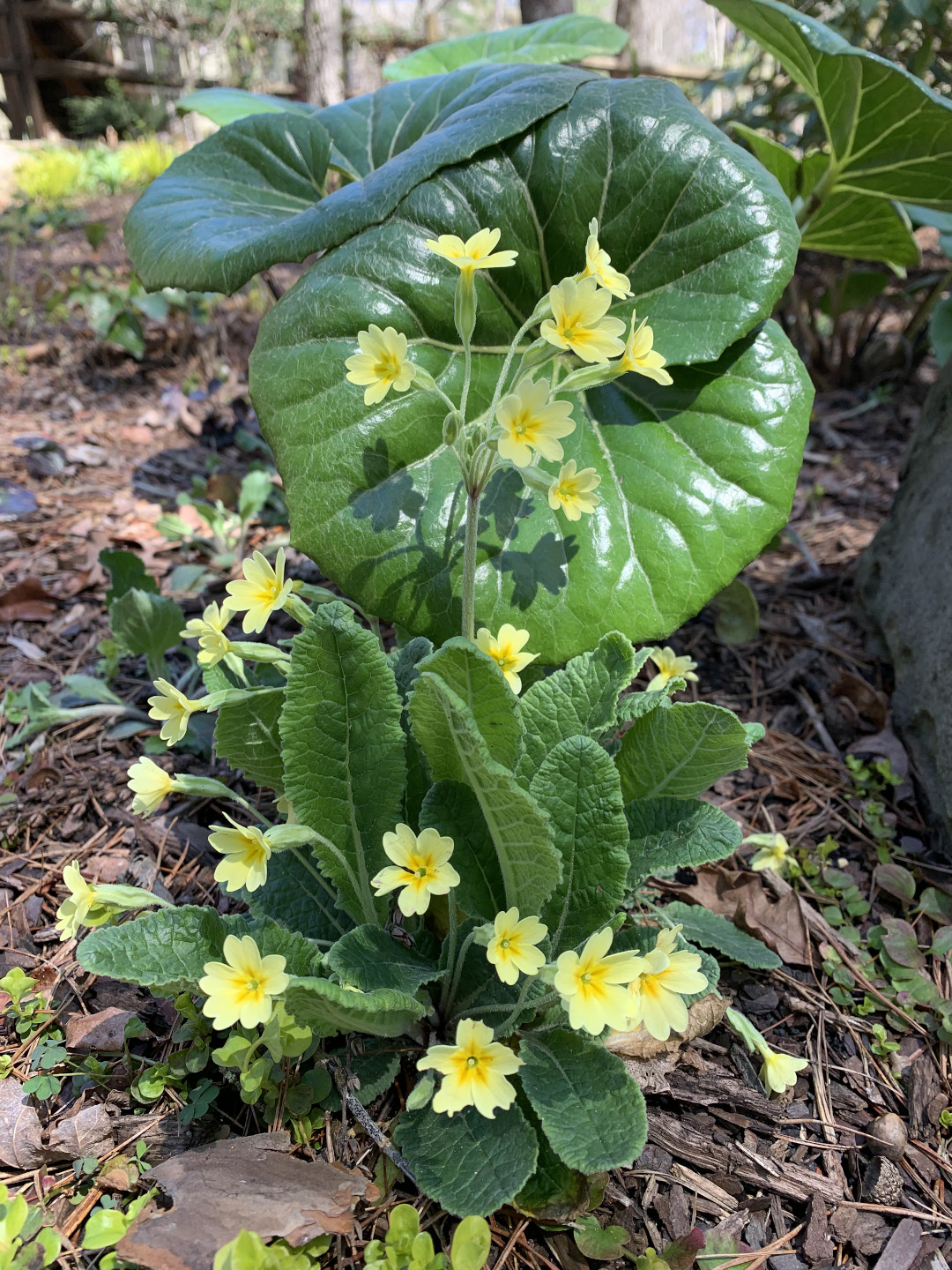 The cowslip (Primula veris, Zones 3–8) makes for an interesting composition with the backdrop of the leaves of the leopard plant (Ligularia farfugium, Zones 7–10).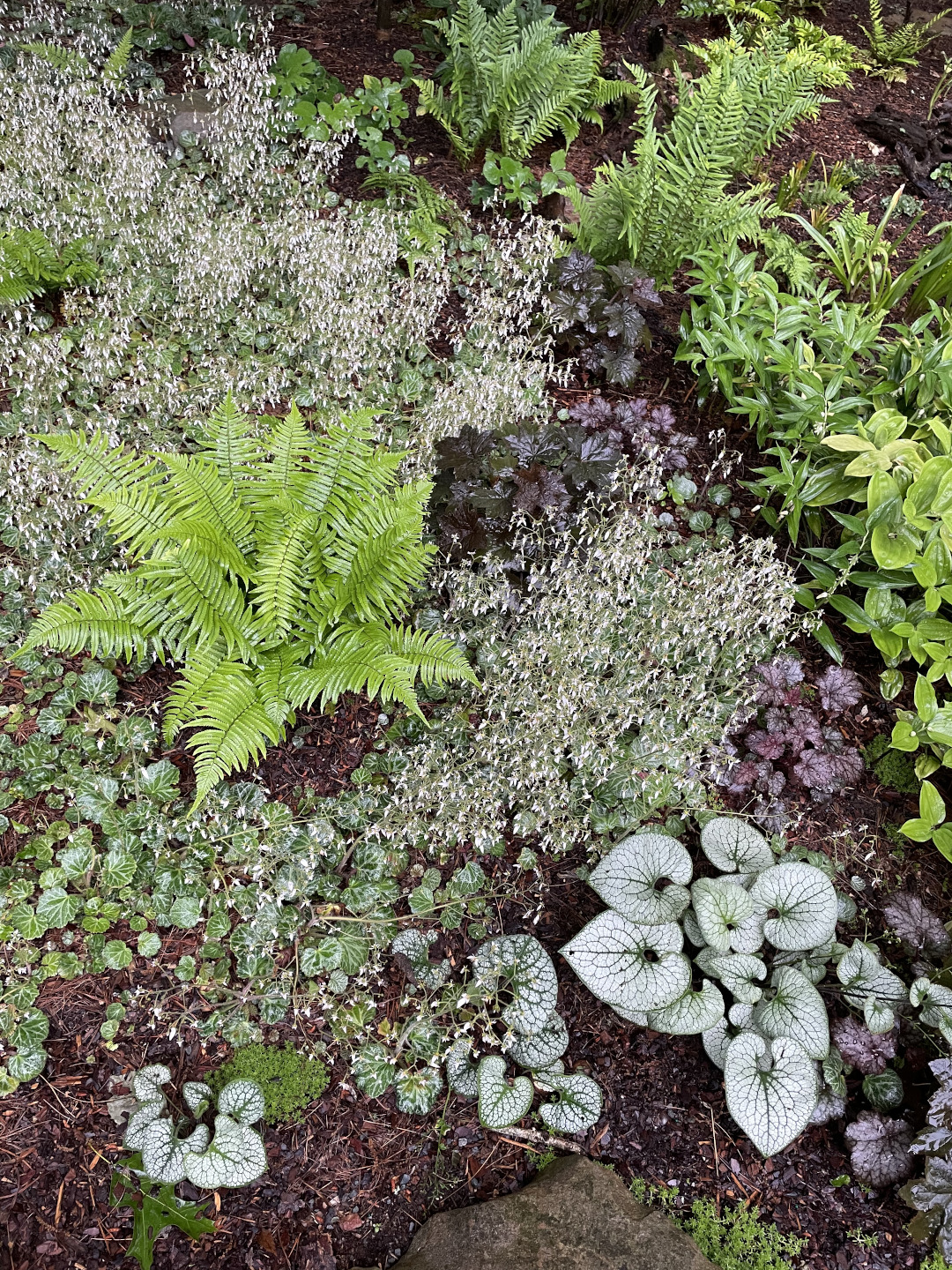 I enjoy the aerial views of the garden from the deck, which often inspire design ideas. The shaggy shield fern and 'Queen of Hearts' brunnera (Brunnera macrophylla 'Queen of Hearts', Zones 3–8), are surrounded by a sea of blooming strawberry geranium.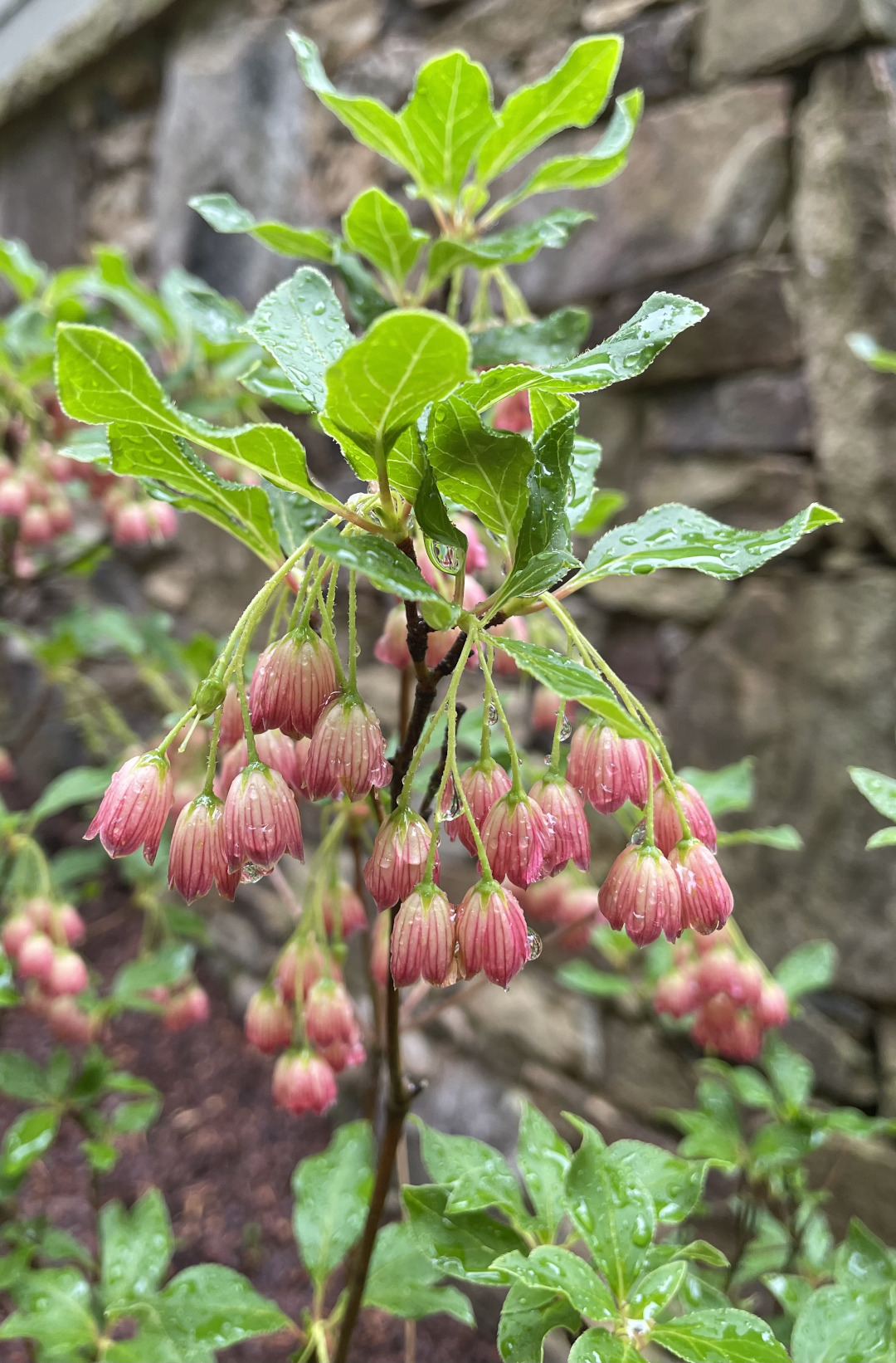 The deciduous shrub Enkianthus campanulatus 'Red Bells' (Zones 6–8) is named appropriately given the bell-shaped creamy blooms with red tips that appear in early May.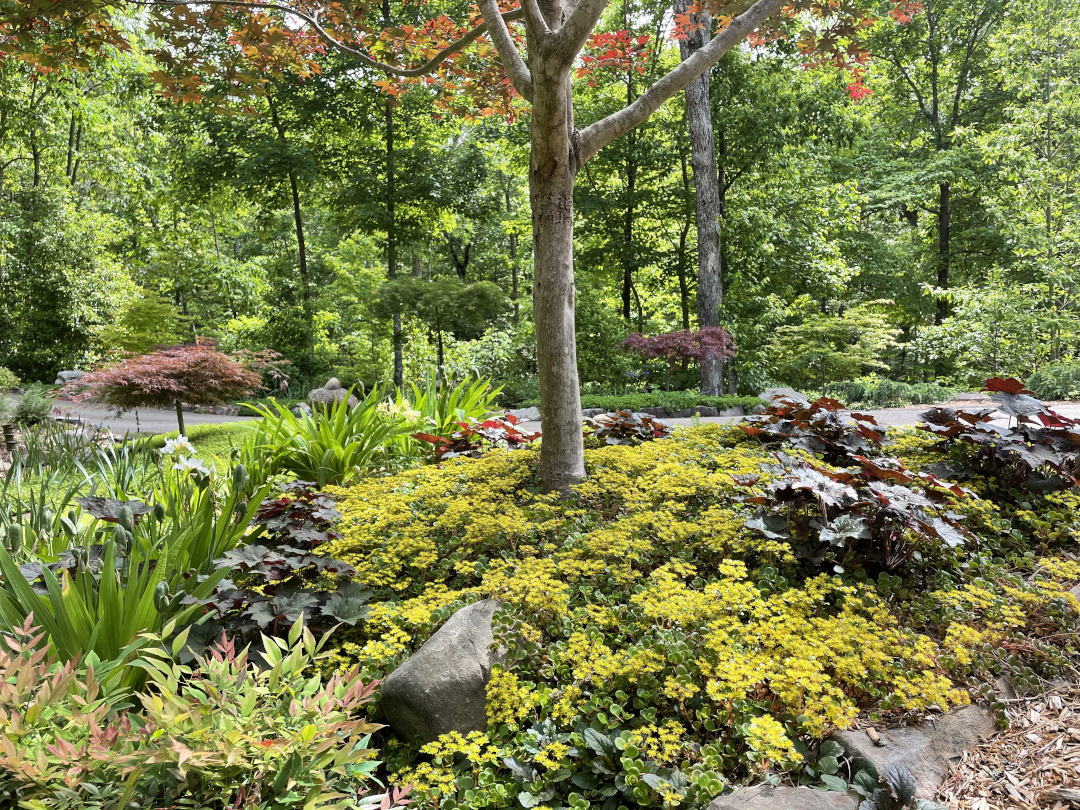 The 'Coral Reef' sedum (Sedum tetractinum 'Coral Reef', Zones 5–8) put on a long-running show this spring. The carpet of sedum mixed with 'Palace Purple' heuchera (Heuchera micrantha 'Palace Purple', Zones 4–9) under the 'Bloodgood' Japanese maple (Acer palmatum, 'Bloodgood', Zones 5–9) was a cheerful sight each morning as the sun gave the yellow flowers a brilliant hue.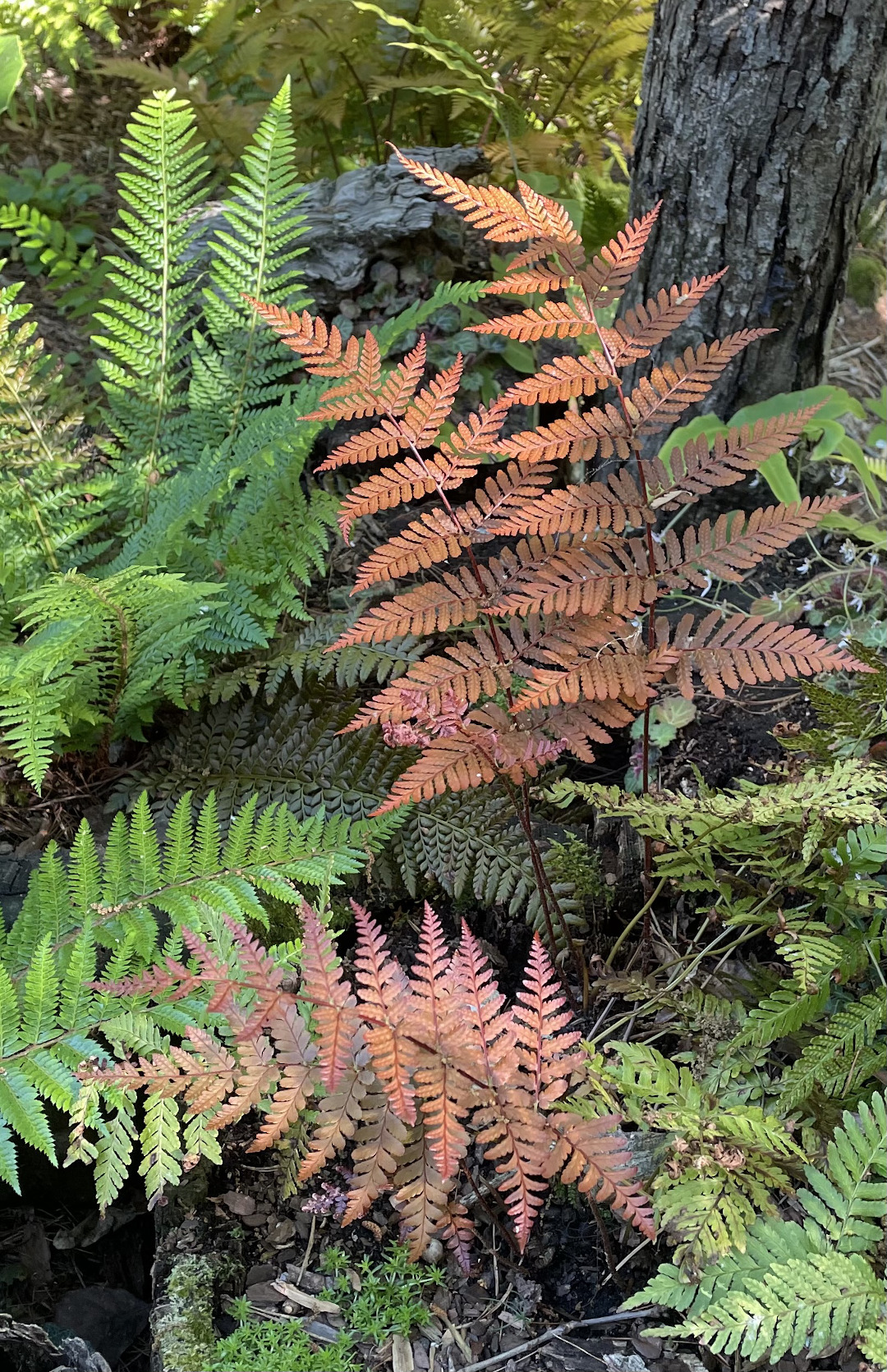 It is clear why the scientific name of autumn fern is Dryopteris erythrosora (Zones 5–8), as the Greek word erythros means "red." As the new fronds unfurl in the spring, they are shades of red before eventually maturing to a glossy green.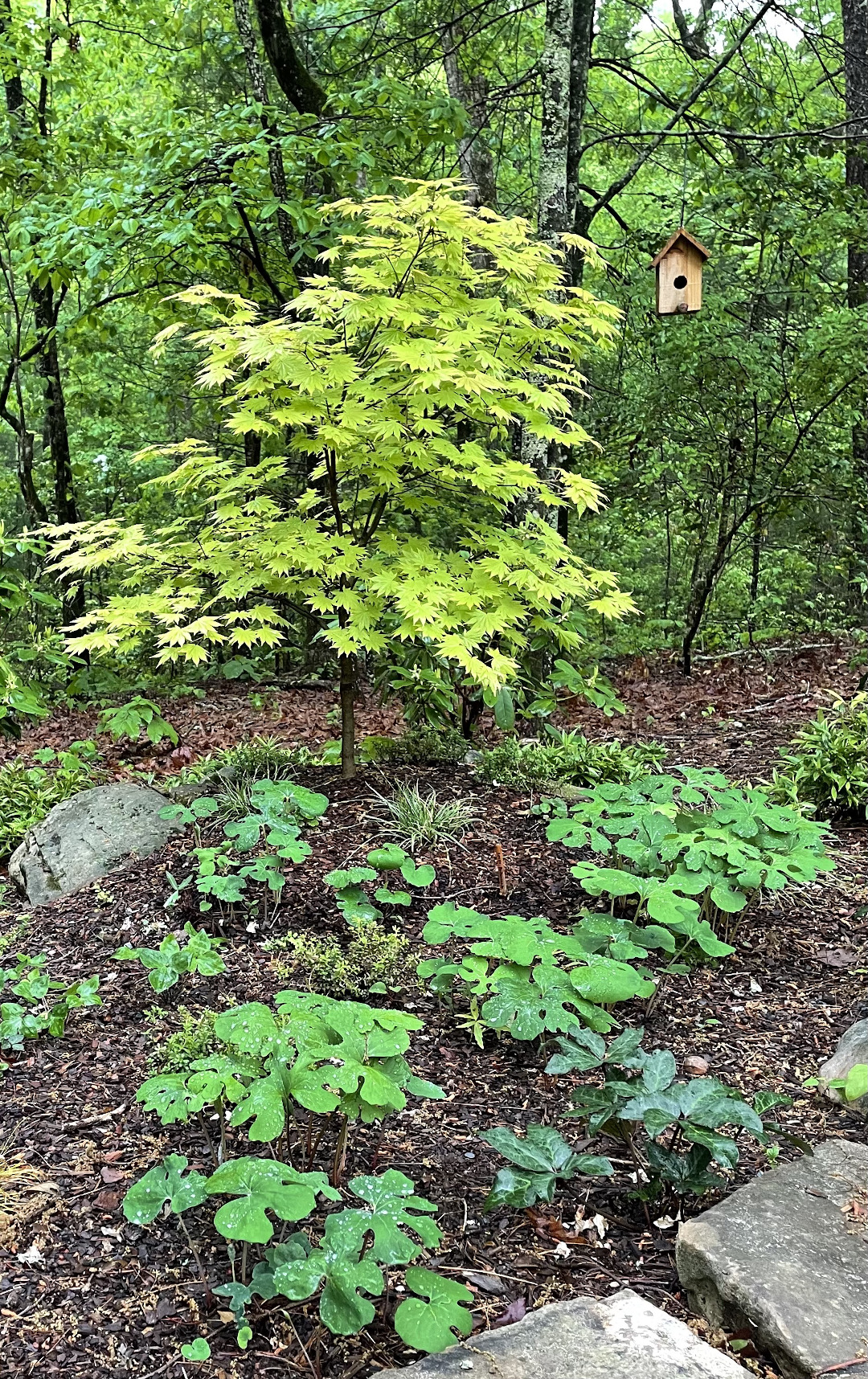 Not only does bloodroot announce spring with its white blooms, but the foliage provides interest well into summer. On this rainy morning, the color and form of the bloodroot leaves in the foreground provided a nice contrast to the chartreuse-colored leaves of the 'Autumn Moon' Japanese maple (Acer shirasawanum, Zones 5–7).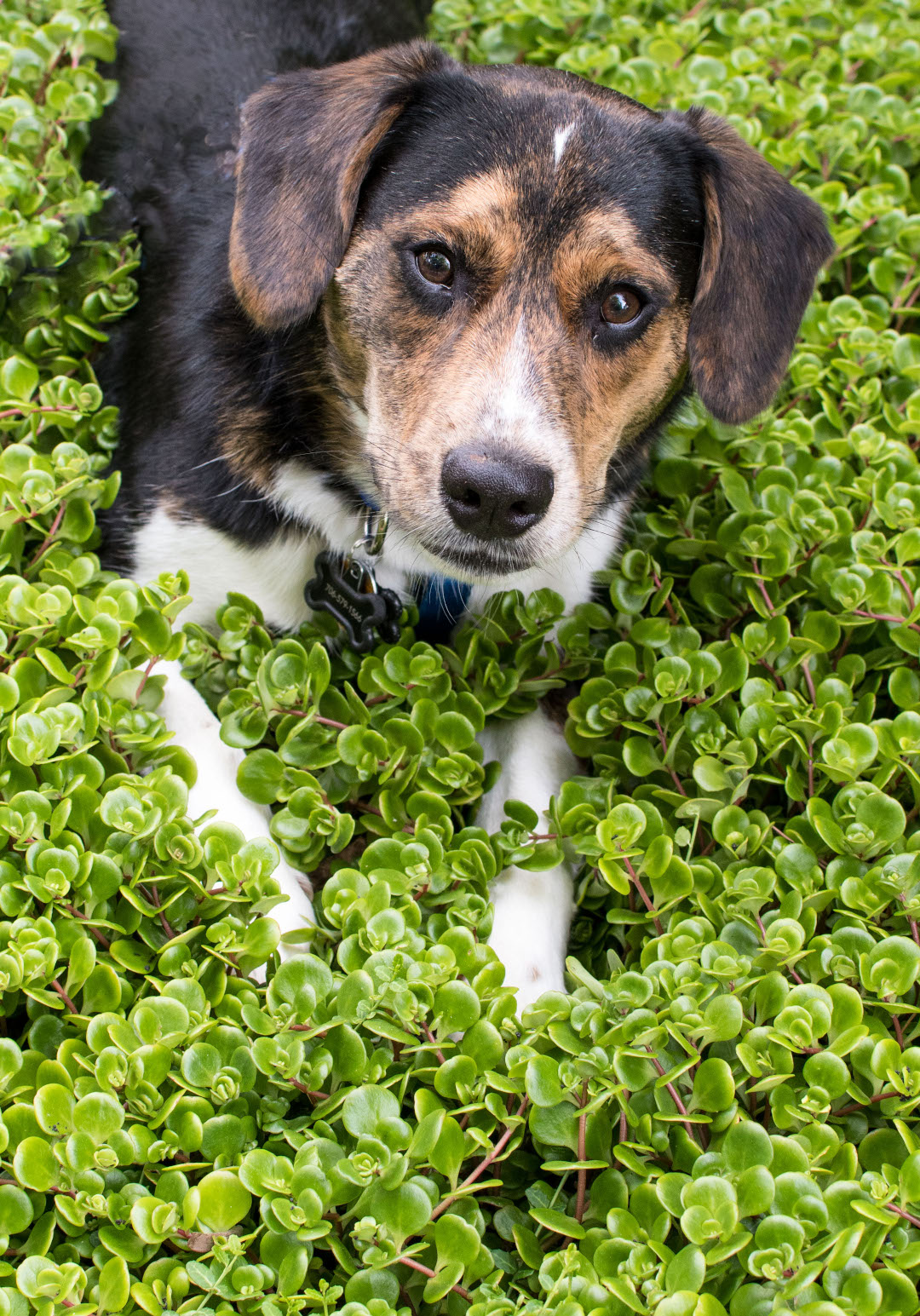 No day in the garden is complete without my gardening buddy and canine companion, Cody!
Have a garden you'd like to share?
Have photos to share? We'd love to see your garden, a particular collection of plants you love, or a wonderful garden you had the chance to visit!
To submit, send 5-10 photos to [email protected] along with some information about the plants in the pictures and where you took the photos. We'd love to hear where you are located, how long you've been gardening, successes you are proud of, failures you learned from, hopes for the future, favorite plants, or funny stories from your garden.
If you want to send photos in separate emails to the GPOD email box that is just fine.
Have a mobile phone? Tag your photos on Facebook, Instagram or Twitter with #FineGardening!
You don't have to be a professional garden photographer – check out our garden photography tips!
Do you receive the GPOD by email yet? Sign up here.