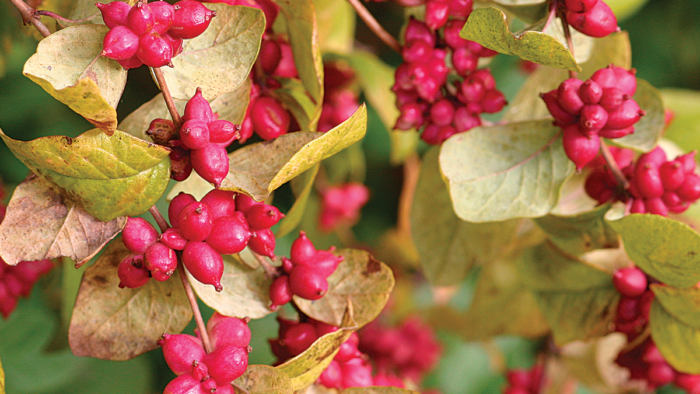 Finding interesting plants for shade can be a struggle, but when you add in the desire for that plant to be a woody shrub, the list narrows even more. But these structural wonders are essential in giving our shady beds and borders depth and real presence.
Whether you're looking for colorful foliage, fabulous flowers, or out-of-this-world texture, there is sure to be at least one shade-loving shrub that will fit the bill. To help us hunt down these elusive garden treasures, we asked regional experts to pick out their four favorite shrubs for shade. Check out some sensational selections for the Southern Plains below, and discover even more shade-loving shrubs in this episode of the Let's Argue About Plants podcast.
---
1. Red buckeye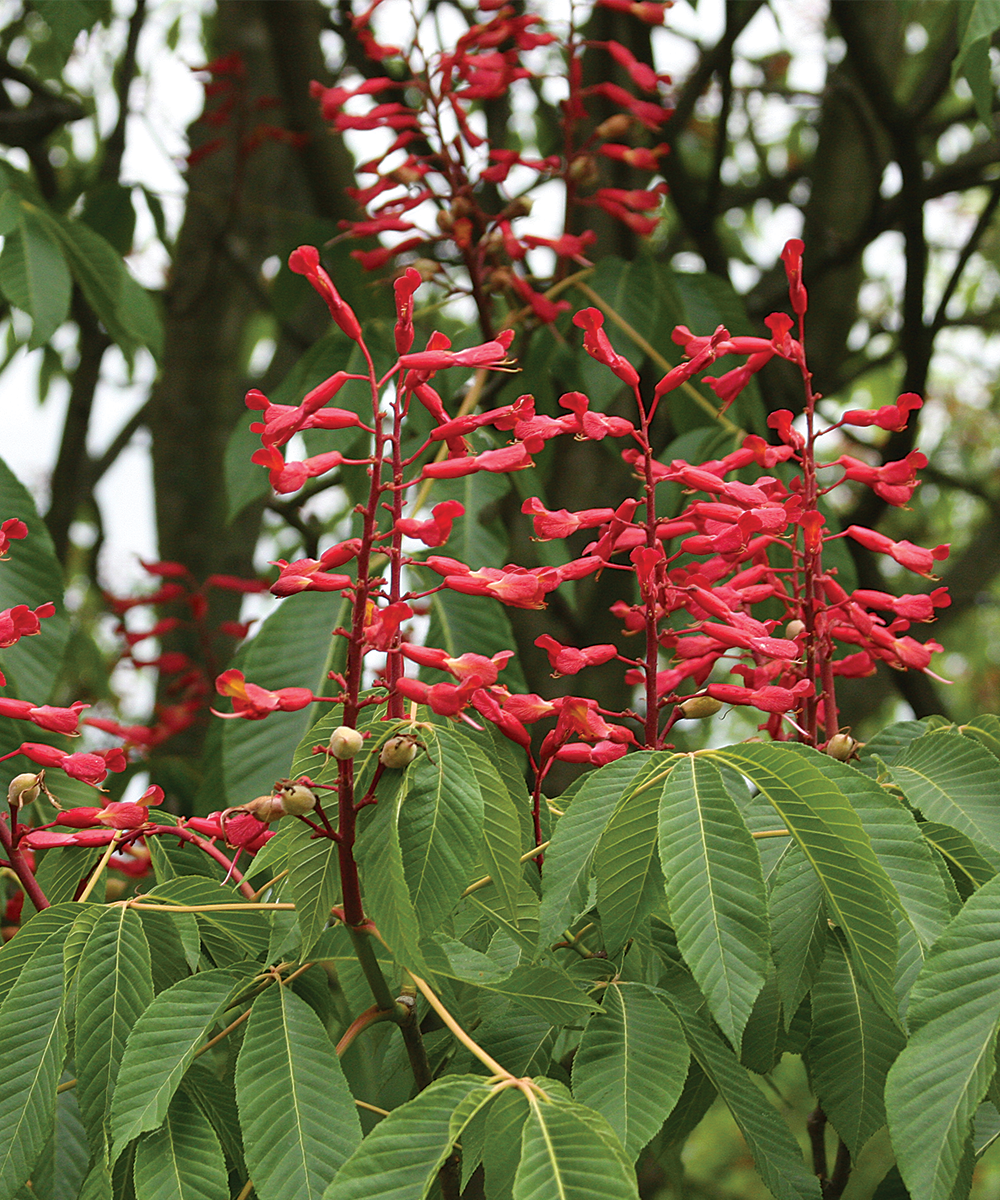 Zones: 4–8b
Size: 6 to 15 feet tall and wide
Conditions: Partial to full shade; mesic, well-drained soil
Native range: Southeastern United States, eastern Canada
These denizens of woodlands, canyons, and stream sides sport handsome palmate, glossy foliage. Depending on the source, some refer to this widely branching plant as a multitrunked small tree or as a large shrub. Red buckeye thrives in soil ranging from deep sand, to loam, and even to clay. In our region you'll see a midsummer leaf drop, with the shrub closing up shop for the rest of the year until new spring shoots appear. This normal "summer deciduous" behavior is no reason to fret, but you should position this plant in your landscape accordingly. Deep scarlet to pale pink cylindrical-shaped blossoms sometimes show peach to yellow in western parts of the species' range. The flowering time coincides with the spring migration of hummingbirds. Also, be aware that the young leaf shoots and seeds are poisonous.
2. Spicebush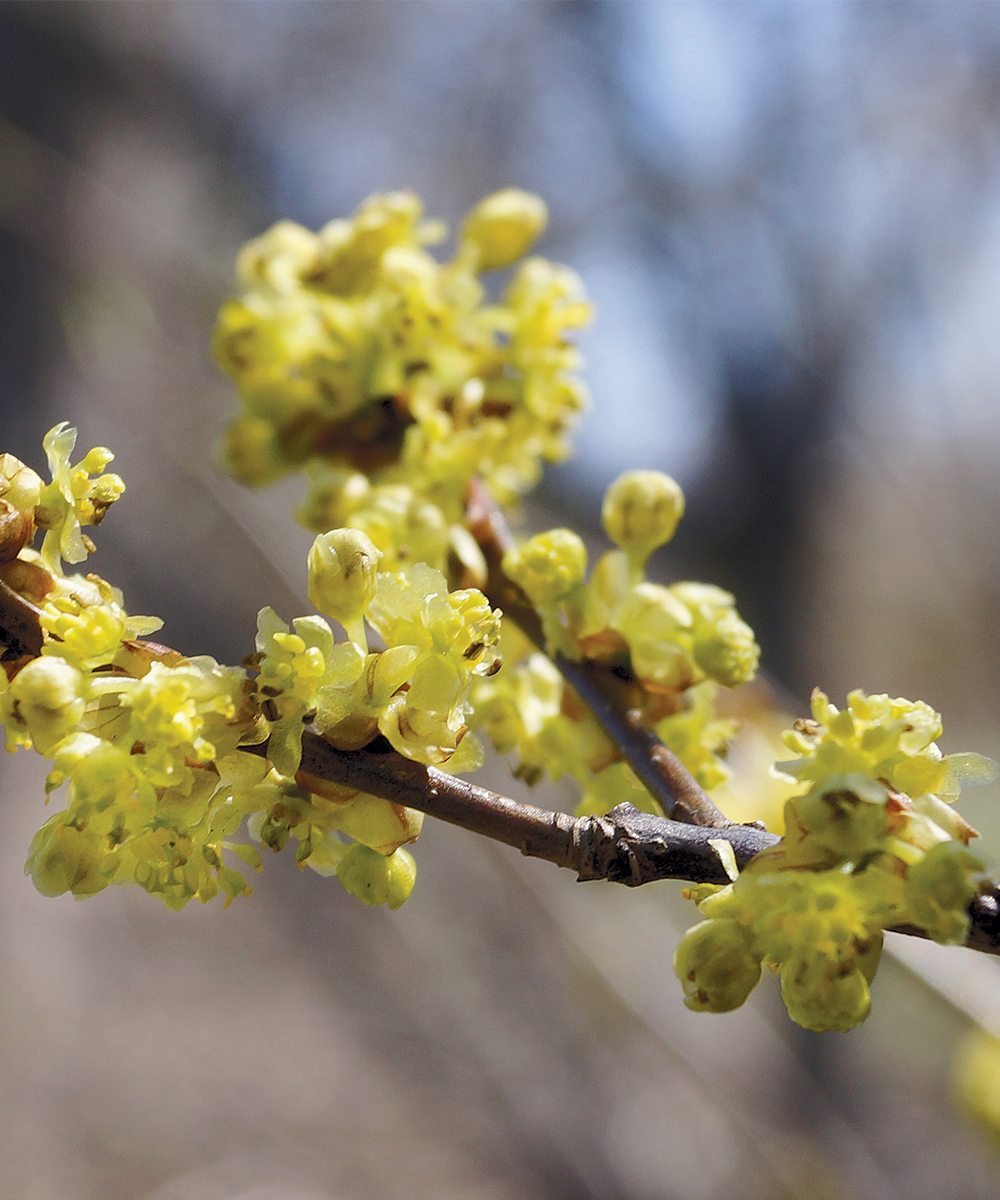 Zones: 4–9
Size: 6 to 12 feet tall and wide
Conditions: Partial to full shade; dry to moist soil
Native range: Eastern North America
Foraging for wild foods undoubtedly connects one with the riches of the natural world. Spicebush leads the pack of delectable edibles with leaves, twigs, and berries that are excellent when used to season teas and sweet or savory dishes. But the best aroma and spicy flavor derive from female plants' glossy red ripe fruit, which grow in clusters following the tiny yellow flowers of spring. Various wildlife dine eagerly on the nectar and berries, and the kelly green leaves support several species of swallowtail butterfly and silk moth caterpillars before shifting to yellow in fall. Spicebush thrives in forest settings but forms denser foliage and a more compact shape with more sun.
3. Coralberry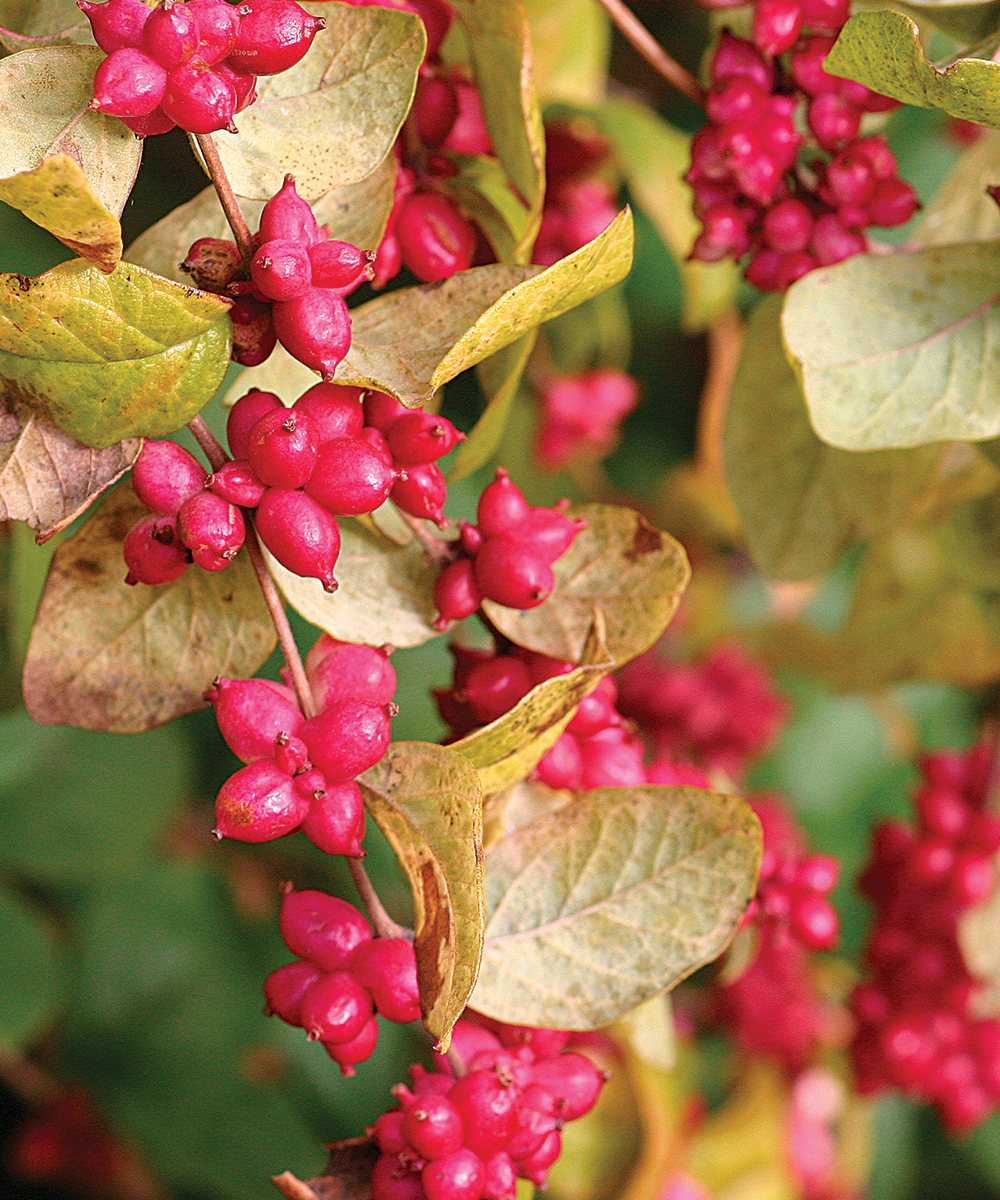 Zones: 2–7
Size: 2 to 5 feet tall and 5 to 8 feet wide (or more)
Conditions: Partial to full shade; dry to mesic, well-drained soil
Native range: Eastern half of the United States, Mexico
In mid to late spring, small bees and butterflies visit the white or powder pink–hued flowers dotting the gracefully arching branches of coralberry. Once pollinated, the blossoms give way to spangles of ¼-inch magenta-colored berries (technically called "drupes") in tight clusters. The deciduous nature of this shrub allows for a full view of the fruit in winter. The berries persist along the branches for months; wildlife typically ignore them because of their mild toxicity. However, many animals appreciate the cover and nesting sites the wiry mass provides. If left unchecked, stems touching the ground will root, forming extensive colonies. Cut the plants back to nubs every few years to keep them tight and fresh, and reduce powdery mildew by keeping foliage dry and well-ventilated.
4. Elbow bush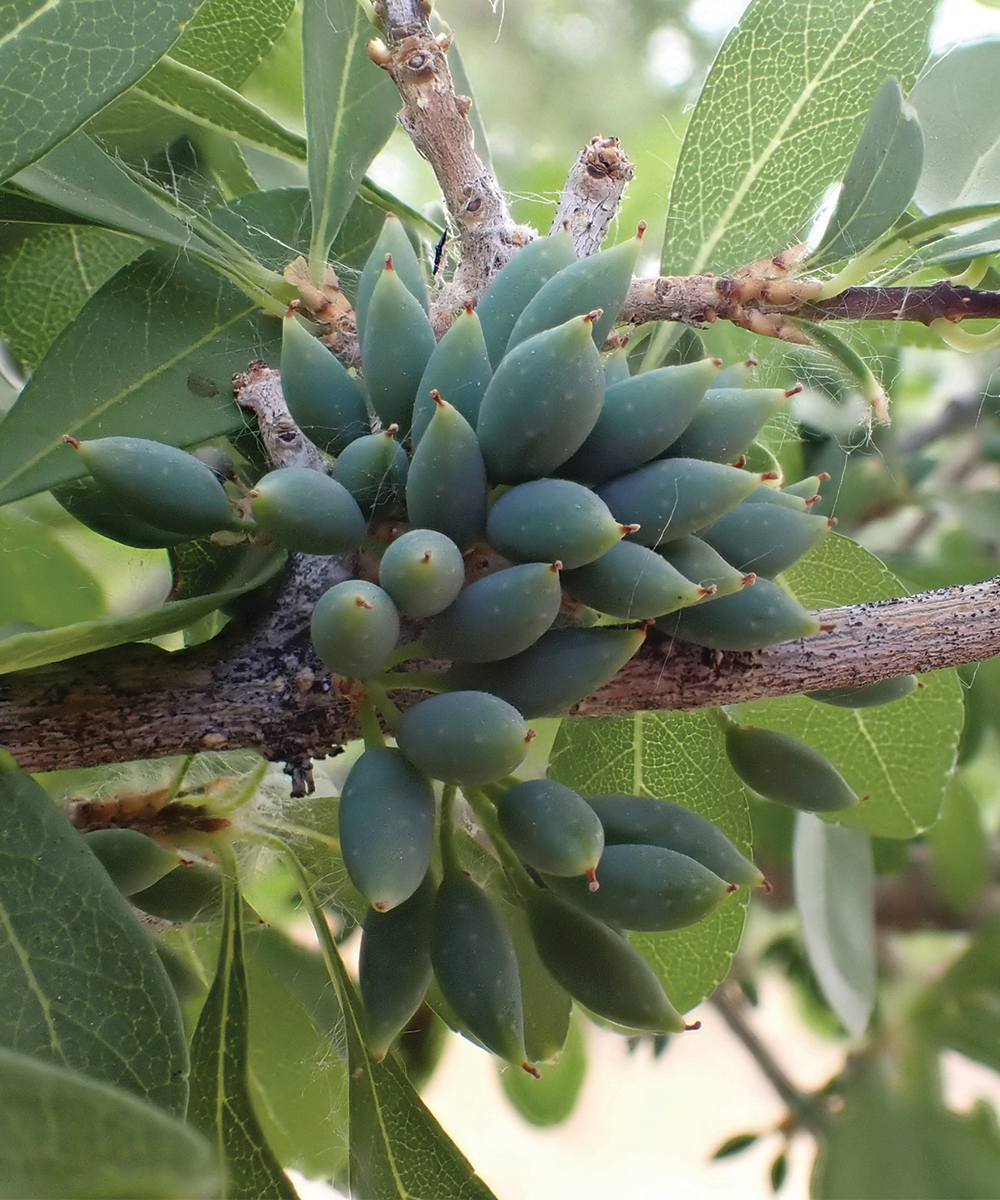 Zones: 6–8 
Size: 6 to 10 feet tall and 5 to 8 feet wide
Conditions: Partial to full shade; dry to mesic, well-drained soil
Native range: Southwestern United States
You might just walk past this shrub without notice unless you happen across the hundreds of pollinator partiers imbibing from its dainty yellow blossoms. A diverse cast of characters from hairstreaks to bees to small beetles roils among the flowers in February—a time when little else is producing critical nectar. Birds nourish themselves on elbow bush's summer fruits, which resemble elongated blueberries and are borne only on female plants. Nesting birds and bunnies seek shelter under the dense, right-angled branches that inspire the common name. Though not outrageously showy, this unsung hero is a real workhorse, growing easily and reliably in most conditions with good drainage. The light green foliage nicely foils other garden plants.
---
Andrea DeLong-Amaya is the director of horticulture at the Lady Bird Johnson Wildflower Center in Austin, Texas.