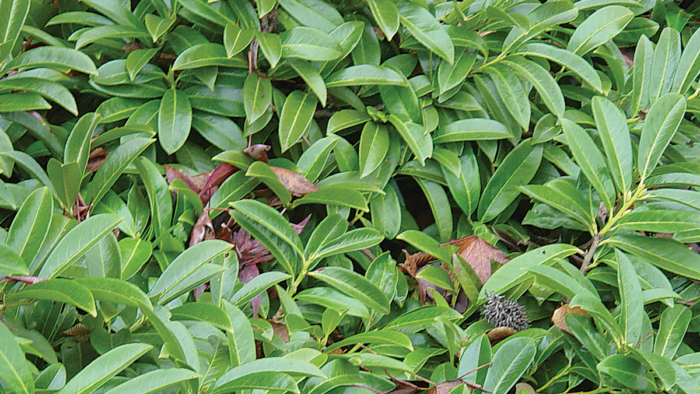 Finding interesting plants for shade can be a struggle, but when you add in the desire for that plant to be a woody shrub, the list narrows even more. But these structural wonders are essential in giving our shady beds and borders depth and real presence.
Whether you're looking for colorful foliage, fabulous flowers, or out-of-this-world texture, there is sure to be at least one shade-loving shrub that will fit the bill. To help us hunt down these elusive garden treasures, we asked regional experts to pick out their four favorite shrubs for shade. Check out some sensational selections for the Northwest below, and discover even more shade-loving shrubs in this episode of the Let's Argue About Plants podcast.
---
1. 'Knaptonensis' Japanese cedar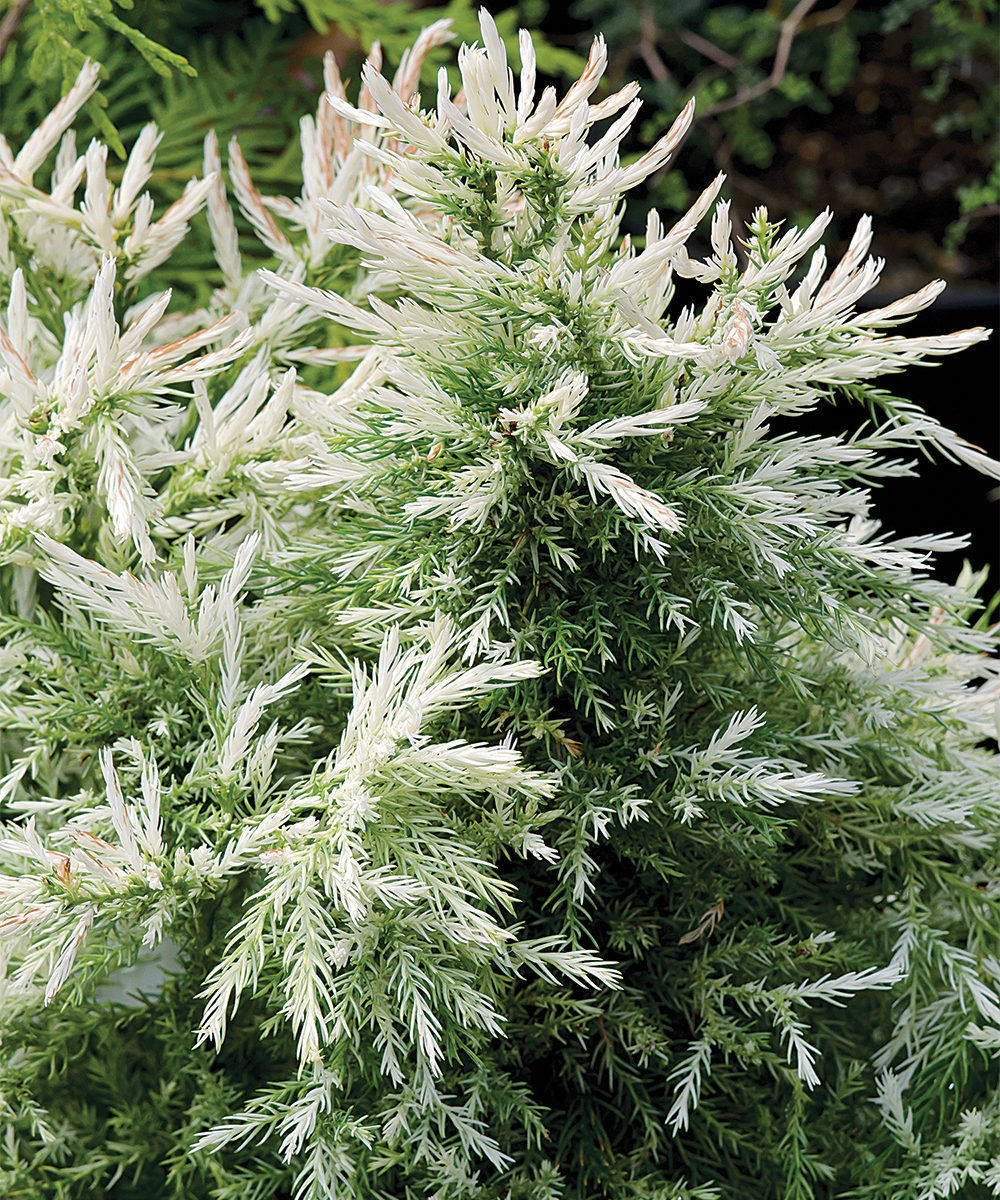 Name: Cryptomeria japonica 'Knaptonensis'
Zones: 5–9
Size: 4 feet tall and 2 feet wide
Conditions: Partial to full shade; average to moist, well-drained soil
Native range: Japan
This unusual variegated conifer is a favorite for its bright, glowing white juvenile foliage, which it is slowly and constantly putting out. However, it absolutely does not love direct sun, which burns those delicate white tips. That makes it a great choice for conifer lovers with sun-compromised planting locations. 'Knaptonensis' is ideal for containers due to its slow growth and its plump, pyramidal shape. Regular moisture is a must, but otherwise this standout selection requires no human intervention to look its best.
2. 'Filamentosa' heavenly bamboo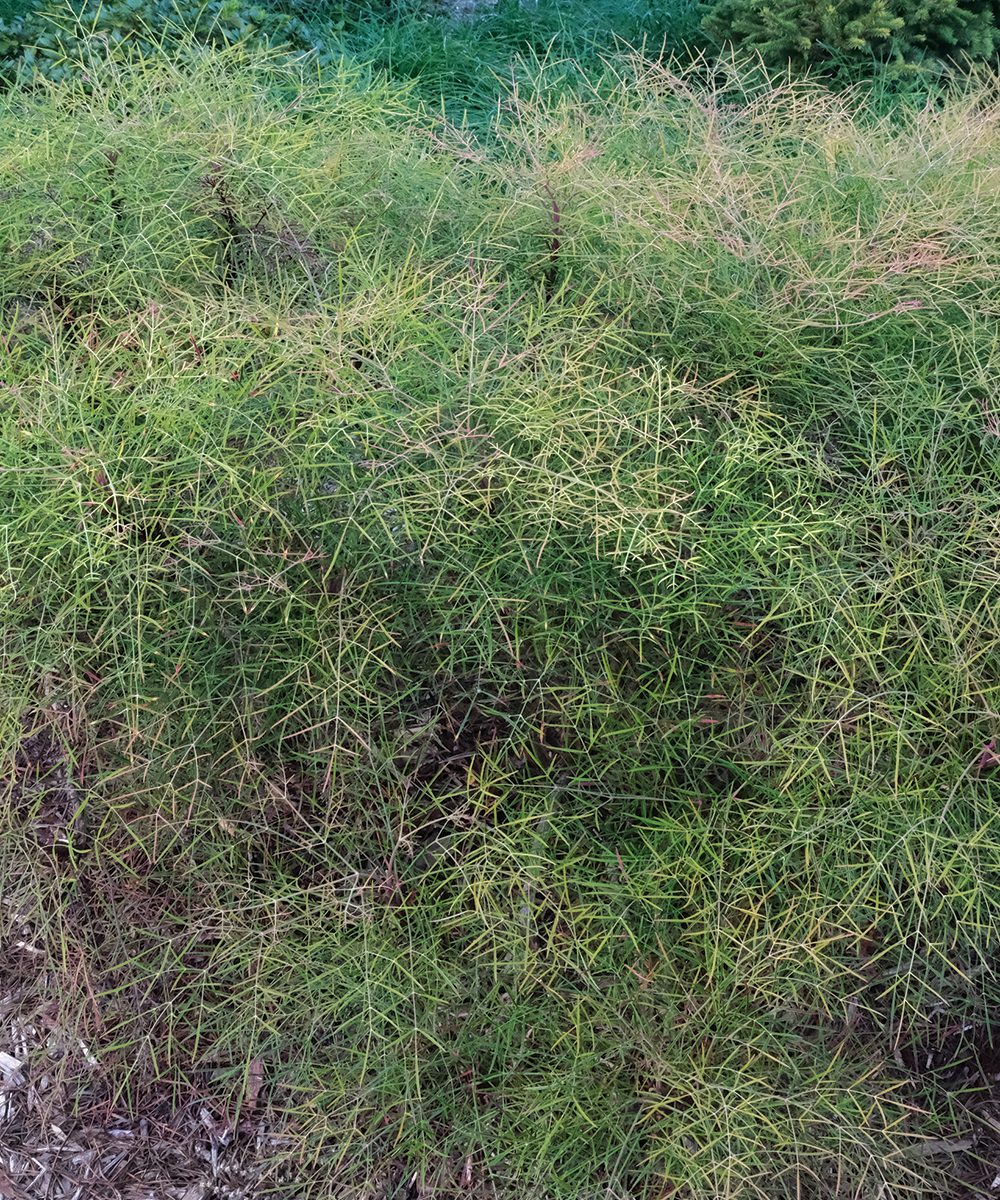 Name: Nandina domestica* 'Filamentosa'
Zones: 6–10
Size: 1 to 2 feet tall and 2 to 3 feet wide
Conditions: Full sun to partial shade; average soil
Native range: Japan, China, India
Although it is not actually a bamboo, this small shrub is quite heavenly. Not to be dismissed as yet another Nandina, 'Filamentosa' is strikingly different due to its very finely dissected foliage, which provides incredible year-round texture. If that isn't enough, it provides ever­green foliage color as well; new growth is tinted red, which fades somewhat before taking on coppery orange tints in fall. Pinkish-white summer flowers are held above the foliage on glowing red stems. It grows slowly and is exceedingly low-maintenance. Its low, mounding habit makes it useful in containers or as an understory ground cover.
3. 'Elegantissima' English boxwood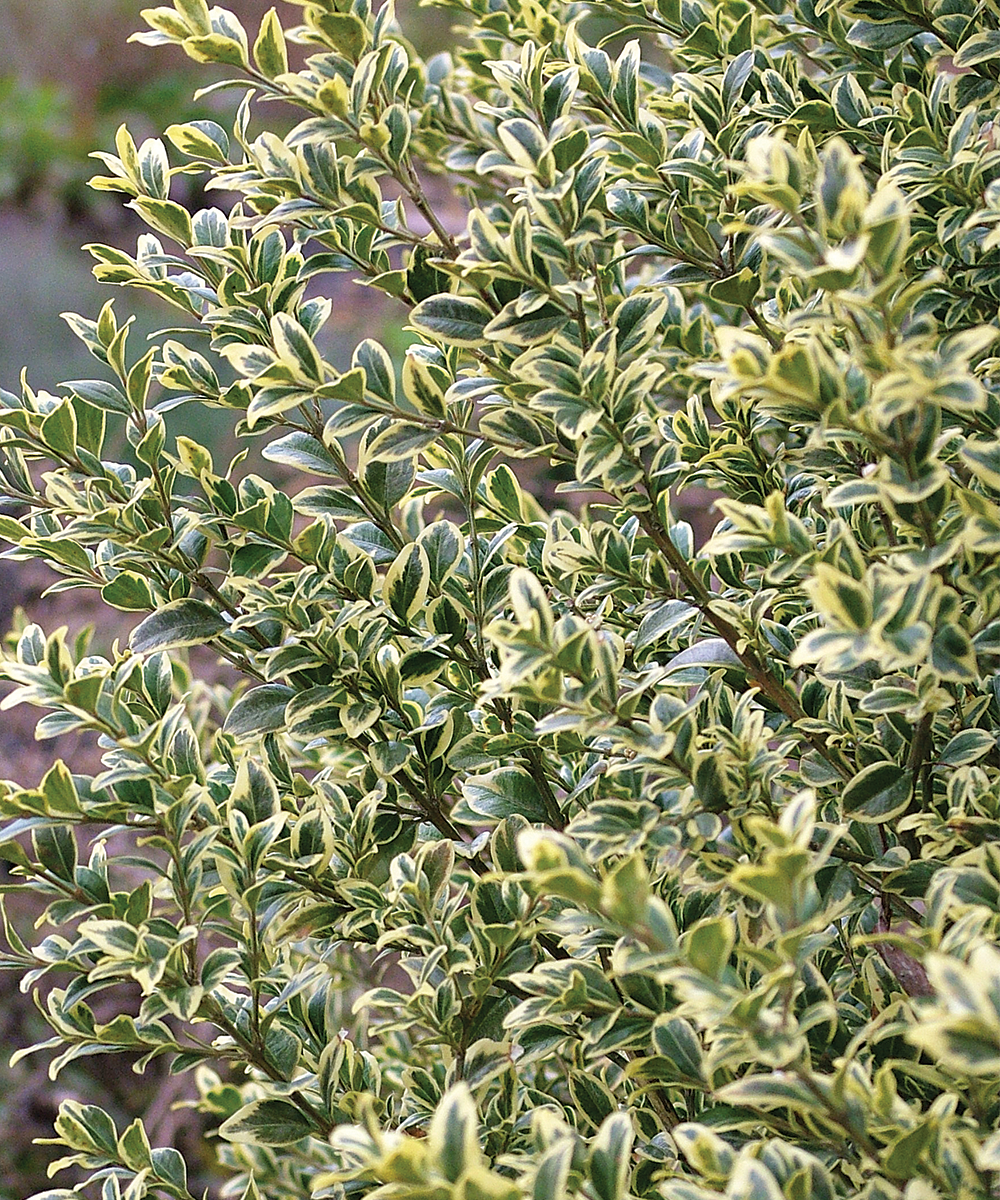 Name: Buxus sempervirens 'Elegantissima'
Zones: 6–8
Size: 6 feet tall and 4 feet wide
Conditions: Full sun to full shade; adaptable to a wide range of soil types, including clay and sand
Native range: Europe, Asia, Africa
While boxwood may seem ubiquitous, this underused evergreen cultivar is a workhorse that is especially valuable for dry shade. It makes a wonderful topiary if that appeals to you, but when left unpruned its naturally relaxed habit will provide year-round structure. Its finely textured dark green foliage sports creamy-white margins. The variegation is more muted in deeper shade, but in bright shade this shrub literally shines. Tough and undemanding, 'Elegantissima' deserves a place in every shade garden.
4. 'Mt. Vernon' dwarf English laurel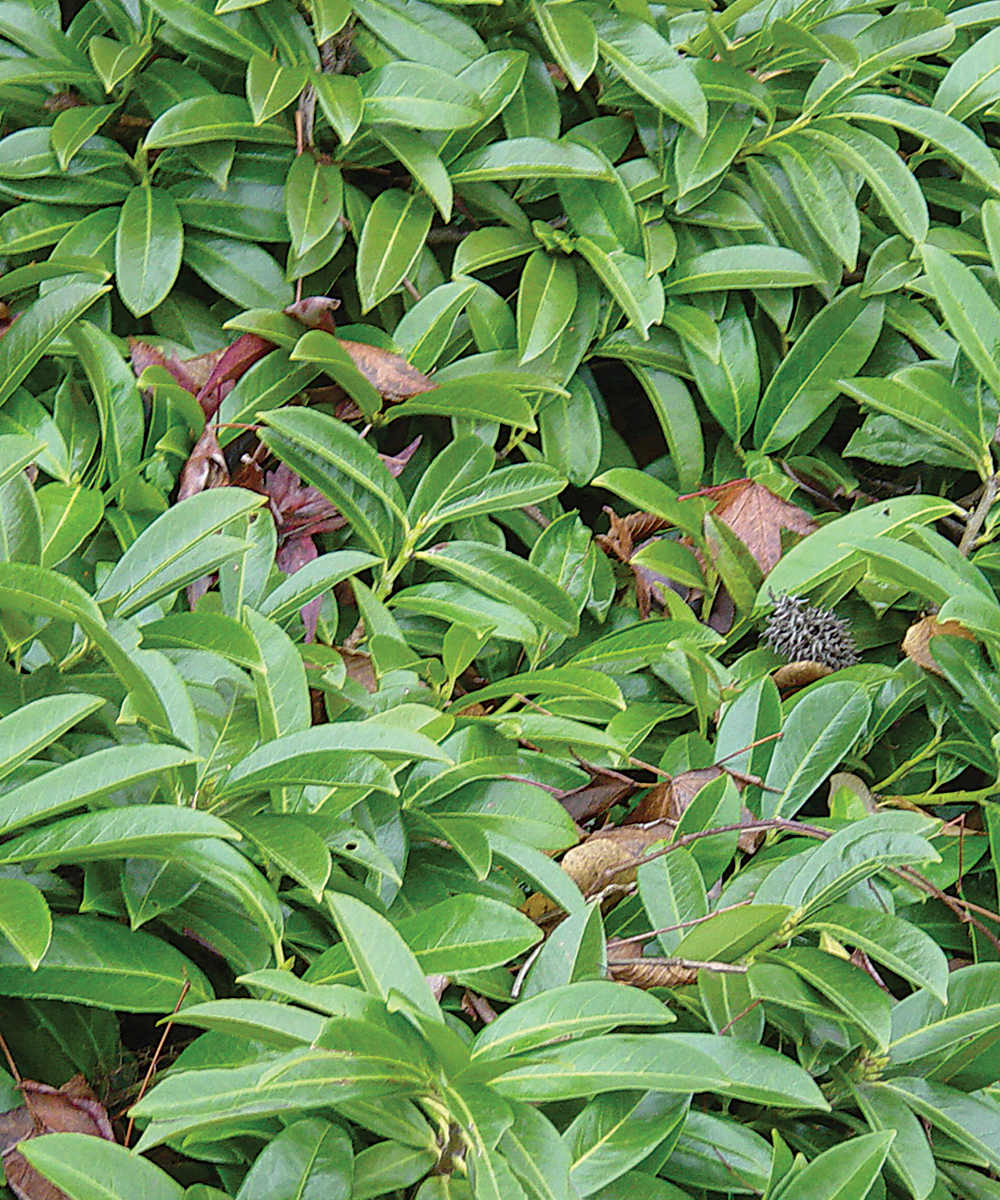 Name: Prunus laurocerasus 'Mt. Vernon'
Zones: 6–9
Size: 2 feet tall and 5 feet wide
Conditions: Full sun to full shade; average to moist, well-drained soil
Native range: Southwestern Asia, southeastern Europe
Bold, glossy leaves and a low, neatly spreading habit make this laurel worth having, even in a small space. Dense and tidy, it rarely flowers or sets seed. It doesn't run rampant like its larger cousins, but instead creates a tall, dense ground cover that will tolerate almost any growing conditions. It is fabulous skirting beneath hydrangeas (Hydrangea spp. and cvs., Zones 3–9) and other deciduous shrubs, creating handsome winter structure at ground level. It is also the perfect partner for every one of the other shrubs on this page. With no pruning necessary, 'Mt. Vernon' is as low-maintenance as it gets, yet it delivers big rewards.
---
*Invasive alert:
Heavenly bamboo (Nandina domestica) 
This plant is considered invasive in AL, FL, GA, MD, MO, and SC.
Japanese barberry (Berberis thunbergia)
This plant is considered invasive in AL, CT, DE, GA, IA, IN, KS, KY, MA, MD, ME, MI, MN, NH, NJ, NY, PA, RI, SC, VA, VT, WI, and WV.
Please visit invasiveplantatlas.org for more information.
---
Barbara Libner is the head container designer and chief merchandiser at Ravenna Gardens in Seattle.