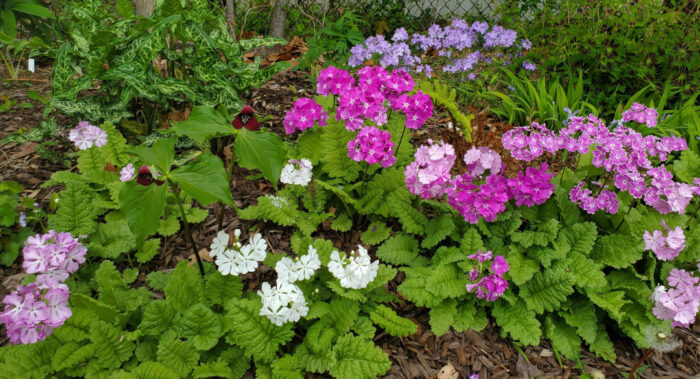 Hello! I am Rob Chambon. I have been gardening since the fall after my dad passed in 2001. My first place to garden was at Pine Bluffs, a heavily wooded area on a lake. This is where I learned what worked and did not work in shady areas. Over a period of 12 years, I built and installed a woodland garden I call the Secret Garden. It had nine seating areas, a full hammock area, a swing, 65 tons of rocked hiking trails, and thousands of native and nonnative rare and unusual perennials, shrubs, trees, and bulbs. Those were my "proving grounds," so to speak, for my current home, where I continue to work on landscaping to this day.
In October 2017, I moved to my current residence in Bicknell, Indiana, four miles from Pine Bluffs. It was a totally blank slate, with only two daylilies and one clematis there when I moved in. There were no existing borders or planting beds of any kind. Blank slates are my favorite, so I quickly set to work planting a handful of perennials and shrubs that fall before winter set in. Since that initial start, I have greatly expanded my landscape to cover the three city lots that I own. I have just about everything from sun to shade, a unique and diverse mix of perennials, shrubs, trees, and bulbs that allows something of interest in all 12 months of the year.
I really enjoy putting my creative juices to work in coming up with combinations that work well in the garden and complement each plant in that particular grouping to the fullest. All gardeners love blooms, of course, but I believe that it is a plant's foliage that carries the garden through the majority of the year. With that focus in mind, I try to come up with different combinations of plant colors, forms, and textures that create interest and beauty that is both eye-catching and unique.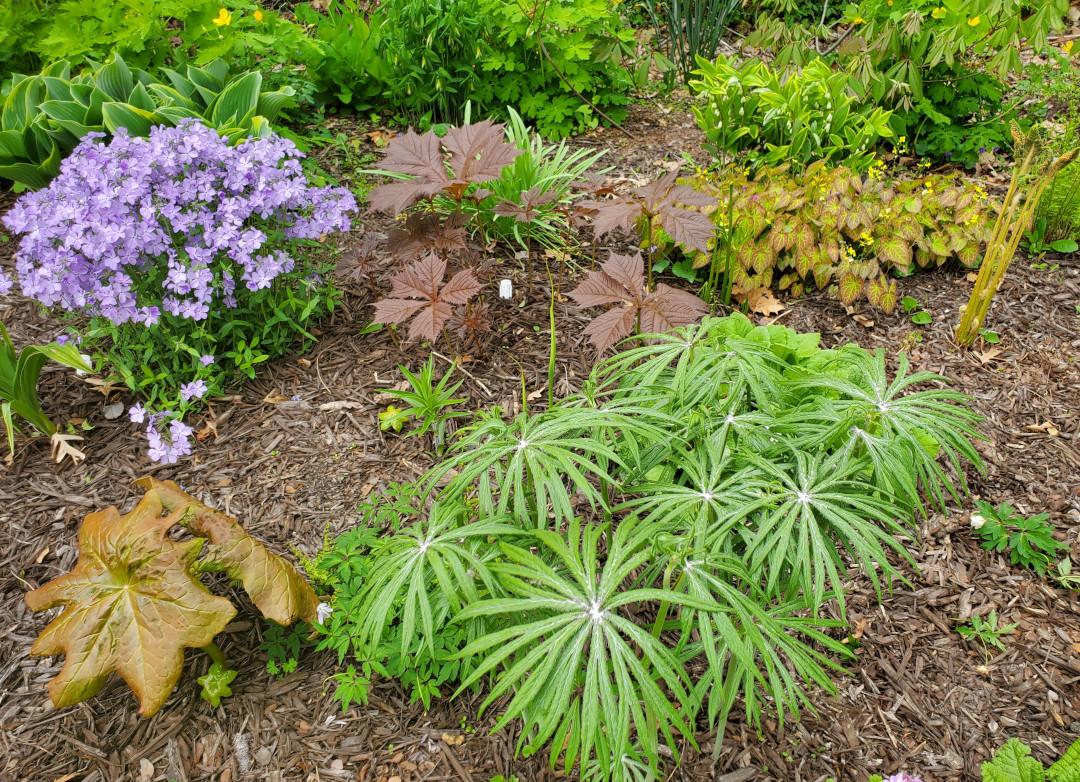 Podophyllum 'Red Panda' (Zones 5–9), Syneilesis aconitifolia (Zones 4–8), Phlox divaricata (Zones 3–8), Rodgersia podophylla 'Tien Tsin Red' (Zones 5–8), cinnamon fern (Osmundastrum cinnamomeum, Zones 4–9), and Epimedium 'Sulphureum' (Zones 5–9)
Fothergilla (Zones 4–8) shrub, Spirea 'Double Play Big Bang' (Zones 3–9), 'Orange Rocket' barberry shrub (Berberis thunbergii 'Orange Rocket', Zones 4–8), and creeping phlox (Phlox subulata, Zones 3–9) in white and purple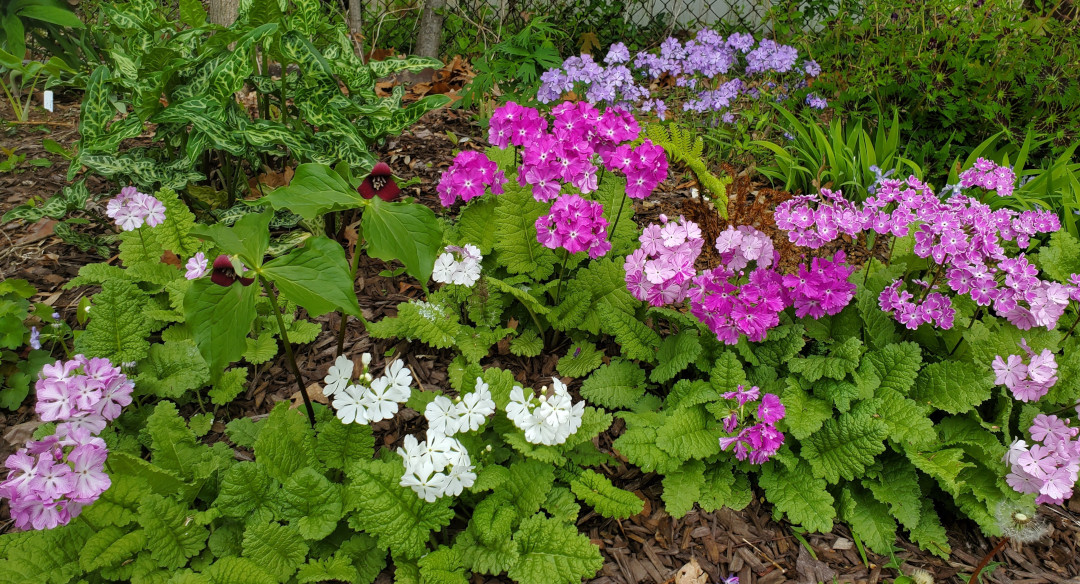 Sieboldii primrose (Primula sieboldii, Zones 5–9) cultivars, Trillium sulcatum (Zones 4–7), Phlox divaricata (Zones 3–8) and Arum italicum 'White Winter' (Zones 5–9)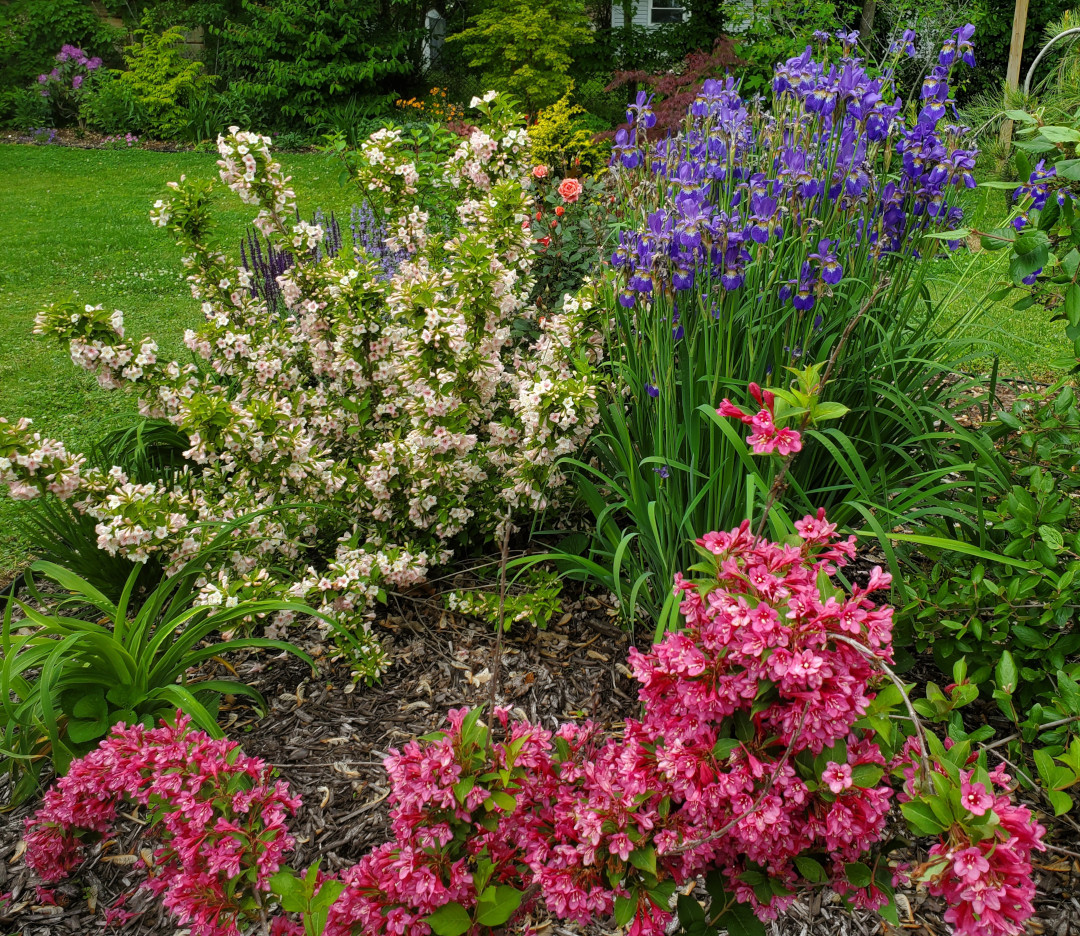 Weigela 'Sonic Bloom' in pink and white (Zones 5–9), Siberian iris cvs. (Iris hybrids, Zones 4–8), and Coral Knock Out roses.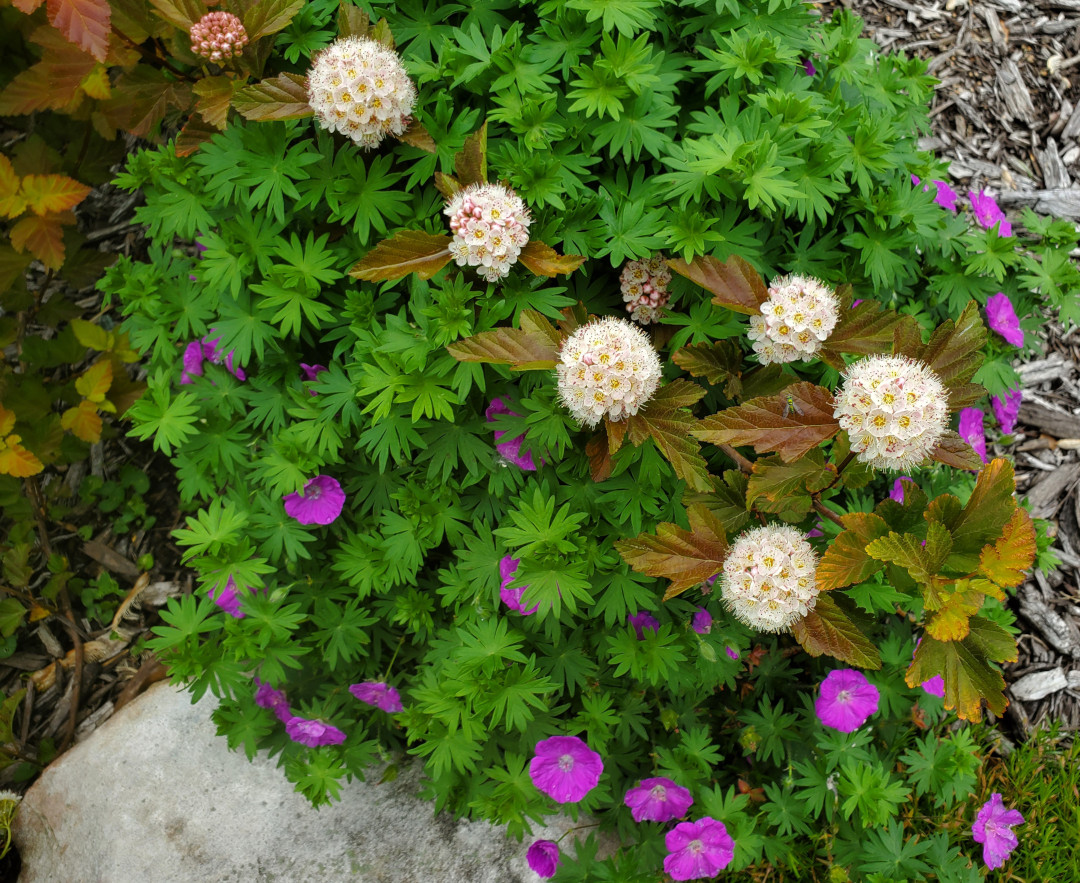 Amber Jubilee ninebark shrub (Physocarpus opulifolius, Zones 2–8) with 'Alpenglow' hardy geranium (Geranium sanguineum 'Alpenglow', Zones 4–8)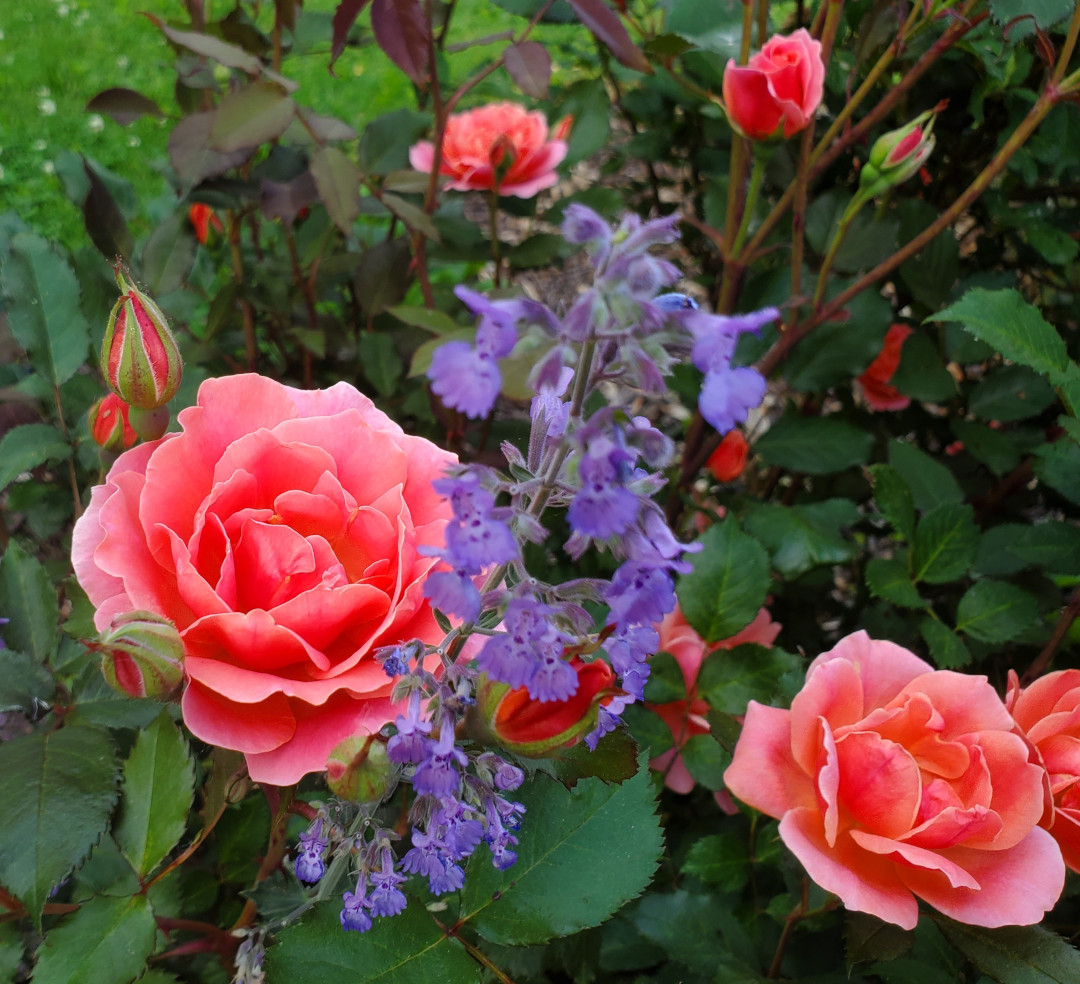 Coral Knock Out roses (Rosa 'Radral', Zones 5–11) with 'Walker's Low' catmint (Nepeta racemosa 'Walker's Low', Zones 4–8)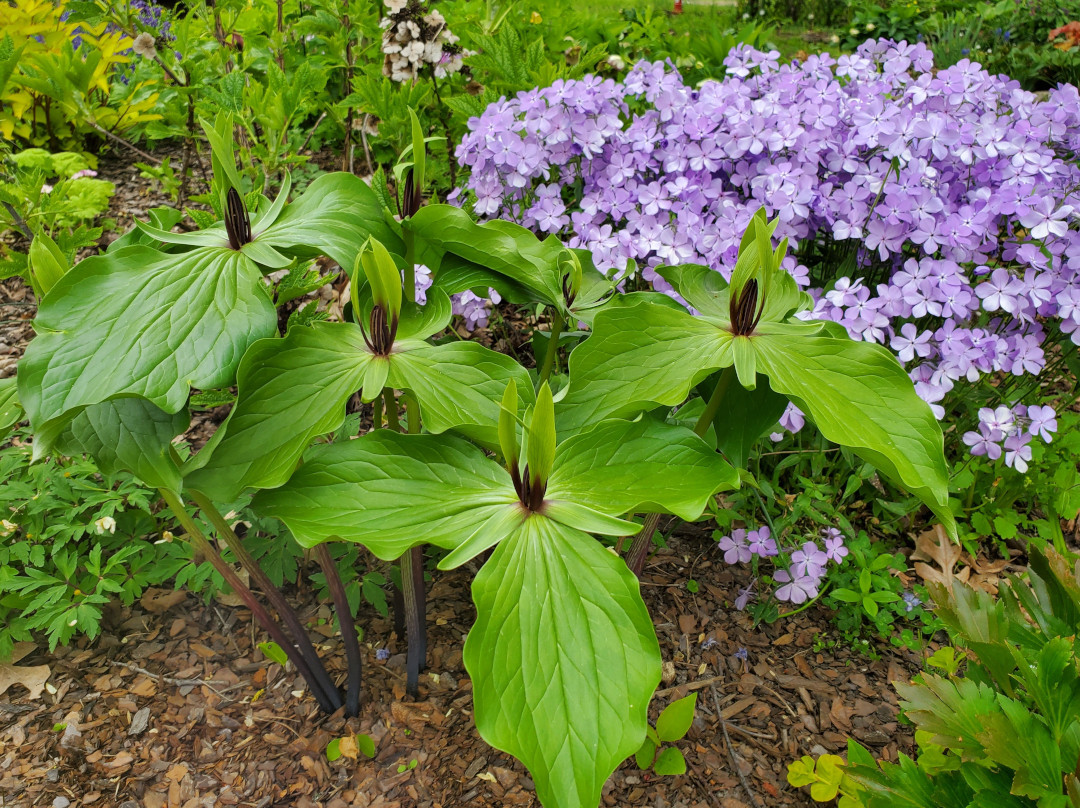 Trillium viridescens (Zones 5–9) with Phlox divaricata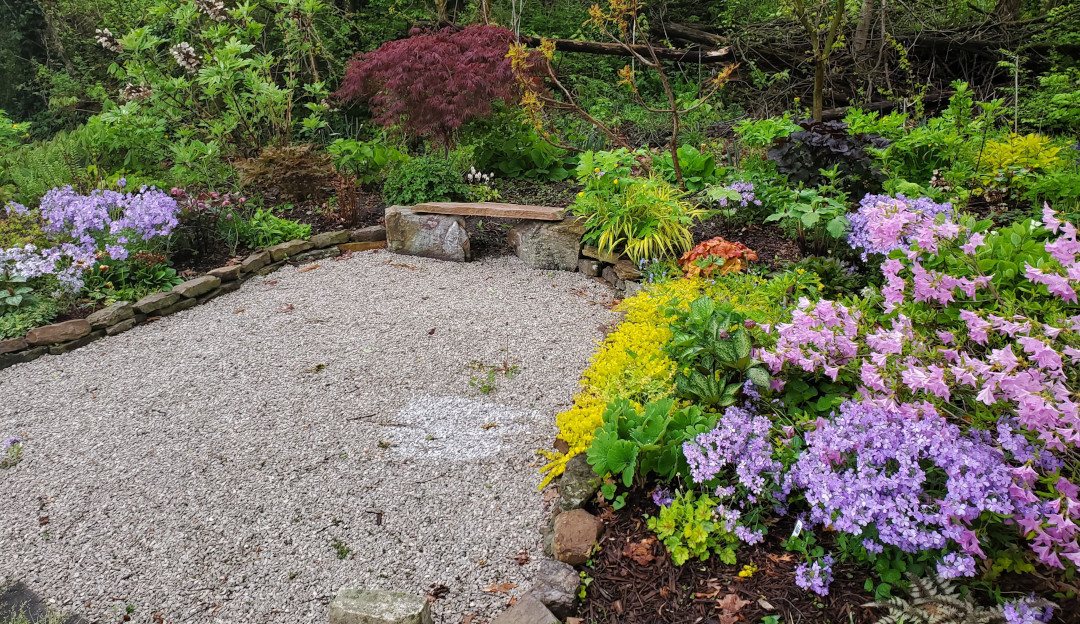 Azalea poukhanense (Rhododendron yedoense var. poukhanense, Zones 4–9), Phlox divaricata, 'Girard's Rose' azalea (Rhododendron 'Girard's Rose', Zones 5–8), 'Takukeyama' Japanese maple (Acer palmatum 'Takukeyama', Zones 5–9), golden creeping Jenny (Lysimachia nummularia 'Aurea', Zones 3–9), and Alice oakleaf hydrangea (Hydrangea quercifolia, Zones 5–11)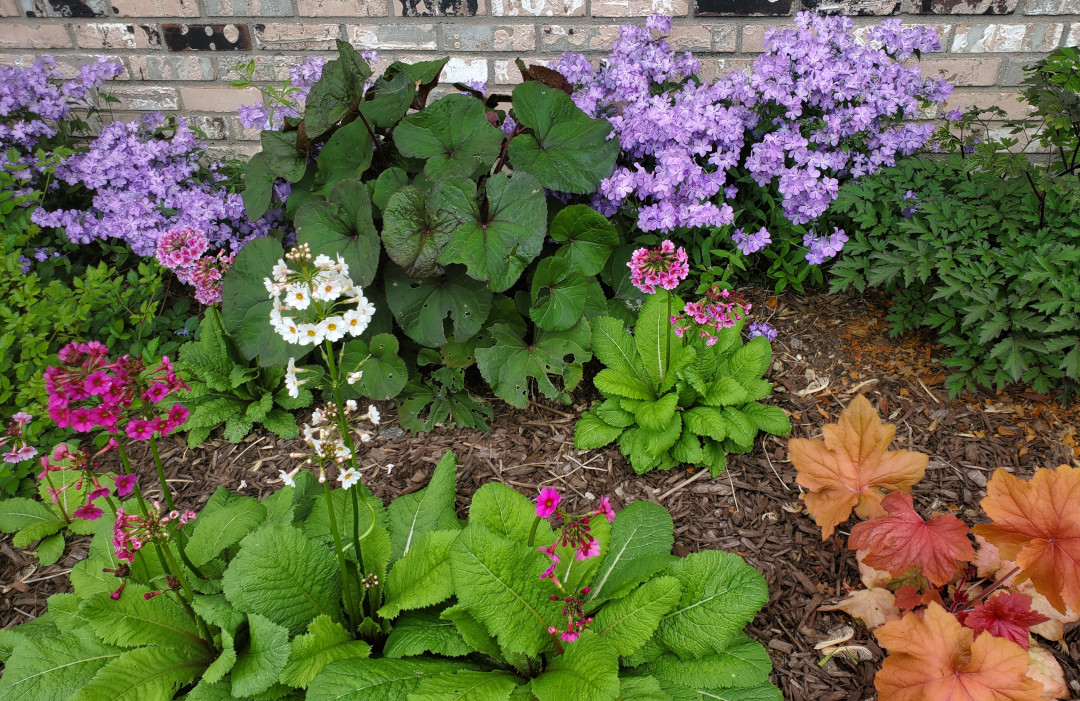 Primula japonica 'Miller's Crimson' and hybrid seedling (Zones 4–8), Heuchera, Phlox divaricata, and 'Othello' ligularia (Ligularia dentata 'Othello', Zones 3–8)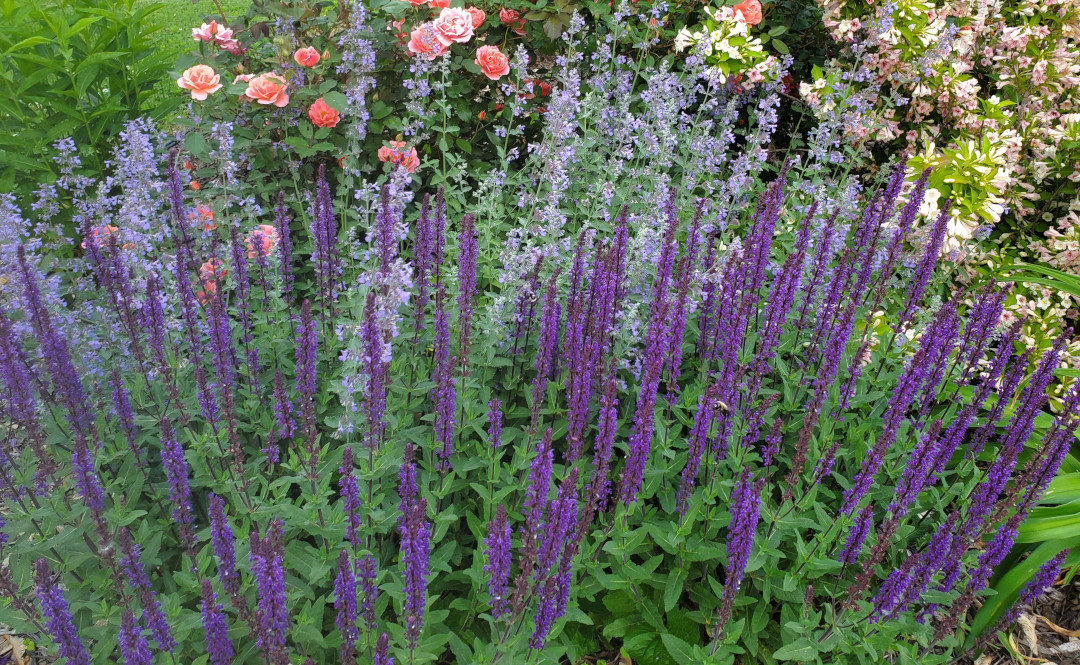 'Caradonna' salvia (Salvia 'Caradonna', Zones 4–8), 'Walker's Low' catmint, Coral Knock Out rose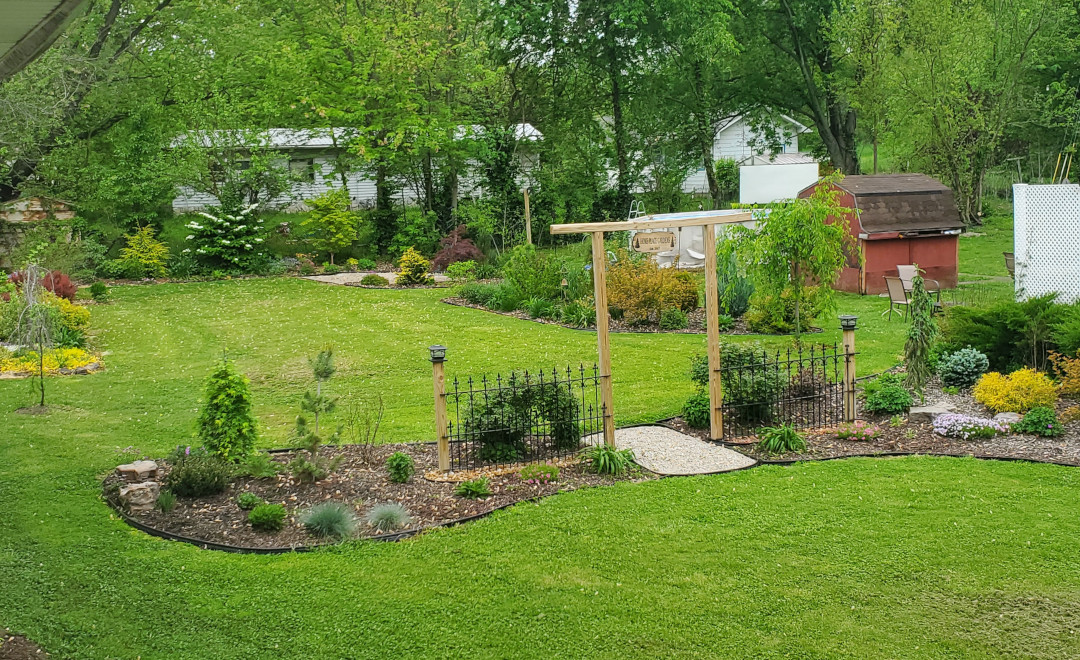 I call the side lot at my home "Home Place Gardens."