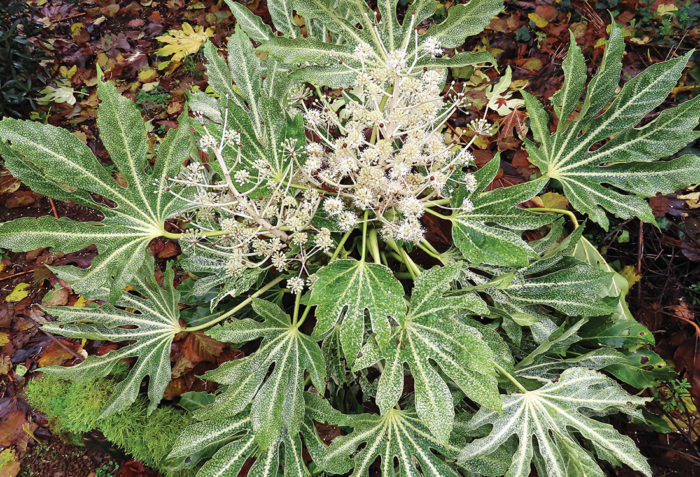 See regional picks for variegated plants for shade, and read the article by Andy Brand for even more ideas.
"While the cool, shady areas have provided me with the opportunity to grow some of my favorite genera, they also have presented me with a fair share of challenges. One of the trickiest issues is figuring out how to brighten the border growing under a dense canopy or in those dark corners. Plants with showy flowers are an obvious solution, but usually their effect is transient, and all too often flowering is diminished with too much shade. An even better option is to incorporate plants with variegated foliage and let their leaves of white, cream, gold, and green bring light to the shade." Read more in Plants That Shine in the Shade.
---
1. 'Spider's Web' Fatsia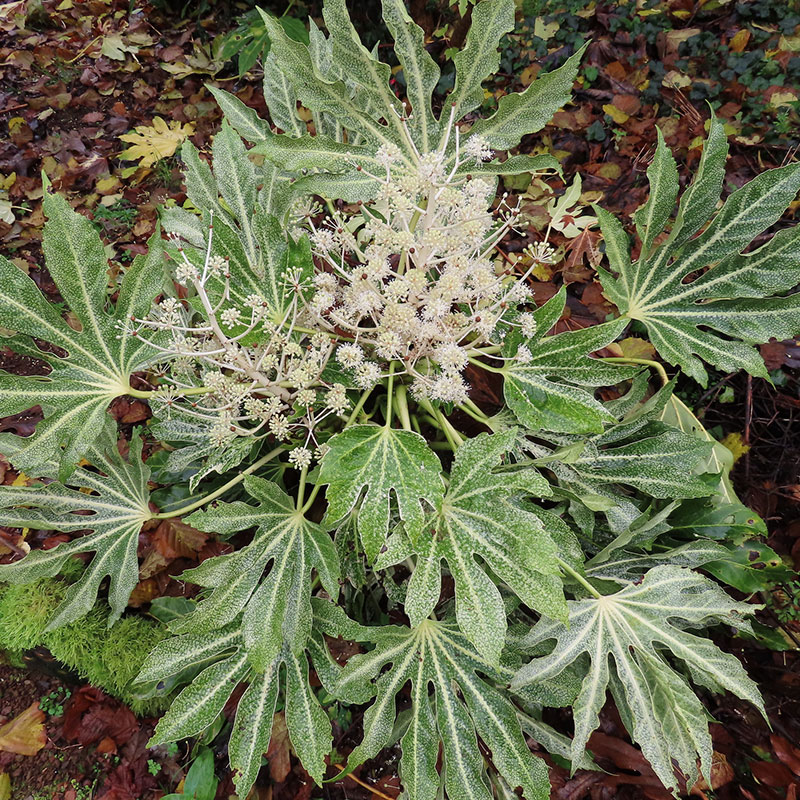 Fatsia japonica 'Spider's Web'
Zones: 7–10
Size: 5 feet tall and wide
Conditions: Partial to full shade; prefers rich, moist, acidic soil but tolerates sand or clay
Native range: Japan
This fatsia has the traditional bold-textured foliage of the species, but with the bonus of a bright and beautiful variegation on each leaf. Because it's creamy white, it avoids looking like it's chlorotic or ridden with spider mites, and the variegation brightens up shade containers or any shady nook—even if those nooks have tough soils such as sand and heavy wet or dry clay. Also, deer do not seem to bother it much. For all those reasons, and because it's evergreen, 'Spider's Web' gets an instant spot on my go-to plant list.
2. Morning Sun Cast Iron Plant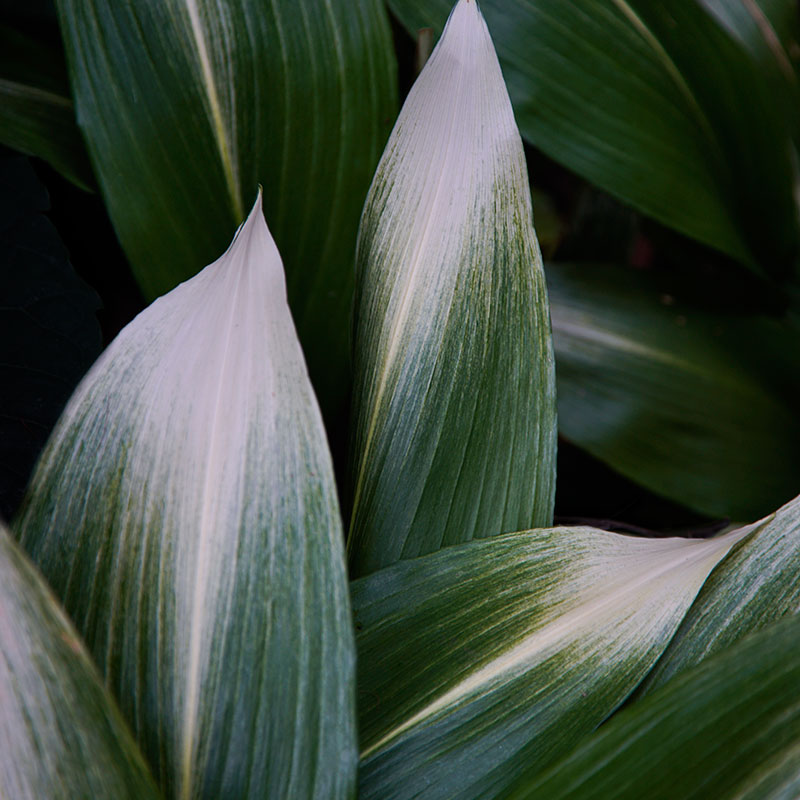 Aspidistra elatior 'Asahi'
Zones: 7–10
Size: 3 feet tall and at least 30 inches wide with a slowly expanding clumping habit
Conditions: Partial to full shade; adaptable to a wide range of soils
Native range: China and Japan
'Asahi' gives me another reason to love cast-iron plants, which are known as "Plant them and forget them" plants. This cultivar is slightly smaller than the species, but it's equally as tough and far more dramatic, with artistic creamy white variegation that looks like an elegant brushstroke starting at the tip of the leaf and going down. Two words of caution, though: it does not like to be grown in containers, and it does not like fertilizer.
3. 'Shiro Shima' Dwarf Japanese Solomon's Seal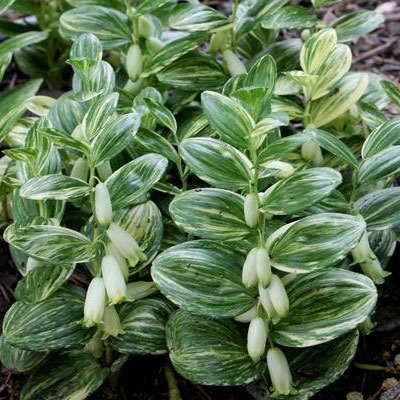 Polygonatum humile 'Shiro Shima'
Zones: 4–9
Size: 3 to 9 inches tall and 12 to 18 inches wide
Conditions: Partial to full shade; average to wet, fertile soil
Native range: Eastern Europe and Western Asia
This is a highly unusual, highly variegated, highly adorable Solomon's seal. Dwarf and very slow growing, it has cream-and-white-streaked leaves that will stand out at the front of any shady border. The familiar but enchanting white bell-shaped flowers delicately dangle from the leaf axils in spring. If you find it, you should buy it, since it's not frequently offered. Plant it in a slightly damp garden spot and it will quickly become one of your favorites.
4. 'Ito Fukurin' Japanese Ardisia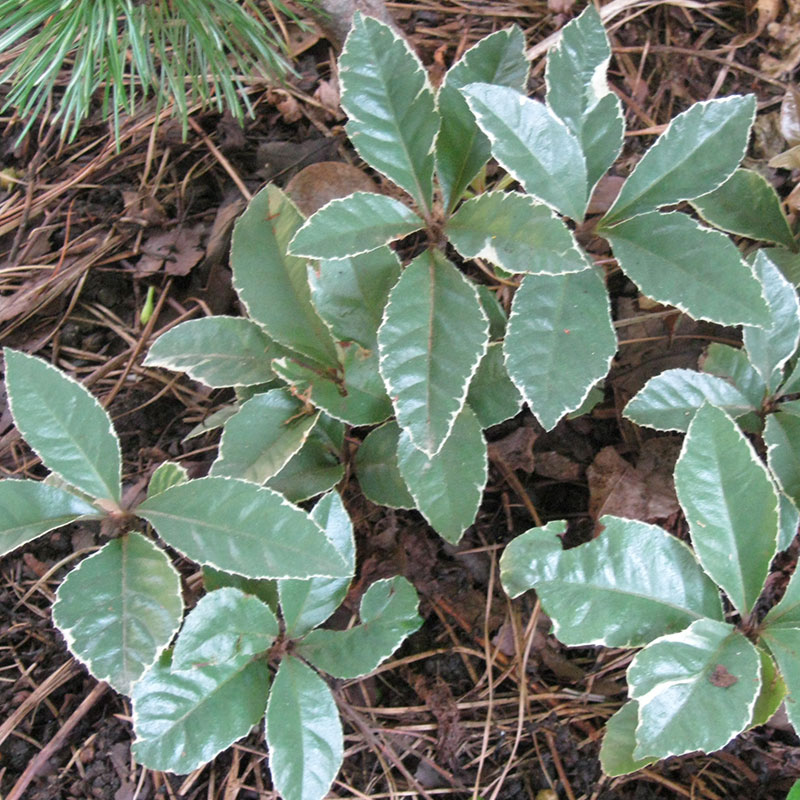 Ardisia japonica 'Ito Fukurin'
Zones: 7–10
Size: 6 to 12 inches tall and wide
Conditions: Partial to full shade; moist, humusy, well-drained soil
Native range: China, Japan, and Korea Japanese
Ardisia may be unfamiliar to some, but you should get to know this semi-to-fully evergreen ground cover. When given adequate moisture, Japanese ardisia thrives in those challenging partial-shade situations with a lot of root competition. Spreading by underground rhizomes, 'Ito Fukurin' has a thin white line that edges each light green leaflet. There are some pale pink flowers, but they are small and are only a means to the bright red berries that appear in autumn.
—Amanda Bennett is vice president of horticulture and collections at the Atlanta Botanical Garden.