See regional picks for variegated plants for shade, and read the article by Andy Brand for even more ideas.
"While the cool, shady areas have provided me with the opportunity to grow some of my favorite genera, they also have presented me with a fair share of challenges. One of the trickiest issues is figuring out how to brighten the border growing under a dense canopy or in those dark corners. Plants with showy flowers are an obvious solution, but usually their effect is transient, and all too often flowering is diminished with too much shade. An even better option is to incorporate plants with variegated foliage and let their leaves of white, cream, gold, and green bring light to the shade." Read more in Plants That Shine in the Shade.
---
1. 'Cobblewood Gold' Bellwort
Uvularia sessilifolia 'Cobblewood Gold'
Zones: 4–9
Size: 8 to 10 inches tall and wide
Conditions: Partial to full shade; moist, humus-rich soil
Native range: Eastern North America
Bellworts are one of my favorite native woodland-floor wildflowers. You certainly know spring has arrived when the wiry stems burst forth, displaying elegant yet bold emerald green foliage delicately edged in gold. Pendulous, pale yellow, bell-shaped flowers are gracefully displayed at the tip of each stem in early spring, a welcome sight for waking pollinators. Although this bellwort's dainty appearance may fool you into thinking it may be fussy in the garden, I have found it to be rather adaptable. Place this delicate little beauty in a prime location along a woodland path for all to admire.
2. 'Stairway to Heaven' Jacob's Ladder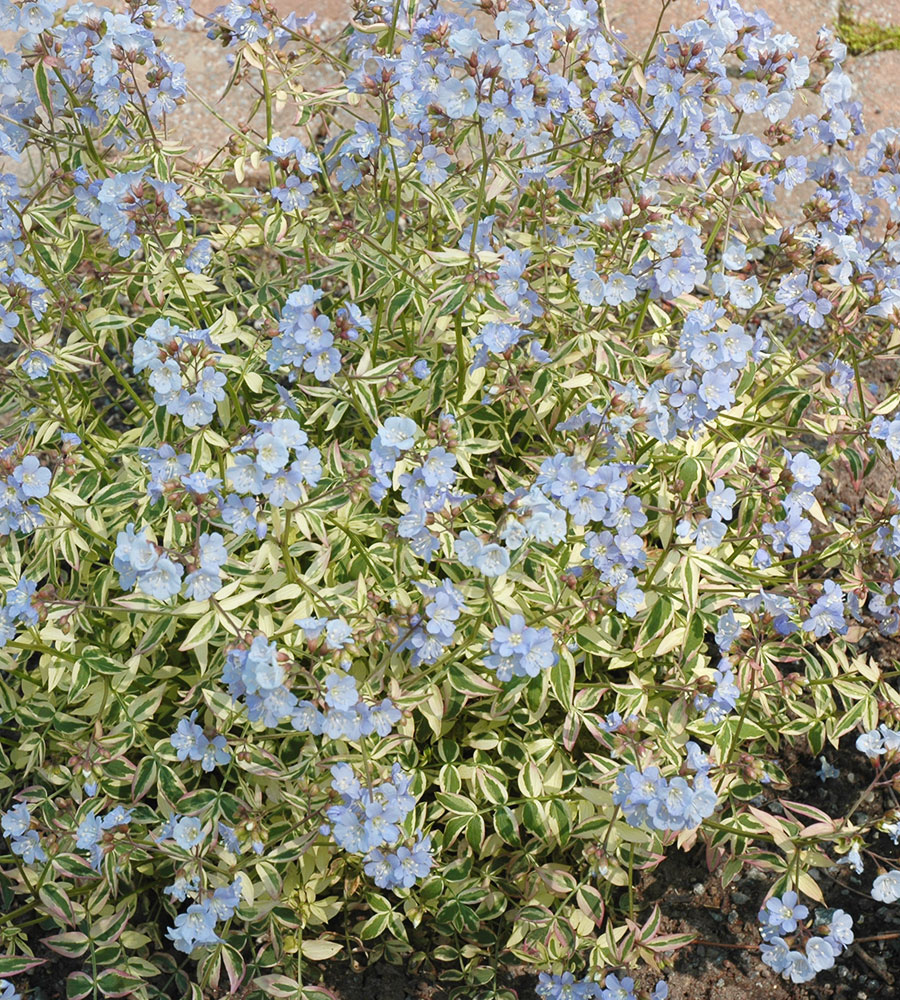 Polemonium reptans 'Stairway to Heaven'
Zones: 4–8
Size: 15 to 18 inches tall and wide
Conditions: Partial shade; moist to average, well-drained, humus-rich soil
Native range: Eastern North America
This clump-forming, no-fuss, deer-resistant perennial is a great filler for the shade garden. If your growing conditions are favorable, seedlings will be found filling empty nooks throughout your garden beds. The slightly fragrant, light lavender-blue flowers are borne in loose, drooping clusters that are complemented beautifully by the light green foliage with a wide white-to-creamy margin. As temperatures drop in fall, the creamy margins take on a pink hue, extending the seasonality of this lovely plant.
3. Golden Shadows® Pagoda Dogwood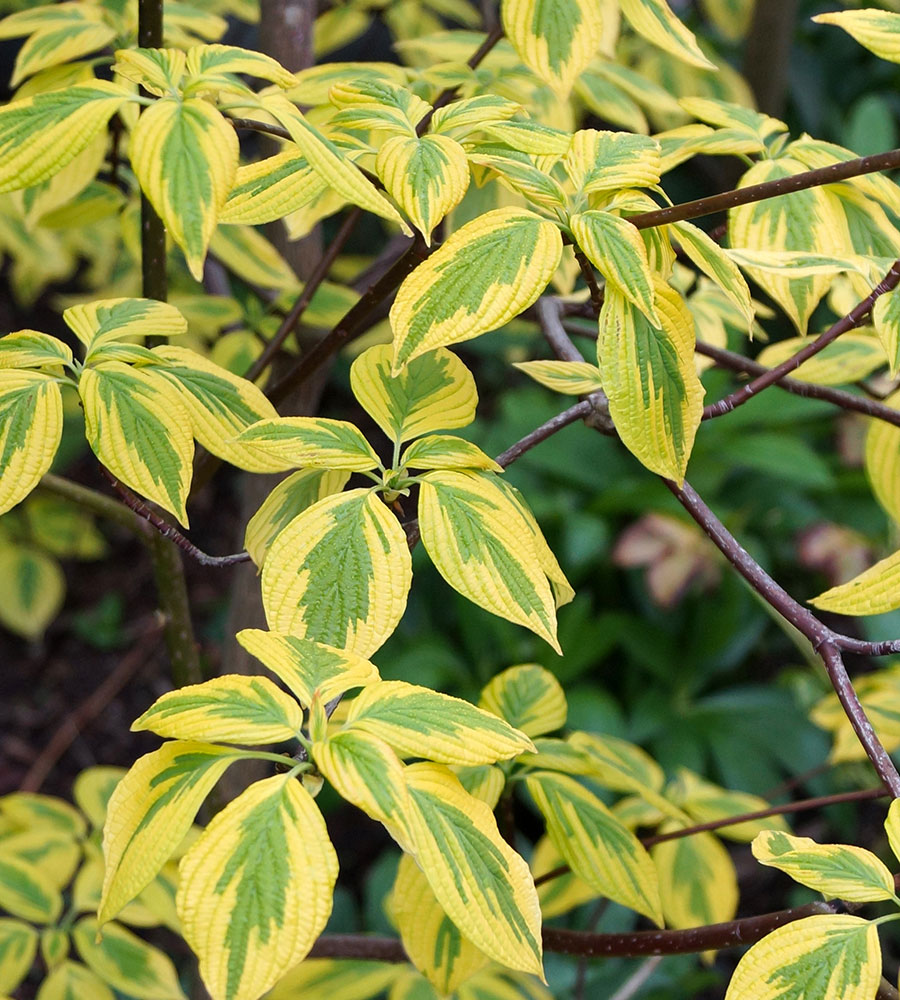 Cornus alternifolia 'W. Stackman'
Zones: 3–8
Size: 15 to 25 feet tall and wide
Conditions: Dappled to partial shade; rich, well-drained soil
Native range: Eastern North America
If you are looking for a small flowering tree that packs a visual punch in every season, look no further. The horizontal layered branching structure of this understory tree creates an elegant winter silhouette. Heart-shaped leaves that are bright yellow with an irregular green center brighten up the darkest corner of your yard in spring. Delicate, fragrant, lacy white flowers followed by dark blue fruits that birds love extend the season. If that weren't enough, in fall the foliage takes on hues of red and orange. All visitors to my small urban home garden ask what it is. It's certainly worth talking about and adding to your own garden.
4. 'Nichirin' False Nettle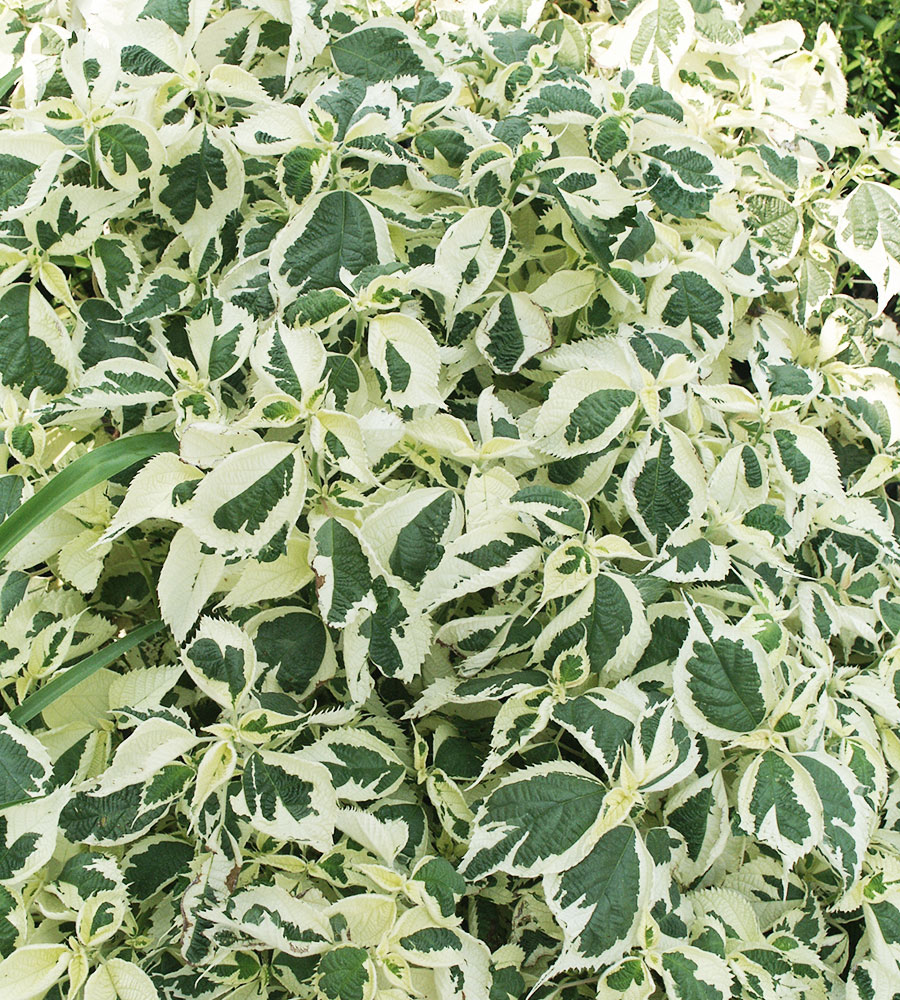 Boehmeria nipononivea 'Nichirin'
Zones: 6–9
Size: 30 inches tall and wide
Conditions: Partial to full shade; rich, well-drained soil
Native range: Japan
Reliable performance in a wide range of soils and a consistent, dense, shrublike habit are two of this plant's attractive attributes. Newly unfurling foliage exhibits hues of apricot, and this warm color returns in fall. In addition, no two leaves are alike; each heavily textured leaf has its own unique variegation. Some leaves are almost fully creamy white, while others are entirely green with a thin rim of variegation. I often find myself admiring and comparing the distinctive pattern of each leaf. Insignificant catkin-like flowers appear in the leaf axils late in summer. This unusual perennial will catch many an eye.
—Adam Glas is a garden supervisor and rosarian at the Scott Arboretum of Swarthmore College in Swarthmore, Pennsylvania.