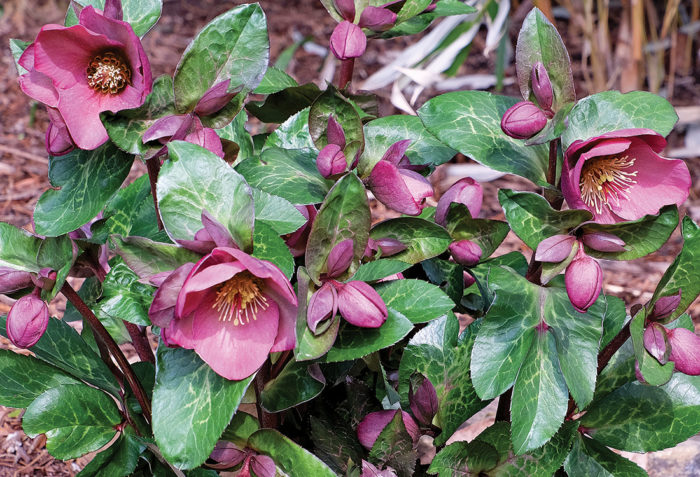 See regional picks for variegated plants for shade, and read the article by Andy Brand for even more ideas.
"While the cool, shady areas have provided me with the opportunity to grow some of my favorite genera, they also have presented me with a fair share of challenges. One of the trickiest issues is figuring out how to brighten the border growing under a dense canopy or in those dark corners. Plants with showy flowers are an obvious solution, but usually their effect is transient, and all too often flowering is diminished with too much shade. An even better option is to incorporate plants with variegated foliage and let their leaves of white, cream, gold, and green bring light to the shade." Read more in Plants That Shine in the Shade.
---
1.

'Purpurea Tricolor' European Beech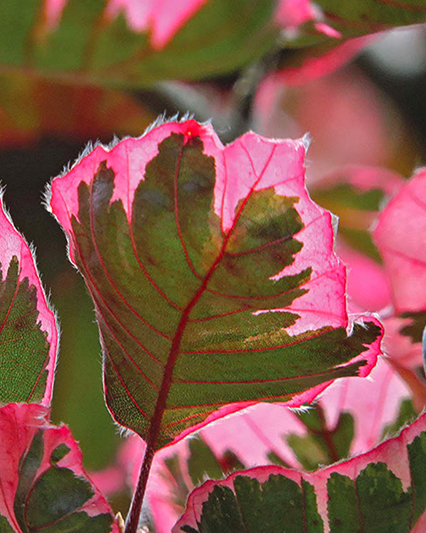 Name: Fagus sylvatica 'Purpurea Tricolor'
Zones: 4–7
Size: 20 to 30 feet tall and 10 to 20 feet wide
Conditions: Partial shade; well-drained soil
Native range: Central Europe to the Caucasus
This tree has been around for a while, but it is still a favorite of mine. If it is sited just right, where light can trickle through the upper canopy to backlight the leaves, the pink glow it gives off is just stunning. Its foliage has a dark rosy flush in spring that will fade to a softer pink as the summer progresses and the variegation starts to bleach toward white. In the Midwest, it performs best in a partially shaded location; the leaves will burn in full afternoon sun. It also needs very well-drained soil and will not tolerate heavy clay or wet feet.
2.

'Banana Boat' Broad-Leaved Sedge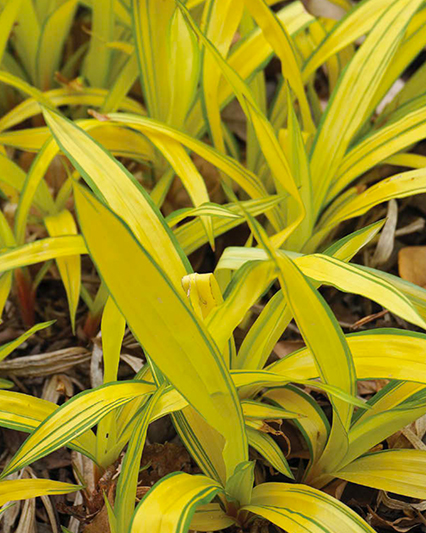 Name: Carex siderosticha 'Banana Boat'
Zones: 5–9
Size: 6 to 12 inches tall and wide
Conditions: Partial to full shade; medium to wet soil
Native Range: Woodland mountain areas in Japan, China, and Korea
Here's a sweet little ground cover that will brighten up any shady spot. This sedge has a slight chartreuse and green variegation, but it will appear to be mostly chartreuse in the landscape. It is very easy to grow and is not a quick spreader. To make it shine, pair it with your favorite blue hosta (Hosta cvs., Zones 3–9) or Japanese painted fern (Athyrium niponicum var. pictum and cvs., Zones 3–8).
3.

Penny's Pink

®

Hellebore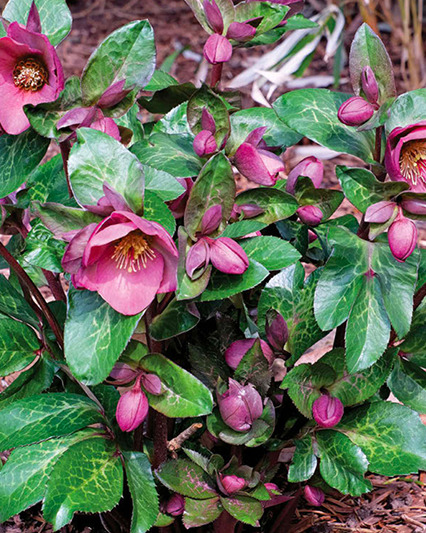 Name: Helleborus 'ABCRD01'
Zones: 5–8
Size: 14 inches tall and 20 inches wide
Conditions: Partial shade; average to dry, fertile, well-drained soil
Native range: Hybrid of European species
This sweet new addition to our English cottage garden has evergreen foliage that emerges heavily mottled in spring, fading to a soft silver mottle in summer. The rosy pink flowers have a long bloom time and are held on dark stems that accent the flowers quite nicely. Pair it with 'Citronelle' heuchera (Heuchera 'Citronelle', Zones 4–8) or golden-leaved bleeding heart (Lamprocapnos spectabilis 'Gold Heart', Zones 3–9) for a pop of color.
4.

'Silver Center' Japanese Cobra Lily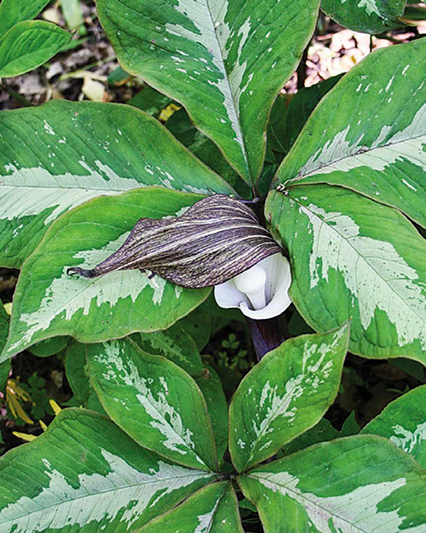 Name: Arisaema sikokianum 'Silver Center'
Zones: 4–9
Size: 18 to 24 inches tall and wide
Conditions: Partial to full shade; moist but well-drained, humus-rich soil
Native Range: Japan
There are too many great plants in the genus Arisaema to choose from, so I threw a dart and decided this would be my pick. 'Silver Center' adds a unique, tropical fl air to any shady garden. In spring, as with many members of its family, the tuber produces a single stem containing a silver variegated pair of five-lobed leaves. From the center of the leaf stalks, it sends up a musky-smelling flower (or spathe). The flower is dark purple on the outside, pure white on the inside, and has a colorful hood streaked with purple, dark green, and white. You will need more than one plant if you are hoping these will spread, but really, why would you buy just one?
—Jennifer Smock manages the Kemper Center for Home Gardening at the Missouri Botanical Garden in St. Louis.
From Fine Gardening #194