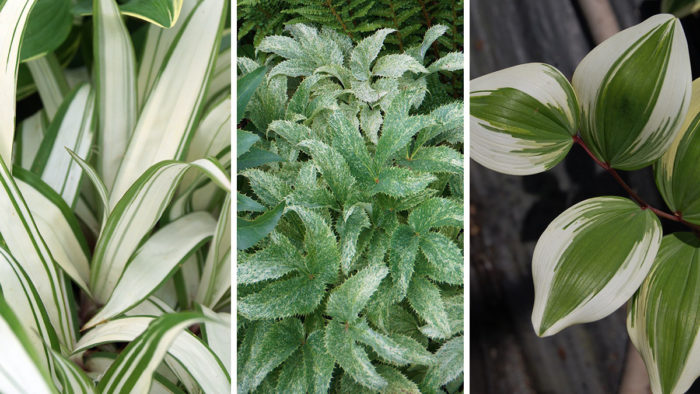 Throughout my horticultural life, I have gardened almost exclusively in the shade. While the cool, shady areas have provided me with the opportunity to grow some of my favorite genera, they also have presented me with a fair share of challenges. One of the trickiest issues is figuring out how to brighten the border growing under a dense canopy or in those dark corners. Plants with showy flowers are an obvious solution, but usually their effect is transient, and all too often flowering is diminished with too much shade. An even better option is to incorporate plants with variegated foliage and let their leaves of white, cream, gold, and green bring light to the shade. Here are some of my favorites that illustrate how variegation can create drama and texture in the shade.
A better option for heat and humidity
'Sea Heart' Brunnera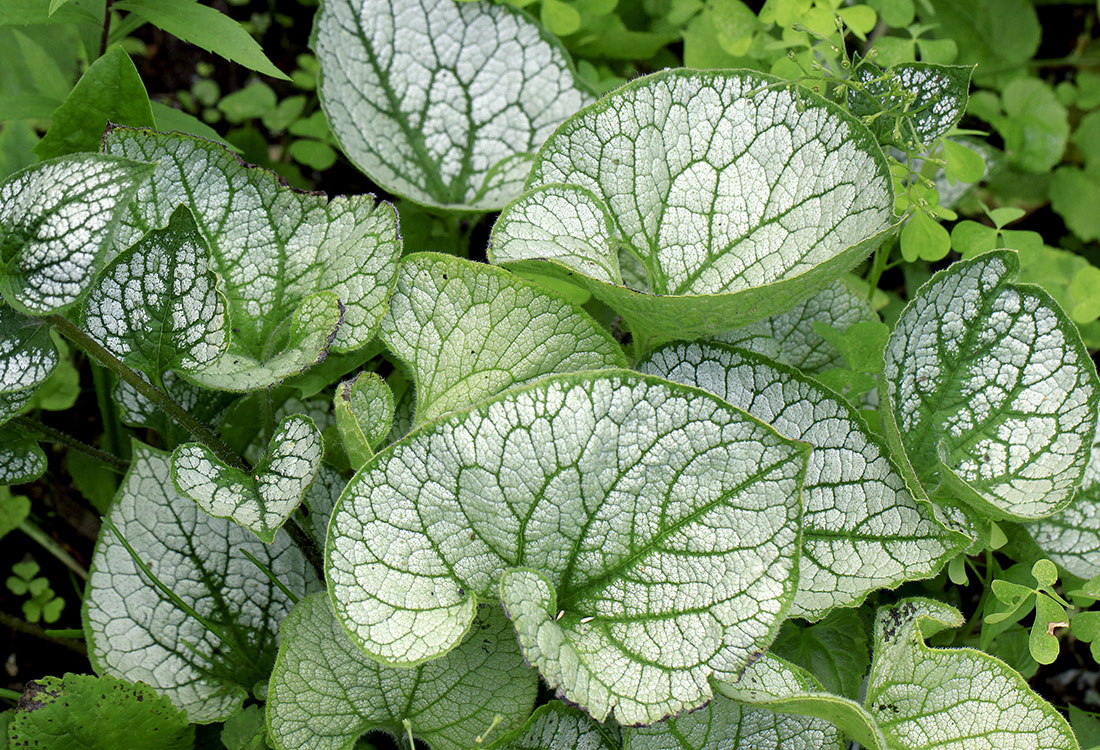 Name: Brunnera macrophylla 'Sea Heart'
Zones: 4–8
Size: 10 to 15 inches tall and 12 to 24 inches wide
Conditions: Partial to full shade; moist, well-drained soil
Native range: Eastern Mediterranean, Turkey to Caucasus
'Sea Heart' is quickly becoming one of the most popular new cultivars of Brunnera, and rightfully so. The large, heart-shaped leaves are covered richly in a shimmering silver overlay that is intricately dissected with a network of green veins. Airy sprays of sky-blue flowers dance above the sea of silver in April and May. The foliage has proved to be very durable, tolerating heat and humidity better than other selections. As with other brunneras, the fuzzy, tough leaves of 'Sea Heart' tend to be left alone by Bambi and friends.
Grow this hellebore for its foliage
'Janet Starnes' Corsican Hellebore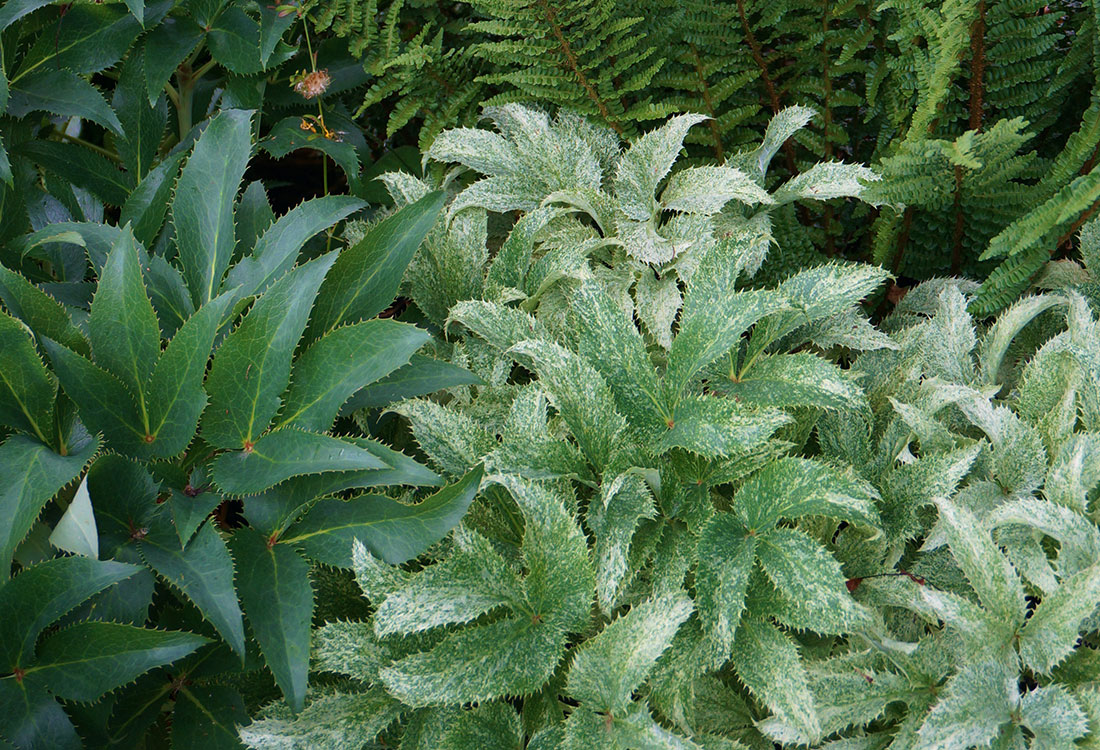 Name: Helleborus argutifolius 'Janet Starnes'
Zones: 6–9
Size: 18 to 24 inches tall and wide
Conditions: Partial to full shade; moist, well-drained soil
Native range: Corsica
Unlike most hellebores that are grown for their magnificent late winter–early spring blossoms, 'Janet Starnes' is grown for its outstanding foliage. The leathery, evergreen, trifoliate leaves are heavily speckled with white, giving the plants an overall shimmering, silvery appearance. Emerging foliage is often highlighted with pink overtones, adding even more interest. A multitude of Granny Smith–green flowers open above the foliage in late winter and early spring. Removal of old stems in early spring will allow the emerging foliage to put on an amazing show. 'Janet Starnes' is best reserved for regions with mild winters and sites with excellent drainage.
An ajuga that is beautiful and that behaves
Frosted Jade Ajuga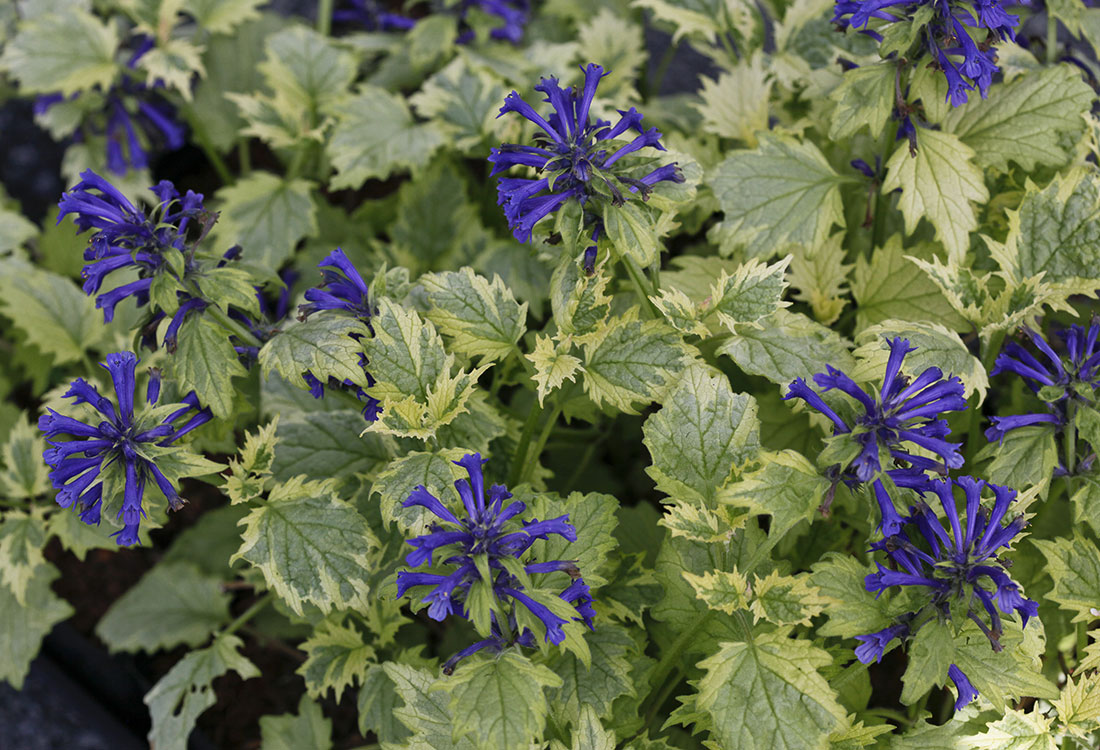 Name: Ajuga incisa 'Bikun'
Zones: 6–8
Size: 12 to 18 inches tall and wide
Conditions: Partial shade; moist, well-drained soil
Native range: Japan
Frosted jade ajuga is clump forming. Yes, you read that correctly. Unlike the familiar carpet bugleweed (Ajuga reptans, Zones 3–9) and its many colorful cultivars grown for their ground-covering, mat-like habit, 'Bikun' forms mounds of creamy margined, jade green, toothed leaves. 'Bikun' really toots its horn in spring, producing dramatic, deep cobalt blue flowers. These intensely saturated flowers stand in stark contrast to the sparkling foliage. Experiencing this gem will give you chills!
It doesn't get much brighter than this
'Snow Cap' Broadleaf Sedge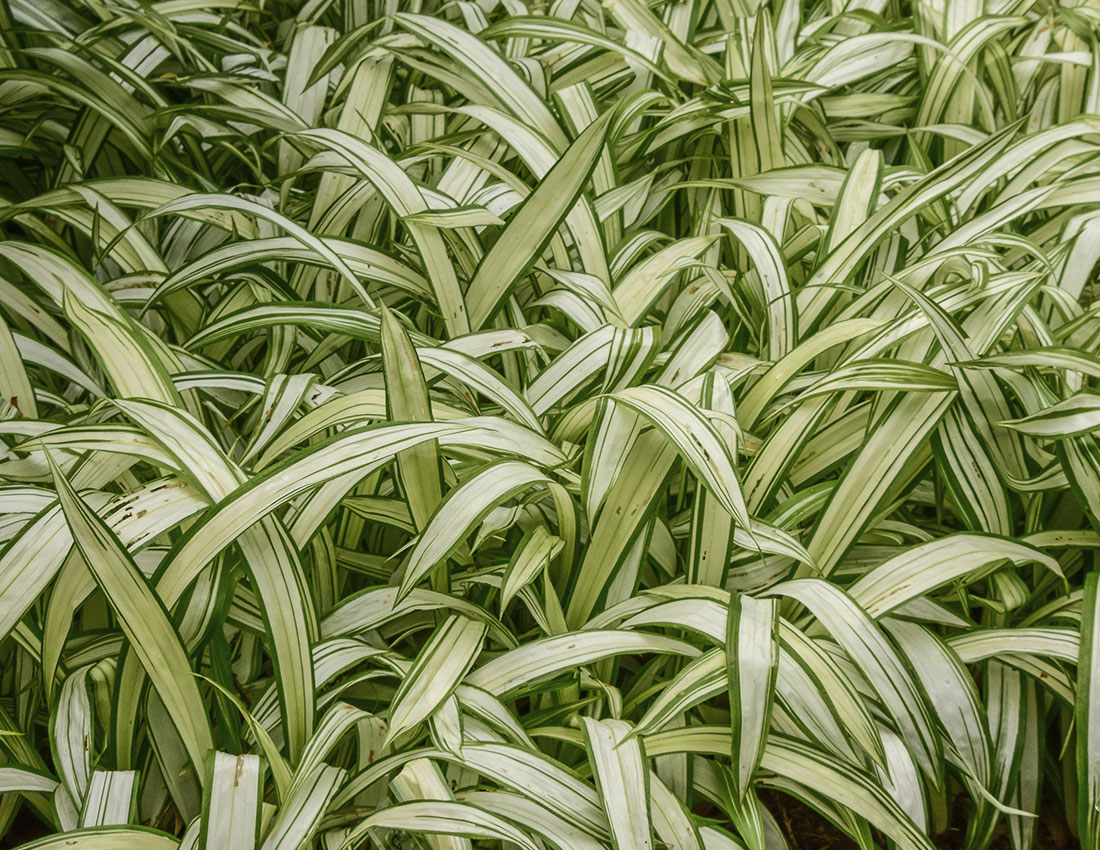 Name: Carex siderosticha 'Snow Cap'
Zones: 4–8
Sizes: 6 to 10 inches tall and 12 to 15 inches wide
Conditions: Partial to full shade; moist, well-drained soil but will tolerate dry shade
Native Range: Japan, China, and Korea
This sedge puts the "b" in bright! Each blade has such a thin green margin that from a distance the clumps appear entirely white. This feature is very useful in adding contrast to dark foliage or brightening the edge of a border. While moist soil is ideal, I have been impressed with how well this sedge, with so little green, has performed under dry shade conditions once it has settled in. After winter loosens its frosty grip, a fresh haircut is needed to remove old foliage, which allows the new growth to shine once again.
A sizable, deer-resistant option
'October Moon' Japanese Shrub Mint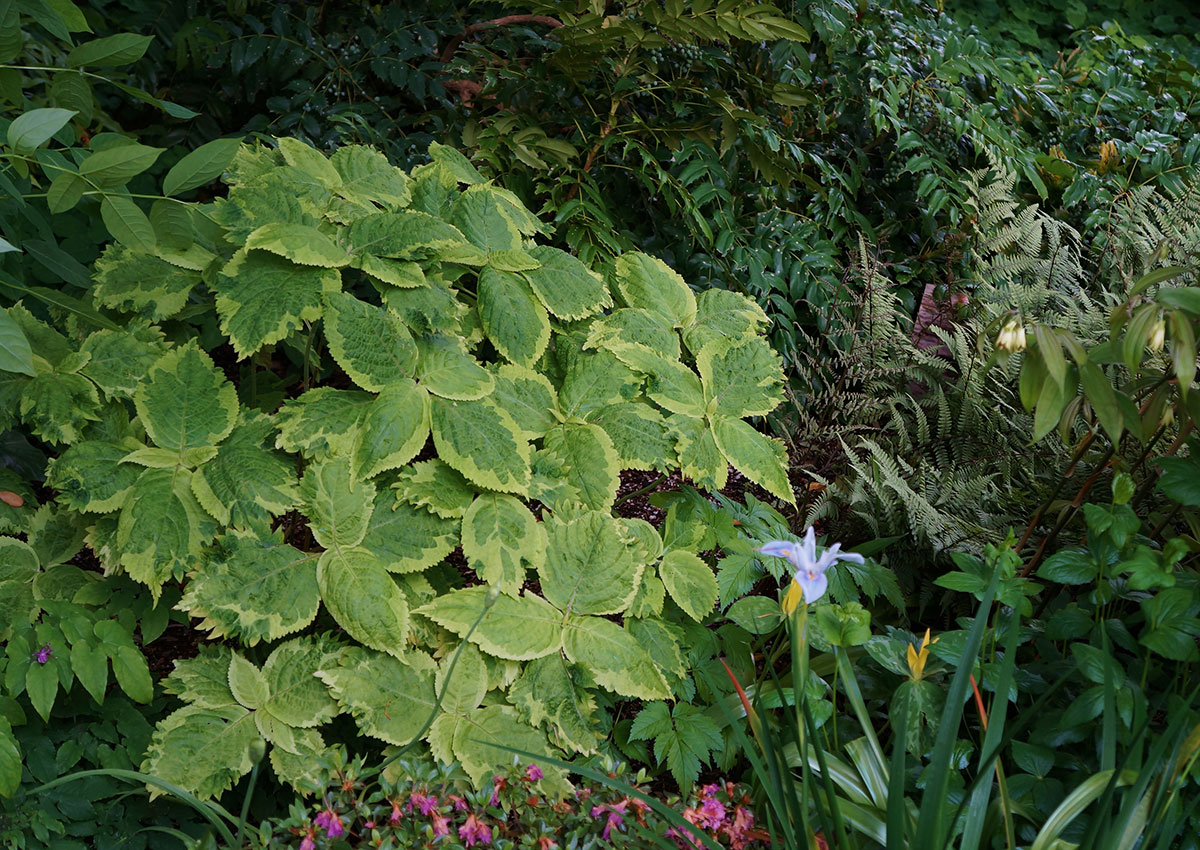 Name: Leucosceptrum stellipilum 'October Moon'
Zones: 5–8
Size: 2 to 3 feet tall and wide
Conditions: Partial shade; adaptable to many soil types
Native range: Japan
As its common name suggests, this Japanese import grows more like a tidy, rounded shrub than an herbaceous perennial. Semi-woody stems support elliptically shaped green leaves (which the deer ignore) edged with vibrant chartreuse. It will absolutely glow in a shady corner. While autumn's chilly temperatures encourage most perennials to begin preparing for winter, 'October Moon' lights up the woodland garden with terminal wands of pink flowers. In spite of its woody tendencies, cut back dormant clumps to the ground.
---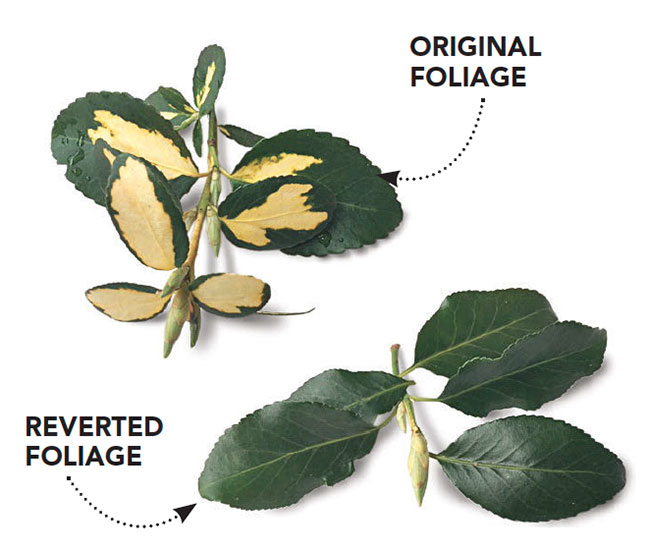 Maintenance: Watch out for reversions
Variegation is often caused by a mutation, which in some cases can be unstable. This instability can result in variegated plants producing leaves or branches that no longer show the desired pattern and instead are much greener or, more often, entirely green. This can be frustrating and needs to be addressed. Green leaves or shoots contain more chlorophyll and typically grow more vigorously than the variegated plant; if left unchecked, they have the potential to take over the plant completely. Luckily, reversions are easy to spot, and they should be removed as soon as they become apparent.
---
Tough, beautiful, and native
'Silver Run' Drooping Leucothoe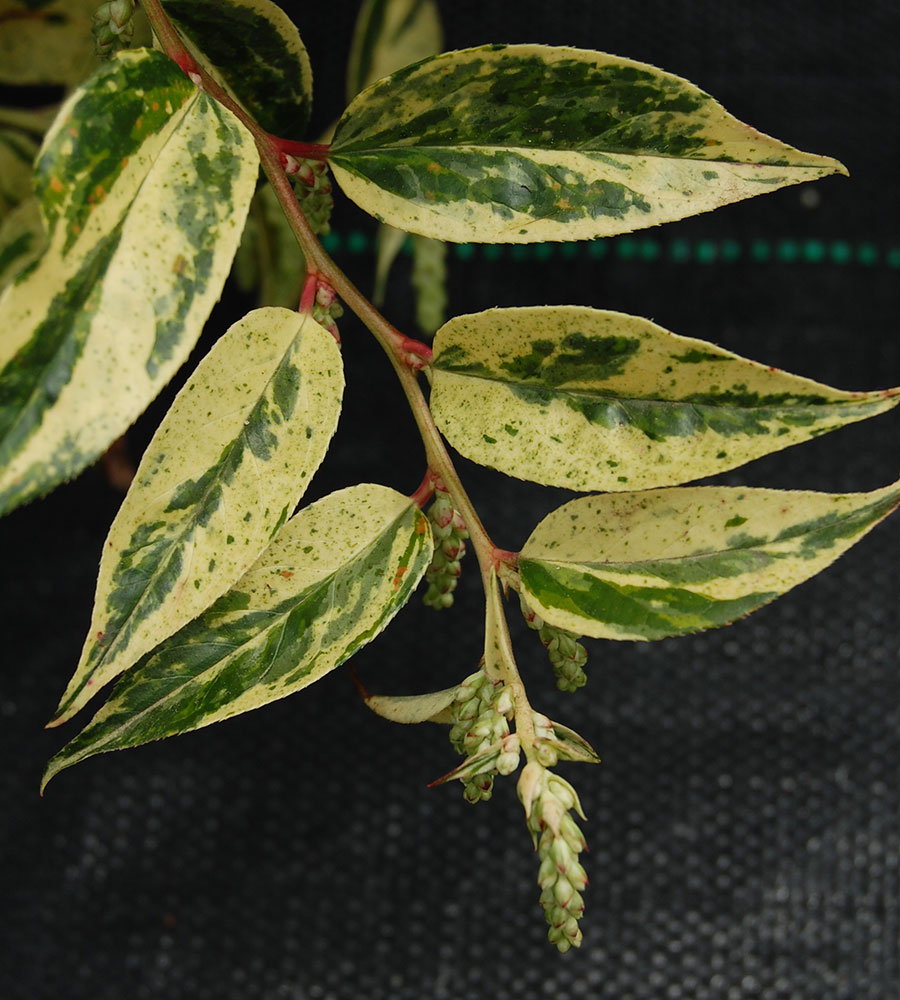 Name: Leucothoe fontanesiana 'Silver Run'
Zones: 4–9
Sizes: 24 to 36 inches tall and 36 to 42 inches wide
Conditions: Partial shade; acidic, moist, well-drained soil
Native Range: Southeastern United States
This hardy evergreen is part of the heath family (Ericaceae), whose members include rhododendrons and blueberries. It features gracefully arching stems clothed in thick, leathery leaves that emerge splashed and streaked in an intricate pattern of green, cream, and pink, eventually maturing to cream and green. 'Silver Run' has demonstrated better resistance to the foliar diseases that often plague other selections. In May, racemes of white, urn-shaped flowers decorate the colorful mounds. To grow leucothoes and other broadleaf evergreens successfully, it's all about location, location, location. By choosing a site that is protected from desiccating winds but still has good air circulation, you will be rewarded with year-round color.
A unique plant to make you glad you have shade
'Kikko' Shredded Umbrella Plant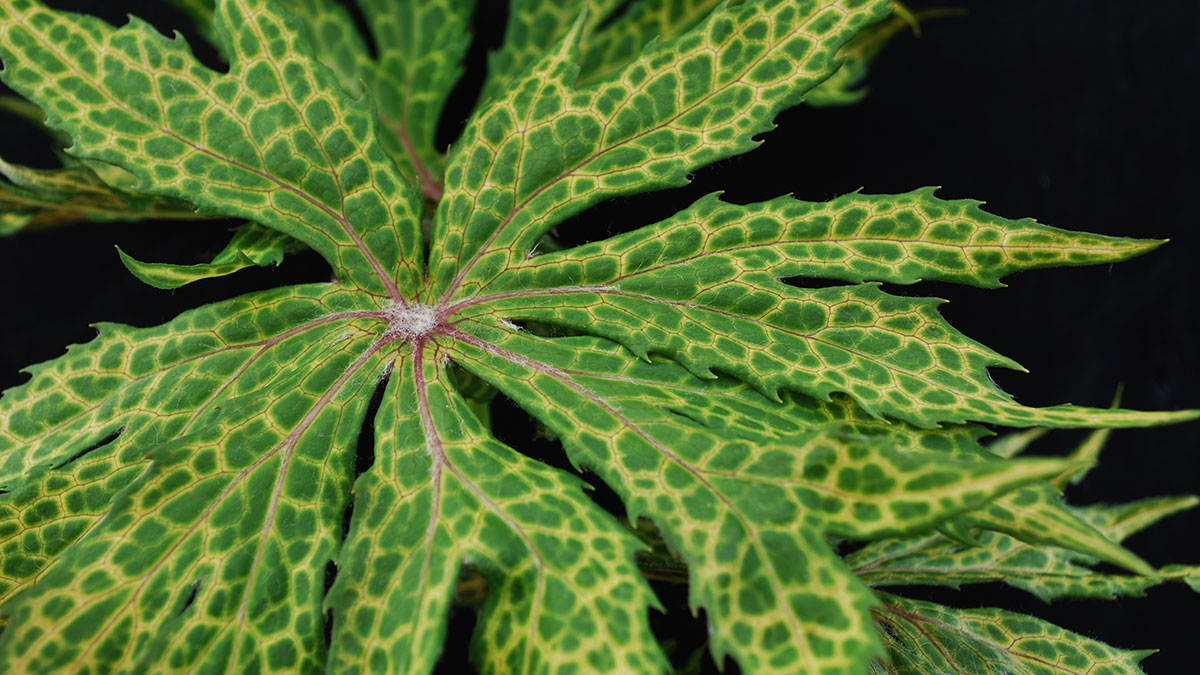 Name: Syneilesis palmata 'Kikko'
Zones: 4–8
Sizes: 12 to 18 inches tall and slowly spreading
Conditions: Partial shade; moist, well-drained soil
Native Range: Japan
When I first saw this plant for sale online, I clicked "Add to cart" immediately. Not only was it hardy and easily grown in shade, but its foliage was variegated beyond anything I had ever seen before. Even before the variegation shines, unusual new shoots push through the soil covered with soft "fur" resembling Cousin Itt from The Addams Family. As the palmate, umbrella-like leaves unfurl, they reveal an elaborate network of showy yellow veins. The pattern is most pronounced in spring, but exposure to a few hours of morning sun each day can help maintain its intensity. 'Kikko' is a truly special shade plant and always highly sought after.
An attractive clumper worthy of a closer look
'Ki-no-tsukasa' Japanese Fairy Bells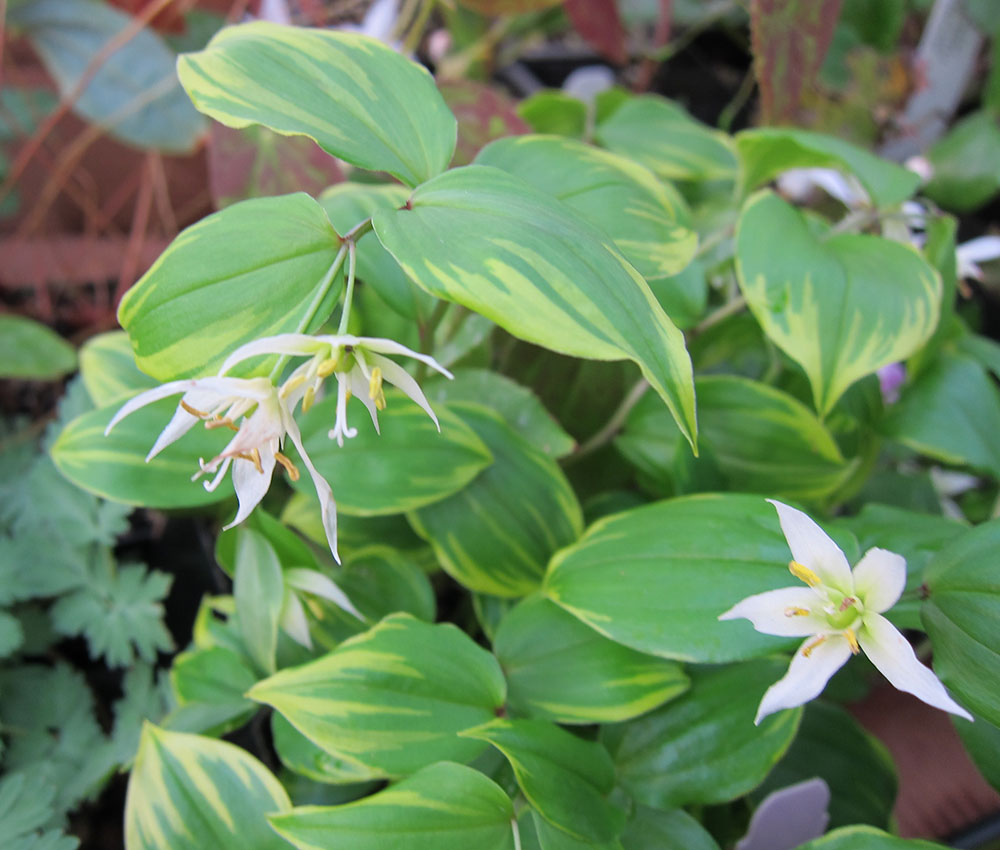 Name: Disporum smilacinum 'Ki-no-tsukasa'
Zones: 4–8
Sizes: 8 to 12 inches tall and 12 to 24 inches wide
Conditions: Partial shade; moist, well-drained soil
Native Range: Japan
Don't be deceived by the delicate appearance of this little woodland specialist; it's a real performer. Despite its diminutive size, this easy-to-grow fairy bells will make you bend down and take notice. The leaf tips appear as if an artist carefully brushed them with bright yellow paint. Dainty, white, star-shaped flowers sparkle among the foliage in spring. Unlike its cousin D. sessile (Zones 4–8) and its cultivars, which move about the garden with abandon, 'Ki-no-tsukasa' is clump forming, playing nicely with larger, bold-leaved neighbors.
Elegance and exuberance in one package
'Angel Wing' Solomon's Seal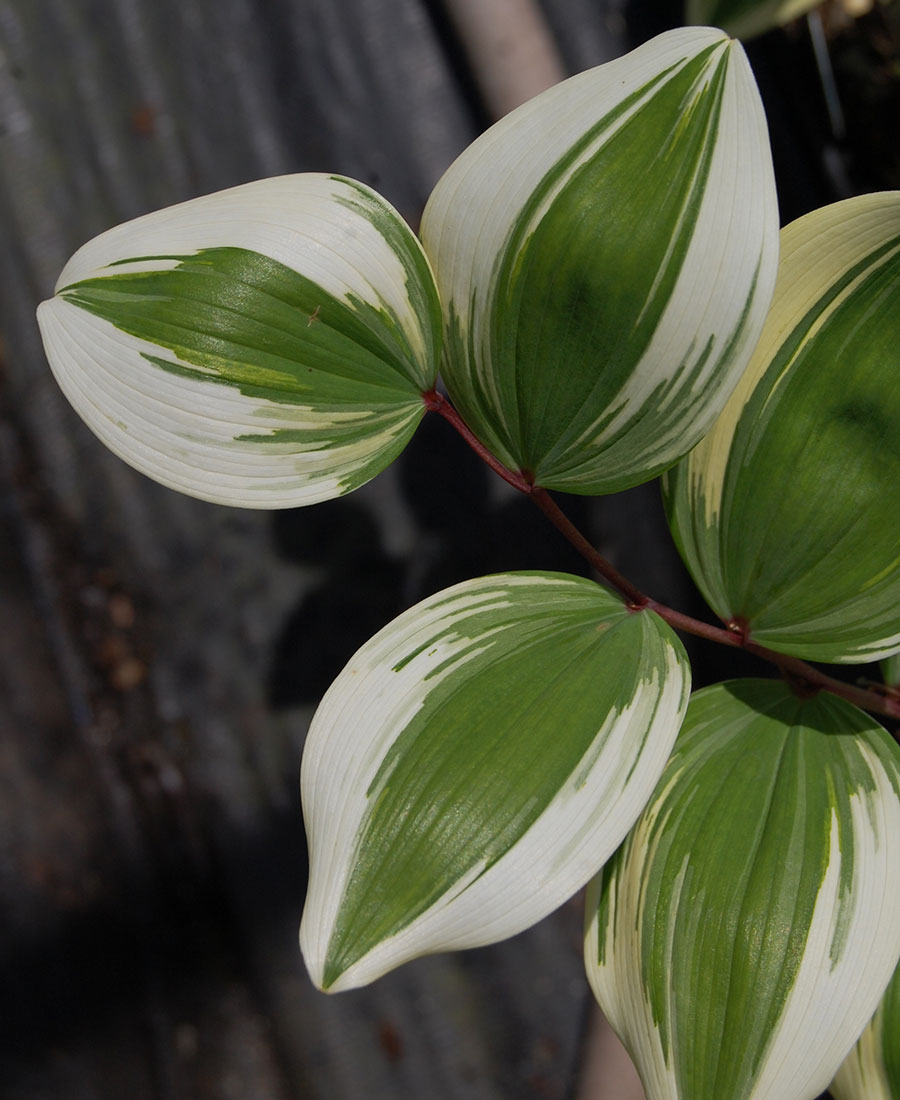 Name: Polygonatum odoratum 'Angel Wing'
Zones: 4–9
Size: 15 to 18 inches tall with a spreading habit
Conditions: Partial shade; moist, well-drained soil
Native Range: Europe and Asia
Over the years, variegated Solomon's seal (P. odoratum 'Variegatum', Zones 3–8) has been a staple in woodland gardens. It's an easy-to-grow, trouble-free, deciduous ground cover with attractive variegated foliage. 'Angel Wing' exhibits all of these same qualities but takes the variegation to a whole new level, exhibiting superwide, bold, white leaf margins that are absolutely elegant. Sweetly fragrant flowers dangle from the leaf axils in spring. This perennial is essentially maintenance free, slowly spreading via rhizomes into long-lived, elegant colonies. While it isn't a plant they go to first, deer will eat Solomon's seal. It's best not to plant it next to something they favor, such as hostas.
---
Sources