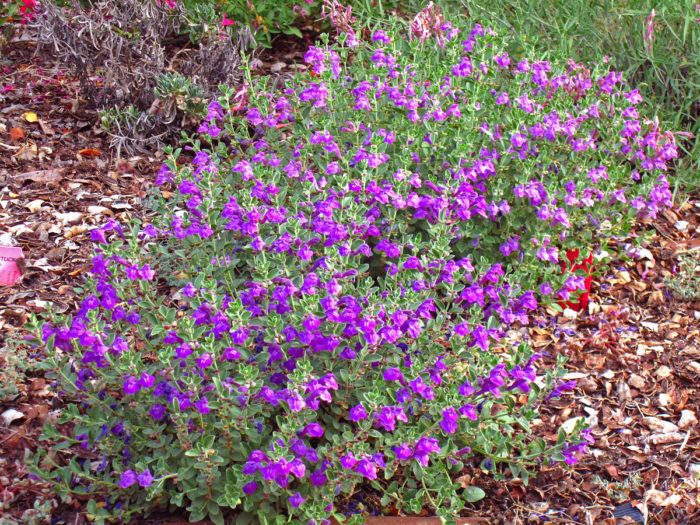 See regional picks for tough pretty plants, and read the article by Julie Lane Gray for even more ideas.
It's important to define first what I mean by a "tough" plant. To my mind, it's a plant that will thrive on its own as long as it is planted in a place that provides its basic needs and is given suitable water. It won't retreat if it has aggressive neighbors, complain if it doesn't get pruned for a year or two, and necessitate special treatment in order to look good. A pretty, tough plant is one that looks more delicate than it actually is.
Read more in Tough Yet Pretty Plants.
---
1. Wild Four O'Clock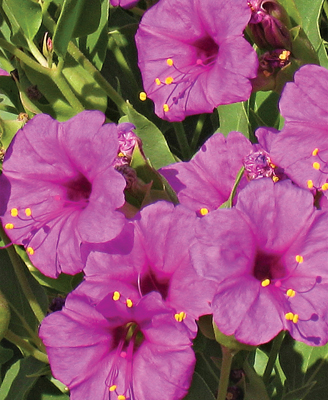 Name: Mirabilis multiflora
Zones: 4–8
Size: 15 inches tall and 36 to 48 inches wide
Conditions: Full sun to partial shade; tolerates most soil types, including clay
Native range: Southwestern United States
This summer-blooming Southwestern wildflower is an essential perennial for xeriscapes. It grows happily with minimum care and watering while blooming continuously for several months in summer. An herbaceous plant that sheds all its stems in winter, wild four o'clock has a massive tuberous root that makes it very drought tolerant once established. Regular irrigation is not needed (or wanted) and will create a huge, leafy, nonblooming plant. Pollinated by hawk moths, the numerous, large magenta-pink flowers open in the afternoon and close up the next morning. Wild four o'clock will grow in low-, mid-, and high-elevation areas.
2. Mexican Blue Sage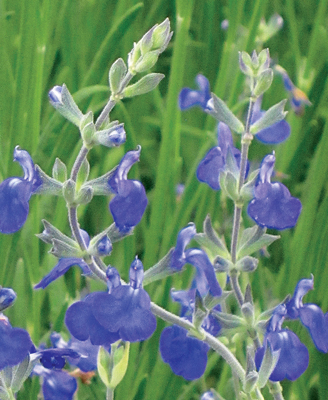 Name: Salvia chamaedryoides
Zones: 7–10
Size: 12 to 18 inches tall and 24 to 36 inches wide
Conditions: Full sun; sandy, rocky, or loamy, well-drained soil
Native range: Mexico
This shrubby salvia is an outstanding choice for xeriscapes, where its showy, corrugated gray-green foliage and short spikes of medium-blue flowers are a delight. This plant loves summer heat (when grown in low and mid-elevations) and blooms continuously from spring into fall when given occasional supplemental irrigation. Native to the high Chihuahuan desert in the Sierra Madre Oriental mountain range of Mexico, it's pollinated by hum­mingbirds. Here in Zone 6 in high-elevation Santa Fe, I use it as an ever-blooming container plant in full sun.
3. 'Marion Sampson' Scarlet Monardella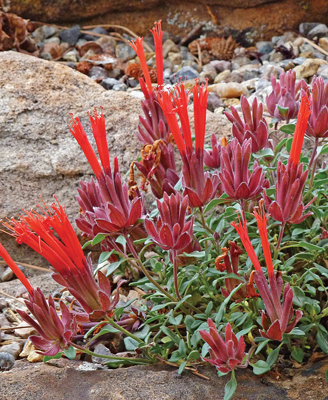 Name: Monardella macrantha 'Marion Sampson'
Zones: 6–9
Size: 3 inches tall and 12 to 15 inches wide
Conditions: Full sun to partial shade; sandy or loamy, well-drained soil
Native range: California
In spring the fiery scarlet, skyward-facing flowers of this plant are stunningly unusual and always draw a second look. Pollinated by hummingbirds, this low-spreading beauty is very cold hardy. 'Marion Sampson' grows in low-, mid-, and high-elevation areas; however, in lower elevations it will need some shade with supplemental irrigation. Infrequent summer watering is needed in mid- to high-elevation areas. I've found that it seems to do best in my garden with morning sun and afternoon shade, enjoying the protection of a nearby pine tree. With glossy, semi-evergreen foliage, it's fabulous in rock gardens or when used as a small-scale ground cover planted in groups of five or more. Deadheading encourages reblooming.
4. 'Dark Violet' Skullcap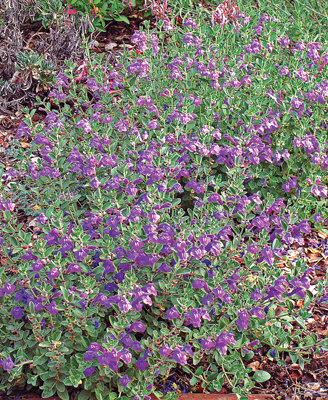 Name: Scutellaria 'Dark Violet'
Zones: 5-9
Size: 6 inches tall and 12 to 18 inches wide
Conditions: Full sun to partial shade; sandy, gravely, or loamy, well-drained soil
Native range: Hybrid
'Dark Violet' is a tough, xeric, ever-blooming perennial with richly colored dark violet flowers. It loves hot, harsh, full-sun conditions and is a good choice for planting en masse. It grows well in low-, mid-, and high-elevation areas, but afternoon shade and regular irrigation are needed at low elevations. A tidy mounding grower, this is a hybrid I created between two native skullcaps, Scutellaria suffrutescens and S. resinosa 'Smoky Hills'. The resulting plant is an outstanding performer. Cut back to just above ground level in midspring to ready the plant for the coming growing season.
—David Salman is the founder of High Country Gardens in Santa Fe, New Mexico.