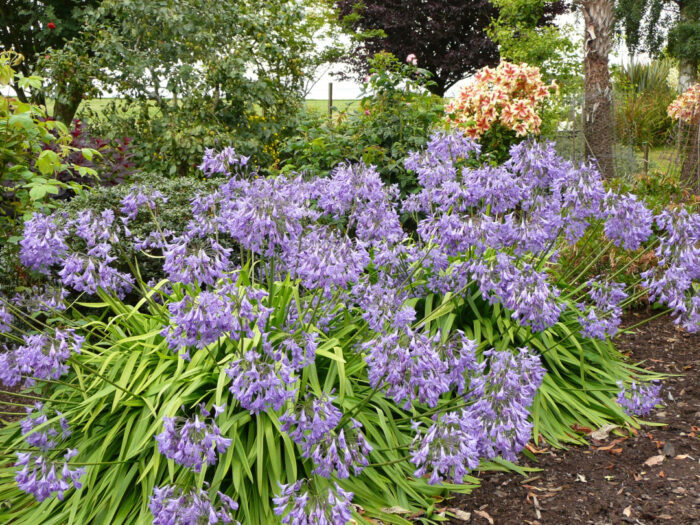 Today we're off to Scotland to visit with Pat Colston.
We live in Perthshire, around 12 miles from the east coast of Scotland at an elevation of 143m. Our cottage is around 140 years old, and the garden would originally have been used only to grow vegetables and fruit.
(Editor's note: I have added USDA hardiness zones to the plants, but be aware that Scotland's climate is so different from that of the United States that hardiness zones don't necessarily translate.)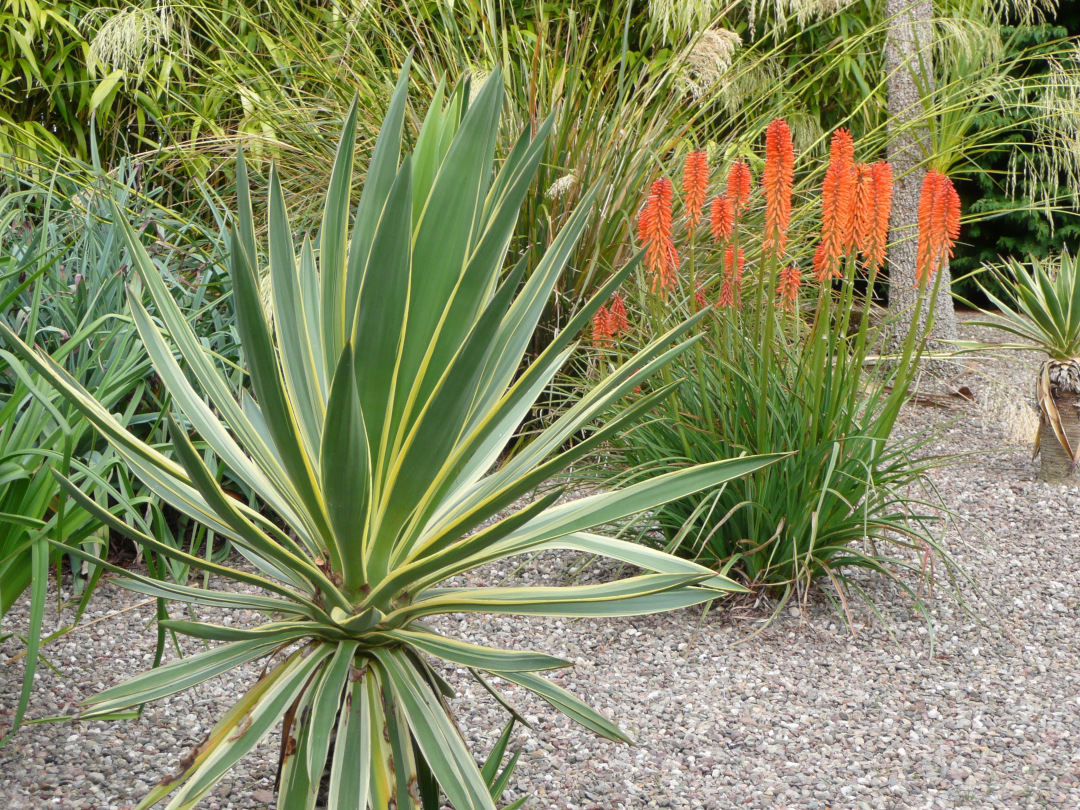 Yucca gloriosa (Zones 7–11) with Kniphofia 'Incandesce'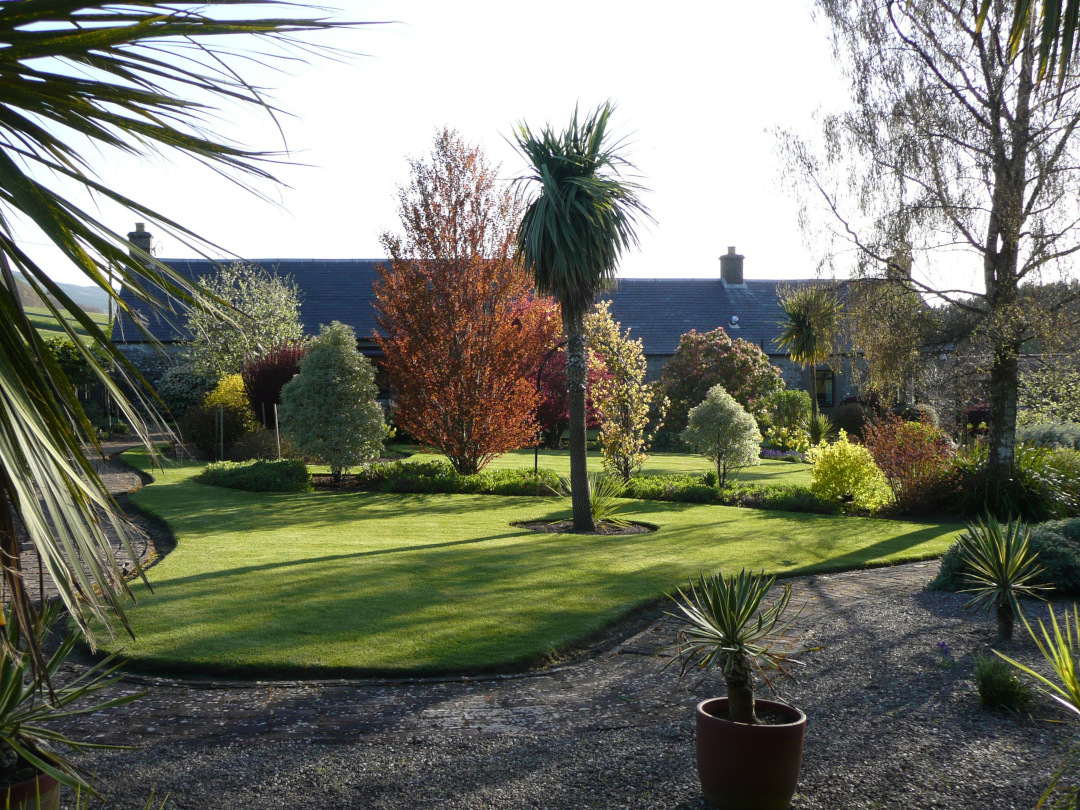 A wider view of part of the garden shows a cercidiphyllum tree (Cercidiphyllum japonicum, Zones 4–8), a tall silver birch (Betula pendula, Zones 2–7), one of five cordylines (Cordyline australis, Zones 8–10), Pittosporum shrubs, golden philadelphus (Phyladelphus coronarius 'Aureus', Zones 4–8), and Physocarpus 'Diablo' (Zones 2–8).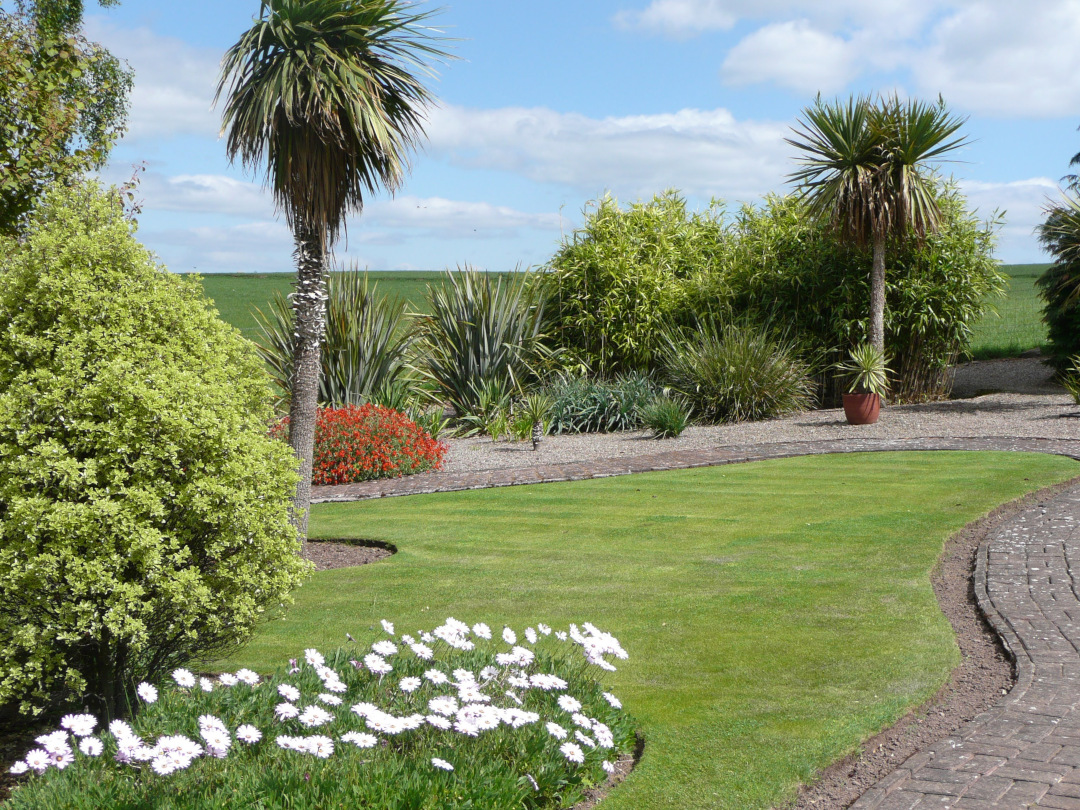 In this photo are cordylines, Phormium tenax (Zones 8–10), which always flowers well, and a large stand of bamboo, which has to be watched carefully because it really wants to spread throughout the whole garden! We have dug a trench around it and regularly cut any shoots that are trying to cross the trench. Many people are surprised that plants like cordylines and bamboo can survive in Scotland, and one passerby even asked if we got coconuts on our palm trees! I wish.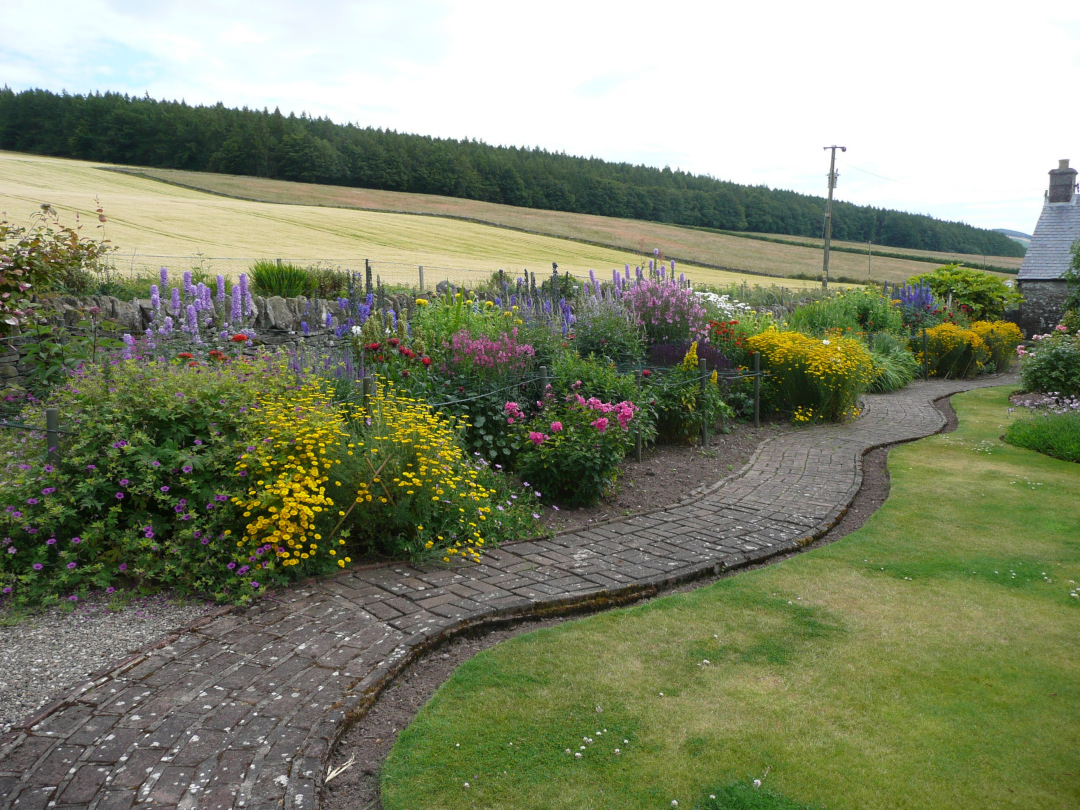 This long herbaceous bed is filled with, among other things, red monarda (Monarda didyma, Zones 4–9), blue delphinium (Delphinium elatum, Zones 3–7), yellow anthemis (Anthemis tinctoria, Zones 6–8), pink sidalcea (Sidalcea malviflora, Zones 5–9), spiky yellow Centaurea macrocephala (Zones 3–8), phlox (Phlox paniculata, Zones 4–8), Geranium psilostemon (Zones 5–7), and a large Fatsia japonica (Zones 7–10) at the end of the bed.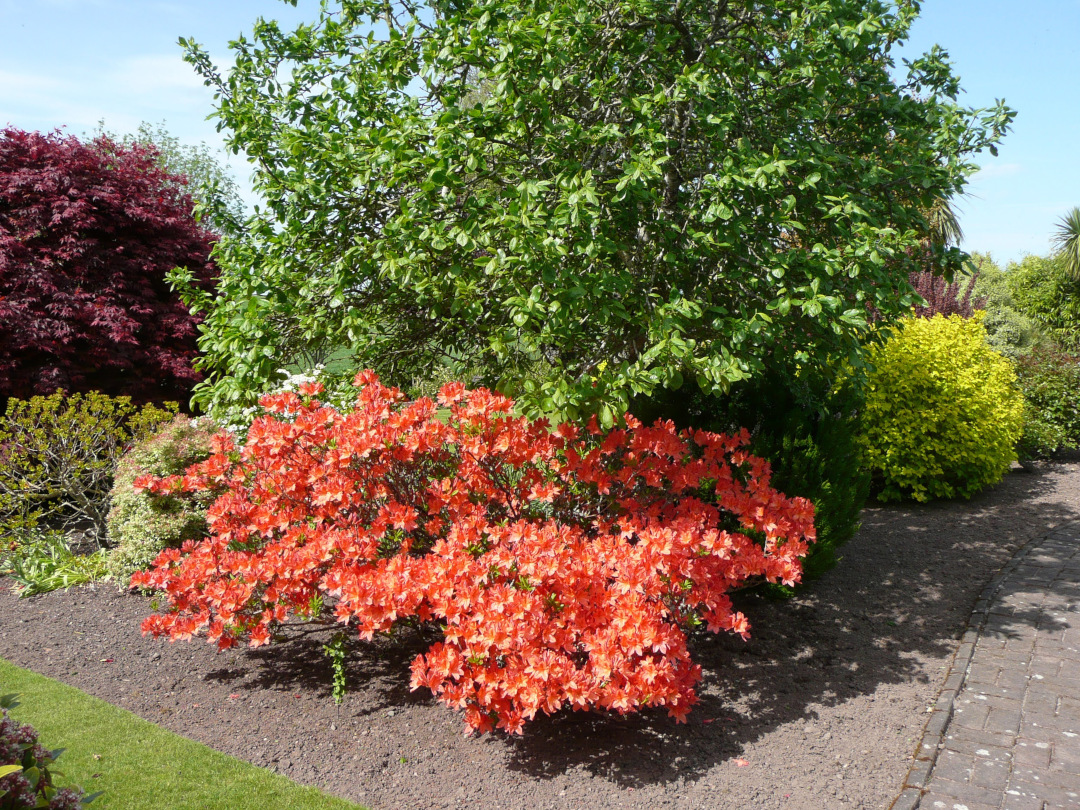 Here are an orange azalea (Rhododendron hybrid, Zones 6–10), behind it an old plum tree that still crops well, a Physocarpus 'Dart's Gold', and a large Japanese maple (Acer palmatum, Zones 5–9) that needs a hard trim every year.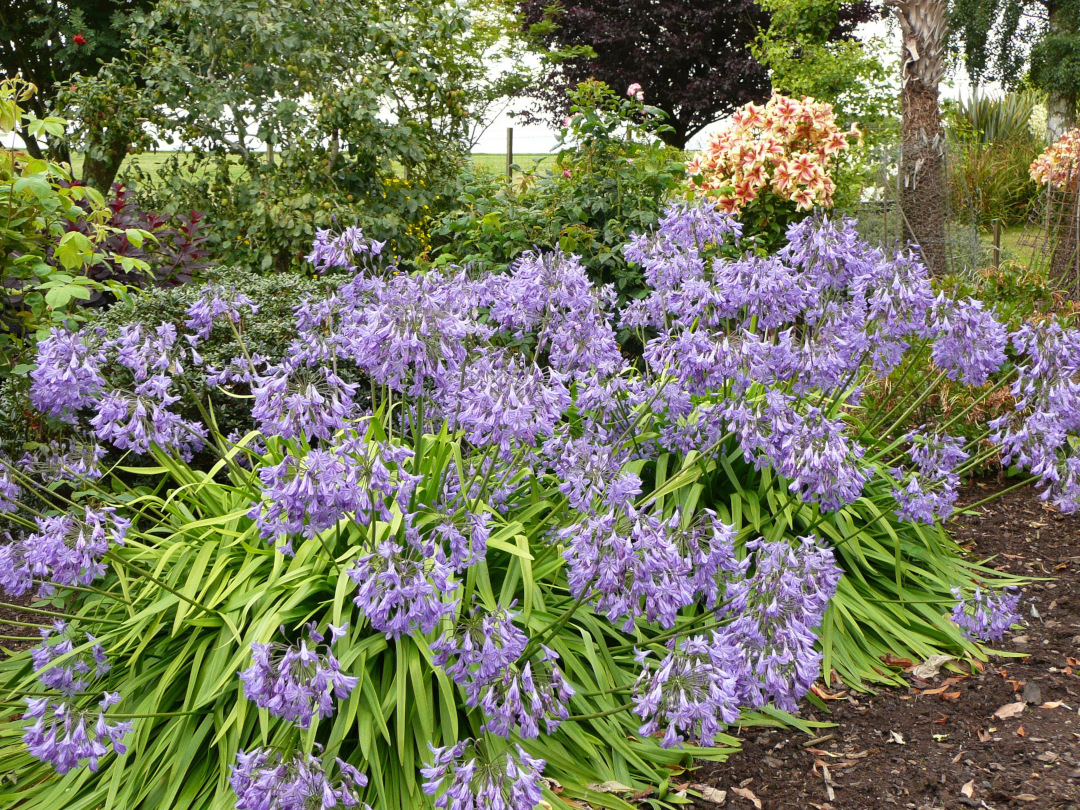 Agapanthus (African lily, Zones 7–10) and the highly scented lily 'Dutch Red'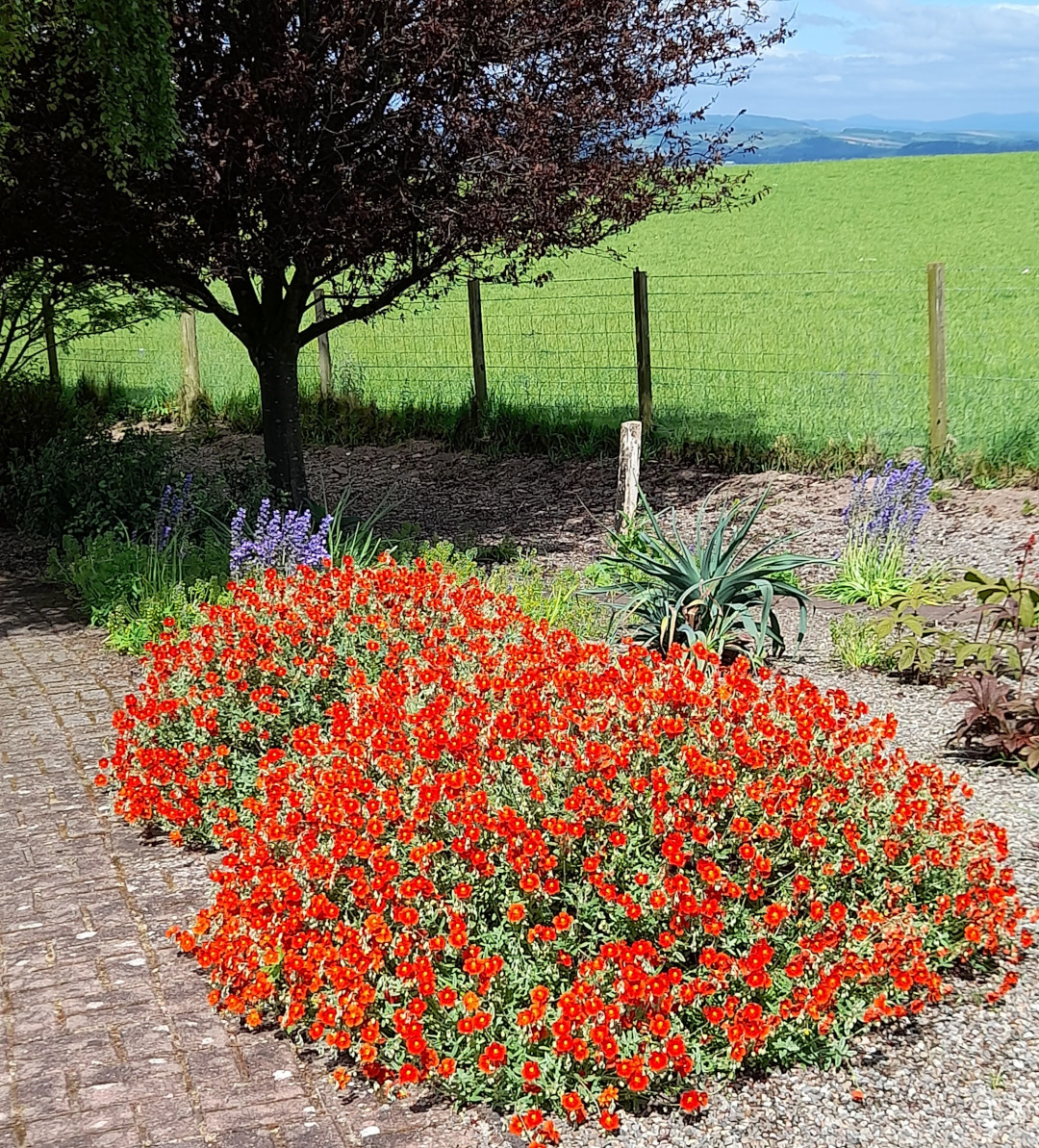 Bright orange Helianthemum (Zones 4–9)
I hope you enjoyed seeing something different, and I send best wishes from Scotland.
Have a garden you'd like to share?
Have photos to share? We'd love to see your garden, a particular collection of plants you love, or a wonderful garden you had the chance to visit!
To submit, send 5-10 photos to [email protected] along with some information about the plants in the pictures and where you took the photos. We'd love to hear where you are located, how long you've been gardening, successes you are proud of, failures you learned from, hopes for the future, favorite plants, or funny stories from your garden.
Have a mobile phone? Tag your photos on Facebook, Instagram or Twitter with #FineGardening!
Do you receive the GPOD by email yet? Sign up here.