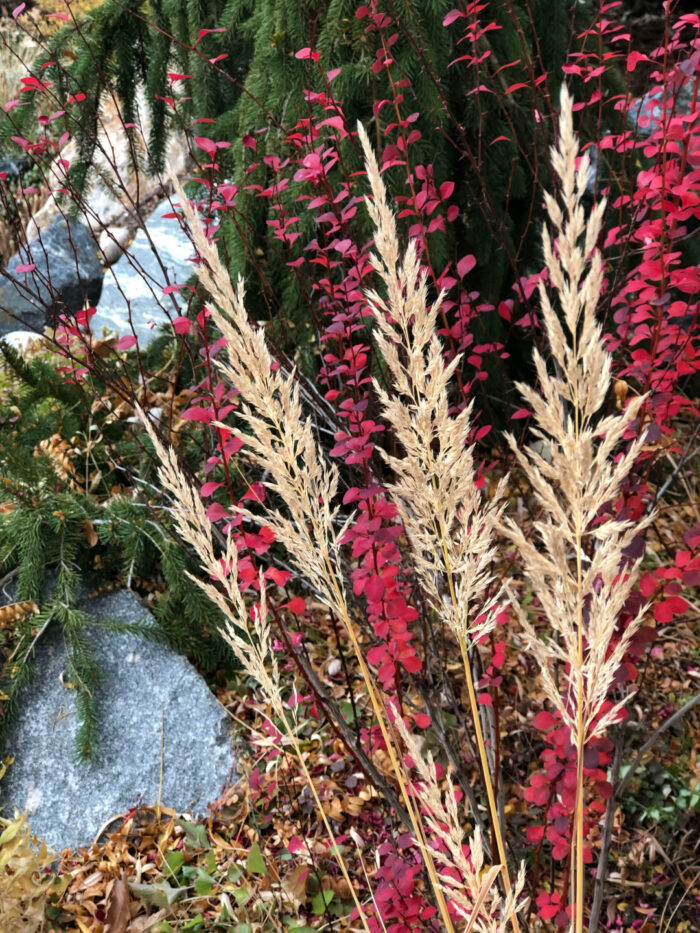 I'm Bonnie Phipps Moninger from Boulder, Colorado, and these photos were taken in November 2021. I've been gardening since 2006 in Boulder and had never seen our fall colors so beautiful in our garden (Zones 4–5), and it lasted way into November.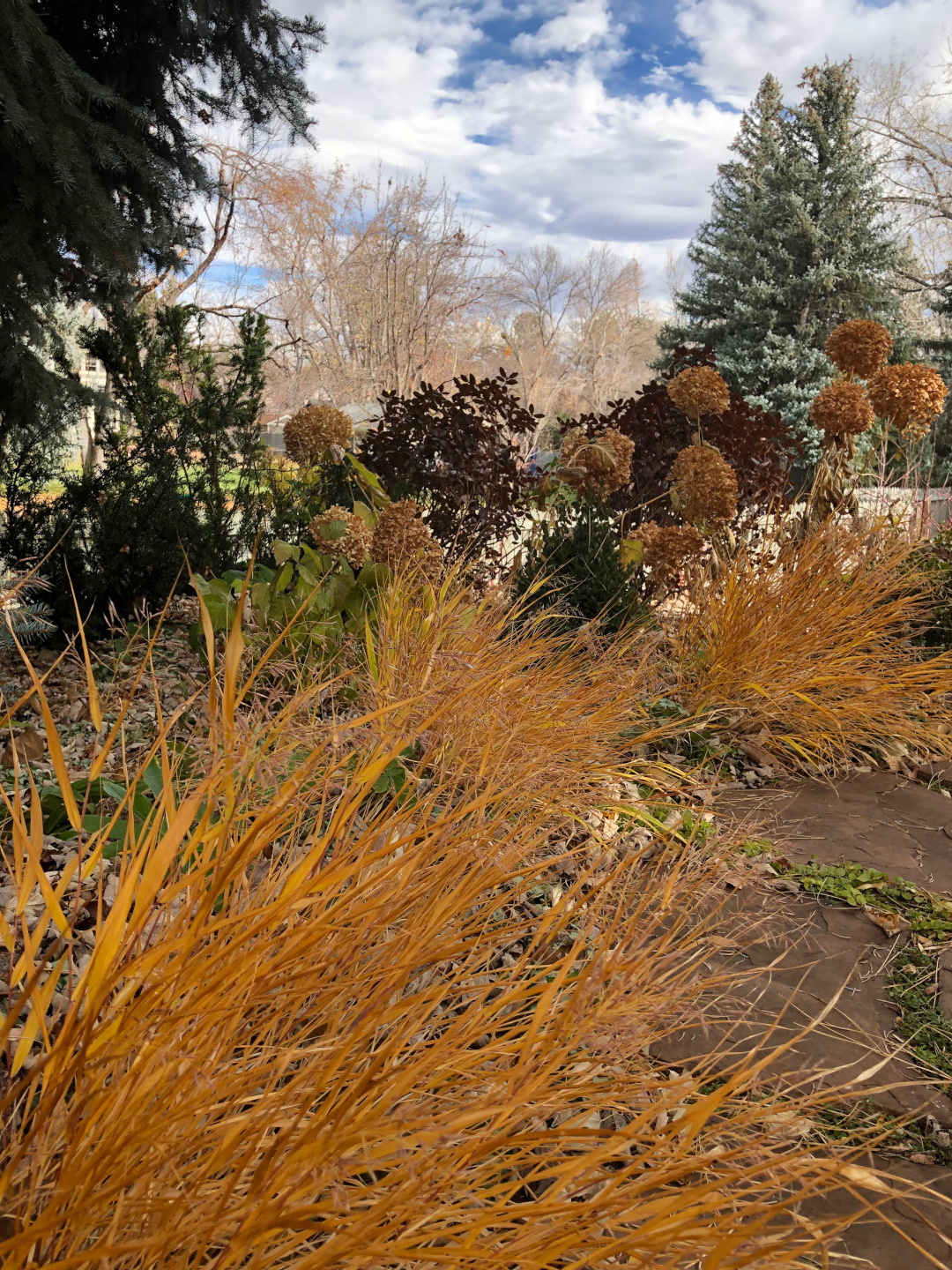 The Japanese forest grass (Hakonechloa macra, Zones 5–9) turned such a beautiful copper and were accentuated by the bronze of the 'Annabelle' hydrangea heads (Hydrangea paniculata 'Annabelle', Zones 3–9) and the dark maroon of the PJM rhododendrons (Zones 4–8). The scene took my breath away. This was the first year I planted rhododendrons, which are hard to grow in Colorado, and I was thrilled to see the fall color of their leaves.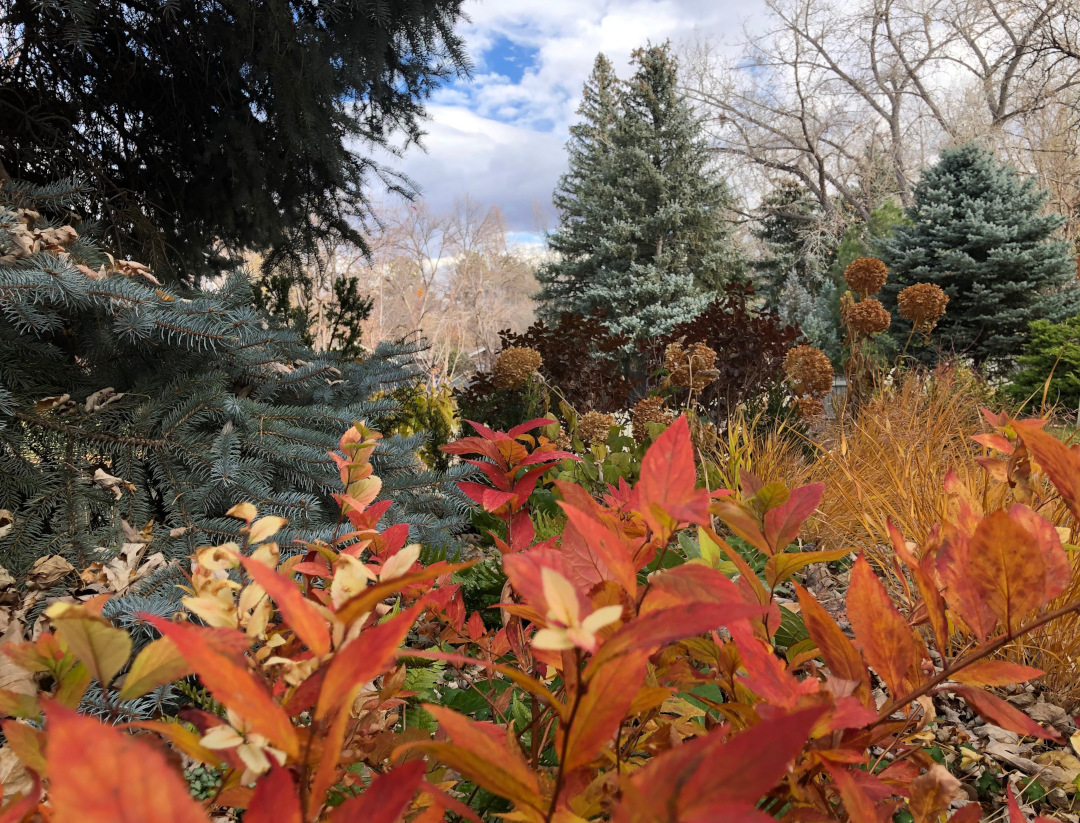 This is a different perspective of the same area and includes Magic Carpet spirea (Spirea japonica 'Walbuma', Zones 4–8) in the mix.
The spireas pop among the red of the dwarf smokebush (Cotinus coggygria, Zones 4–8), the greens of the boxwoods and Geum (Zones 4–9), the yellow of the Itoh peony (Paeonia hybrid, Zones 4–9), and the dwarf globe blue spruce (Picea pungens, Zones 2–8). The pyramid shrub is 'Green Mountain' boxwood (Buxus 'Green Mountain', Zones 5–8).
Another perspective of this area shows spireas in the foreground, plus the dwarf blue spruce and Hicks yews (Taxus × media 'Hicksii', Zones 4–8) behind.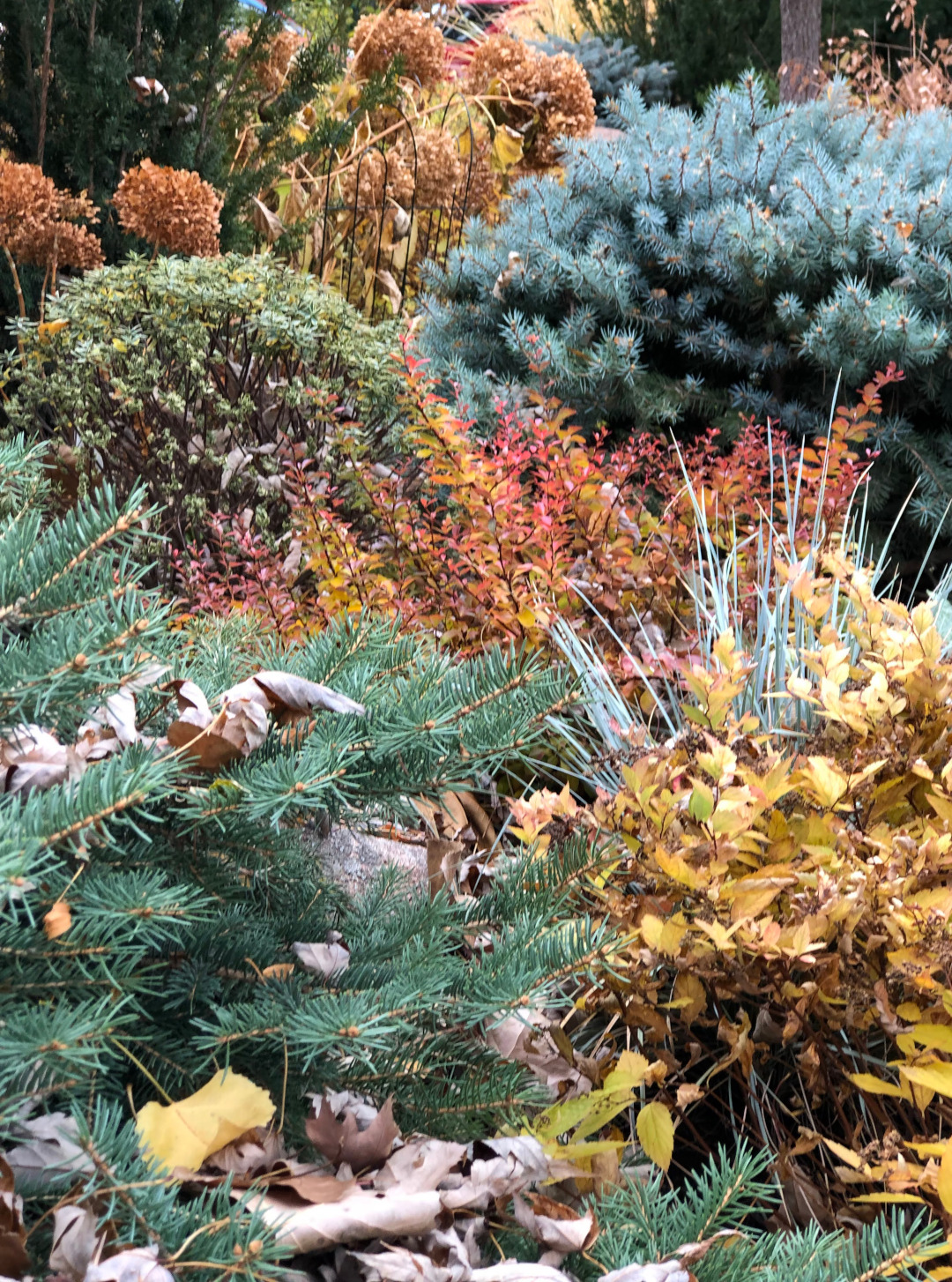 This tapestry includes Mesa Verde spreading spruce (Picea pungens, Zones 3–8), blue avena grass (Helictotrichon sempervirens, Zones 4–9), redleaf barberry (Berberis thunbergii, Zones 4–8), and Carol Mackie daphne (Daphne × burkwoodii, Zones 5–8) among some other usuals.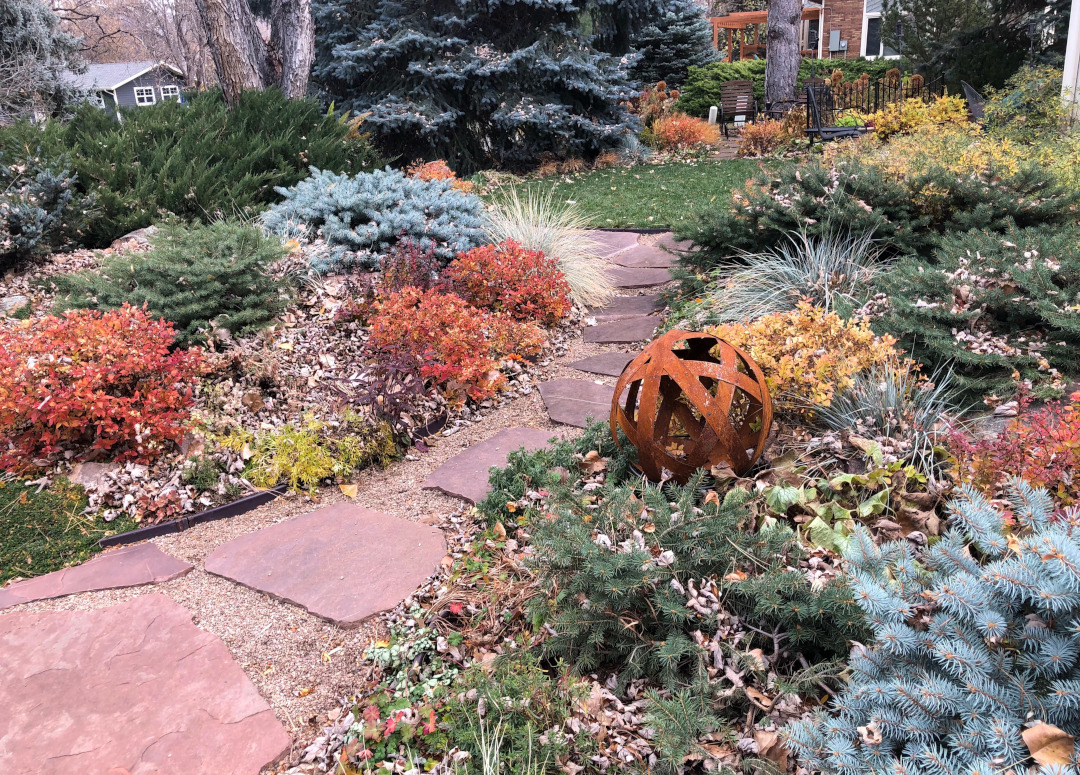 Spireas pop all around the garden and match the color of our circular art piece.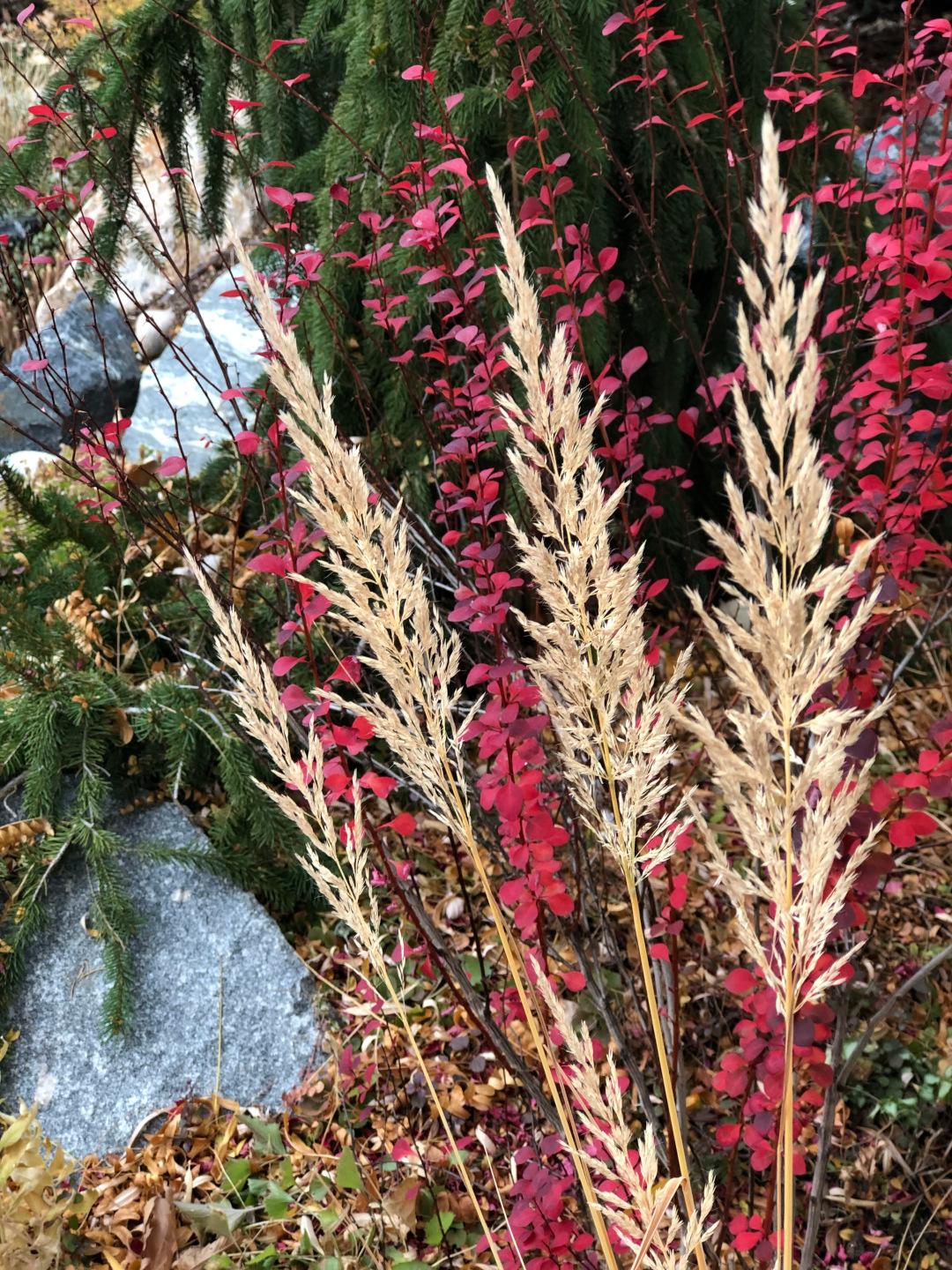 The variegated feather reed grass (Calamagrostis acutiflora 'Overdam', Zones 5–11) looks striking against the orange rocket barberry. A weeping Norway spruce (Picea abies, Zones 3–8) is in the background.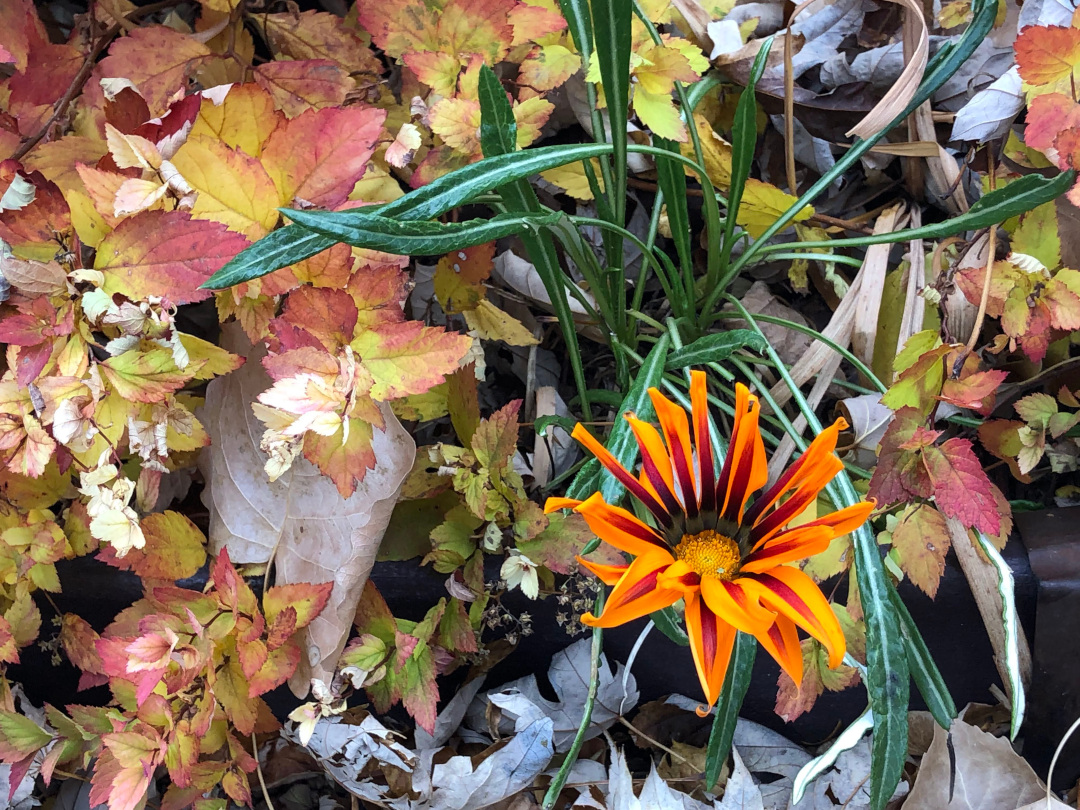 An African daisy (Gazania, annual) pops out of the fall foliage.
Have a garden you'd like to share?
Have photos to share? We'd love to see your garden, a particular collection of plants you love, or a wonderful garden you had the chance to visit!
To submit, send 5-10 photos to [email protected] along with some information about the plants in the pictures and where you took the photos. We'd love to hear where you are located, how long you've been gardening, successes you are proud of, failures you learned from, hopes for the future, favorite plants, or funny stories from your garden.
Have a mobile phone? Tag your photos on Facebook, Instagram or Twitter with #FineGardening!
Do you receive the GPOD by email yet? Sign up here.