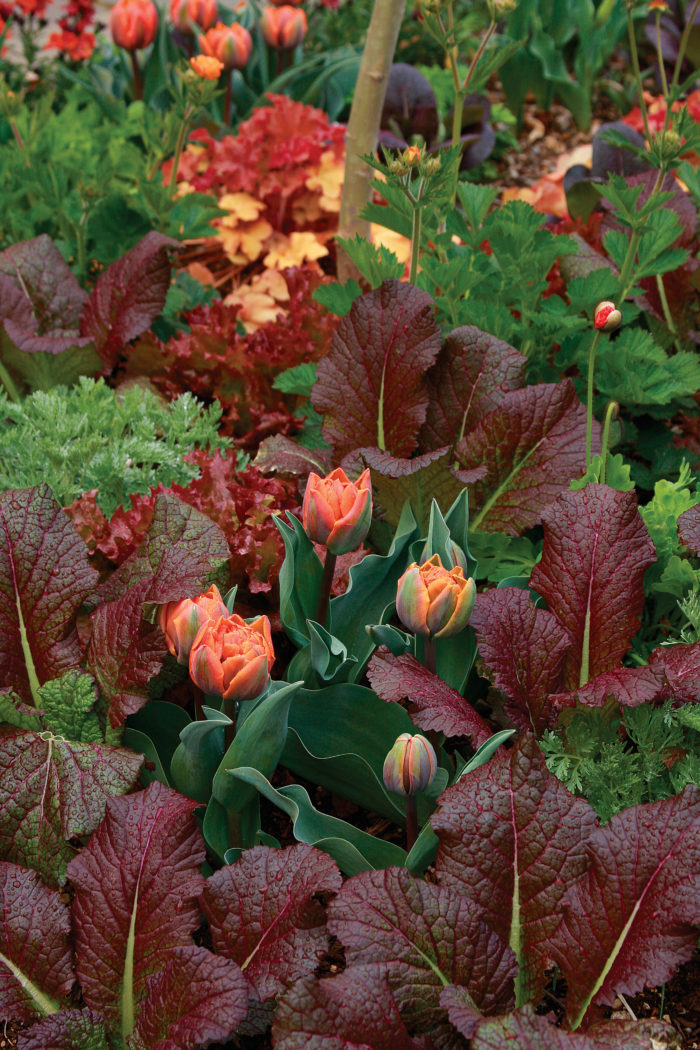 Fall is around the corner, and while you are probably getting ready to start decorating your garden with pumpkins and hay bales, this is also the time to think ahead—way ahead—to spring!
It's unfortunate that right at the time the season is at its peak color, but do yourself a favor now and order your spring-blooming bulbs in preparation for planting this fall. That way you'll have something special to look forward to this winter.
Below are some of our favorite combinations for spring plantings. For even more information, check out how to plant your bulbs so that they appear as a natural feature in the landscape in Naturalizing Spring Bulbs.
Great spring bulb combinations to plant now
Tulips
Red tulips are classic and all-purpose
Tulips (Tulipa spp. and cvs.) are versatile favorites, and it's hard to go wrong with classic red tulips. They go with virtually anything. But an underplanting of pale blue forget-me-nots might be the best thing to lift them to superstar status.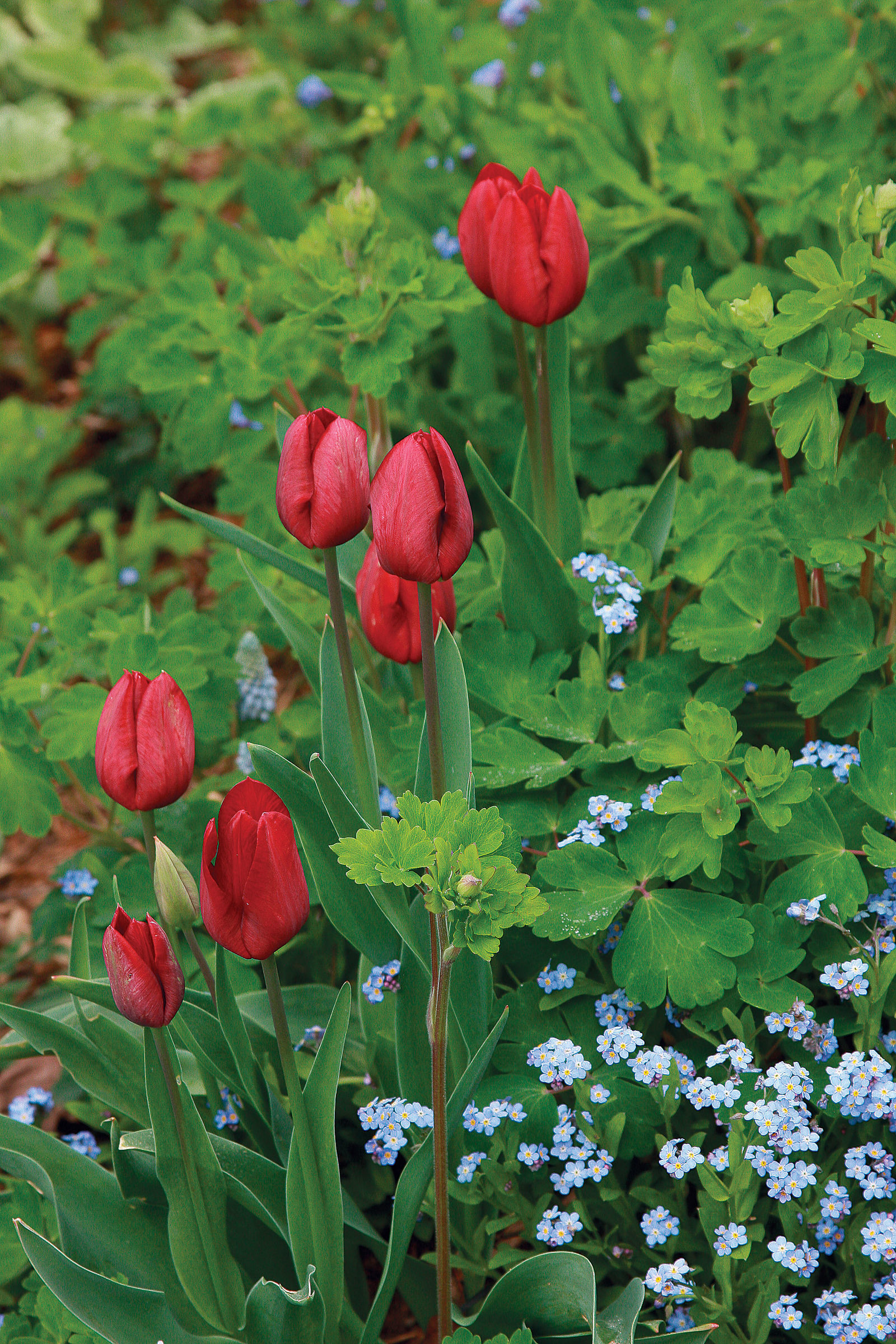 Upright forms, striking colors
The stiff, upright blades of Bowles' golden sedge serve two purposes in this striking combo: They act as a contrasting backdrop for the magenta tulips, and they mimic the tulips' upright stems, drawing even more notice to both.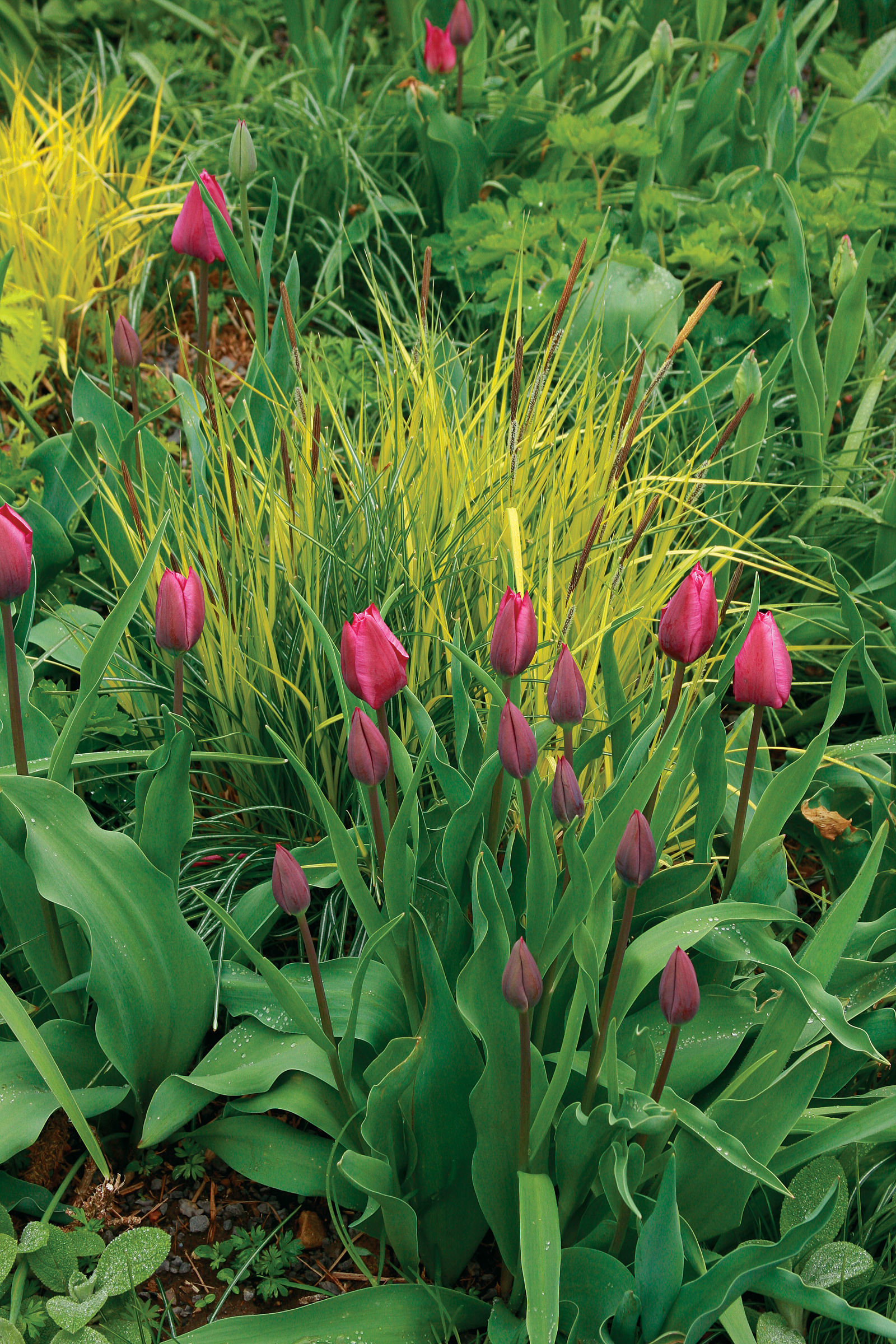 Sunshine and blue skies
You've been waiting so long for clear skies and the warmth of the spring sun, so celebrate them with cheery yellow tulips and pale azure forget-me-nots.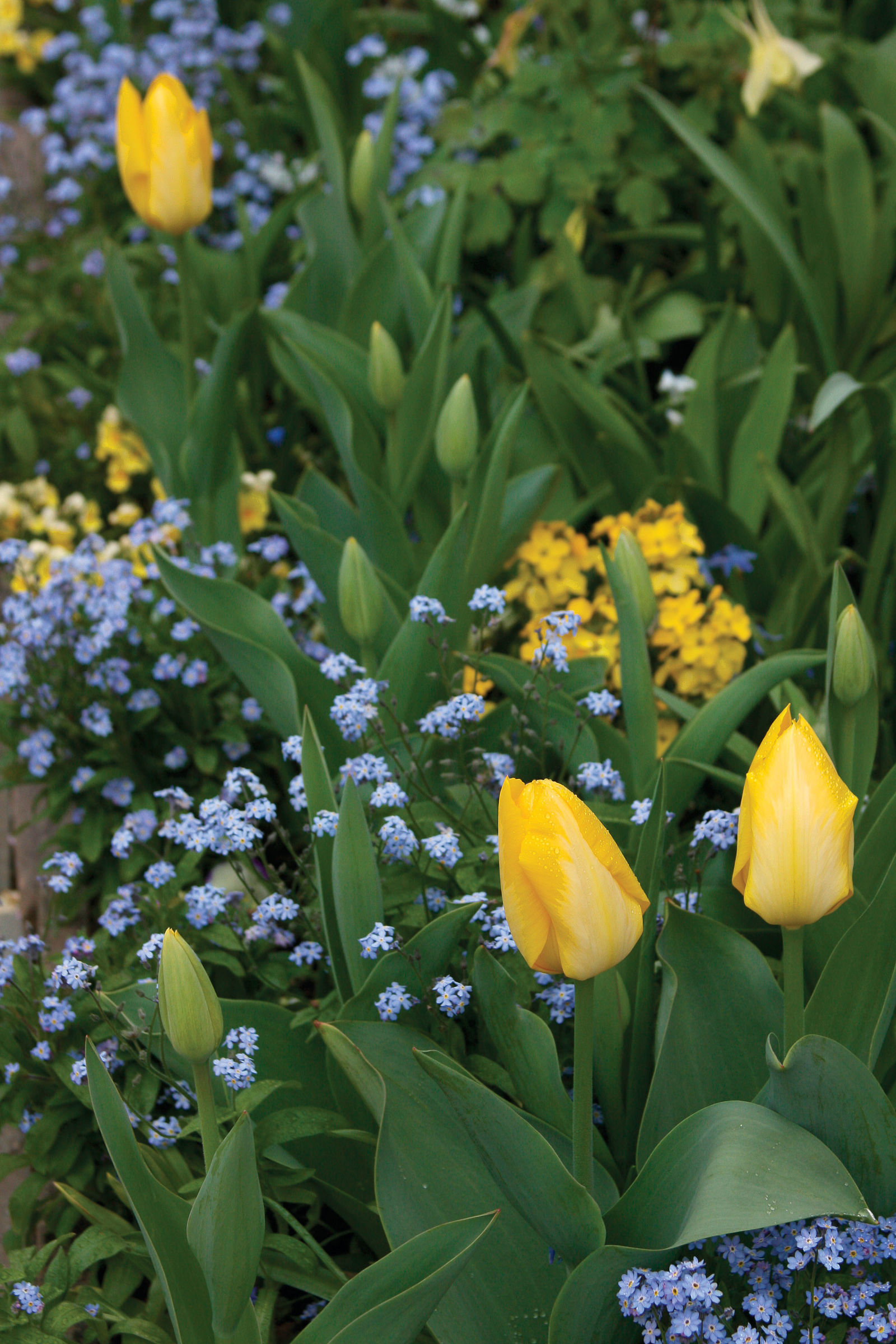 Grape hyacinths
Another delicate play on pastels
Grape hyacinths (Muscari spp. and cvs.) may be small, but their color and texture can enhance many spring combinations. Pale blue 'Valerie Finnis' grape hyacinth might be overpowered by a big, bold, bright yellow daffodils, so pair it instead with a more delicate version—in both size and hue—to make a harmonious mix.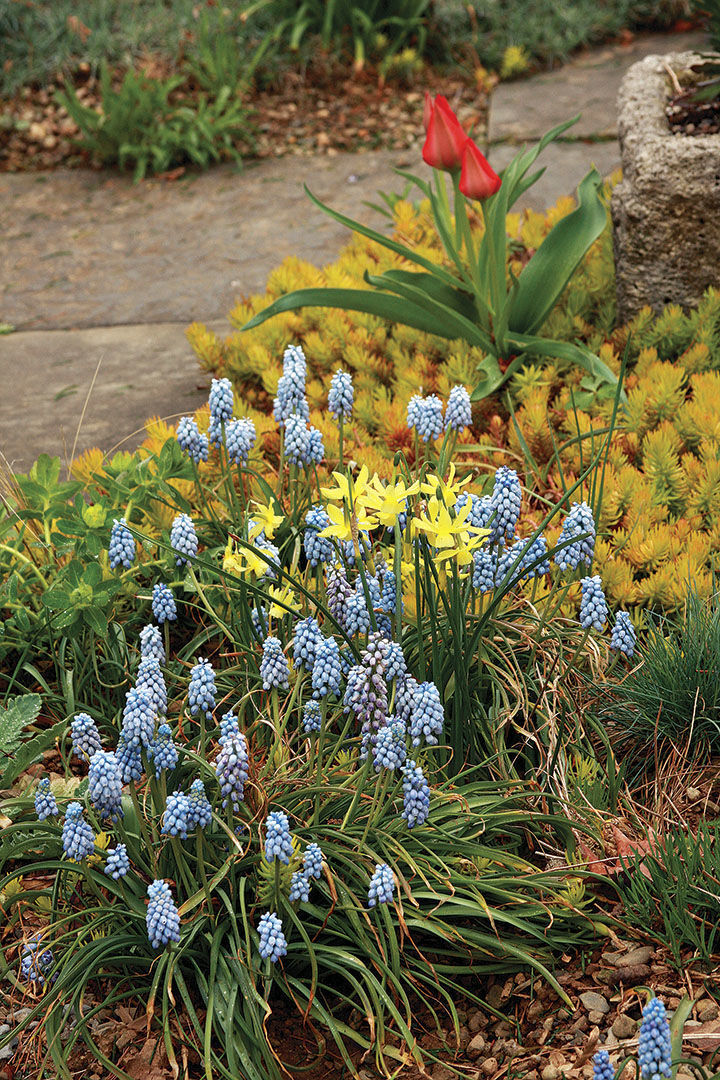 A bouquet of spring bulbs
Bulbs are most often planted in drifts or small clumps, but sometimes it's nice to plant an in-the-ground bouquet. Save a few bulbs from each of your plantings in fall, and pick a special spot to mix them together.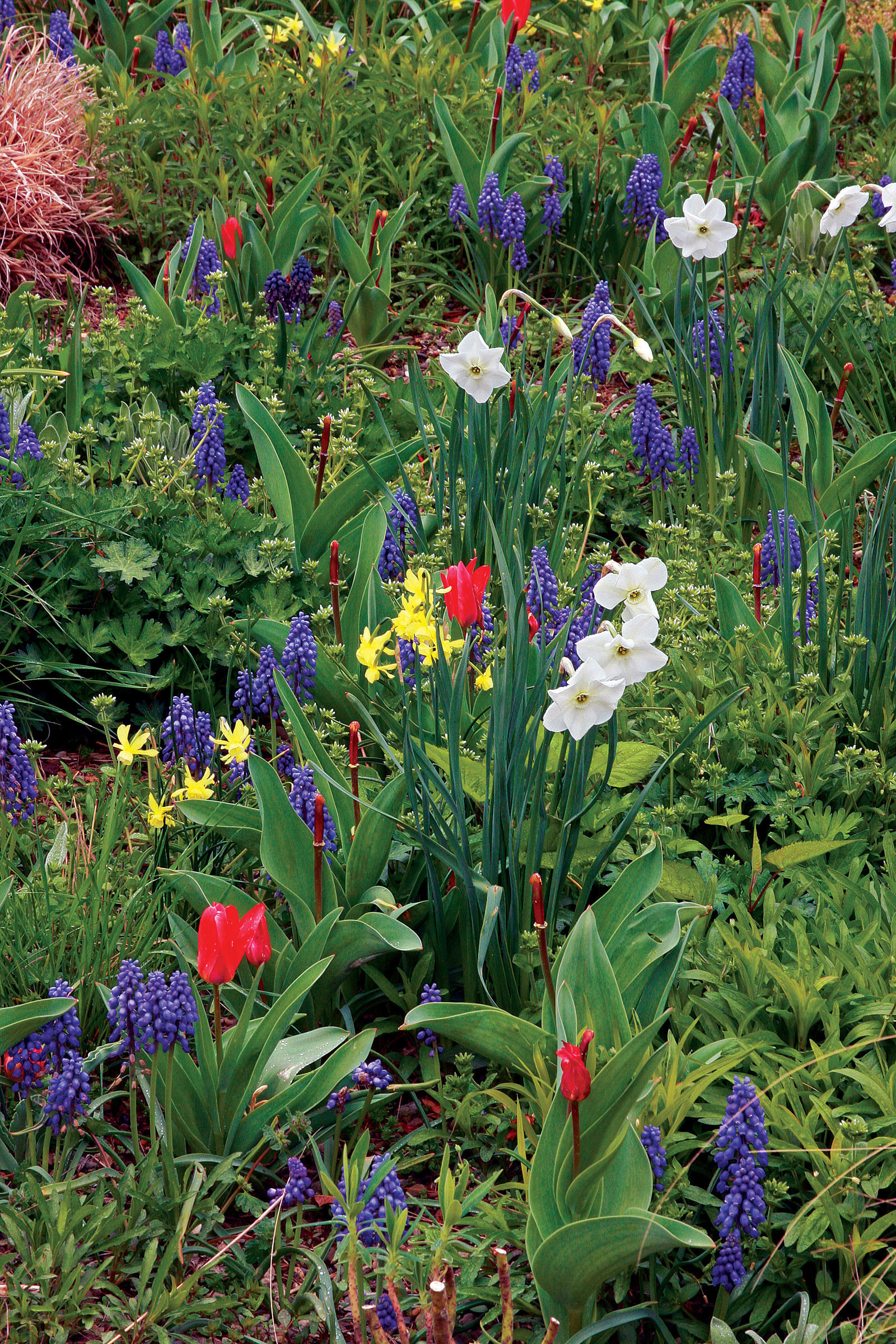 Watch the blooms evolve
Just before a grape hyacinth blooms, its architectural flower form is most apparent. The hints of blue peeking through promise that this color-coordinated combo with poppy anemone will be even more stunning in a few days.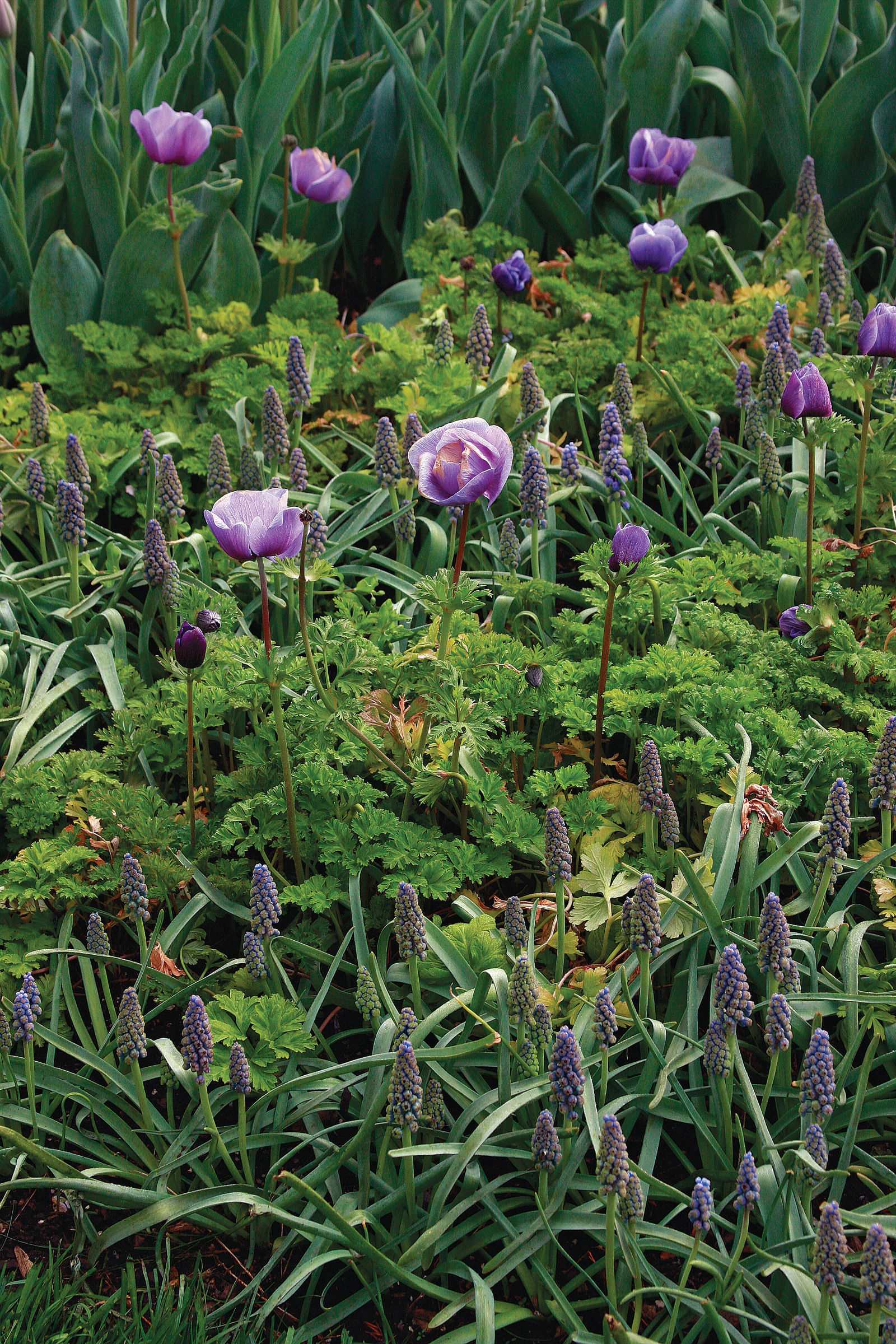 Alliums
The flowers are fabulous even when they fade
The spherical umbels on most alliums (Allium spp. and cvs.) are striking in any spring combination. The alliums pictured below might not be colorful anymore, but the seed heads still stand out against the deep burgundy backdrop of a smokebush. As the capsules ripen, they'll fade to beige and burst open, revealing the seeds inside.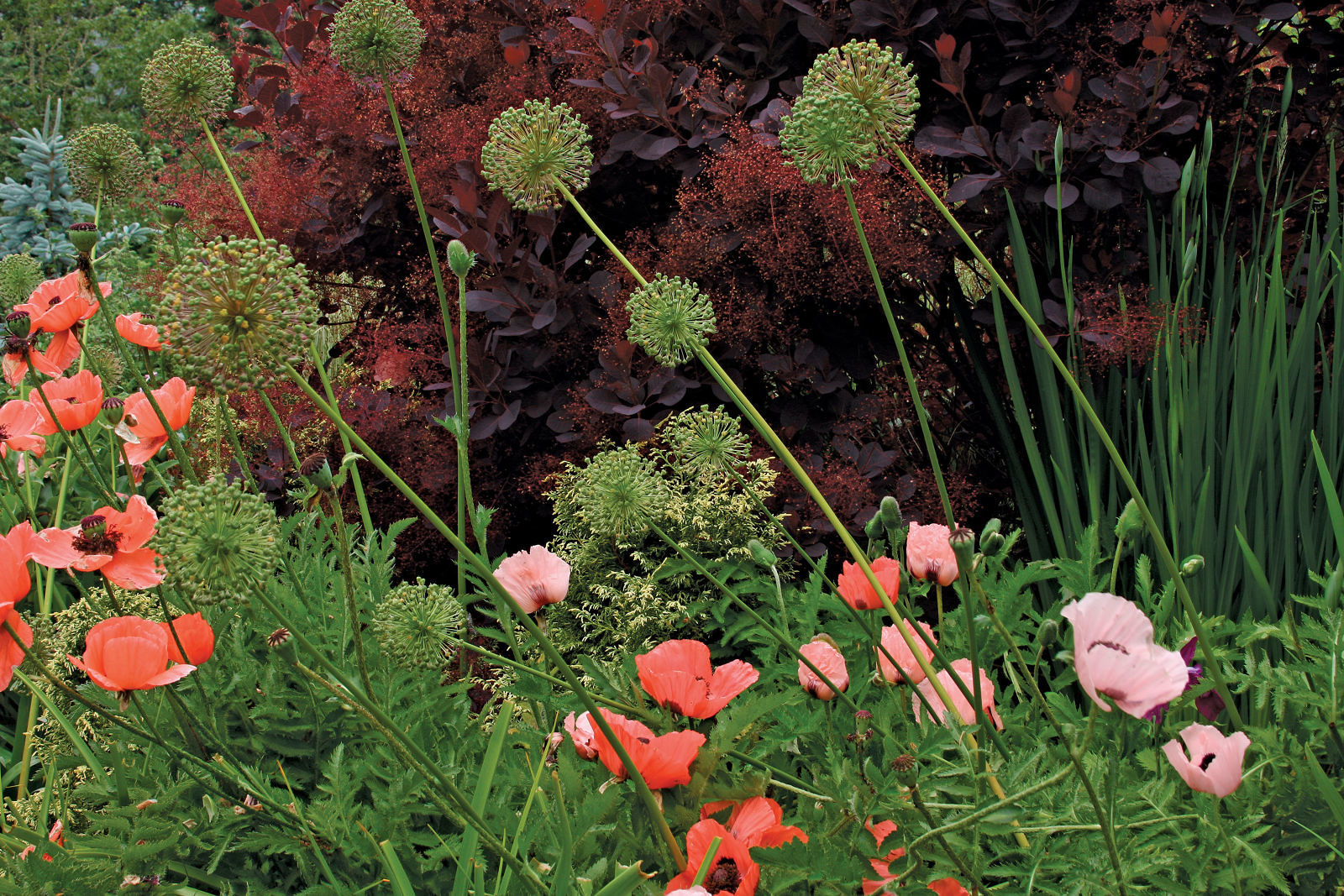 Plant more than one variety
Alliums aren't just purple. There are a few out-of-the-ordinary colors too, and it's fun to experiment and mix them up. Planting more than one variety together lets you observe their bloom times, which will open your eyes to other pairing opportunities.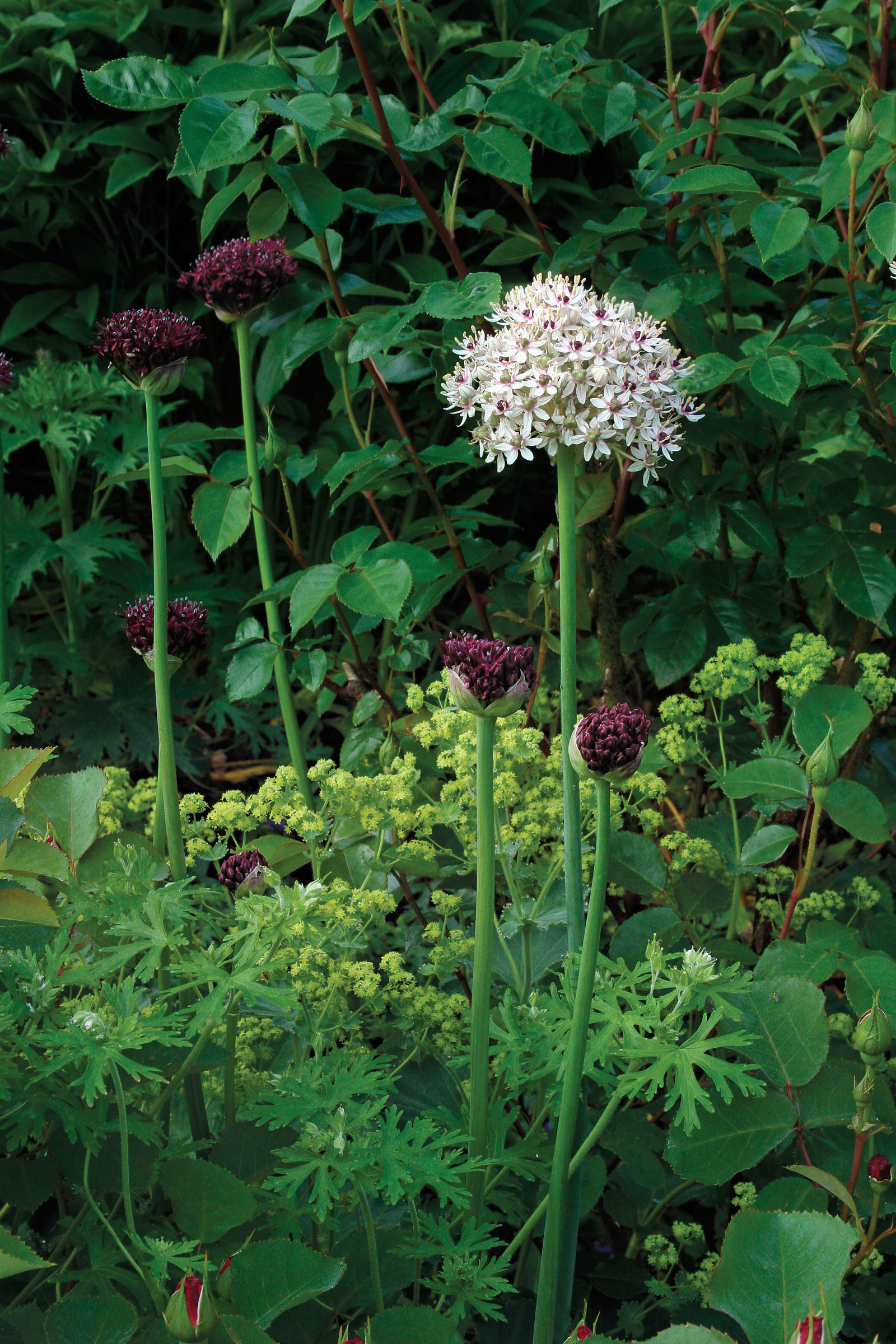 Bring chives out of the herb garden
If you've ever grown chives, you know how prolifically they reproduce. If you're running out of room for the divisions in your herb garden, add them to your borders. Here, they echo the color of the weigela and add a vertical element to the mounding plants around them.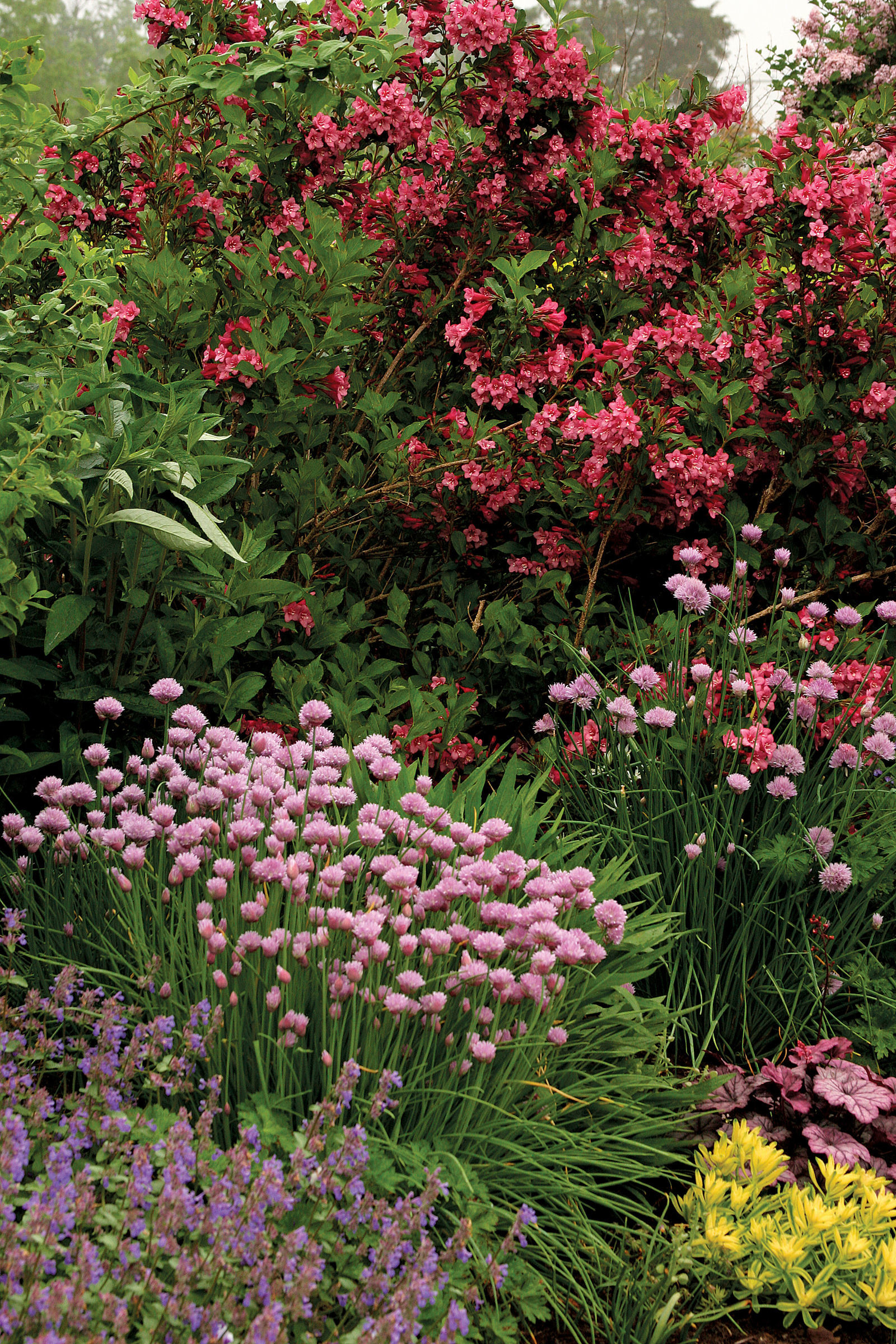 Daffodils
A spring garden party of colors
Iceland poppies in a mix of bright colors are cheerful on their own, but add some daffodils (Narcissus spp. and cvs.) and you've got a lively party. Pass the champagne!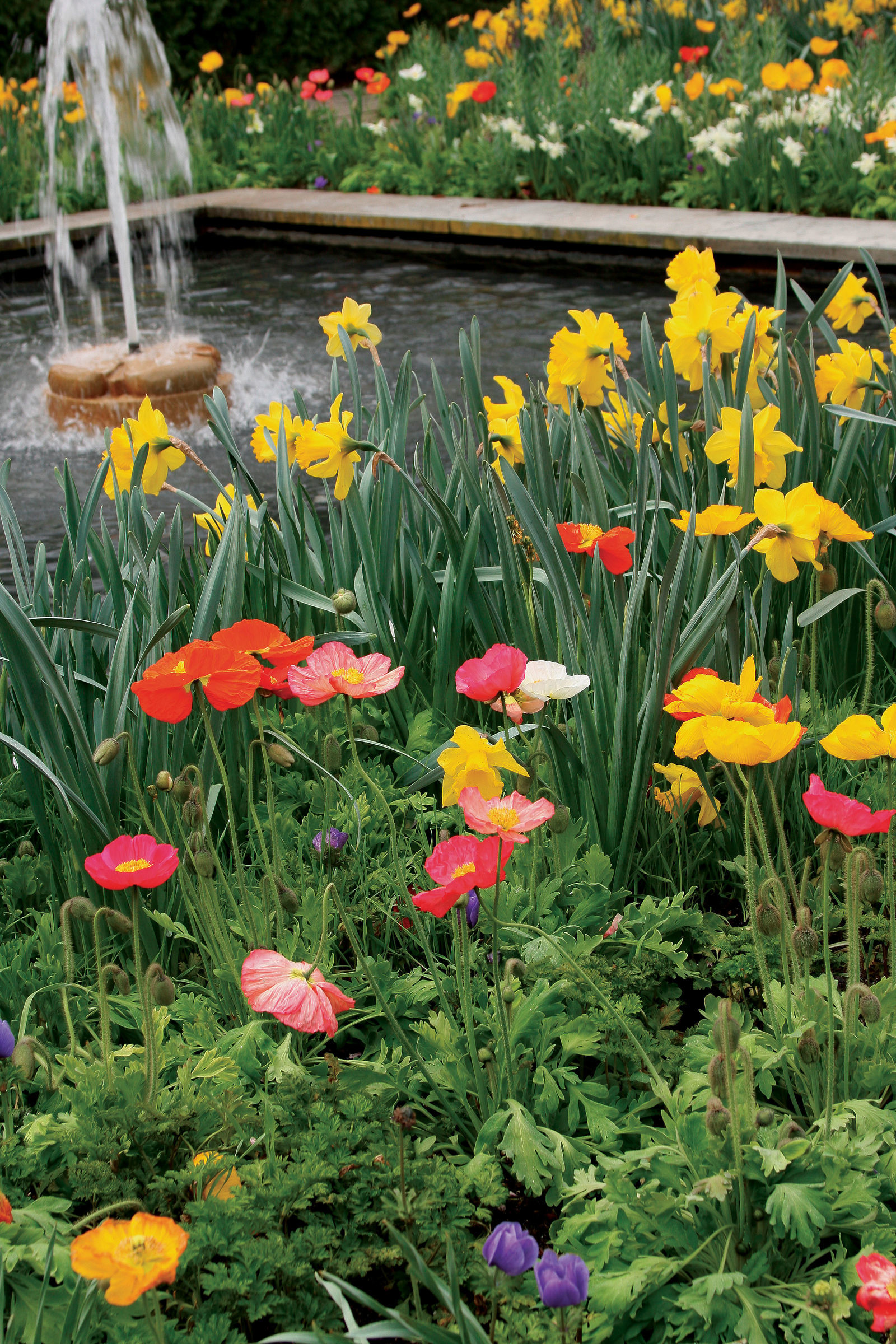 A planting that evolves as the weeks go by
Daffodils typically bloom before tulips. Take advantage of this fact to create a planting that moves with the season. The daffodils emerge first and bloom just as the tulip buds start to show color. As the daffodils fade, the tulips will peak.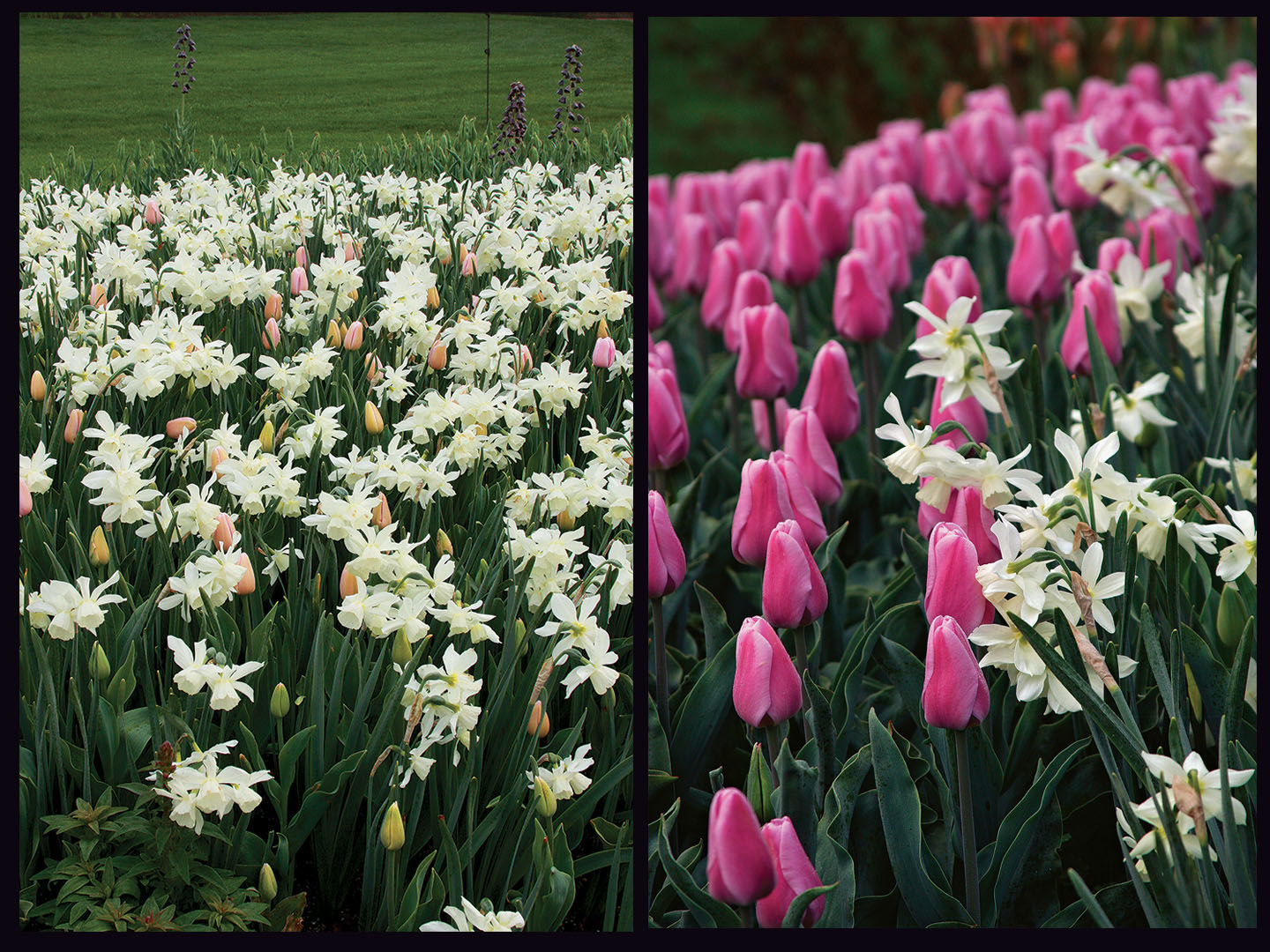 Bold colors, big charm
This classic daffodil is what we envision in our minds when someone says "daffodil." It's big, bright, and happy. Underplanting it with the speckled leaves and pink and purple blooms of a lungwort makes it pop even more. Spring is here!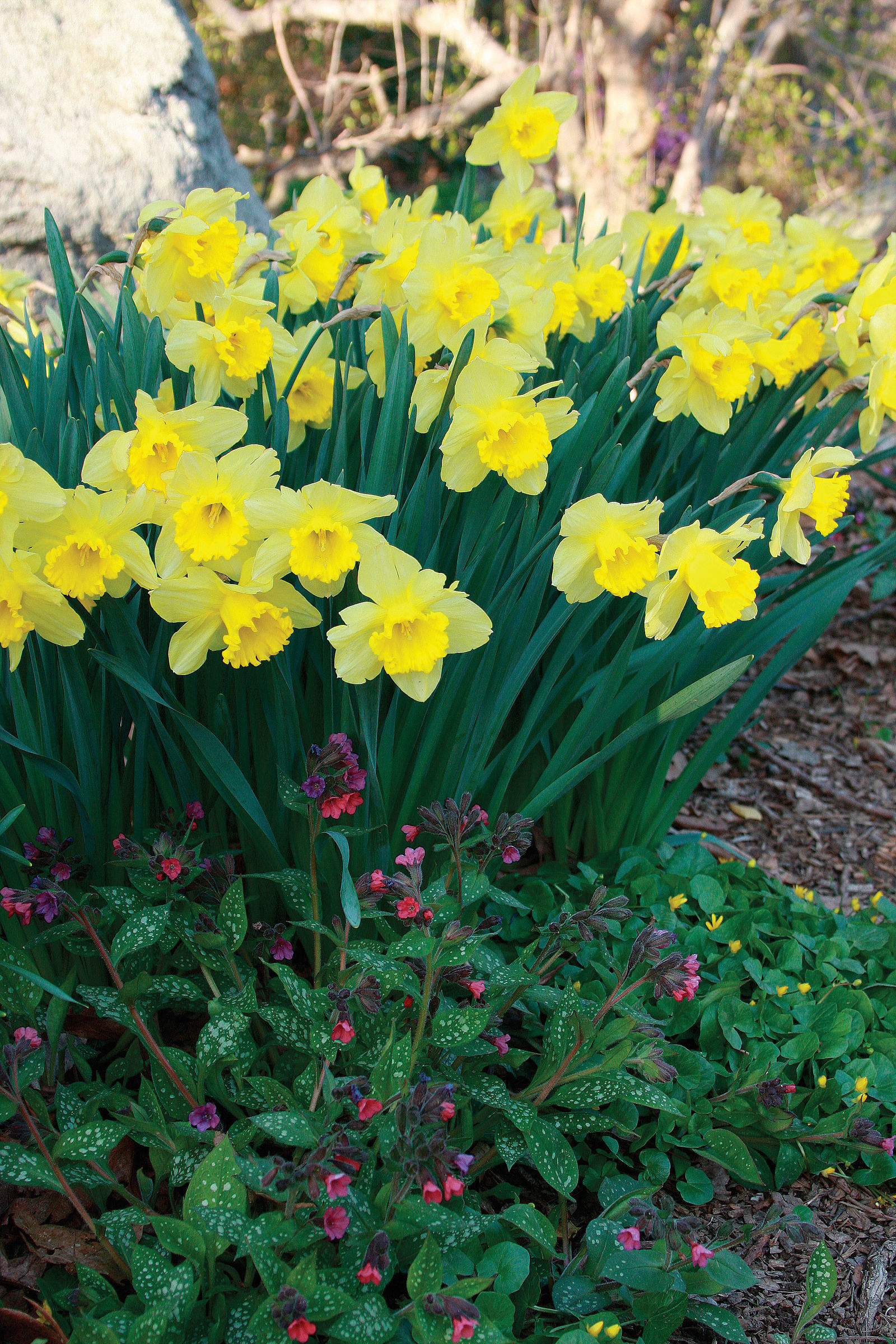 For more spring garden inspiration, see Planting Spring Bulbs in Containers.