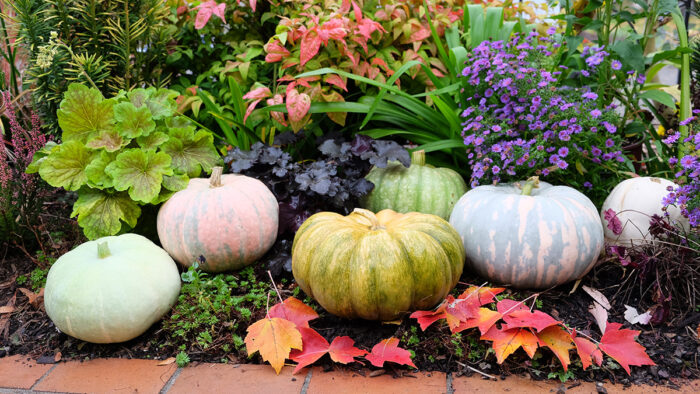 As fall swiftly approaches in the Pacific Northwest I start to look forward to harvesting pumpkins. In my area there are several places to purchase pumpkins for fall eating and decorating. The cost of designer pumpkins, like white ghost pumpkins and flattened Cinderella or fairytale pumpkins, has gone up over the years. So growing them yourself by seed is an economical, and fun, way to go.
Quite by accident, I started growing pumpkins in my garden. After using the pumpkins from the market for display, I threw them in the compost pile. The next spring my compost pile started growing pumpkins. Heat and moisture from the compost were the perfect conditions for the seeds to sprout. By the end of summer, the plants were lush and full of pumpkins. That was so simple and easy that I deliberately started growing them in my garden.
You can grow many different kinds of pumpkins from seed
It's exciting to learn about the different varieties and colors of pumpkins that are available by seed. Pumpkin botanical names vary, but usually they are Cucurbita pepo or Cucurbita maxima. Besides being the species behind many designer pumpkins, C. maxima, as you can guess, is the species of the giant pumpkins grown for fairs and harvest festivals—often growing to over 100 pounds. (Check out the Pacific Northwest Giant Pumpkin Growers website, featuring a family-oriented gardening organization that is dedicated to growing giant pumpkins.) I like to grow ornamental and edible pumpkins, as I love to make fall soup or pumpkin risotto as well as pumpkin bread and muffins.
Here is a list of my some of my favorites. No matter if you are growing pumpkins from seed in late spring or looking for the perfect pumpkins at the local garden center or nursery, these are worth seeking out.
Great pumpkins for the Pacific Northwest
1. 'Black Kat'
(C. pepo 'Black Kat', 77 days to mature) – This is a rounded mini-pumpkin that grows to no more than 1 pound. It features tasty pale orange flesh and dramatic dark green, almost black, skin.
2. 'Dark Knight'
(C. pepo 'Dark Knight', 100 days to mature) – Another dark-skinned pumpkin, almost black, this selection grows up to 10 pounds. The fat bottom, tear-drop shape, and contrasting dark skin to orange flesh make it good for carving and displaying. This pumpkin can be harvested when black or left to mature and become a bright orange.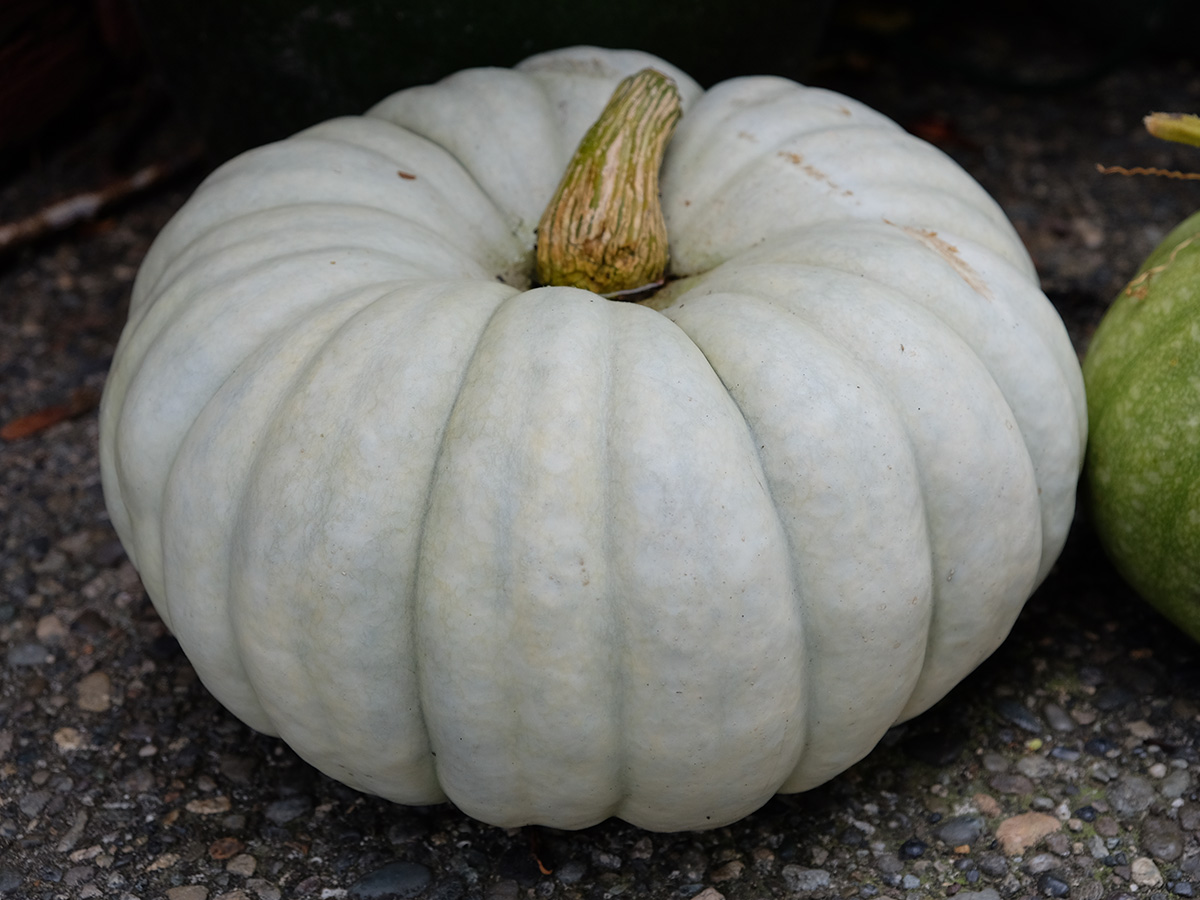 3. 'Jarrahdale'
(C. maxima 'Jarrahdale', 100 days to mature) – A popular variety in Australia, this pumpkin matures to slate blue–gray (up to 10 pounds) and has a squat shape with deep ribs. One of the best keepers, it can be kept up to a year. It is best in savory dishes and is as beautiful as it is delicious.
4. 'Long Island Cheese'
(C. moschata 'Long Island Cheese', 105 days to mature) – This is a strangely but aptly named pumpkin because it looks like a wheel of cheese. It grows up to 10 pounds and features wonderfully variable skin coloring—sometimes pink, spots, or stripes.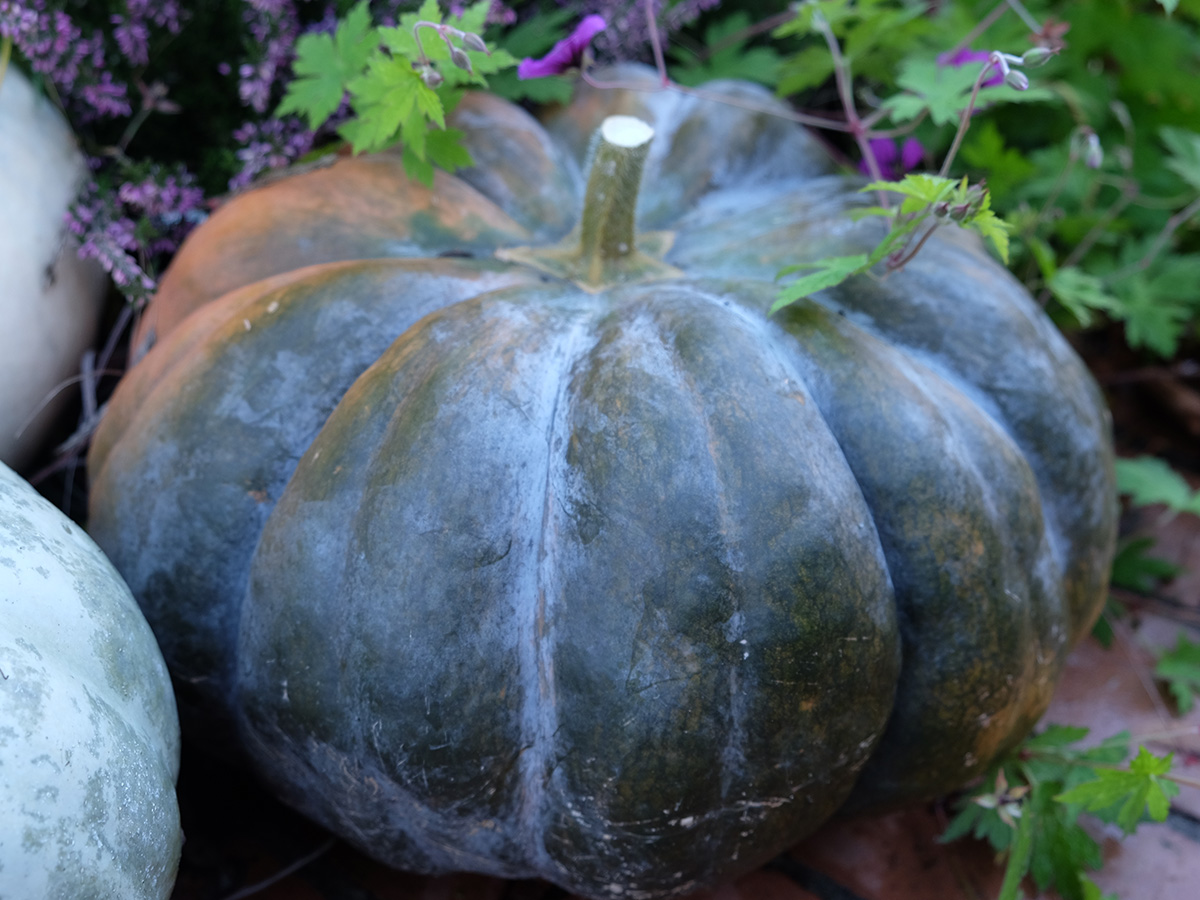 5. 'Musquee De Provence'
(C. moschata 'Musquee De Provence', 90 to 110 days to mature) – An heirloom Cinderella pumpkin from France, this selection is excellent for eating. It grows up to 20 pounds. It has a squat form with deep crevices and matures from dark green–blue to soft cream or orange.
6. 'Silver Edge'
(C. mixta 'Silver Edge', 95 to 100 days to mature) – This native Mexican squash is grown for its seeds rather than its flesh. A key ingredient in pipian sauce, the seeds are plentiful and have a thick silver edge. They are also very good roasted. The squash grows up to 1 pound and has great skin coloring—white with green stripes.
7. 'Rouge Vif D'etampes'
(C. maxima 'Rouge Vif D'etampes' 100 days to mature) – Another heirloom from France, this is a beautiful Cinderella pumpkin with a deep red color. It is large, weighs up to 20 pounds, and is an excellent eating pumpkin that keeps well for many months after harvest.
For the best pumpkins, provide lots of sun and as much warmth and space as possible
You'll get the best results by growing your pumpkins in full sun (the hotter the better). My patch has a slope from the bed to the greenhouse area that I cover with black landscape cloth. The heat the cloth absorbs really helps the fruit to mature.
You can start seed indoors, but keep in mind that these plants resent transplanting, so don't let them get pot bound or disturb the roots when planting out. They grow fast in the ground if you wait to sow or put plants out until the temps are at least 50°F. As plants mature, don't worry about mildew on the leaves. It doesn't affect the fruit.
The vines can be wrapped around each other if space is an issue. You don't even have to have a vegetable garden to grow them. Pumpkins can be placed at the edge of the compost pile, by an unused driveway or path, on a grassy area that you don't want to mow for the summer. They can also be trained to climb up a trellis support with a hanging support for the pumpkins as they mature (old cloth ties or stockings).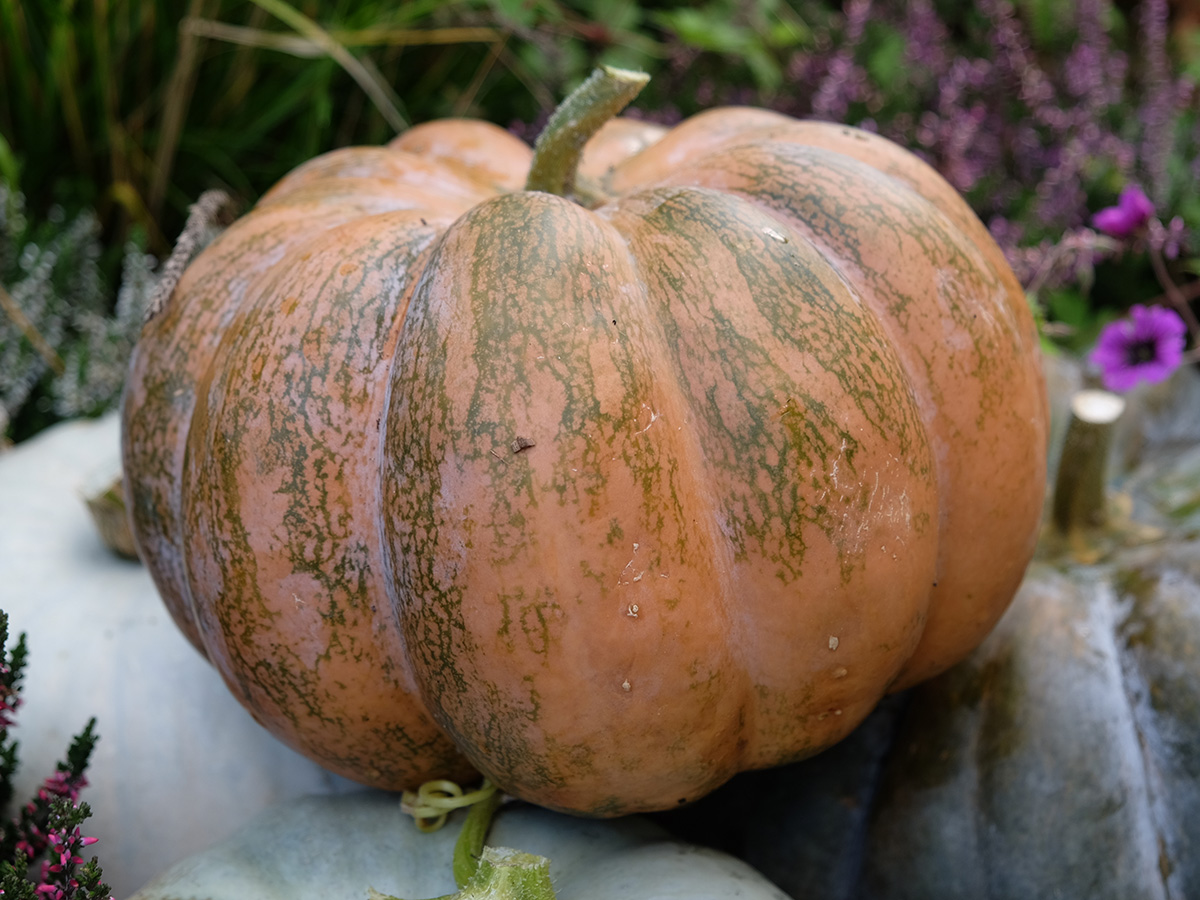 If you haven't started your collection yet, it is easy to get started. Pick up some great varieties at the farmers market or grocery store in October. If you'd like to grow your own, you can save seeds from mature fruit to grow next year or purchase seed in spring from a favorite source. I've found Baker Creek Heirloom Seeds to be an excellent seed source for heirloom varieties and unusual hybrids.
To learn more about growing pumpkins, see How to Grow Pumpkins.
—Susan Calhoun is the owner of Plantswoman Design in Bainbridge Island, Washington.