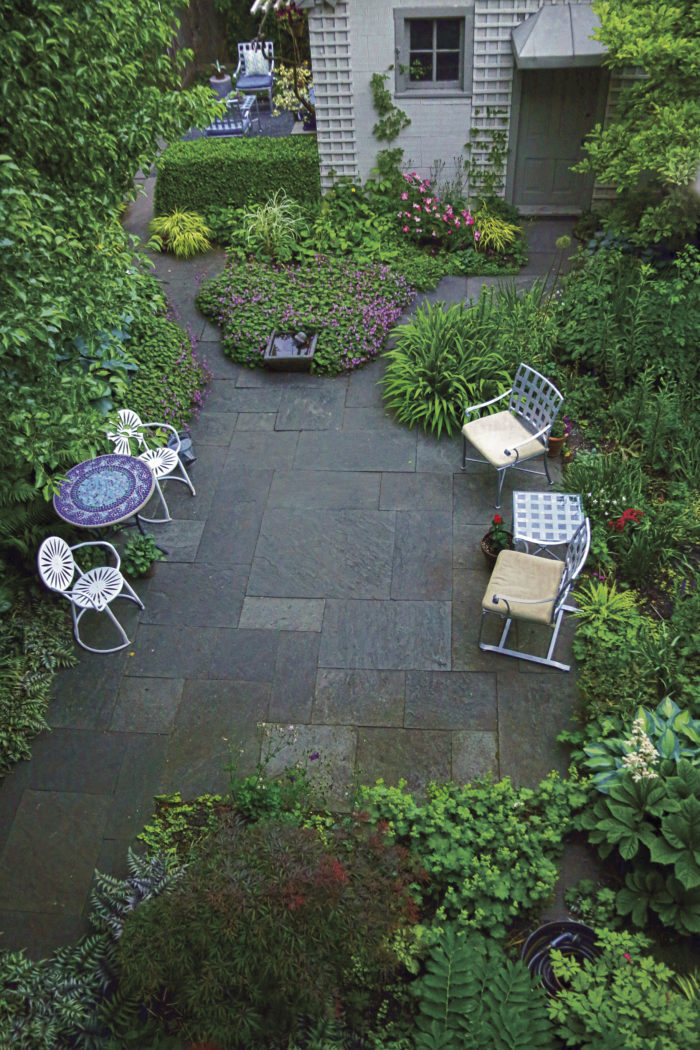 At the time, buying a house seemed like such a grown-up thing. But the allure of having a garden was too powerful to ignore. So after years of renting places with limited outdoor space, my friend Tim Lally and I pooled our resources in 1993 and bought a house. Tim is a landscape architect at Timothy Lally Design and I'm a horticulturist at the Chicago Botanic Garden, so while the qualities of the house were important, space for a garden—even a small one—was essential. The backyard of our new project was basically a blank slate: a patch of grass, a clothesline, and a concrete path straight out to an alley. A tiny garage sat at the back corner of the property and was the only thing that would stay because a garage is a must-have in Chicago. At first look, it wasn't the most auspicious of spaces, but we were stoked about the possibilities.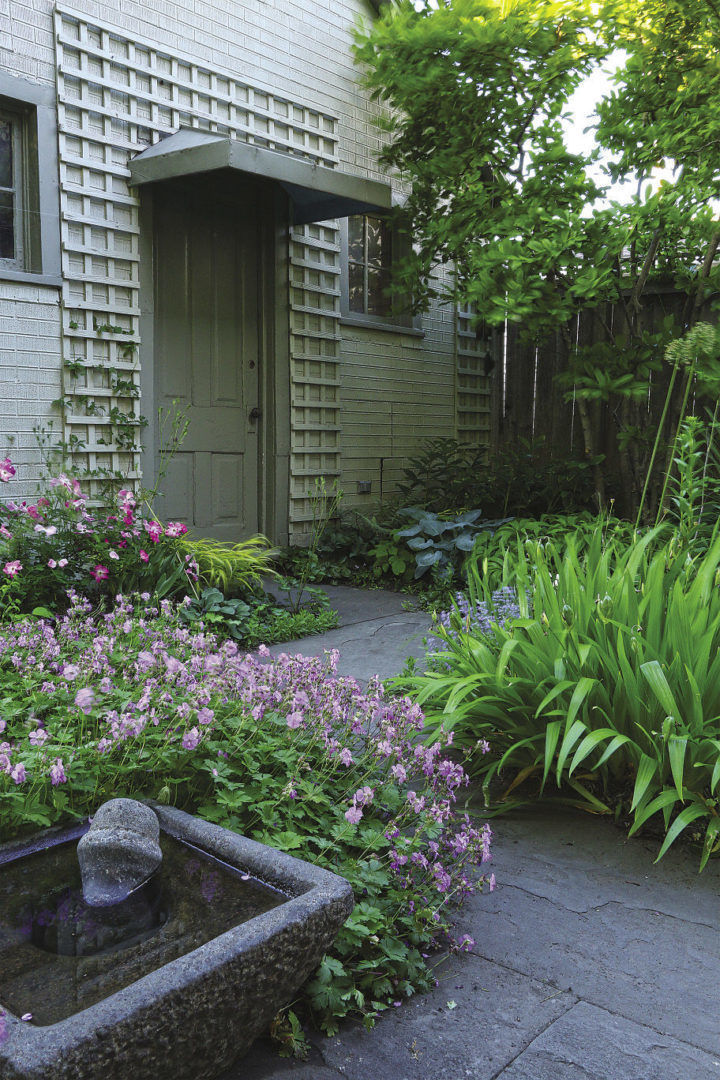 Tim quickly designed a courtyard garden, a private place of respite from urban life. The western edge of the property was already defined by an extratall wooden fence that screened our neighbor's above ground pool and a lovely brick wall of their garage—we didn't know it at the time, but we would come to cherish this brick wall. To enclose the rest of the yard, Tim designed a cedar fence topped with lattice to allow light and air into the garden. The lattice was repeated on the garage to provide vertical support for climbers. The garden was envisioned as an extension of the house, which meant we had to strike a balance between a beautiful, yet practical outdoor living space and all of the plants we wanted.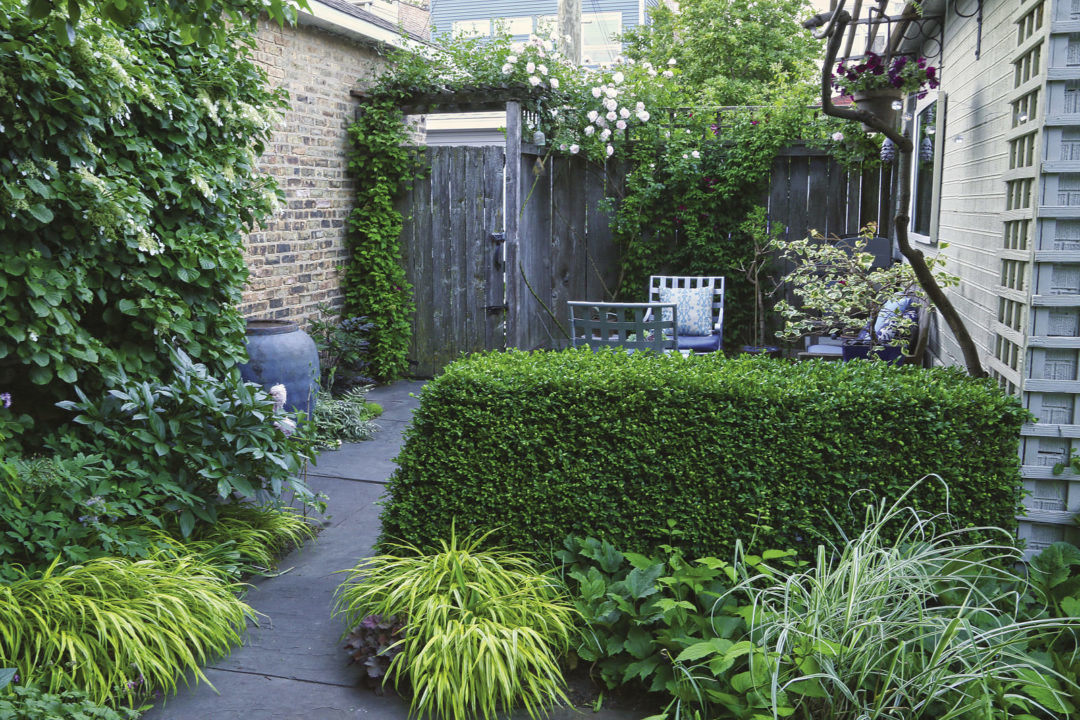 Make the patios as important as the planting beds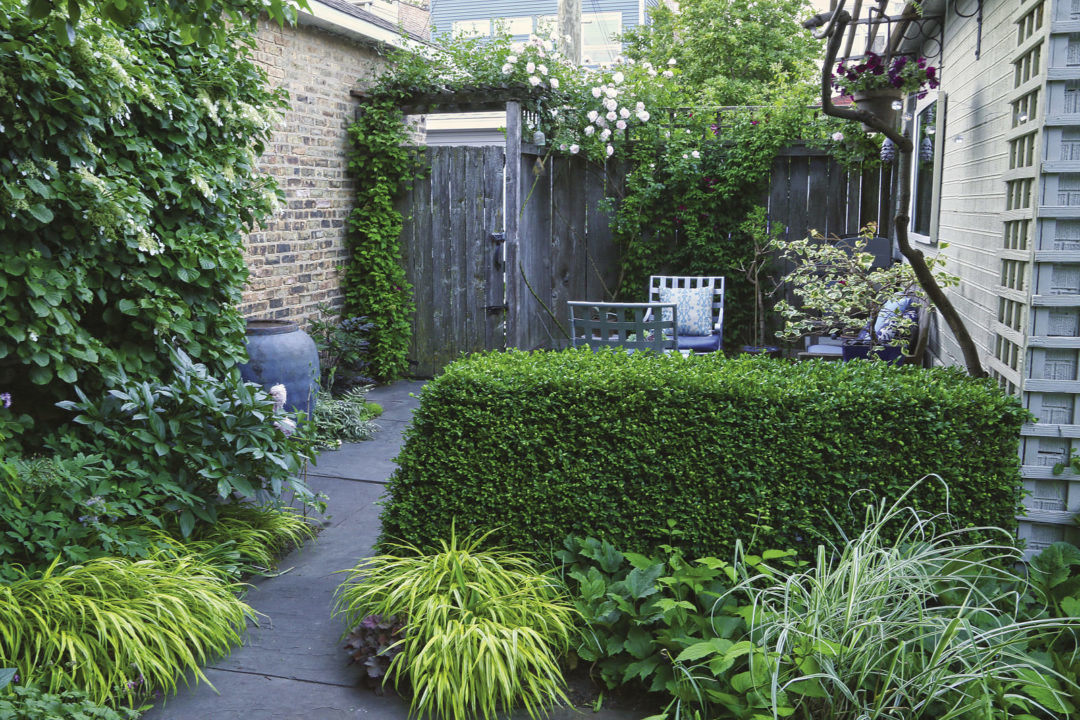 The main garden room, from house to garage, is 30 feet square; a smaller room of 12 feet square adjacent to the garage was originally used to grow vegetables and herbs. A trimmed hedge of 'Green Mound' boxwood (Buxus 'Green Mound', USDA Hardiness Zones 5–8) planted at the corner of the garage acts as a room divider but is low enough that the view from one space to the other isn't obscured. The centerpiece of the main garden room is the 12-foot-square bluestone patio, which is large enough for entertaining and for alfresco dining. It also keeps the line of sight open from the front to the rear of the property, which gives the illusion of there being more space. The patio is positioned off-center, creating beds of varying depths on each side of the square. Bluestone paths zigzag from the four corners of the patio to the house, garage, compost area, and back gate, further sculpting the bed shapes. Over the years, we've let plants spill onto the patio and paths, blurring the edges and softening the formality of the bluestone.
A few years ago, Tim redesigned the smaller garden room, creating a more intimate space to relax with friends while discretely housing essentials like our grill. The new garden features a bluestone chip patio (which ties in nicely with the paths and larger patio) bordered on two sides by herb beds edged with Victorian terra-cotta tiles, seating under a wisteria (Wisteria spp. and cvs., Zones 5–9) bower, and a nook for the barbecue. Sitting against the picturesque brick wall, a large terra-cotta jar—converted to a fountain replete with goldfish—burbles softly through long summer days. The subtle sound helps mask any noise coming from the nearby street.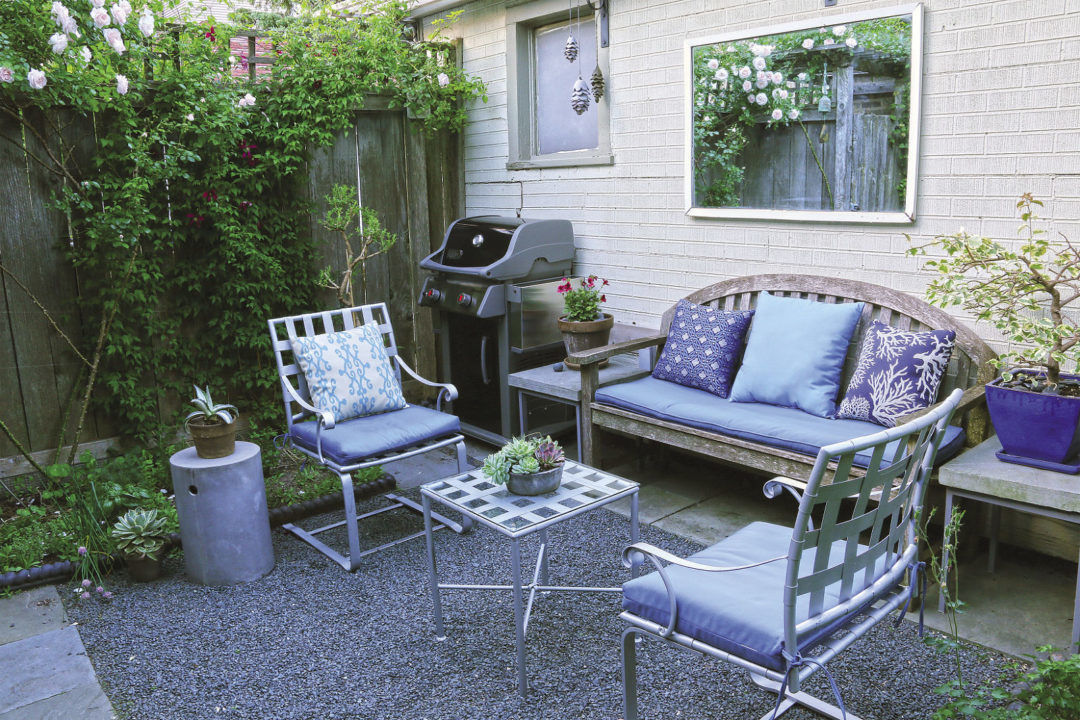 We installed a gate for access to the back alley, but blended it into the garden by covering the attached arbor and fence with an intertwining 'New Dawn' rose (Rosa 'New Dawn', Zones 5–8) and 'Madame Julia Correvon' clematis (Clematis 'Madame Julia Correvon', Zones 4–9) to help shelter our hideaway from the alley. We use containers sparingly but felt it was important to make room in the back garden for potted herbs and a variety of succulents.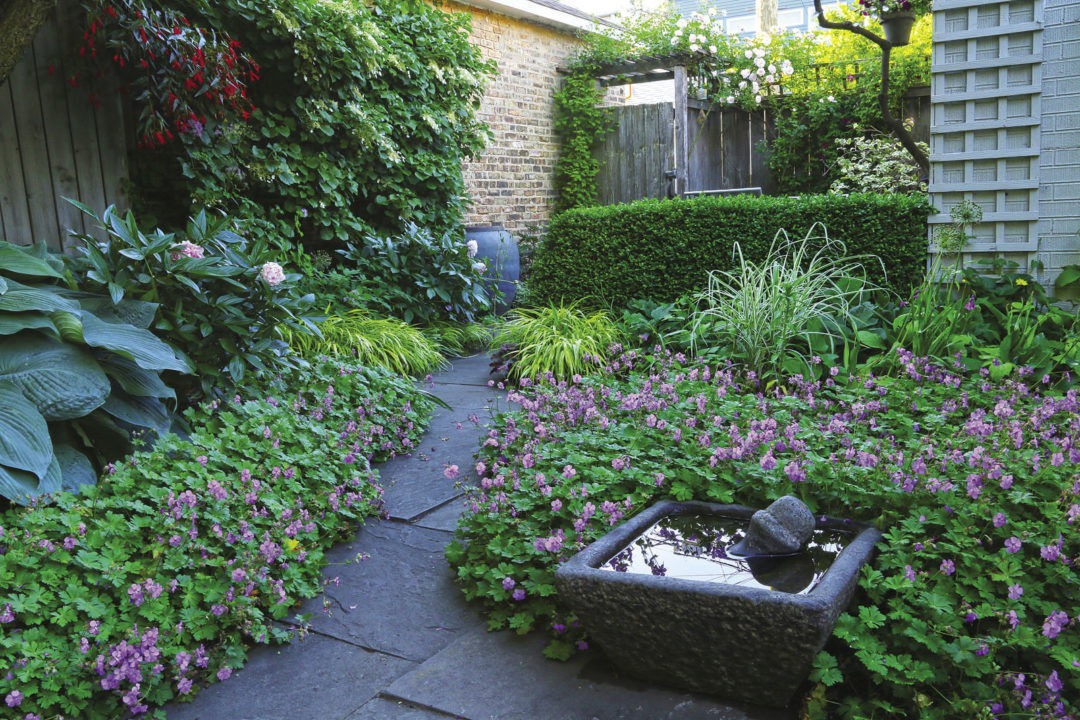 We had to strike a balance between a beautiful yet practical outdoor living space and all of the plants we wanted.
Select and place plants for continuity, focal points, or privacy
The design concept was Tim's vision, but we worked together on the plant list. Once the patio was in, woody plants were added in spots we identified as needing structure, shade, and/or screening. Three columnar pears (Pyrus calleryana* 'Chanticleer', Zones 5–8) were lined up along the swimming pool fence to provide higher screening from our skinny-dipping neighbors. We wanted columnar beeches or oaks but availability and cash were in short supply and quick cover was crucial. A magnolia (Magnolia × loebneri 'Leonard Messel', Zones 5–9) and weeping purple beech (Fagus sylvatica 'Purple Fountain', Zones 4–7) were placed strategically to screen buildings and wires on the east side. Then, a Japanese maple (Acer palmatum var. dissectum 'Inaba Shidare', Zones 5–8) was added as a focal point purely based on its color and texture.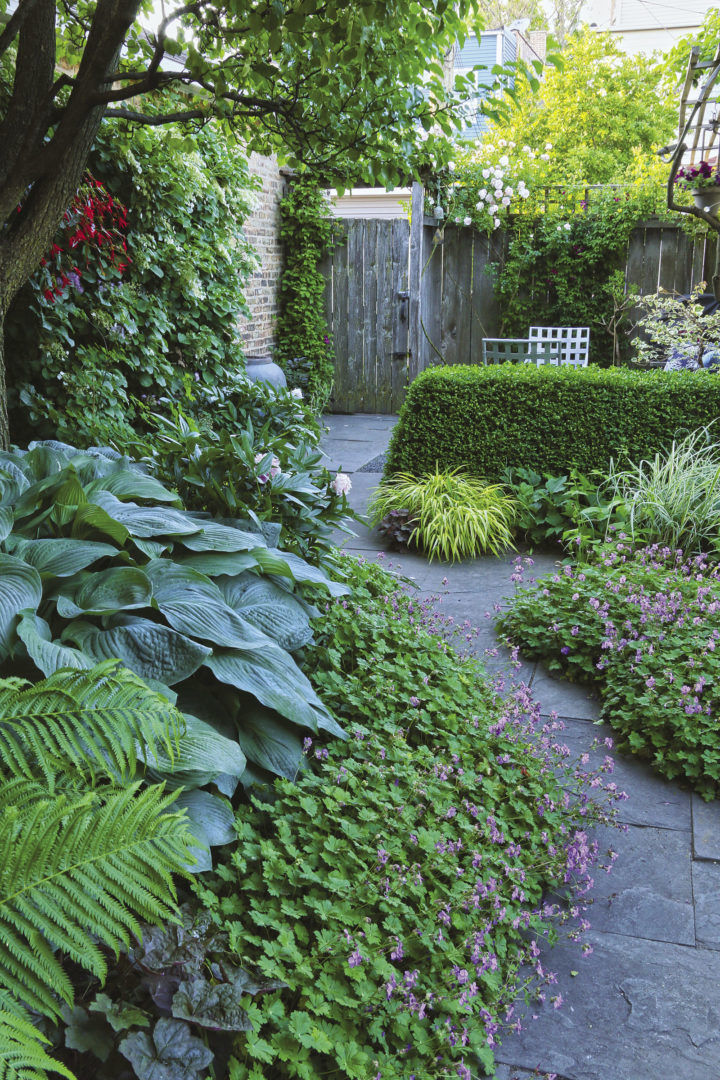 After the woody plants were in place, we planted drifts of perennials with contrasting sizes, colors, and textures, keeping the masses proportional to the garden's small size, and offset these with singular plants that pack a punch. Although it's a small space, drifts are important for their visual impact. Under the pears are masses of hostas, an assortment of ferns, 'Jack Frost' brunnera (Brunnera macrophylla 'Jack Frost', Zones 3–8), 'Palace Purple' heuchera (Heuchera 'Palace Purple'), and Cambridge geranium (Geranium × cantabrigiense 'Karmina').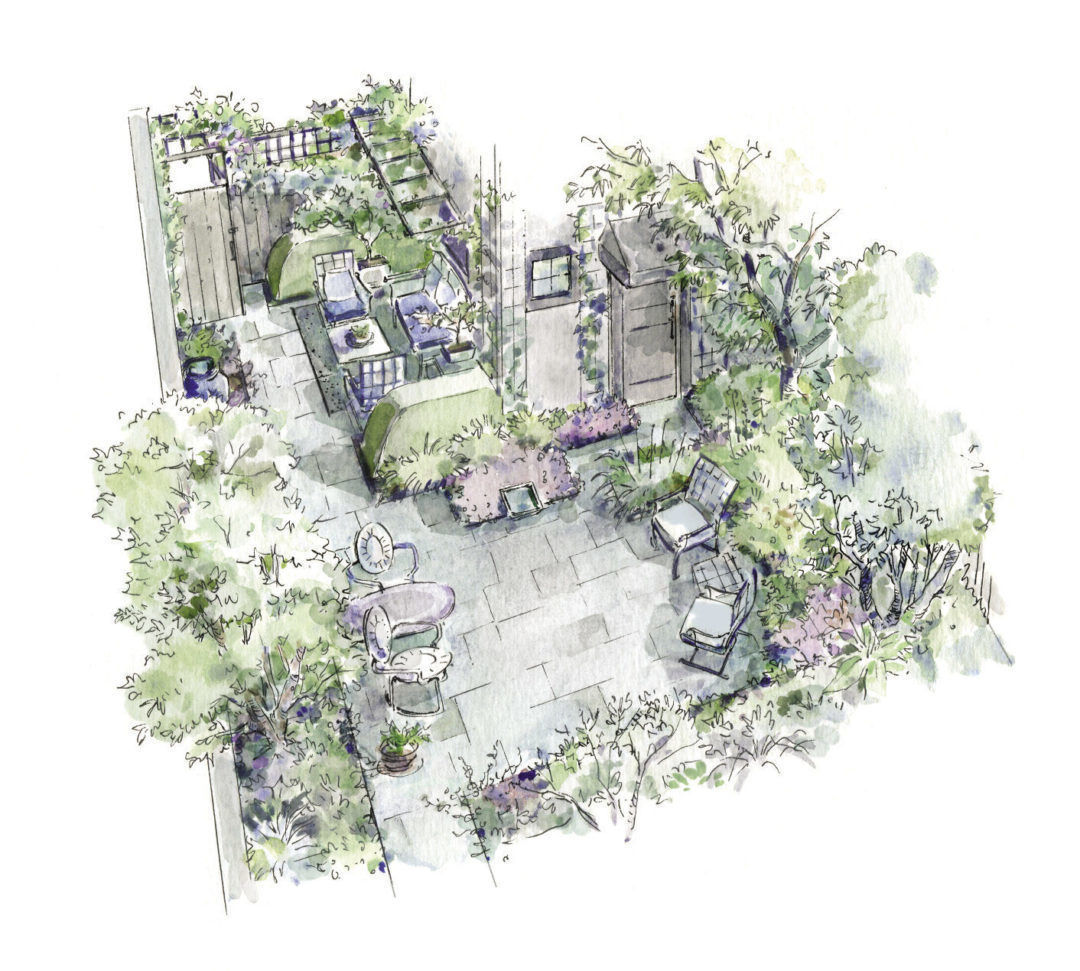 Around the magnolia, we grouped a variety of shade-loving perennials, too. Each spring begins in these beds with a bounty of bulbs to ensure there's always something of interest. The sunny east side of the garden was designed as a traditional border with a smattering of perennials, repeated occasionally, all with varying color and texture. Over the years, we've grown a who's-who of sun-loving perennials. So many perennials have come and gone—some died in winter, others dwindled with changes in light, and some simply bored us. As the trees have grown, the slow creep of shade into the bed has made plant selection more challenging. We've shifted lately to perennials that tolerate sun and shade such as lobelias (Lobelia cardinalis and L. siphilitica, Zones 4–8), 'Amy Doncaster' geranium (Geranium sylvaticum 'Amy Doncaster', Zones 5–8), upright wild ginger (Saruma henryi, Zones 5–8), and many others.
Columbines (Aquilegia spp. and cvs., Zones 4–9) are plentiful in this bed and throughout the garden. They seed around generously, and I plant new ones every spring, since there is no such thing as too many columbines. The reseeding helps serendipitously connect all the areas of the garden to give a more cohesive look. Given all the fences and latticework on the garage, we grow myriad wonderful climbers, as well.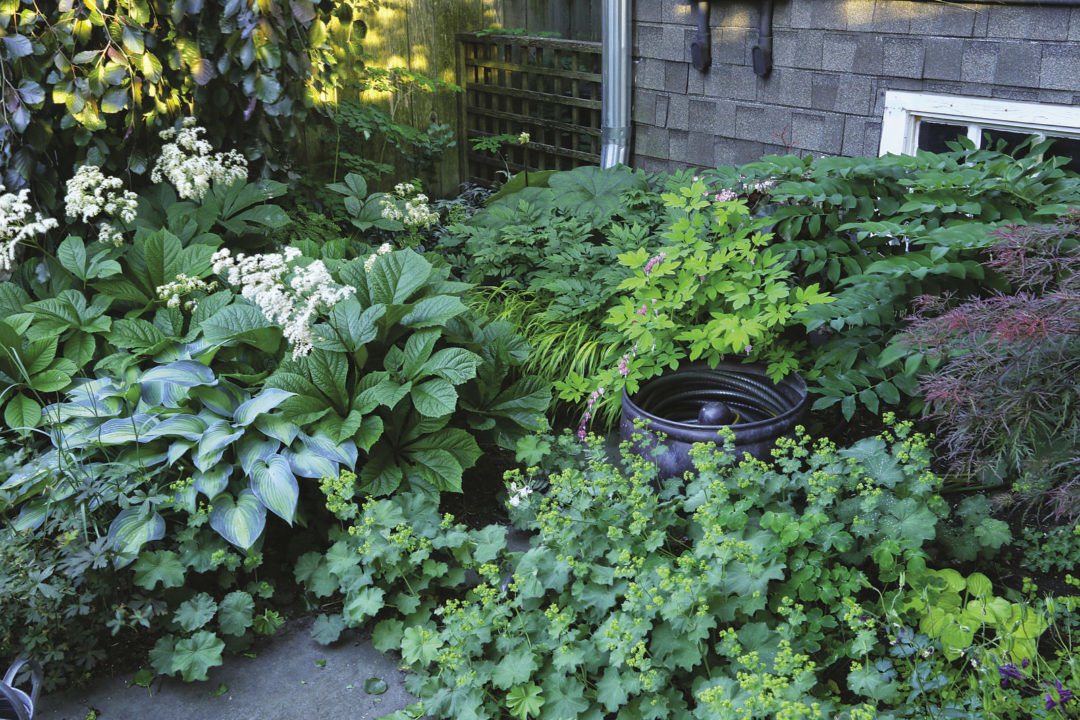 It didn't happen right away and began slowly, but eventually we started adding single perennials as accents or specimens to the established plantings. Honestly, I just can't help myself—after all, I trial new plants for a living. I know it's important to preserve the larger masses—they keep the garden grounded—but it's really impossible to deny yourself cool perennials. Even in a small space, you can incorporate a certain number of singular focal point plants. My favorite accent perennials come in a variety of shapes and colors. My never-ending challenge is to be thoughtful in selecting and placing accent plants, because it's Tim's never-ending task to remind me that one of everything is too busy. However, our garden has a few cozy corners where vignettes of several single plants work well when balanced by masses. Yellow fairy bells (Disporum flavum, Zones 4–8), striped lily-of-the-valley (Convallaria majalis 'Albostriata', Zones 3–7), European wild ginger (Asarum europaeum, Zones 4–7), and 'Golden Sunshine' hellebore (Helleborus 'Golden Sunshine', Zones 5–8) tucked into a shady spot near the weeping beech is a delightful combination. I remind myself every spring that our garden is a refuge and not an experiment—I have that at work every day.
---
Plants 
Richard's Top Picks

for Singular Stars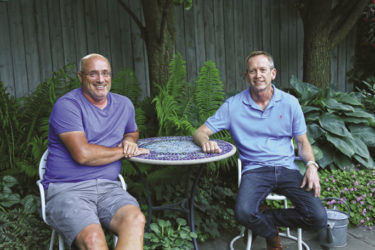 Not every good-looking perennial can be used as a focal point. The plant needs to have a few memorable traits (i.e., spectacular flowers, interesting foliage) and a strong habit to be able to hold its own.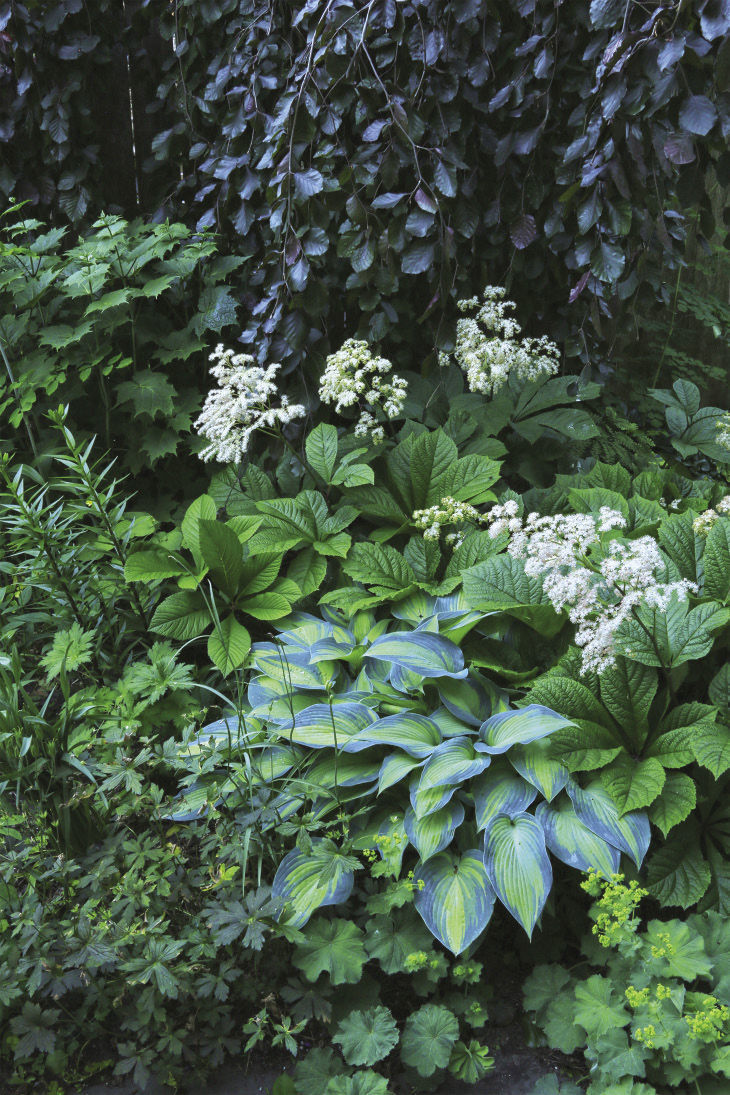 'Gold Heart' Bleeding Heart (Lamprocapnos Spectabilis 'Gold Heart')
Zones: 3 to 9
Size: 18 to 24 Inches tall and 2 to 3 feet wide
Conditions: Partial to full shade; moist, well-drained soil

Indian Pink (Spigelia marilandica)
Zones: 5 to 9
Size: 1 to 2 feet tall and 12 to 18 inches wide
Conditions: Partial to full shade; well-drained soil
'June' Hosta (Hosta 'June')
Zones: 3 to 9
Size: 18 to 36 inches tall and wide
Conditions: Partial to full shade; moist, well-drained soil
Tim's Top Picks for Manageable Masses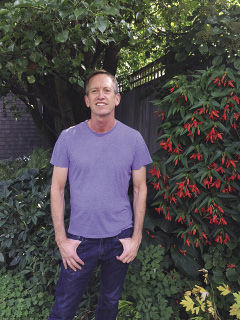 Perennials that form masses are very different from those that spread aggressively or in a spotty, unkempt fashion. The following are my go-to plants for getting billowing drifts, perfect for grounding the garden.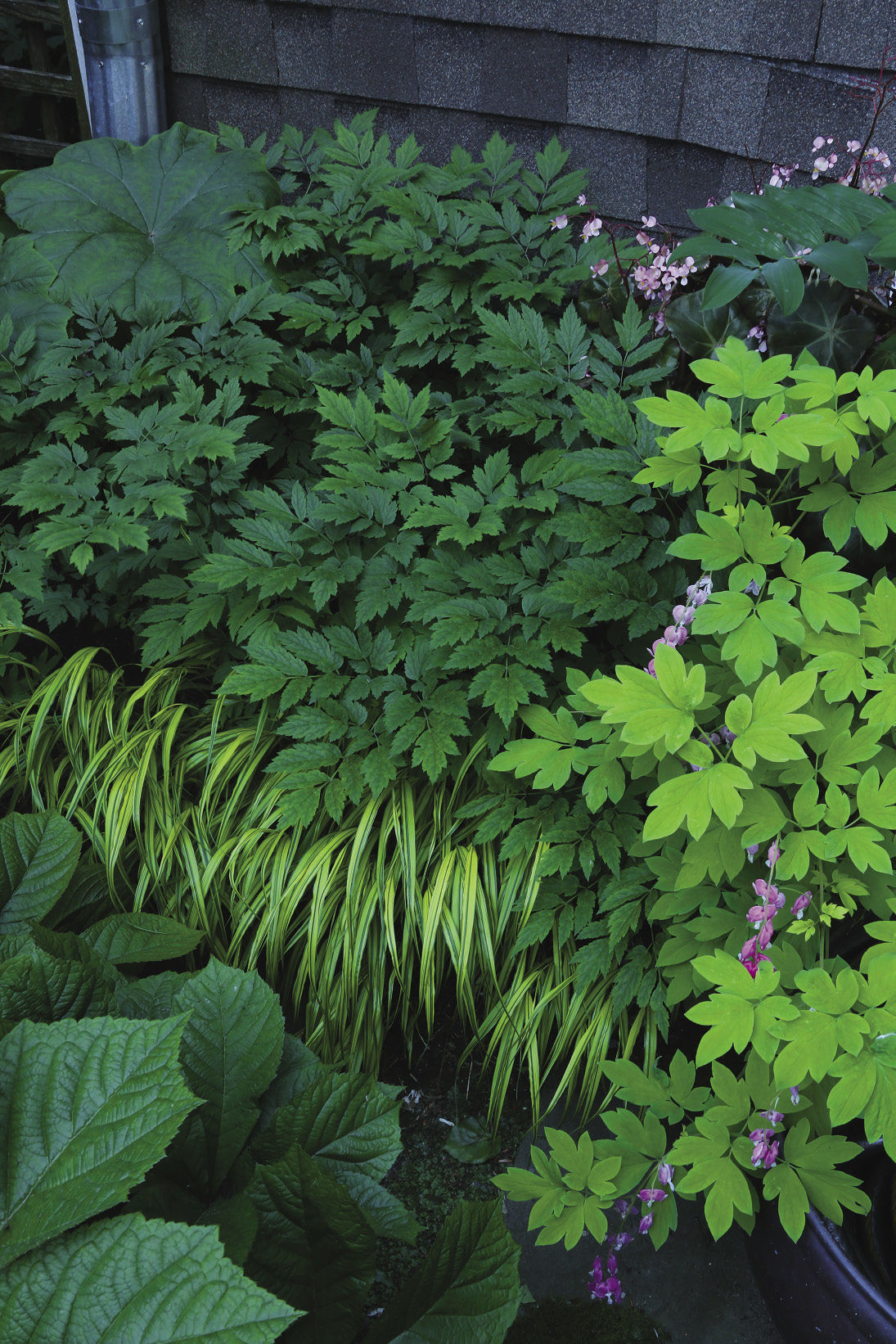 Golden Japanese Forest Grass (Hakonechloa Macra 'Aureola')
Zones: 5 to 9
Size: 1 to 2 feet tall and wide
Conditions: Partial to full shade; moist, well-drained soil
Japanese painted fern (Athyrium Niponicum Var. Pictum)
Zones: 3 to 8
Size: 1 to 2 feet tall and wide
Conditions: Partial to full shade; well-drained soil
Variegated Fragrant Solomon's Seal
(
Polygonatum Odoratum
'Variegatum')
Zones: 3 to 8
Size: 18 to 24 inches tall and wide
Conditions: Partial to full shade; moist soil
---
Richard Hawke, plant evaluation manager at the Chicago Botanic Garden, lives downtown in a neighborhood filled with limitless cheese curds.
Photos: Danielle Sherry; Michelle Gervais; Kathryn Geruntho Frank; Jennifer Benner; courtesy of Richard Hawke. Illustration: Elara Tanguy