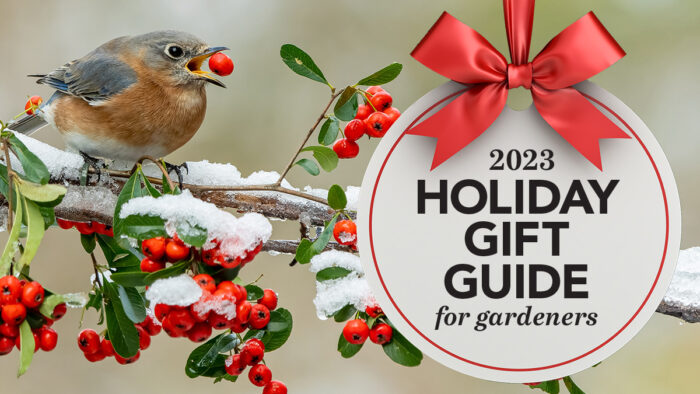 As the holiday season approaches, we're delighted to present our much-anticipated Holiday Gift Guide for Gardeners. Whether you have a green-thumbed friend, a seasoned gardener in the family, or you're looking to treat yourself, this guide is brimming with thoughtful and practical gift ideas that will surely warm the hearts of those who adore tending to their outdoor sanctuaries. From essential tools to blooming beauties, this guide has you covered.
No gardener can thrive without the right tools. Prep your gardener for late-winter gardening tasks with waterproof boots that'll keep their feet warm and dry during those wet gardening sessions. Plus, we feature pruners that are not only efficient but also designed for comfort, making light work of pruning tasks even in chilly weather.
See stunning long-lasting live-plant centerpieces that will brighten any room and add a dash of festive cheer. It's the perfect gift for those who appreciate the beauty of both indoor and outdoor flora. Or celebrate the beauty of nature with a thoughtful holiday gift that transcends seasons—garden sculpture and art. These captivating creations add a touch of elegance and whimsy to outdoor spaces. Perfect for garden enthusiasts, these artful pieces infuse character into any landscape.
What better way to empower a fellow gardener than with the gift of choice? A thoughtful gift option is a plant nursery gift certificate. Let your loved ones handpick their favorite plants, seeds, or gardening accessories, ensuring they get precisely what they desire.
But if you want a big gift for your gardener that they will get a ton of use out of for years to come, consider a home wood chipper that can make getting rid of tree trimmings and fallen branches a breeze. It can also shred plant material and leaves. Now if only it could spread the mulch for you!
Explore our holiday gift guide for gardeners, where every item has been carefully selected to enhance the gardening experience. Whether you're a novice gardener or a seasoned pro, these gifts will delight and inspire.
Garden Artisans
---
DeWit Tool Set
This is a set both new and experienced gardeners will appreciate. Three go-to hand tools take care of planting, cultivating, and weeding with ease. Finely crafted of hardened boron steel heads with long-lasting ash wood handles and complete with decorative hanger, they'll bring a mark of distinction to your tool wall or she shed.
Product: 31-1414
Price: $121.99
Source: gardenartisans.com/dewit-tool-gift-set-3-piece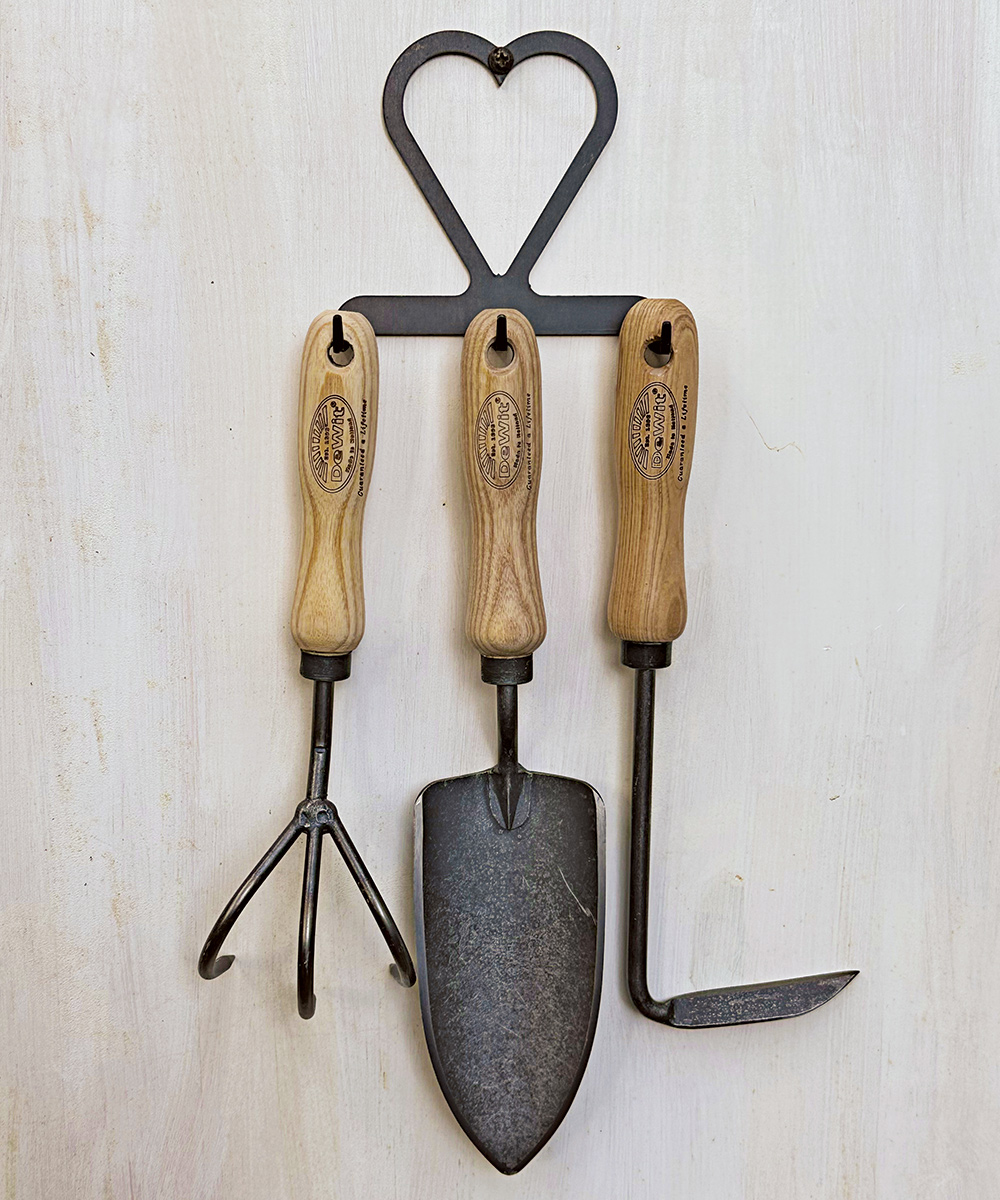 Artemis Fiberstone Pots
Stunning in their simplicity, these spherical fiberstone pots make a statement, planted or not. The collection combines an organic feel with cosmopolitan allure and the advantages of weather resistance and lighter weight, making these pots right on trend anywhere in the home or landscape.
Product: ARTEMIS
Price: $69 (16 in. diameter) to $438 (larger sizes available through special order)
Source: gardenartisans.com/artemis-planter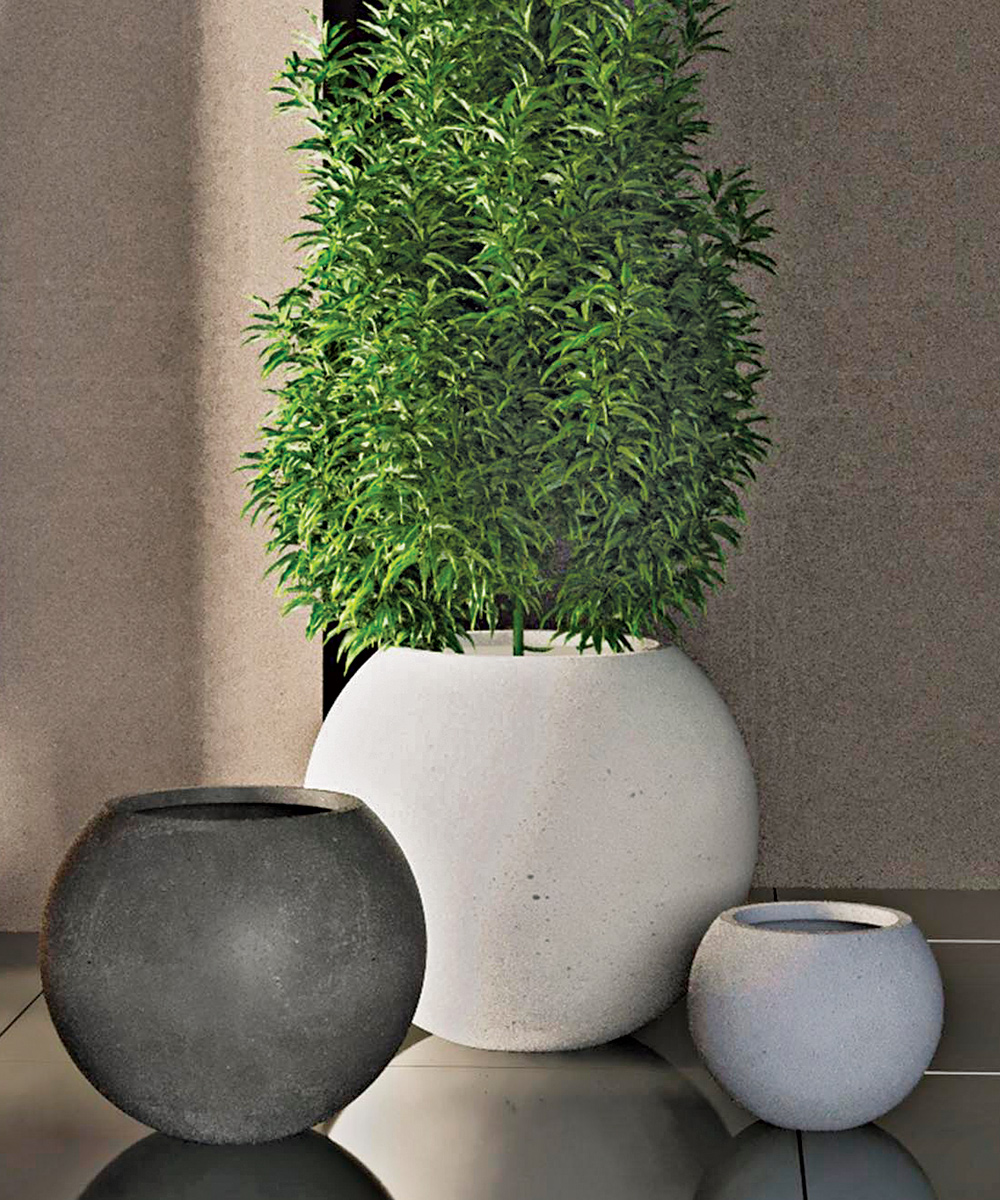 Wooden Garden Trugs
Handmade in the USA by a retired shipbuilder, these versatile myrtle wood trugs are as practical as they are beautiful. Gardeners love them for gathering flowers, herbs, and vegetables, and they do double duty throughout the home by holding hand towels, kitchen items, fruit—anything and everything!
Product: BB-0
Price: $62 to $174
Source: gardenartisans.com/products/garden-supplies/wooden-garden-trug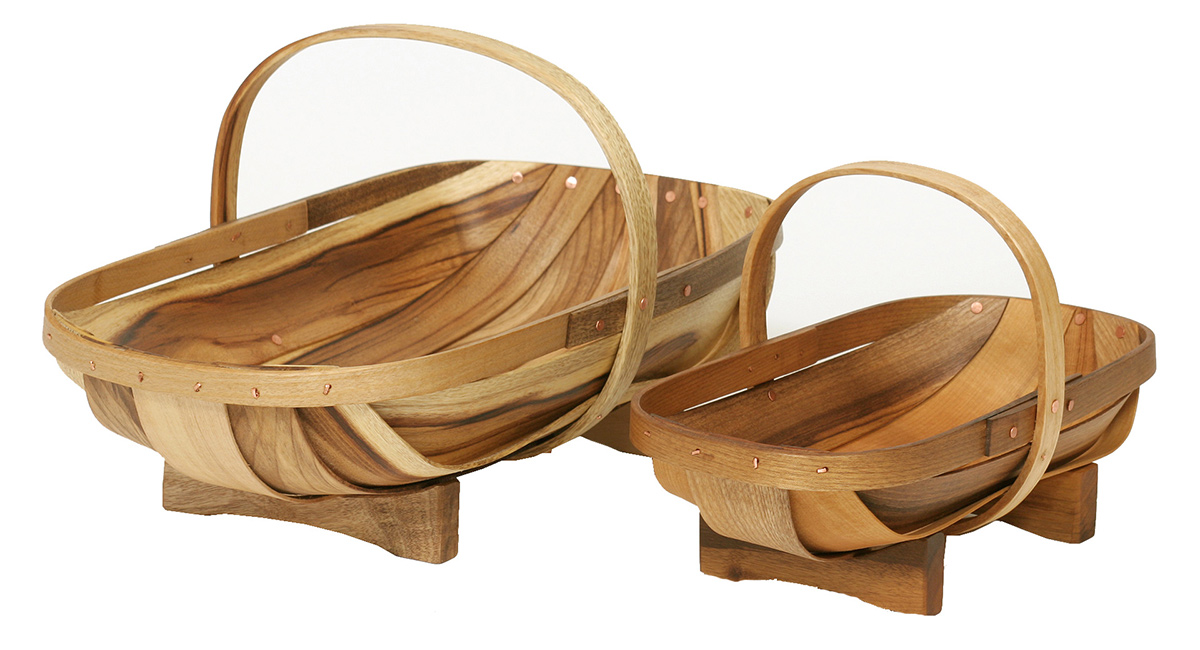 DiTarando
---

Sculpture
Dare to pass these vigilant tender souls that engage you with their knowing embrace. Shapely sculpted postures, each piece has a presence of its own that can greet you at your door, join you in your garden, or hang out with you on the patio.
Sculpted by Roger DiTarando for over 45 years, these works are constructed of copper and bronze. Enjoy them year-round.
Source: ditarando.com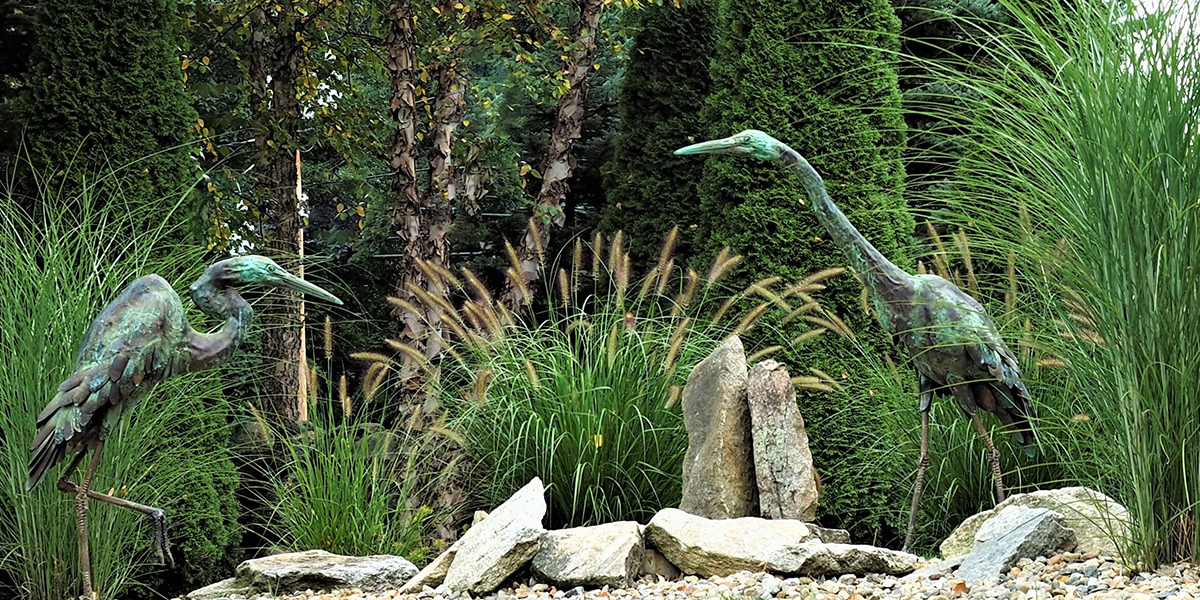 Birdbaths
These birdbaths are beautiful accent pieces for gardens of any size or shape and are offered in bowl, pedestal, or hanging form.
Behold the sensuous blend of textures and variegated colorful patinas. Handwrought copper branches hold an elegant simple flowing bowl just the right depth for a splashy bath or a comfortable perch.
Constructed of copper and bronze, these birdbaths can stay out all winter. No maintenance is needed, and they are easily installed.
Source: ditarando.com
Jackson & Perkins
---
Living, Growing Gifts
This exclusive collection of thoughtfully curated living gifts and greenery will outlast the season and infuse your home with a celebratory feel. Try a fresh and fragrant centerpiece, a living holiday tree to adorn the mantel or entryway table, or a blooming amaryllis to delight friends and family as it glamorously unfurls its beautiful flower petals. You'll also enjoy the convenience of easy ordering and a personalized note delivered to the doorstep. Our living, growing gifts start at $24.95.
Source: jacksonandperkins.com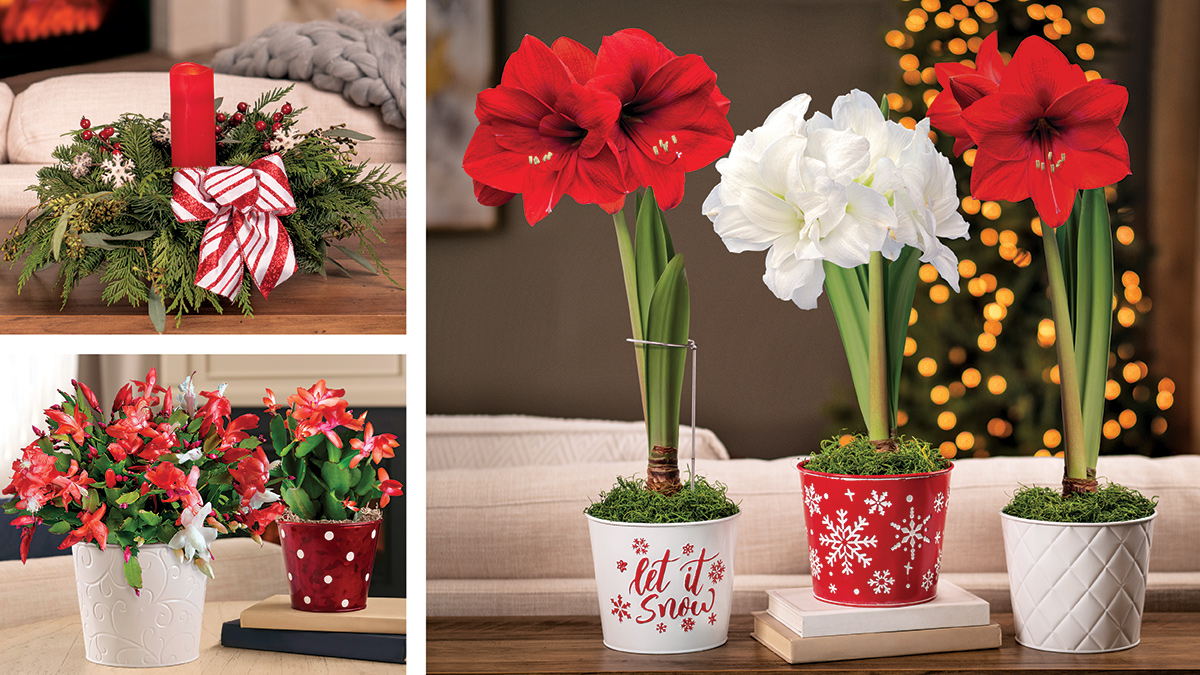 Garrett Wade
---
Vintage-Inspired Garden Trug
Picture yourself heading out to your garden loading up this brilliantly shiny garden basket with tools and coming back with veggies, fruits, herbs, or flowers. Alternatively, you can use it to store and display decorative items around the house, such as dried flowers, fruits for eating, or even crafting supplies. We based our design on a classic 1950s English design we found at an antique store and had it made exclusively for us. It features galvanized steel construction with a glossy finish that positively shines. The handle's joining plate is securely attached with two rivets at the body, while a single rivet allows the handle to swivel to accommodate more of your garden's bounty. Sling this over your arm whenever it's time to harvest (or weed). Dimensions: 18 in. (L) by 13 in. (W) by 10¼ in. (H)
Product: 86A09.04
Price: $39.50
Source: garrettwade.com/product/vintage-inspired-garden-trug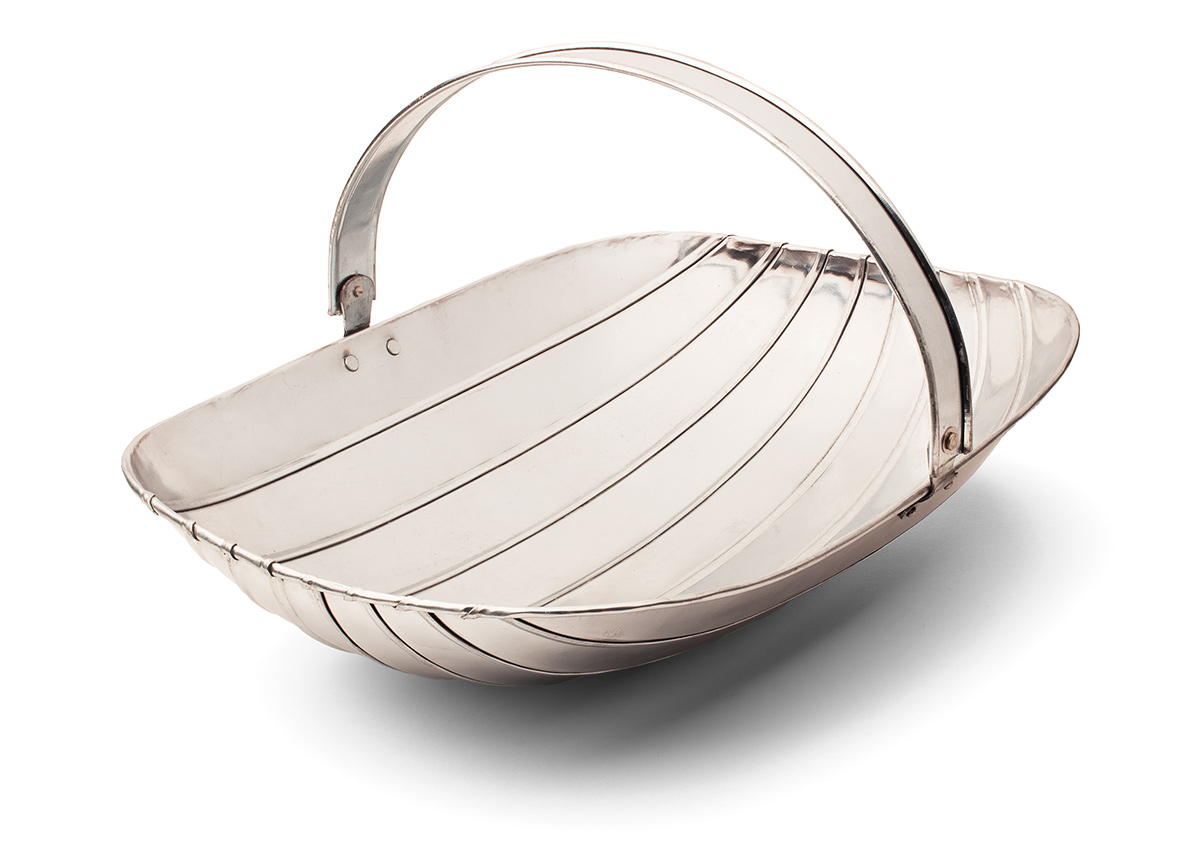 The Ultimate Garden Tools Set
This generous garden tool set was curated to provide a hobby gardener with the equipment needed to transform a plot of earth from barren to bountiful. Prepare a new flower bed, vegetable plot, or potted garden with the trowel and cultivator; turn and till soil or remove tough weeds and stones with the hand rake; and use the two trowels for digging and mixing soil as well as planting seeds or dividing plants. The Hori Hori knife is perfect for cutting through especially tough roots and troublesome soil. Use the extra-sharp bypass pruning shears for taming shrubs and bushes and to avoid shredding or crushing delicate live plants that need trimming. Everything fits neatly into a spacious, stylish waxed tote that can withstand the elements.
Product: 15A02.20
Price: $323.00
Source: garrettwade.com/product/ultimate-garden-tools-set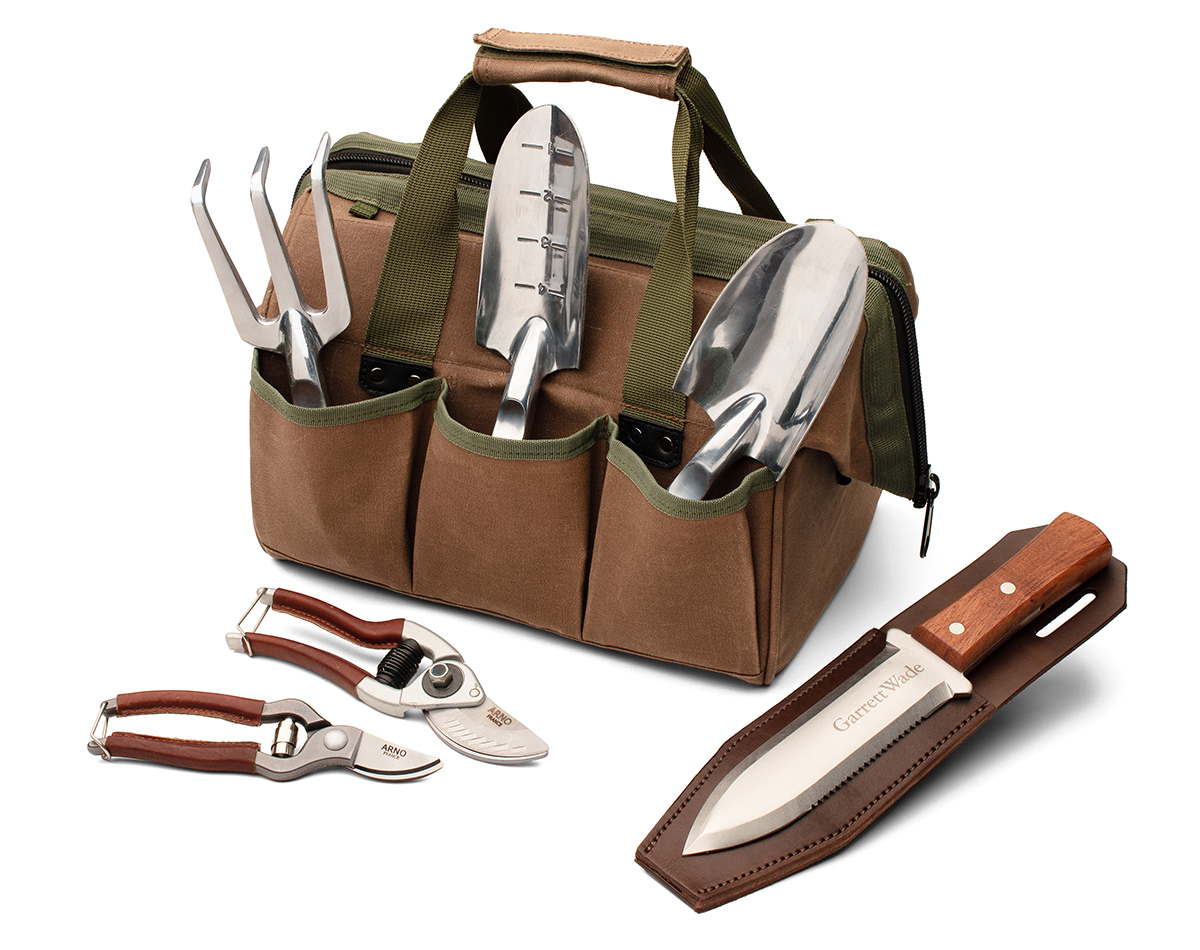 Purple Pruner and Sheath Set
Titanium nitride–coated high-carbon steel blades stay sharp seemingly forever, and the anodized brushed aluminum handle resists sap and corrosion. This is a true workhorse tool; add the gorgeous, functional French-made sheath to complete the package.
Product: 67C02.50
Price: $80.95
Source: garrettwade.com/product/purple-pruner-and-sheath-set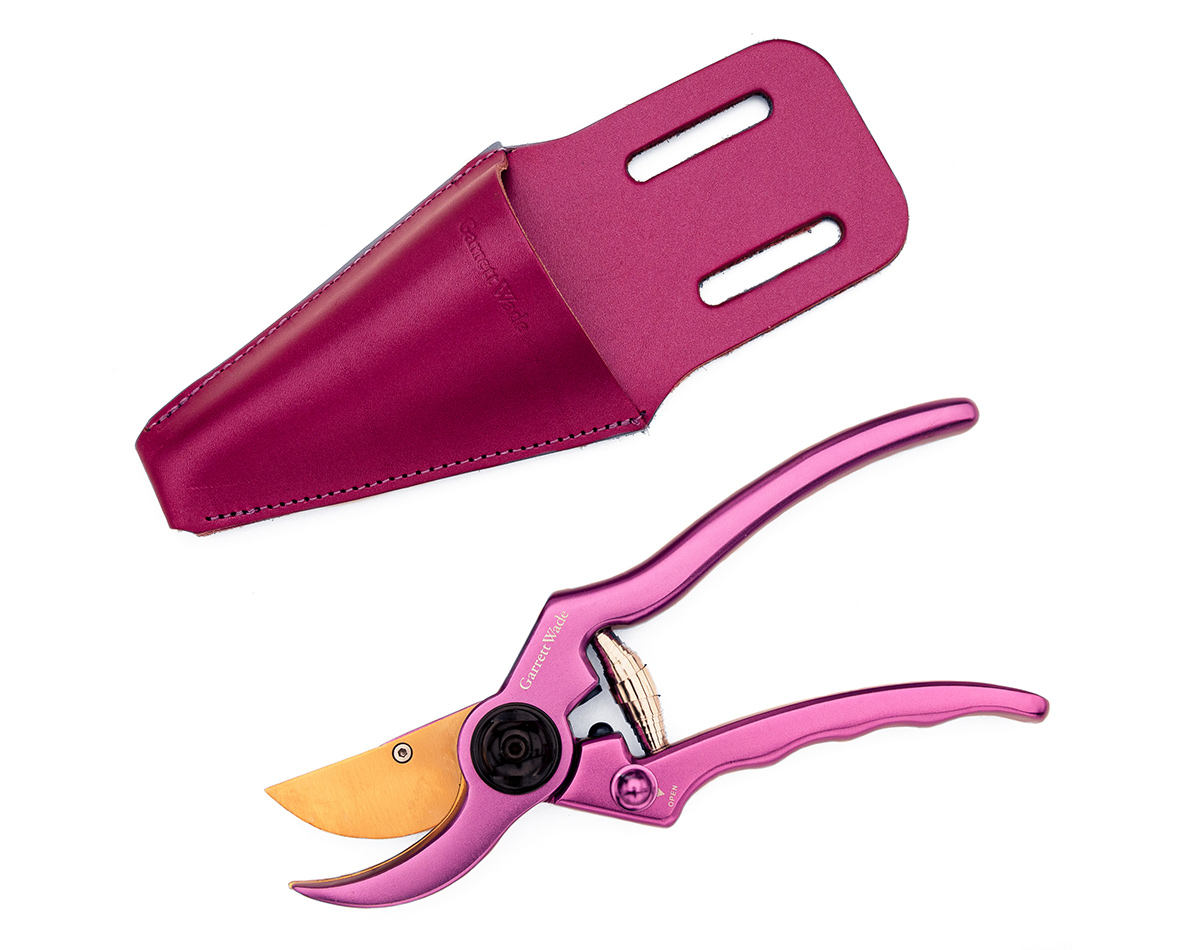 Copper Seed-Starting Tray
There's plenty of work that can be done in preparation of the coming growing season before your garden's final thaw. Working with seed starters in a temperature-controlled environment gives you a jump on spring and can significantly extend your productivity. We've developed an exclusive copper seed-starting tray consisting of 24 square bottomless containers. Placed into a grid frame inside the high-sided holding tray, they provide a home for your tender seedlings in their first weeks of life. Just add water to the bottom of the tray, fill your inserts with dirt, plant your seeds, and wait. When it's time to transplant them to their new home, they slide out easily, with no overcompacted root systems.
Product: 87A02.03
Price: $119.00
Source: garrettwade.com/product/copper-seed-starting-tray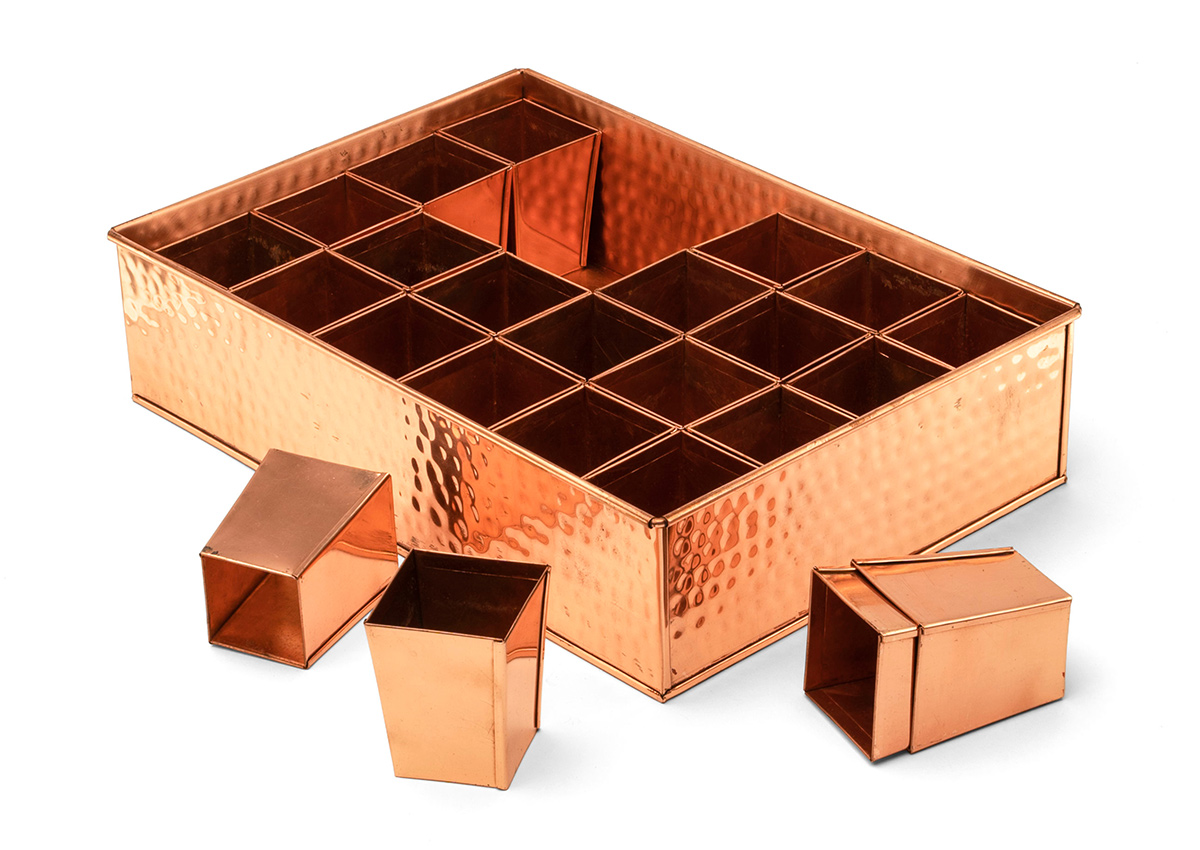 Jung Seed
---

Gardening Gift Certificates
Looking for the perfect holiday gift? Look no further than Jung Seed Company's gift certificates! Give the gift of gardening, and allow your loved ones to choose from a wide variety of flowers, plants, and gardening essentials. Our gift certificates provide endless possibilities for creating a dream garden. With over 100 years of experience, Jung Seed Company is a trusted name in the gardening industry, ensuring that your recipients will receive top-quality products and expert advice. Spread the joy of gardening this Christmas with Jung Seed Company's gift certificates, and let your friends and family cultivate lasting memories with every bloom!
Price: $5 to $500
Source: jungseed.com/category/FG-holiday-2023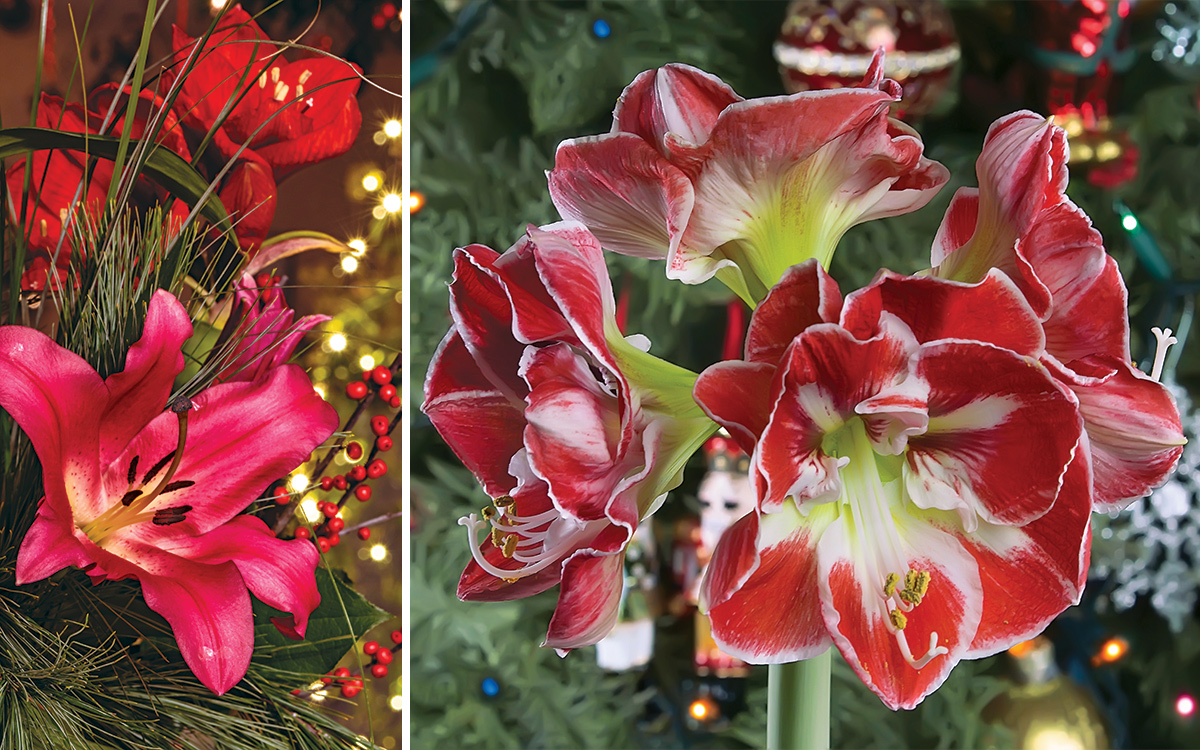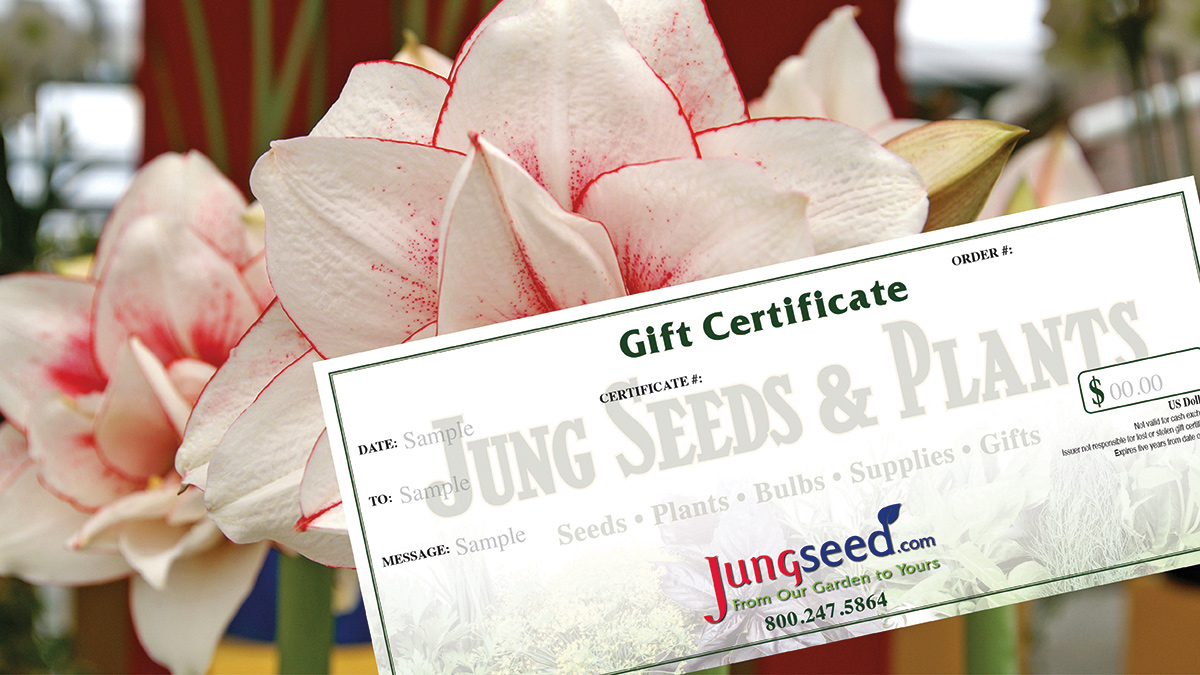 Sunnyland Farms
---
Holiday Gift Bags
Holiday bags are a long-standing tradition at Sunnyland Farms. Most everyone's favorites are included here. Sold in quantities of 9, 16, or 24, these Season's Greetings bags with our festive green grosgrain bow make perfect gifts for hand delivery.
Price: starts at $140 and varies based on quantity
Source: sunnylandfarms.com/product/holiday_bags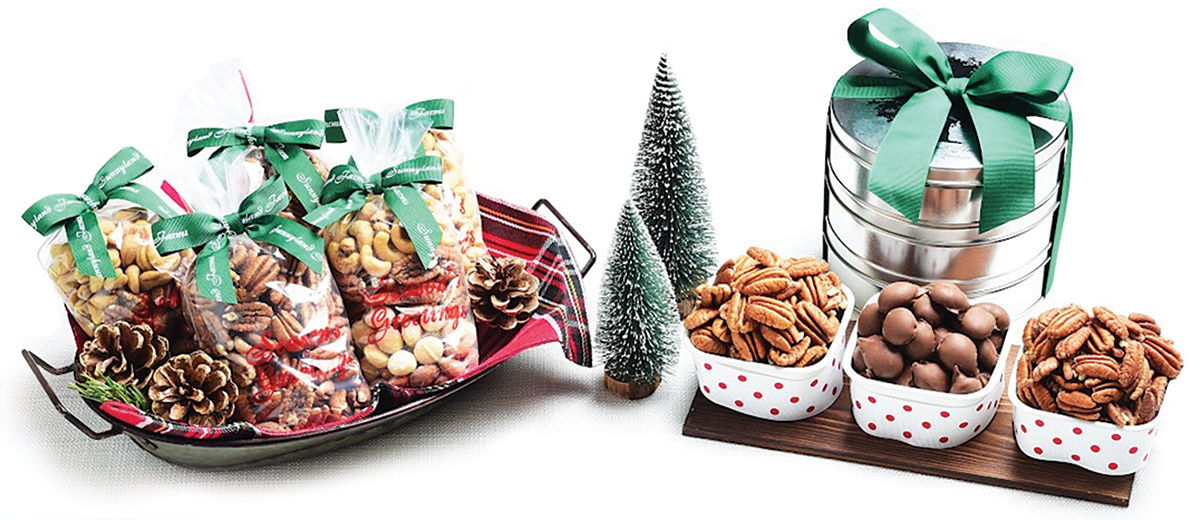 Classic Pecan Trio
This collection of gift tins has something for everyone. Containing one tin each of raw mammoth halves, toasted and salted halves, and chocolate-covered pecans, it offers the best of Sunnyland's best. These tins are presented in a beautiful gift tower and topped with a festive green bow.
Price: $72.70
Source: sunnylandfarms.com/product/classic_pecan_trio
Premium Collection
Our most inclusive gift collection is beautifully presented and includes candied pecans, our elegant Heavenly Mix, and the ever-popular pecan caramel clusters.
Price: $99.95
Source: sunnylandfarms.com/product/the_premium_collection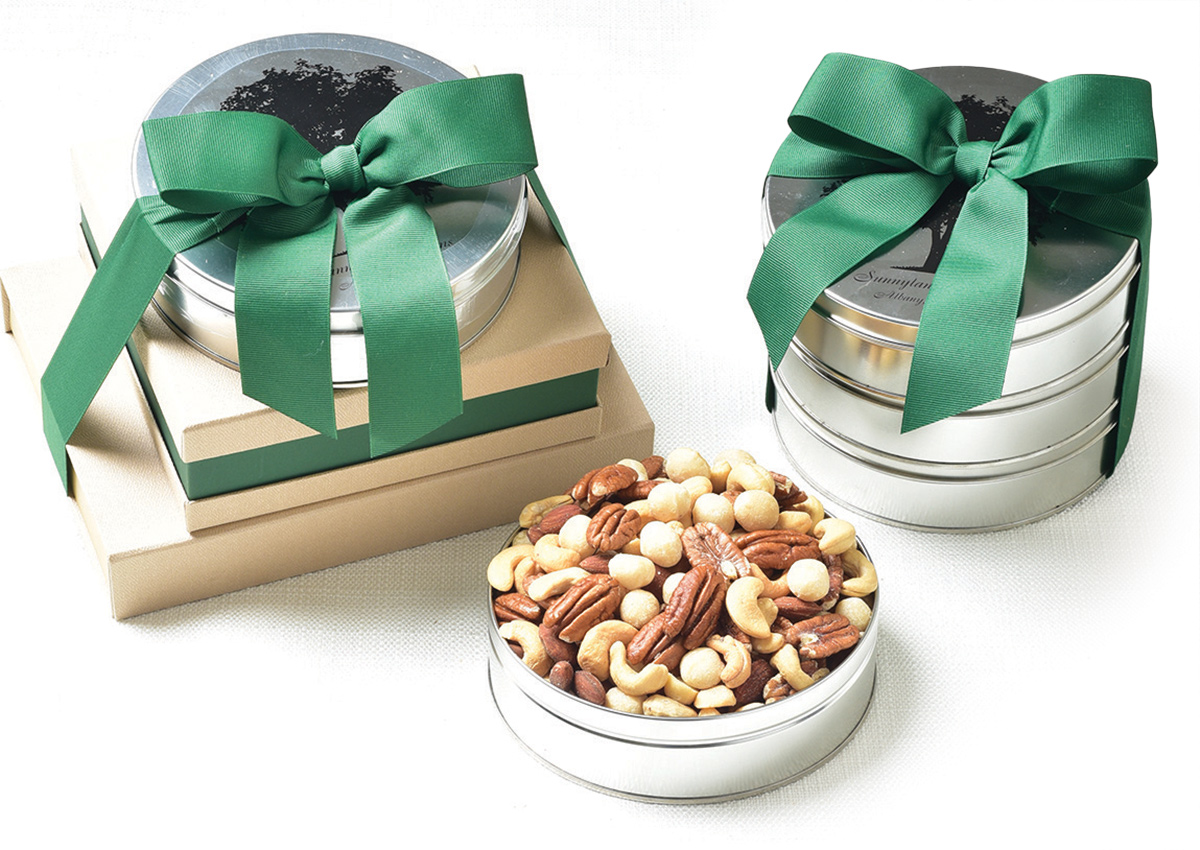 Junior Gift Tins
Shipped in quantities of 3 with 23 different options, Junior Gift Tins have always been very popular gifts.
Price: $17 to $28
Source: sunnylandfarms.com/product/junior_tins
Heavenly Mix Gift Tin
We combine macadamia nuts, jumbo cashews, mammoth pecan halves, and nonpareil almonds to make our most popular mix. You won't find a fancier, more elegant combination of toasted nuts that includes Georgia-grown pecans. This mix is super fancy and super elegant.
Price: $50.25
Source: www.sunnylandfarms.com/Product/Heavenly_Mix_Toasted_and_Salted
Bluestone Perennials
---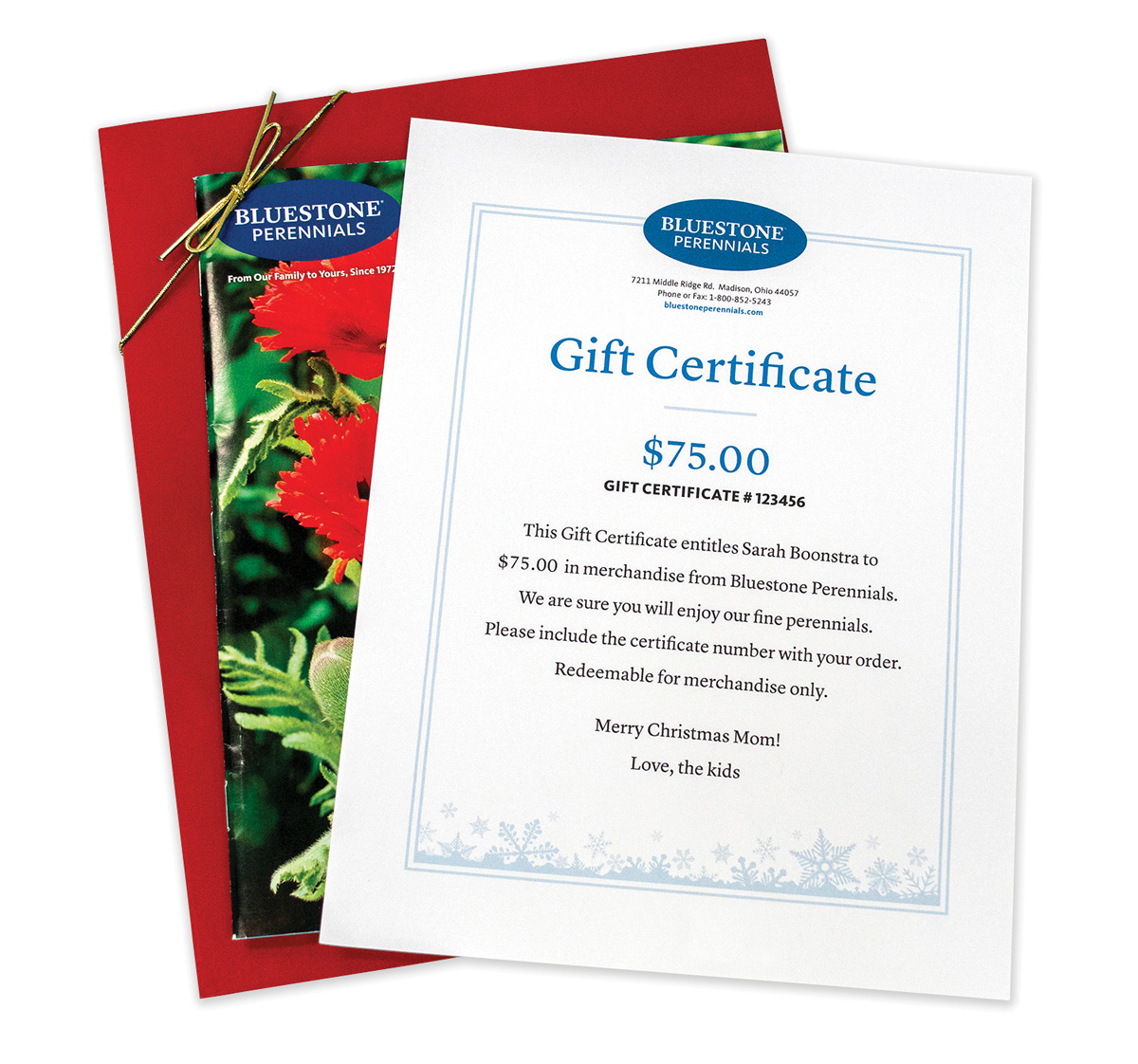 Bluestone Perennials Gift Certificates
Give the gift of gardening with a Bluestone Perennials gift certificate. Bluestone grows and ships over 1,200 varieties of perennials, ground covers, and shrubs, from beloved garden classics to unique and hard-to-find specimens. All plants have a 100% guarantee to grow and thrive.
Price: $25 to $500
Source: bluestoneperennials.com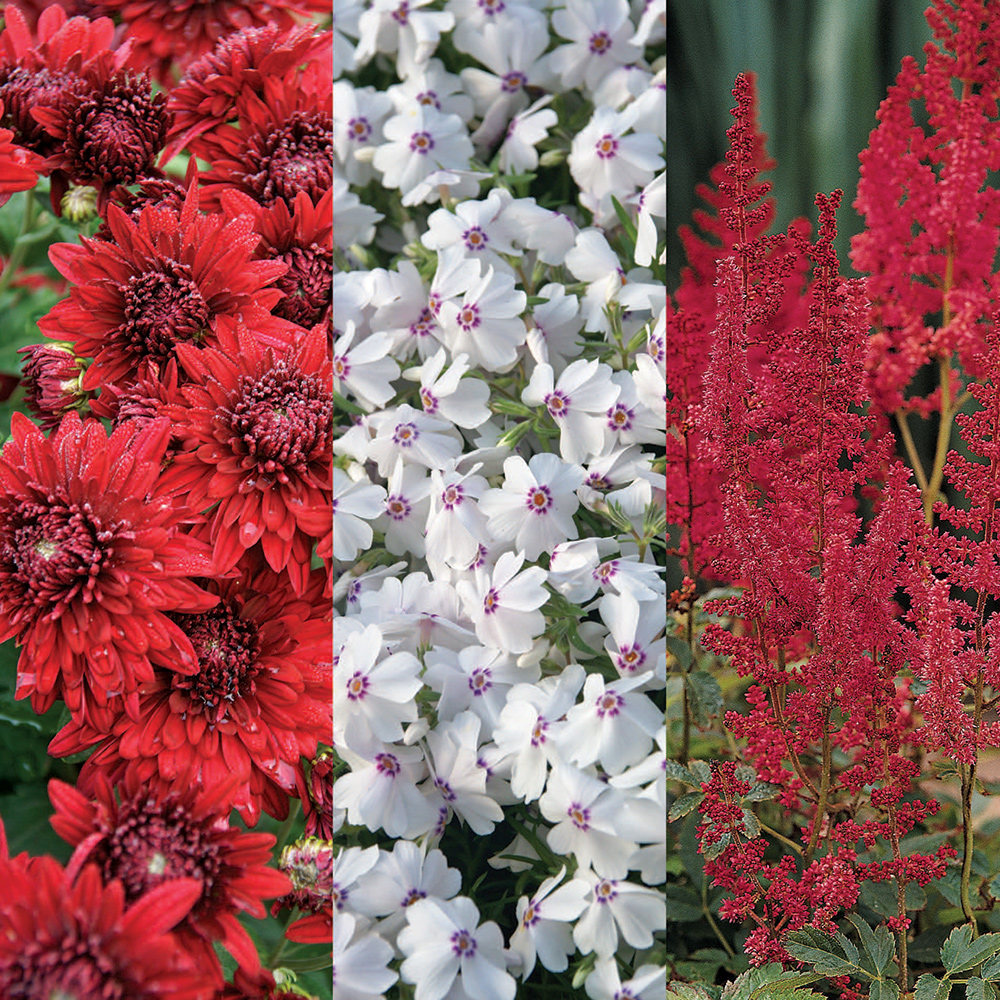 HISEA
---
Women's Mid-Calf Barn Boots
Elevate your style and comfort with our women's mid-calf barn boots! They are available in a variety of colors and are lightweight and comfortable. Designed with cutaway handles, they are easy to pull on. If you're looking for a boot that is light and appropriate for both heavy work and gardening in wet soil, these barn boots are a great choice.
Seamless construction keeps them 100% waterproof
Comfort and weight: up to 30% lighter than normal boots
Wear-resistant soles
Cutaway handles for easy pulling on
More traction, less mud
Price: $49.99
Source: hisea.com
Use Promocode FINEGARDEN for 15% OFF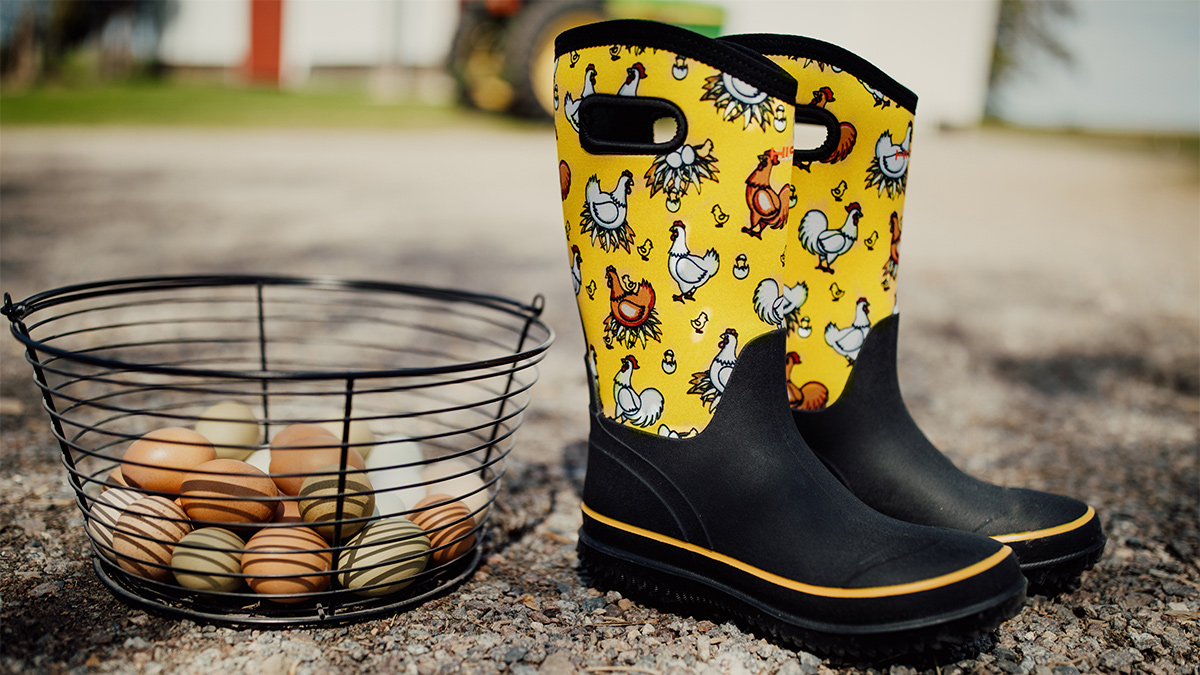 Patriot Products
---
Patriot Electric Chipper Shredder
This compact workhorse makes coin-size chips out of branches up to 2½ inches in diameter. It also shreds piles of leaves and garden plants into great composting material. The lightweight, easy-to-move unit features large wheels and a built-in handle, and it weighs only 95 pounds. Powered by an electric motor, it turns on with the flip of a switch and has no smelly fumes. You can use it indoors or outdoors. Best of all, it is made in the USA and comes with a generous two-year warranty.
Price: $1,495
Product: Model CSV-2515
Source: patriot-products-inc.com
See more:
Great Holiday Gift Ideas for Gardeners by Region
---
What do you want for the holidays? Answer in the comments below!