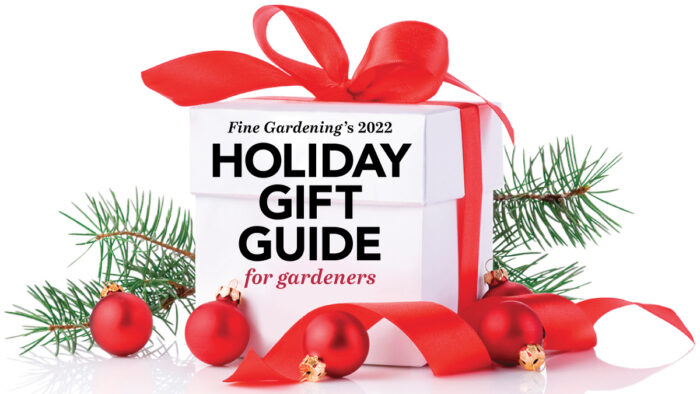 Season's greetings, garden lovers! For the past several years as we have approached the holidays, it has been our tradition to gather up some great gardening and gardener-friendly gift ideas. While we know that what every gardener would love is more plants, they can be in short supply in the winter months. Indoor gardening is a wonderful way to keep things green through the off-season, but there are also a number of tools (such as pruners), other necessary equipment (such as watering cans), and decorations that can make getting back to gardening all the more merry. A chipper or a new lawn and garden sprayer may be just the thing to help the gardener in your life to stay on top of garden tasks.
Is your gardener obsessed with pollinators? Consider a pollinator-friendly collection of seeds so they can grow their own butterfly garden. Do they throw lavish holiday gatherings? Consider a show-stopping amaryllis they can use as a table centerpiece. And don't forget that those gardeners work hard, so anything that can pamper them a little bit is always welcome. A young future gardener could be enthralled by a new book, and a seasoned gardener will never turn down more seeds. See below for some additional great gift ideas.
Do you have your own garden-gift wishes for this holiday season? Make sure to comment at the bottom of this page to give your family a little hint of what you might like from Santa.
Chapin
---
The Chapin Lawn & Garden Series Stainless Steel Sprayer is a durable all-purpose sprayer featuring a 2-gallon stainless steel tank with funnel top design and a 4-inch-wide mouth for easy filling and cleaning. The brass wand with poly shut-off has a lock-on feature for continuous spraying and an adjustable poly nozzle. A Sure-­Spray anti-clog filter keeps your sprayer working smoothly. Compatible with common fertilizers, weed killers, and pesticides.
Price: $118.99
Source: chapinmfg.com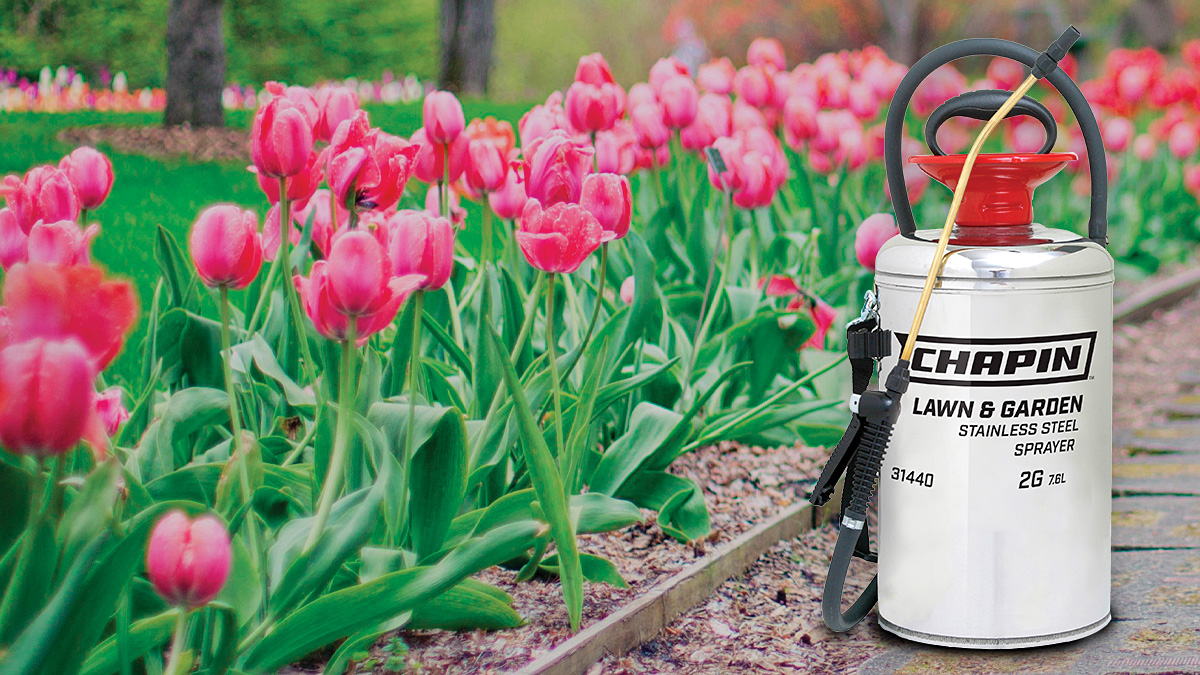 Jackson & Perkins
---
Celebrations by Radko 2022 Tree
This gift is memorable, thoughtful, long-lasting, and will charm anyone on your list. Perfect for a tabletop, sideboard, windowsill, and kitchen island, the tree includes 6 hand-painted glass collectible Radko Santa ornaments; 12 glass orna­ments in red, gold, and green; a 6-foot string of lights (with batteries); and a 1-gallon Alberta spruce in a decorative Merry Christmas container. Height is 18 to 24 inches.
Price: $109.95
Source: jacksonandperkins.com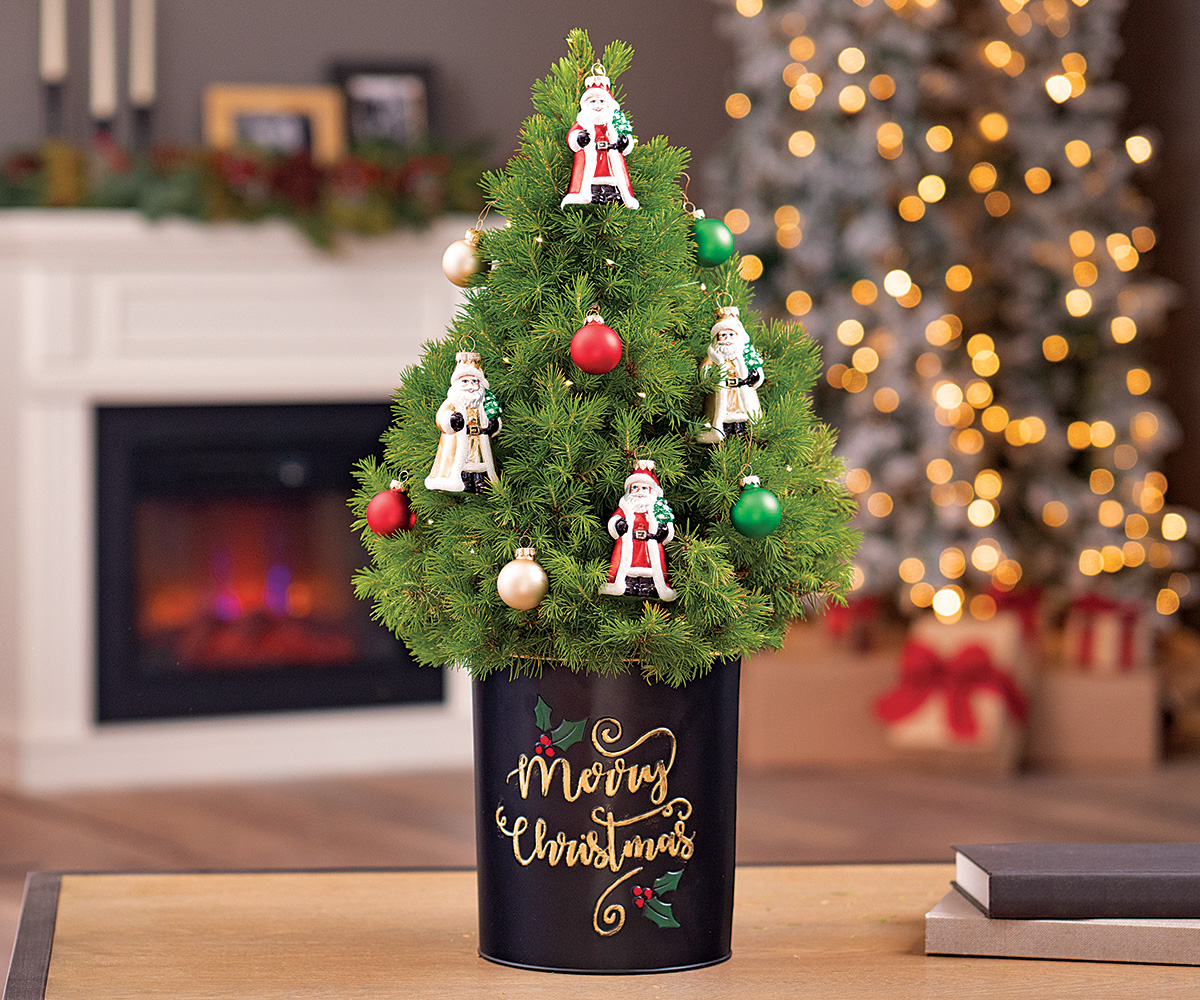 Winter Holly Ragtime Amaryllis
Make your holiday shopping stress-free when you give living gifts from Jackson & Perkins. This ragtime amaryllis will triple your gift-giving delight with its huge, numerous, and exceptional double-petaled red blooms atop stout stems in a lovely embossed container. This blooming display is fun for kids, a delight for gardeners, and a conversation starter around the holiday table. Height is 10 to 12 inches.
Price: $49.95, single; $79.95, triple (pictured)
Source: jacksonandperkins.com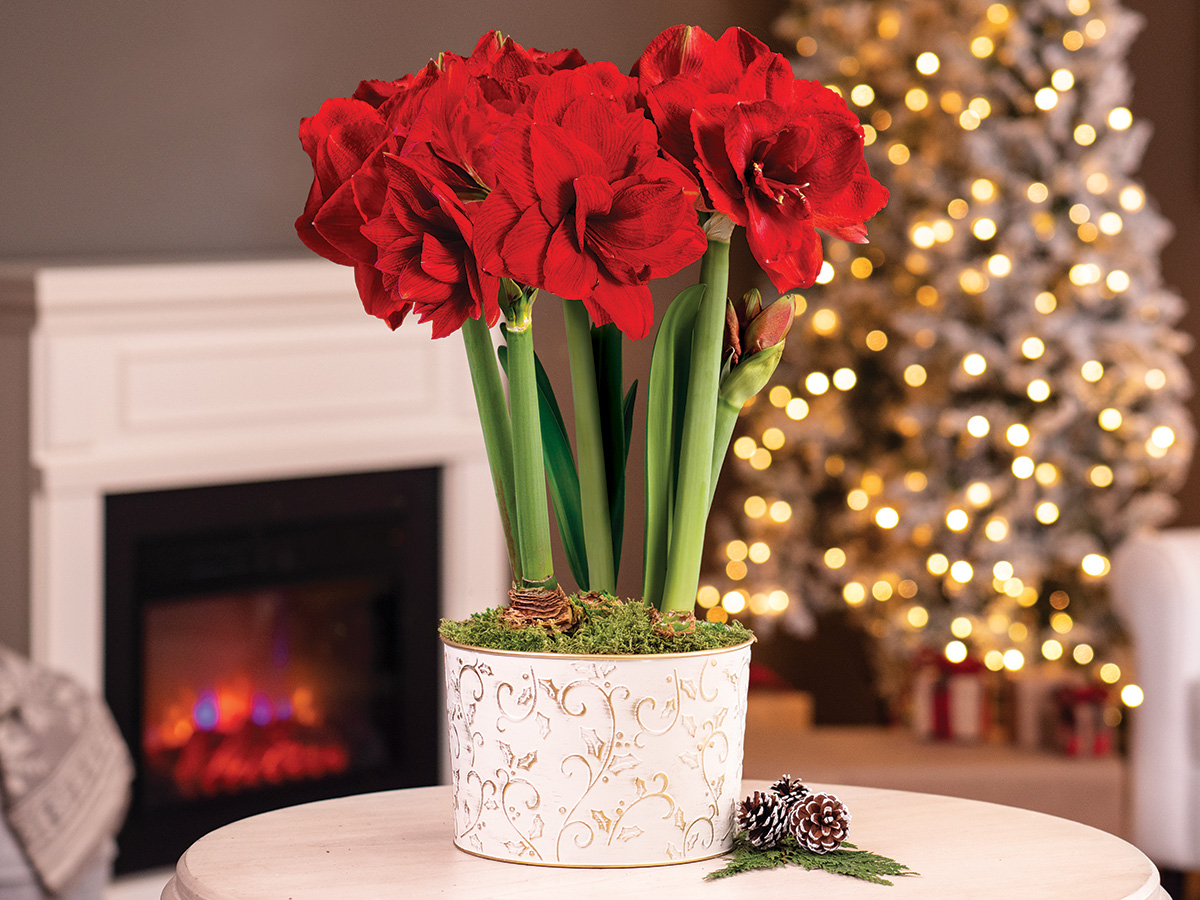 Glamorous Gardenia
Delight the gardeners, nature lovers, and fragrance aficionados on your gift list this holiday season. Give a budding Glamorous Gardenia in a stylish gold swirl container. This elegant living plant with glossy evergreen foliage blooms with marvelously fragrant double white flowers that last for weeks and fill the room with gardenia's signature scent. Height is 14 to 16 inches.
Price: $69.95
Source: jacksonandperkins.com
Garden Artisans
---
Our Bee Home Watering Can is crafted from solid copper, and its long spout is perfect for indoor watering. Some variation in the finish/patina is to be expected. Capacity is 3 quarts. Size is 7.5 inches by 16.5 inches (handle to spout tip) by 10.4 inches (height).
Price: $88
Product: 14079
Source: gardenartisans.com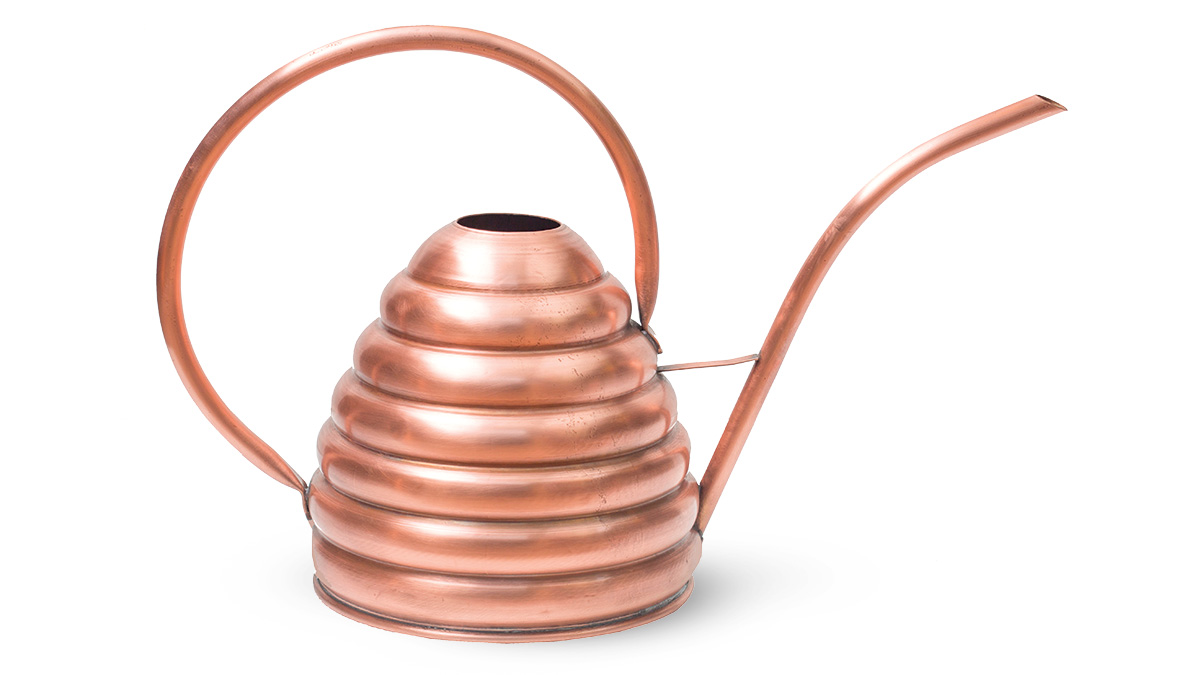 Glow in the Dark Psychedelic Mushrooms
Charming polymer clay mushrooms by UK artist Kaja Bojanowska have glow-in-the-dark caps and resin-finished stems for a glasslike effect. Each one is individually varnished. These waterproof mushrooms are delightful in pots, miniature gardens, or terrariums. They are highly durable; stems are not flexible. Spotted Rust and Amber are sold in sets of 5, and plain Cream is sold in a set of 9. Sizes range from 1½ inches to 3 inches in height and ½ inch to 1 inch in diameter.
Price: $59
Product: KB-MS
Source: gardenartisans.com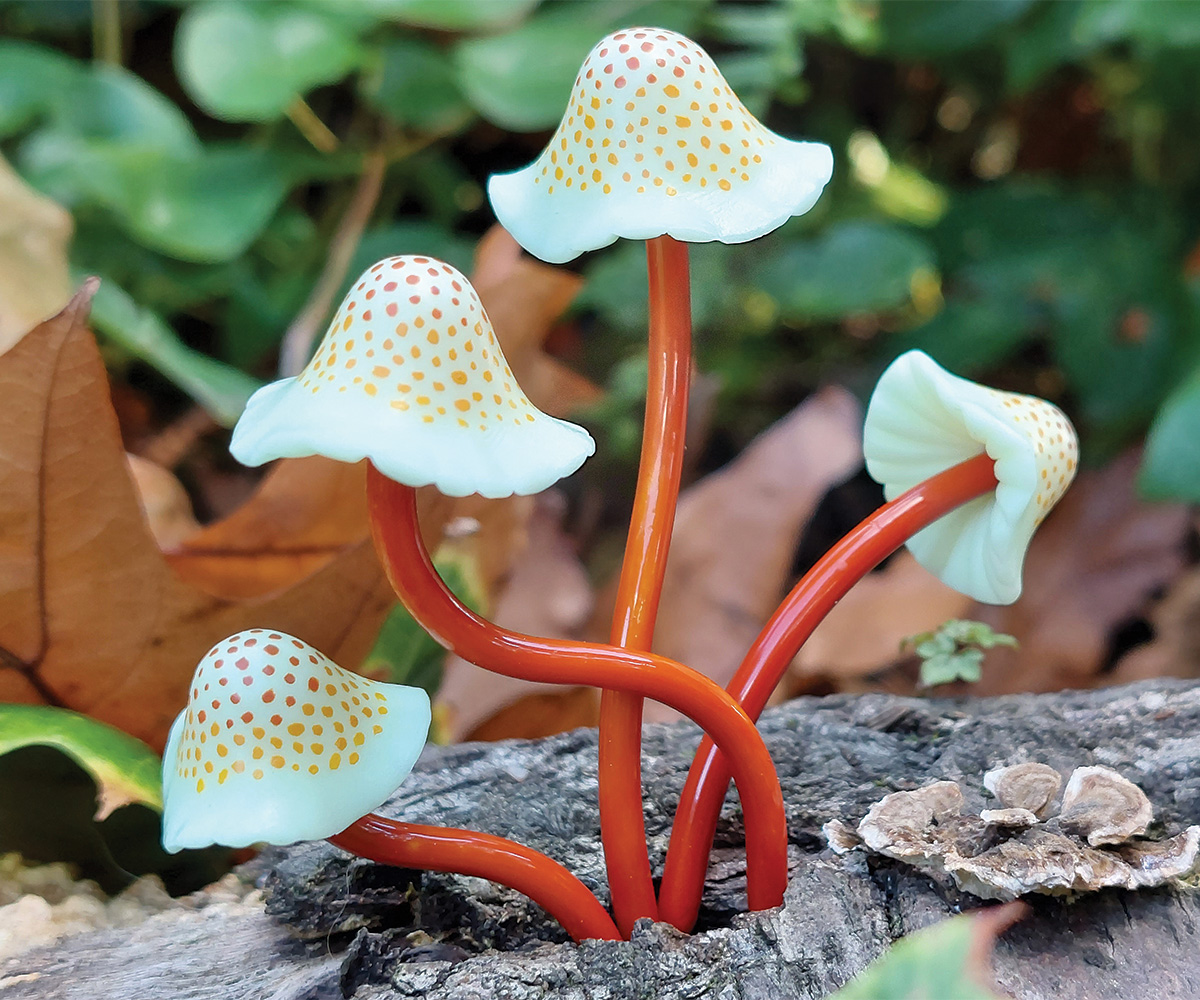 "This Is My Happy Place" Wall Sign
This wall sign is crafted from 14-gauge steel and left in natural rust. Size is 30 inches by 7 inches.
Price: $54
Product: EKD-W57
Source: gardenartisans.com

Jung Seed
---
Add a touch of whimsy to your garden with these rustic metal and glass solar stakes. The flower garden stakes come in two vintage styles, tulip or round, with Edison bulbs to offer up a soft, warm glow during the evening. The solar bird stakes come in three varieties of birds that look good both day and night in your garden.
Price:$59.95 to $74.95
Source: jungseed.com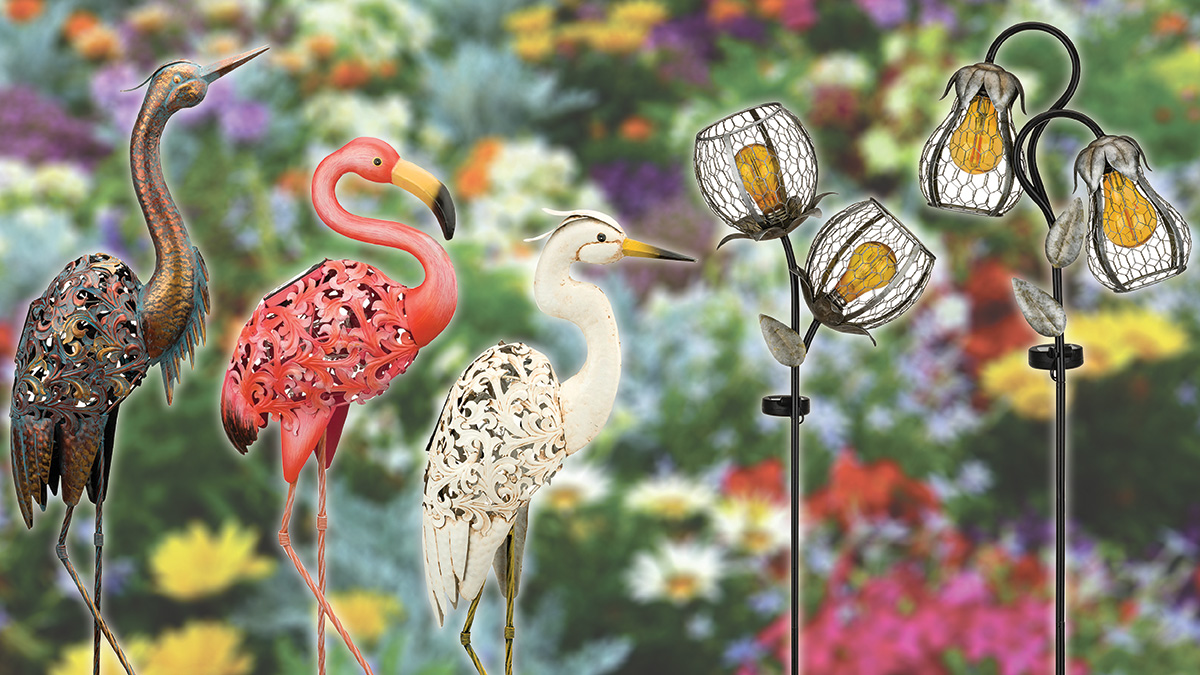 Comfy Gardener's Gift Set
The Comfy Gardener's Gift Set includes a packet of our most popular sunflower seed varieties, an 'Elvas' amaryllis kit, and (new this year) a memory-foam kneeling cushion. This cushion is a must-have for gardeners. With a deep core of shock-absorbing EVA foam and an easy-to-clean nylon cover, it is perfect for protecting your knees while working in the garden.
Price: $59.95
Source: jungseed.com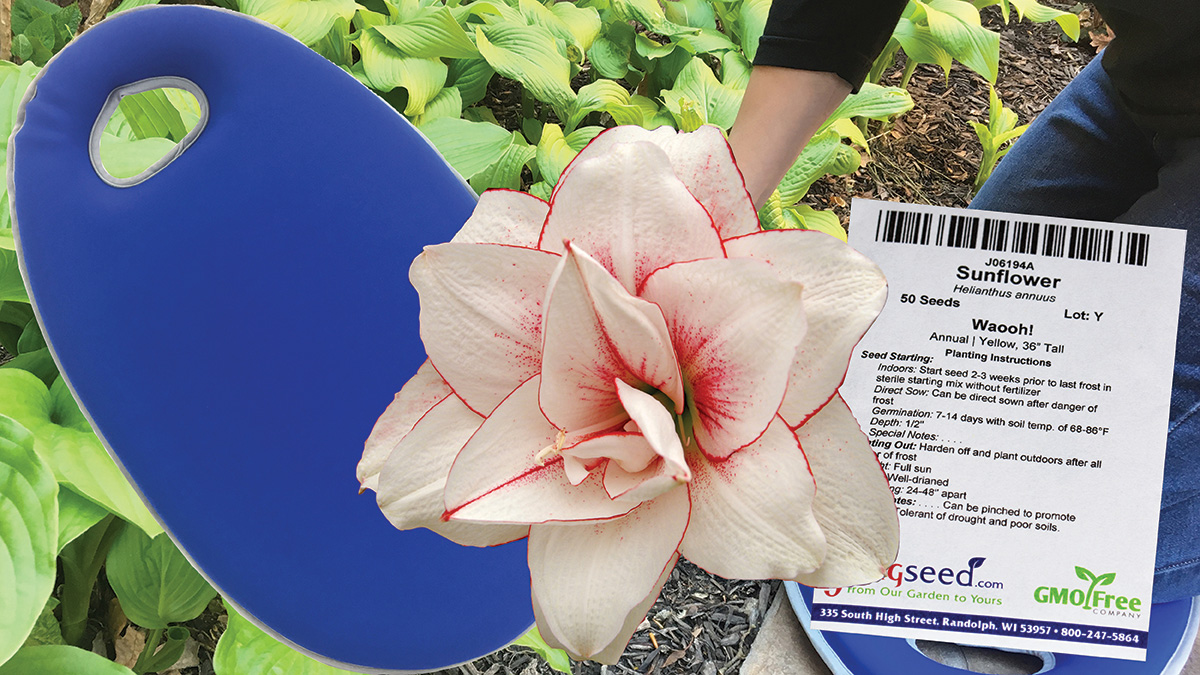 Seed Stocking Stuffers
Are you looking for some stocking stuffers? We have a wide variety of flowers and vegetable seeds that are perfect for your favorite gardener's holiday stocking. Mix and match your favorites, or check out our sampler collections, including Flower Power, Sunshine, Zany About Zinnias, Fall Favorites, Sleigh Full of Salad, and more!
Price: $2.85 to $11.95
Source: jungseed.com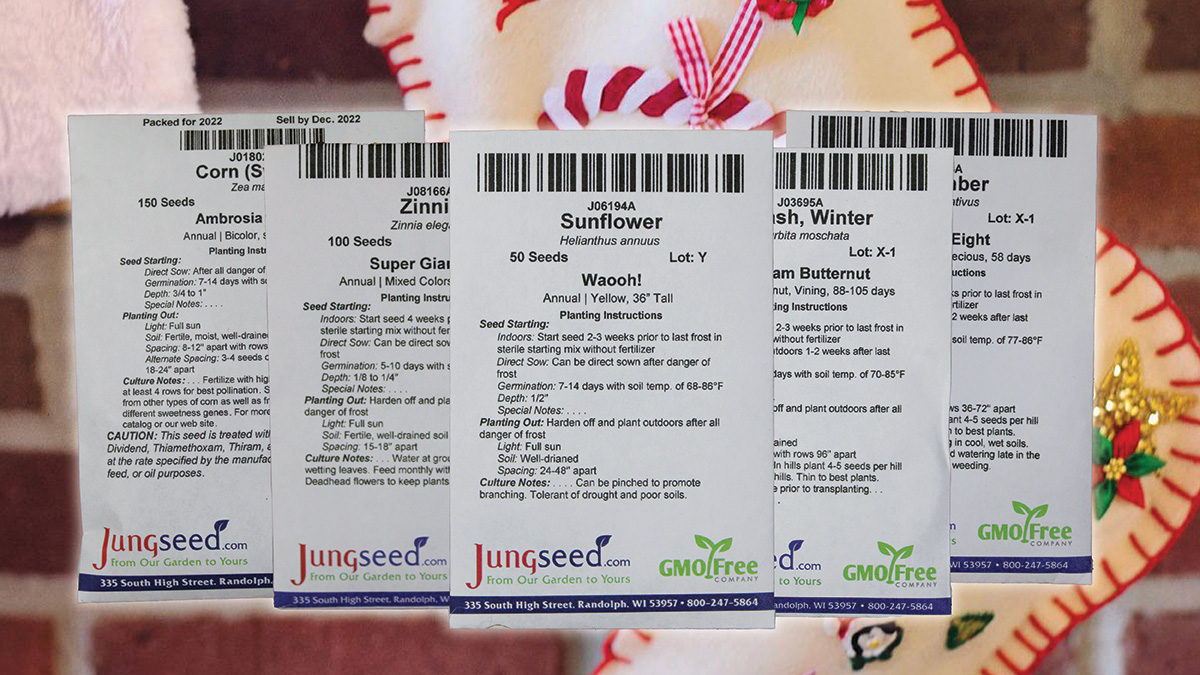 Garrett Wade
---
Full-spectrum LED grow lights ensure that your plants will be thriving and lush in no time. Perfect for countertop herb gardens, this growhouse is immaculately designed; an optional smartphone app allows for exacting customization.
Price: $219
Product: 63A02.06
Source: garrettwade.com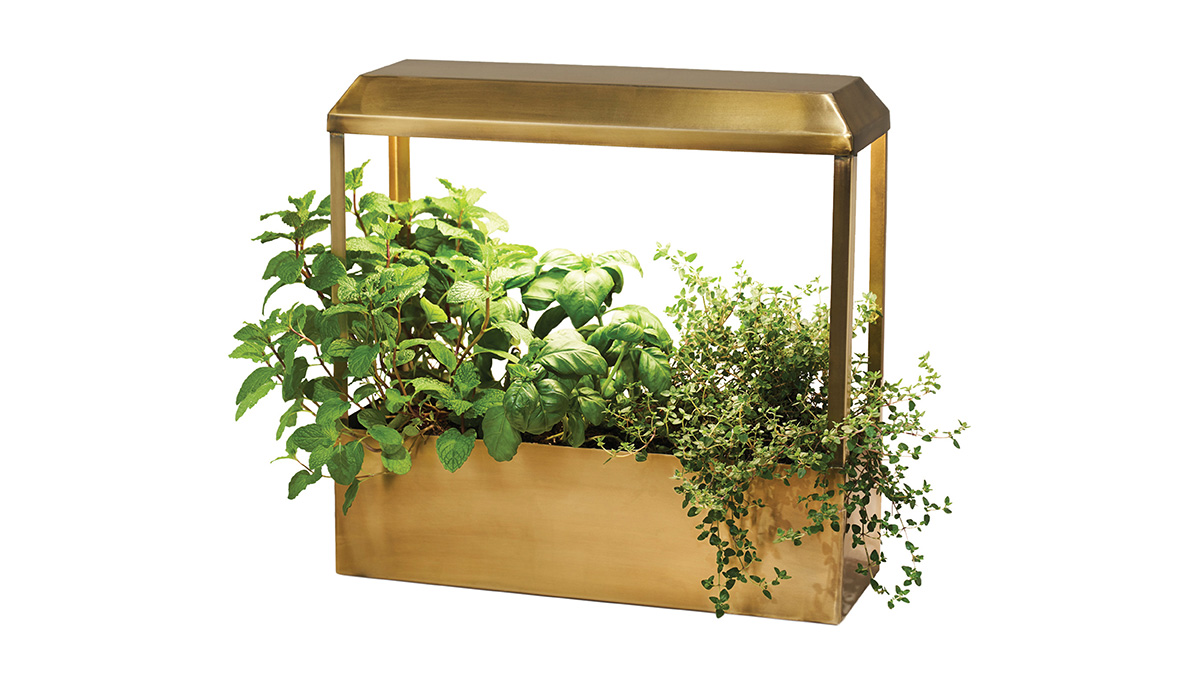 Copper Seed-Starting Tray 
Plenty of work can be done before your garden's final thaw to prepare for the coming growing season. Working with seed starters in a temperature-controlled environment gives you a jump on the spring and can significantly extend your productivity. We've developed an exclusive copper seed-starting tray consisting of 24 square bottomless containers. Placed into a grid frame inside the high-sided holding tray, they provide a home for your tender seedlings in their first weeks of life. Just add water to the bottom of the tray, fill your inserts with dirt, plant your seeds, and wait. When it's time to transplant them to their new home, they slide out easily, with no overcompacted root systems.
Price: $110
Product: 87A02.03
Source: garrettwade.com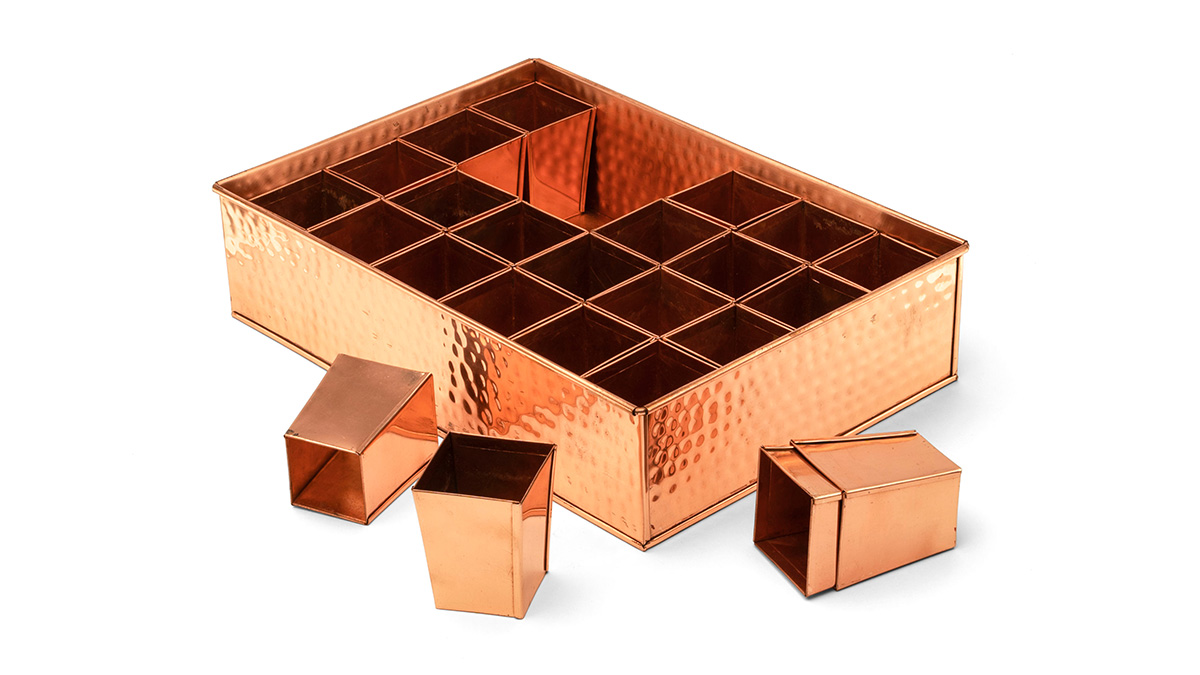 Cast-Aluminum Trowel/Cultivator Set
If you like the idea of a solid-feeling, very smooth handle, this Cast-Aluminum Trowel/Cultivator Set is just the ticket. As we all know, how a tool feels in the hand has a big impact on one's satisfaction in using it—and these tools feel great. The set features three tools with an indestructible, cast-aluminum finish, with a thumb recess on the top of each that provides a surprising amount of additional control. Each tool has a leather hanging strip. The Digger Trowel has engraved inch marks to gauge planting depth, and the Scoop Trowel is brawny enough to lever up rocks and small roots. The Cultivator has three substantial claws and an ergonomic curve that makes scrabbling dirt and moving soil a snap.
Price: $27.50
Product: 64A01.10
Source: garrettwade.com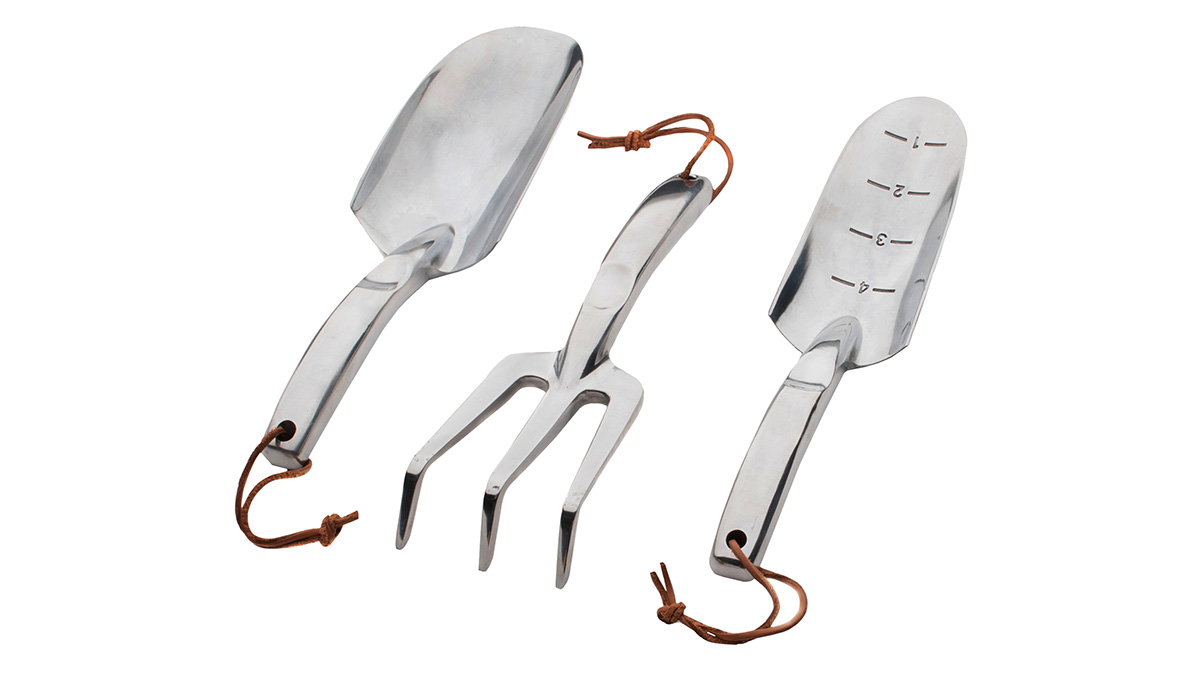 Ultra-Sharp Pruners With Optional Matching Sheath
Titanium nitride–coated high-carbon steel blades stay sharp seemingly forever, and the anodized brushed-aluminum handle resists sap and corrosion. This is a true workhorse tool. Add the gorgeous, functional, French-made sheath to complete the package. Sheath sold separately.
Price: $44.95
Product: 67C02.02
Source: garrettwade.com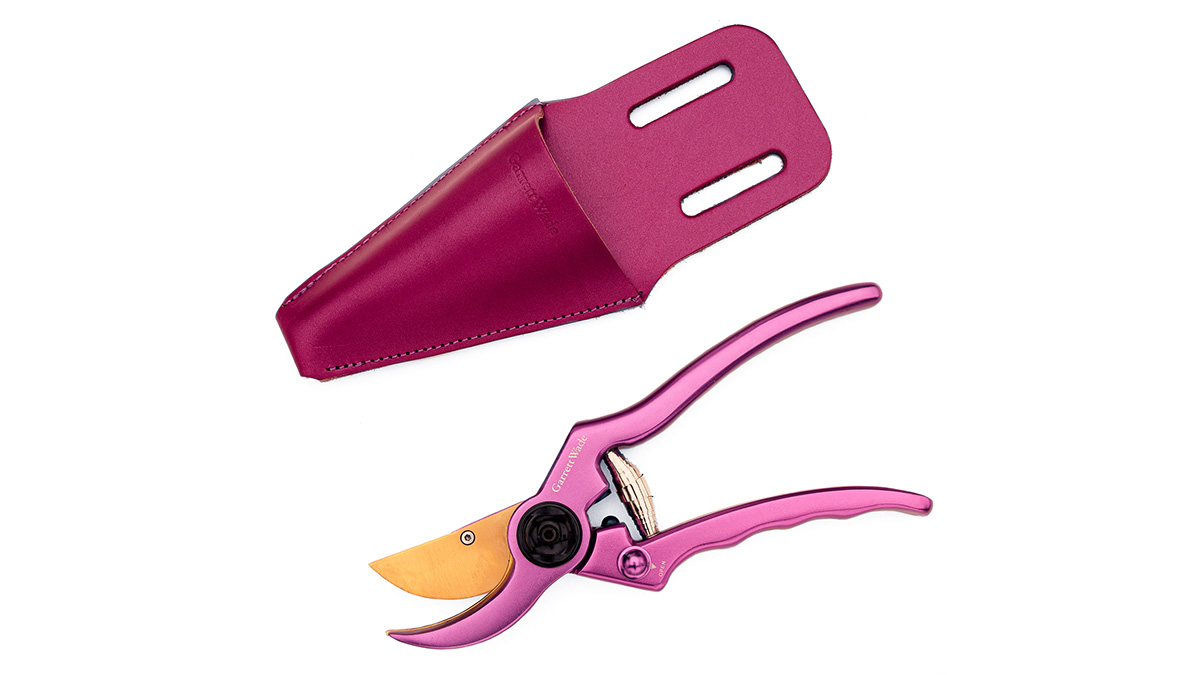 Shade Metals
---
Botanical and Mycological Jewelry
We use silver and gold to create species-specific plant and mushroom jewelry. Sometimes we cast from organic material, like with our oyster mushroom, sage, and pokeberry pieces. Other times we mimic the species by carving or 3D printing the piece, like with the silver fern ring pictured here.
Price: $115
Product: Silver Fern Ring (Alsophila dealbata)
Source: shademetals.com/shop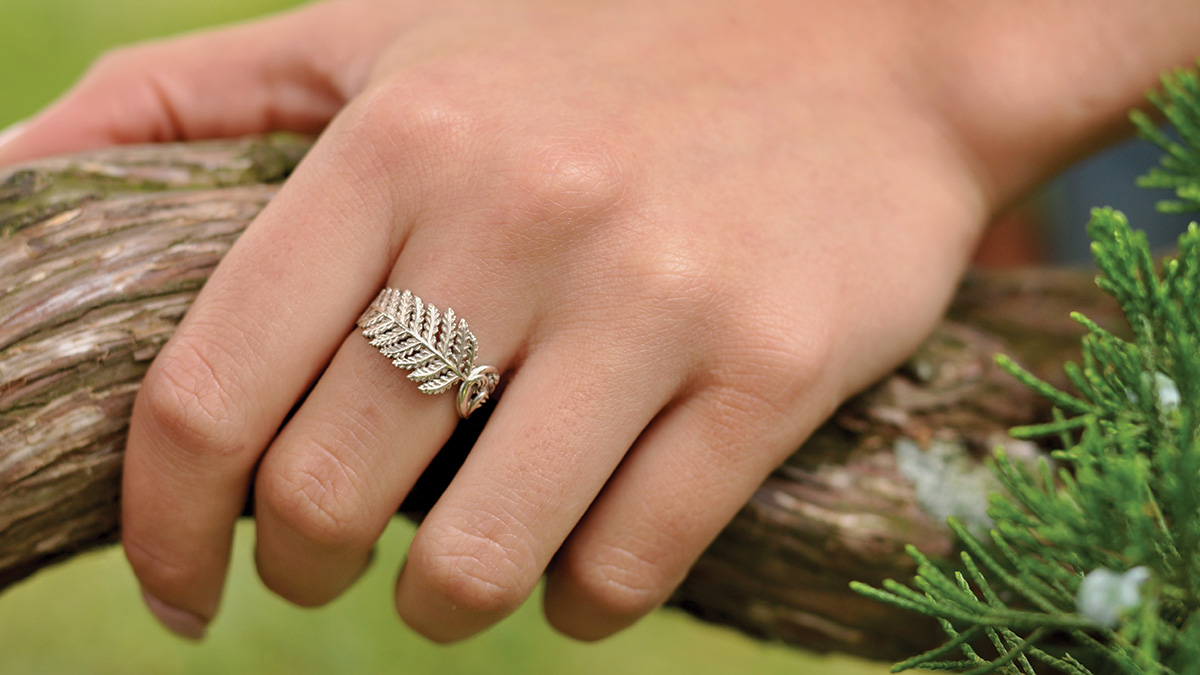 Patriot Products
---
Patriot Electric Chipper Shredder
This compact workhorse makes coin-size chips out of branches up to 2½ inches in diameter. It also shreds piles of leaves and garden plants into great composting material. The lightweight, easy-to-move unit features large wheels and a built-in handle, and it weighs only 95 pounds. Powered by an electric motor, it turns on with the flip of a switch and has no smelly fumes. You can use it indoors or outdoors. Best of all, it is made in the USA and comes with a generous two-year warranty.
Price: $1,495
Product: Model CSV-2515
Source: patriot-products-inc.com
Bluestone Perennials
---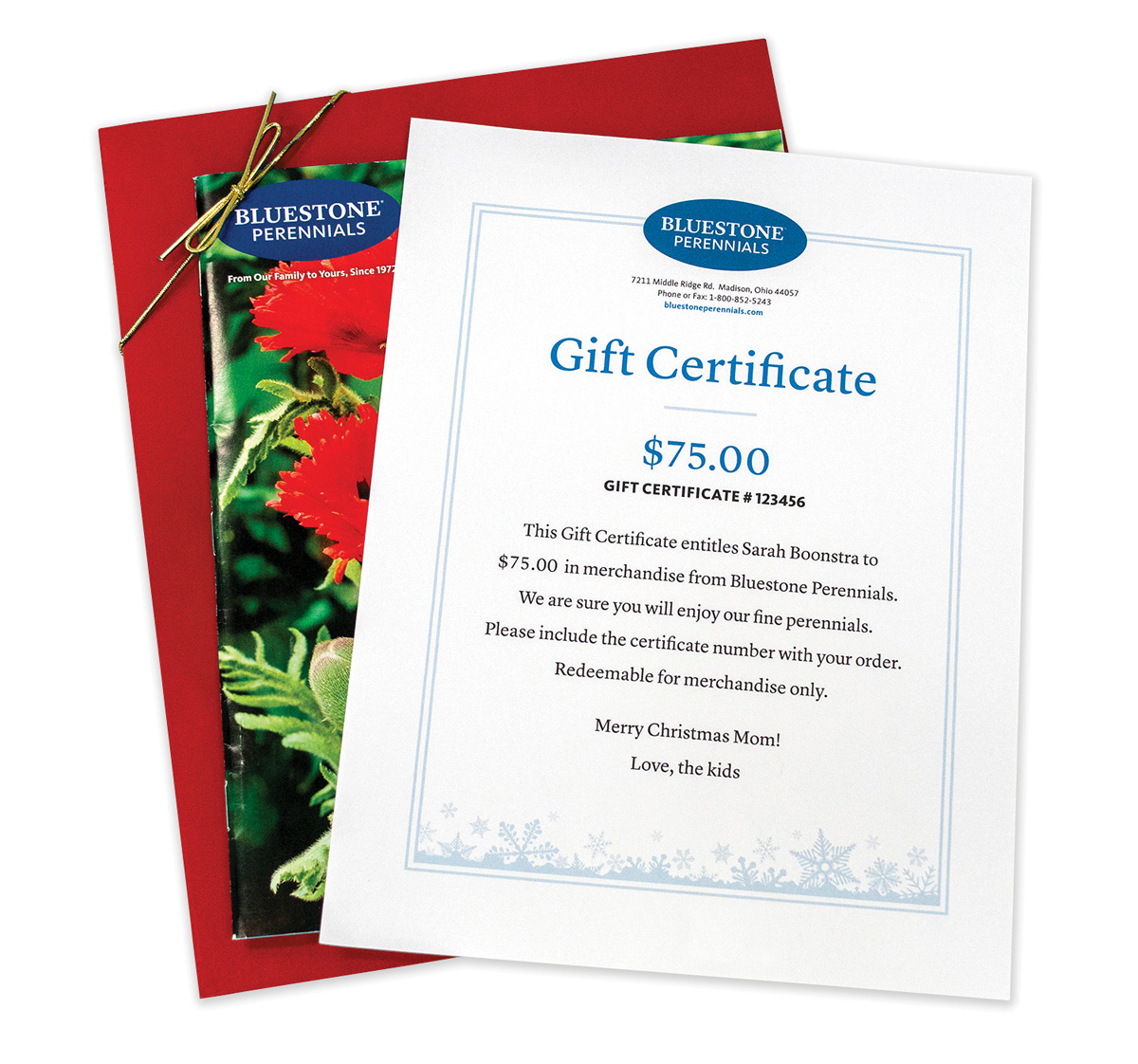 Bluestone Perennials Gift Certificates
Give the gift of gardening with a Bluestone Perennials gift certificate. Bluestone grows and ships over 1,200 varieties of perennials, ground covers, and shrubs, from beloved garden classics to unique and hard-to-find specimens. All plants have a 100% guarantee to grow and thrive.
Price: $25 to $500
Source: bluestoneperennials.com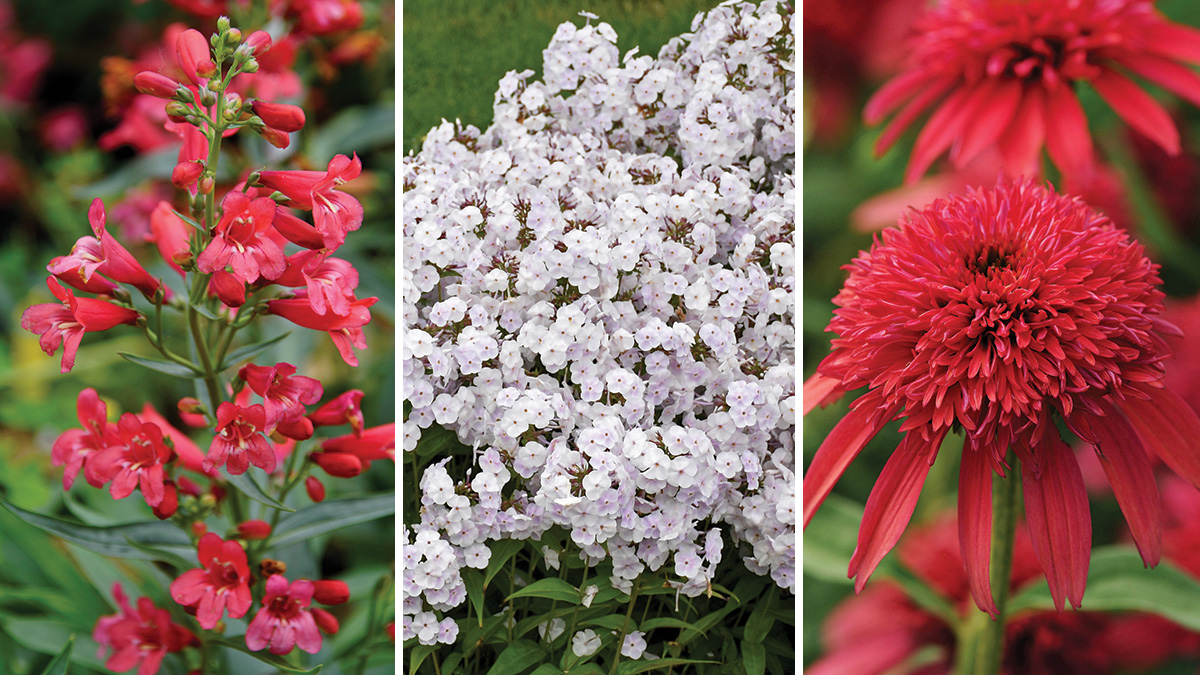 Irish Eyes Garden Seeds
---
Nurture someone's love of gardening with an Irish Eyes gift certificate this holiday season. Irish Eyes is a small-scale 100% family-owned farm established in 1989 and located just east of the Cascade Mountains in Ellensburg, Washington. Garlic, potatoes, and onions are our specialty, but we also offer a wide range of bare roots and seeds. From backyard gardeners to market farmers and wholesale suppliers, we pride ourselves in all aspects of our business through exceptional customer service, product satisfaction, and organic farming techniques. Strict non-GMO policy.
Price: $40 for a $50 gift certificate; use code "HolidayGift22"
Source: irisheyesgardenseeds.com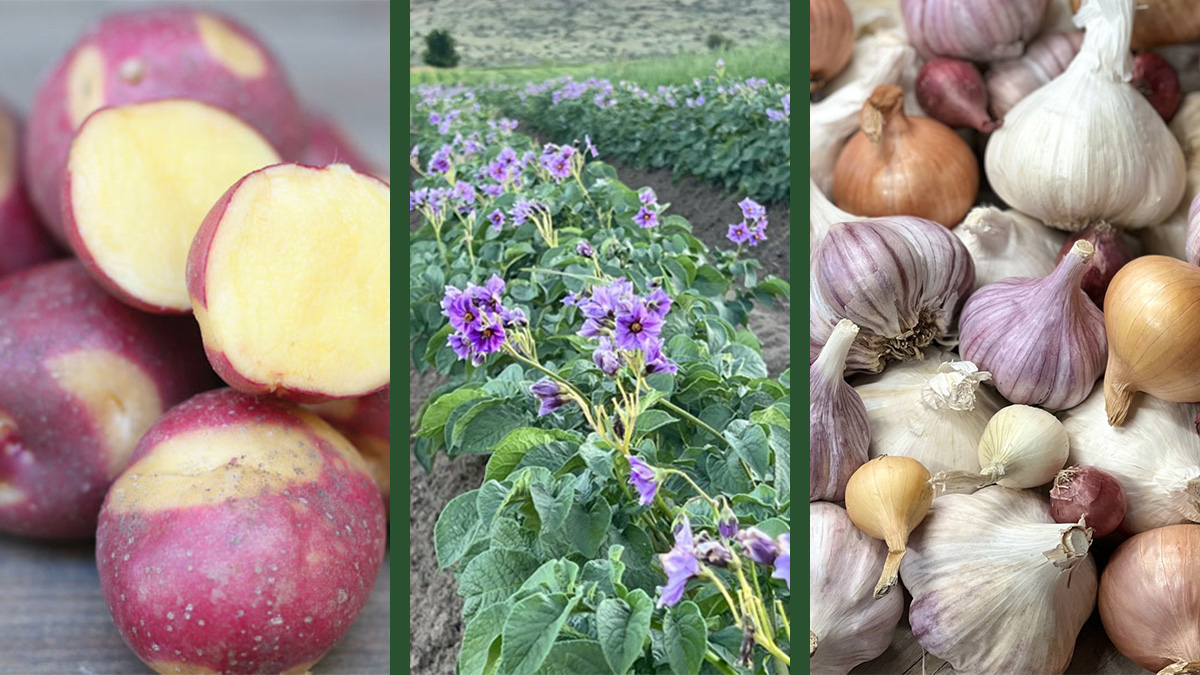 HarperCollins / The Rabbit's Gift
---
Give the gift of story to your 8- to 12-year-old reader this holiday season! Featuring a unique twist on French mythology, The Rabbit's Gift is set in a country where human babies are grown in cabbage-like plants—and delivered by rabbits! The book is filled with gorgeous botanical imagery and features two characters: a young rabbit who wants nothing more than to save his starving warren, and an aspiring botanist determined to unlock the secrets growing in the elusive rabbits' garden. An enchanting adventure sure to appeal to even the most reluctant of readers!
Price: $16.99
Source: amazon.com/Rabbits-Gift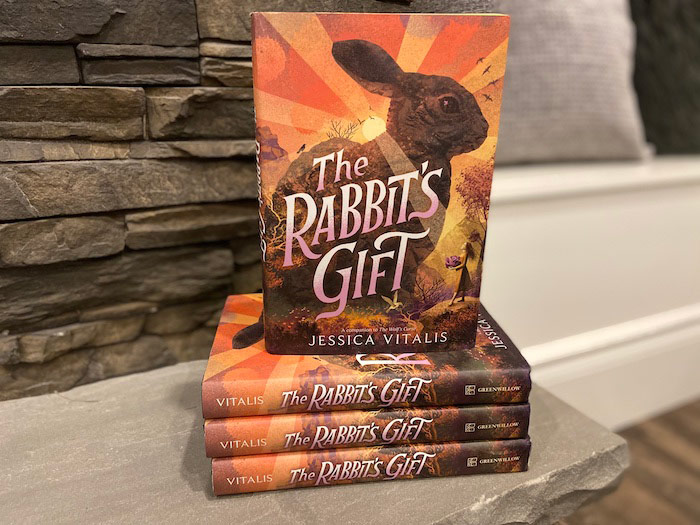 Botanical Interests
---
Gardening enthusiasts and butterflies alike will love these pollinator-friendly nectar plants that help develop healthy habitats to benefit the garden's ecosystem. Sow your joy with Botanical Interests seed packets and ecofriendly gardening products.
Price: $20.50; use promo code FINEGARDEN for free shipping (standard shipping only, excludes AK and HI)
Source: botanicalinterests.com
The offer is valid while stocks last from November to the end of December 2022; not valid with any other offers; other terms and conditions may apply.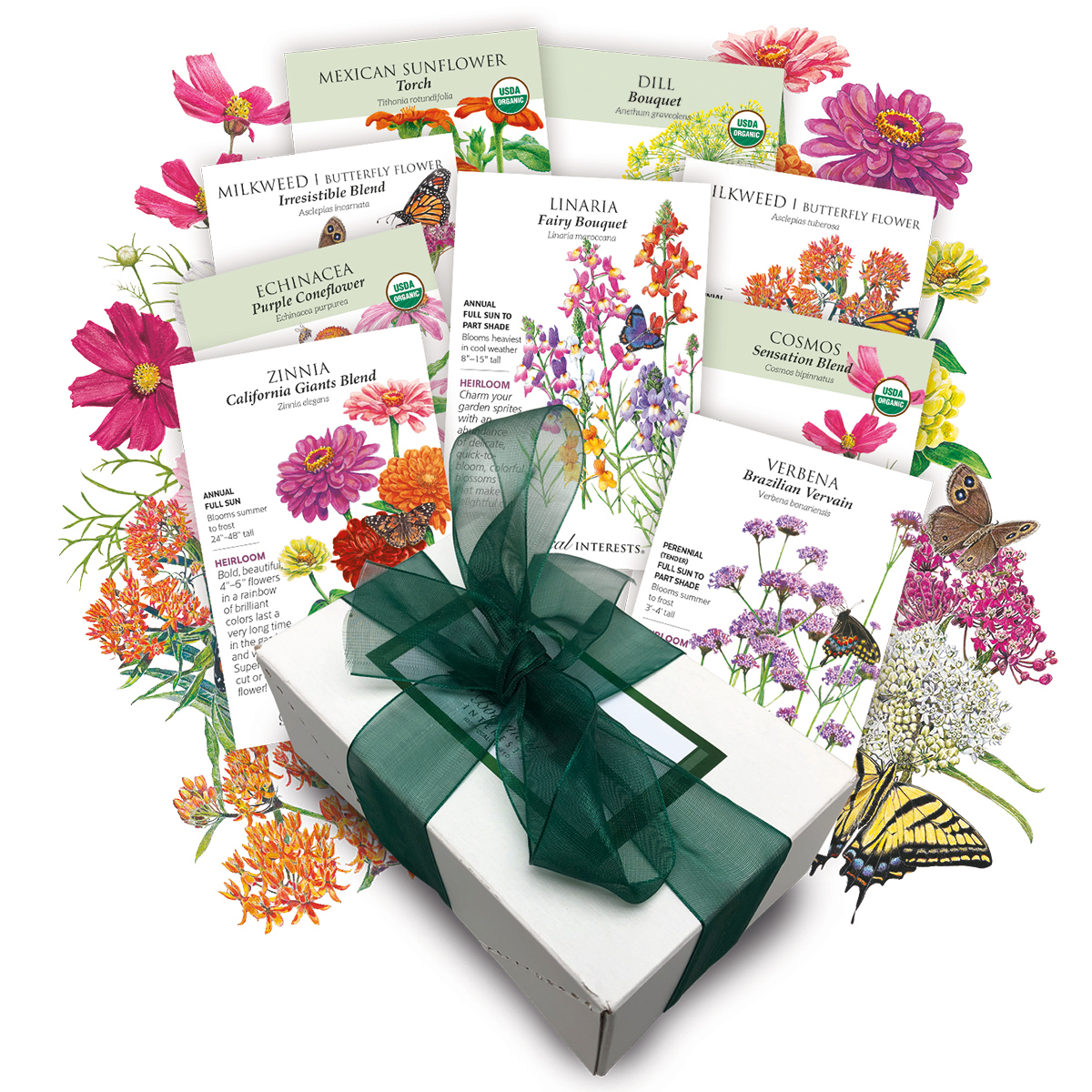 See more:
Great Holiday Gift Ideas for Gardeners by Region
---
What do you want for the holidays? Answer in the comments below!