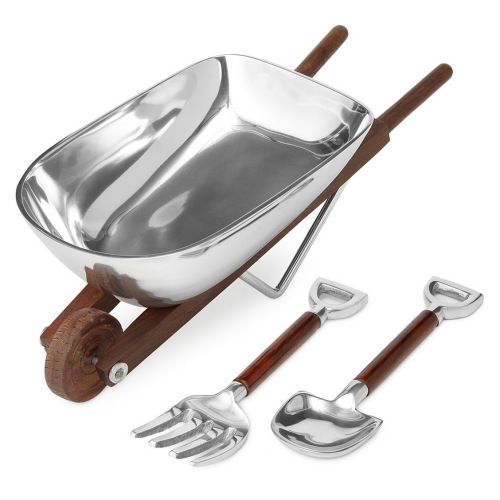 Well, here we are again my dirty-nailed friends, it's the holiday season. If you're like me, you've been working very hard at your garden most of the year and you're ready to do some celebrating and resting. The year is winding down and the holiday shopping season has already started. If you have a gardener on your shopping list, or you need to start dropping hints to family and friends, I would like to offer the following suggestions to get you started.
Salad Plant
Want a unique idea to show everyone at the dinner table that you're a green thumb? These clever green salad servers stand upright and resemble a potted plant. The handy "pot" doubles as a serving or mixing dish for salad dressings or toppings. The set includes the salad servers and pot.
Garden-Opoly Educational Family Game
Garden-Opoly is an organic property trading game that will grow on you (pun intended). Players buy garden favorites, collect clay pots and trade them for greenhouses. The game becomes difficult with aphid infestation, your water bill and a dandelion outbreak. The back of each deed contains interesting facts, such as the appropriate climate, varieties, soil and watering for each plant. Fun for 2 to 5 players.
Magic Beans
Show your friends how much you care with Magic Beans. Based on their best-selling I Love You Bean, these magical beans have sweet sentiments stamped on their outer shells. All your young gardener has to do is plant and water them. In a few days, the bean will sprout and grow, displaying the same written message. The kit includes a velvet pouch and ten beans.
Wheelbarrow Salad Bowl With Wooden Utensils
This one is undoubtedly my favorite! I just received this as a wedding gift, and can't wait to use it. If you want more than the usual serving dish to give your salad a special, fresh presentation, you won't dig up (pun intended, again) anything better than this. This awesome serving dish resembles a garden wheelbarrow, with a silver-plated basin and two serving tools shaped like a shovel and rake. From their website, "The wood accents, including its functioning wheel, are made from sheesham, a variety of rosewood which is renowned for its intricate, marbled grain." So, if you're serving salad or garden-fresh fruits and veggies, this bowl is sure to be one of your favorites.
Car Trunk Tidy
There were several times where I could have used this when going home from the nursery (I'm sure you can relate). This great trunk tool keeps plants stable and upright while they are traveling. The green, easy-to-clean, PVC backed polyester expands for use, and folds flat for storage. It has three compartments, 12″ high x 11 3/4″ wide (40″ long overall). Not just to hold plants, this can be used for bags of groceries, kid's toys, sports gear, etc.
Watering Can Ornaments
'Tis the season to break out your Christmas tree and take inventory of your tree's ornaments and lights. Why not put a green thumb touch on your tree as well? These watering can ornaments are very detailed replicas of their full-size can cousins. They also look great on a windowsill or plant stand after the holidays. Each set of four comes ready to hang with its own natural twine cord.
Garden Tools Accent Rug
I've been looking for a cool garden entry rug, and finally found one. This is exactly what you need for wiping off dirty feet when you come in from the garden. From their website, "Our Machine Washable Hand-Hooked Garden Tools Accent Rug features a whimsical design of must-have gardening tools, perfect for mudroom, garage, kitchen or indoor potting shed. Looks like new, wash after wash!"
Fiskars Pruner
As veggie gardeners, our tools are very personal to us, and I feel we tend to become loyal to brands that make what we want, work well, and are reliable year-after-year. This pruner is one of my such tools. This pruner is great for a variety of general pruning tasks. The pruner features a precision-ground steel blade that stays sharp longer, a rust-resistant, low-friction coating, a self-cleaning sap groove that keeps the blades from sticking, and a non-slip grip handle. It also has an easy-open lock that protects the blade during transport and storage, as well as a lifetime warranty.
Plastic Hose Guide
If you have to move your garden hose between the beds or rows of the garden to water everything, you know well the challenge of keeping the hose from damaging your plants while it's being moved. You can protect your plants and shrubs from garden hose damage with this easy-to-install hose guide. The hose guide features a unique design that prevents the hose from slipping out, so you can route the hose wherever you need to. It is compatible with standard garden hose sizes.
Lawn & Garden Multi Purpose Sharpener
Got garden tools? Gotta have a sharpener. This medium grit garden tool sharpener has a specially designed shape for the easiest sharpening of all your garden tools, including the blades of gas-powered and electric lawn mowers. Especially designed for garden and outdoor tools, it carries a lifetime warranty against manufacturers defects.
Hand Scrub With Pumice
Reward your hard-working hands with an herbal scrub. Formulated with aloe, honey and allantoin, this scrub features two types of ultra-fine pumice to buff away soil, dirt and other impurities. Your skin is instantly softened and refreshed. This scrub is gentle on skin and formulated without mineral oil.
Tasty Herb Mixture Seed Bombs 
Seed Bombs are a fun and easy way for kids (and adults) to start plants, and are particularly useful in areas where rainfall is unpredictable. From their website, "You can throw them, toss them, crush them, or leave them. No digging necessary, simply water them and they'll grow! The natural clay shell protects the seeds inside from animals, insects, and too much moisture when they're sprouting." Each bucket contains 20 bombs, each covering about one square foot. The Herb Mixture includes basil, oregano, parsley, rosemary, sage, and thyme. They also have a Butterfly & Bird Mixture that has 22 pollinator-attracting seed varieties, including bachelor button, larkspur, alyssum, rose mallow, toadflax, calendula, cosmos, and more.
Brass Hose Connector Nozzle
Here in north Texas, we are able to start seeds for Spring veggies indoors as early as late December. As soon as they are big enough to put outside, you'l be able to water them with your outdoor garden hose. The Fogg-It Nozzle is designed for misting delicate seedlings or for raising humidity around wilting plants. The nozzle has three mist jets which output one gallon of water per minute. Made from solid brass, it fits on any standard 3/4-inch hose thread.
Daily Garden Shoes
Keep your feet comfortable while tackling light gardening projects with the MuckBoots Adult Daily Shoe. These 100% waterproof shoes have a stylish design that's versatile enough to wear as a casual daytime shoe, but designed especially for outdoor work. From their website, "They feature durable, natural rubber uppers; an insulated shell that will keep your feet warm and dry in the winter as well as cool and comfortable in the warmer months; an extra-comfortable, lined footbed with moisture-control lining; and an easy-to-clean, dirt-resistant exterior. The unisex shoe is perfect for gardening, farm work, walking on the beach or playing at the park."
Garden Journal
If you need a stylish garden journal, check out the one from Moleskine. The journal features 5 themed tabbed sections to fill in, and contains plant and pot information, hardiness zones, a garden log, design grids for laying out your beds, plant care records and more. Also included are 202 adhesive labels for personalizing your journal.
Good luck and happy shopping!