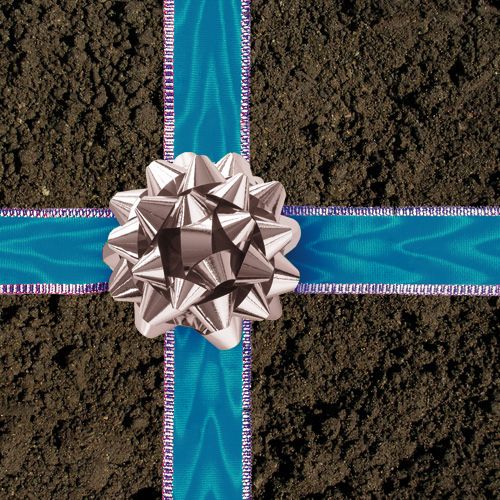 Well, here we are again my dirty-nailed friends, the holiday season is upon us. If you're like me, you've been working very hard at your garden all year and you're ready for a break. If you have a gardener on your shopping list, or you need to start dropping hints to family and friends, I would like to offer the following suggestions to get you started.

STOCKING STUFFERS
The AcuRite Digital Window Thermometer
As we gardeners approach another winter, we are not only wrapping up the current year, but are slowly setting our sites on next year. If seed starting or growing your own transplants is on your agenda, having an accurate reading of the outdoor temperature is critical. The AcuRite Digital Window Thermometer features accurate and reliable temperature readings. It has an easy-to-read LCD screen that displays the current temperature with daily highs and lows. A reversible design and weather resistant construction make it perfect for both indoor or outdoor use.

Trowel and Seed Pack Keychain
Show everyone that gardening is your passion with this great looking keychain. The keychains are hand-cast in solid, lead-free pewter and will arrive packaged in a free gift box. Quantity discounts are available.

Luster Leaf Rapitest pH Soil Tester
Whether you're building a new garden bed, or adding amendments to an existing one, doing a soil test is a great way to make sure you're plants will be in harmony with the soil. This soil pH tester includes 40 tests; 10 each for pH, nitrogen, phosphorus and potash, and uses the company's patented comparator test system. Color coded results are easy to read. Simply fill the soil to the line, top it off with water, and get a quick pH reading.

EnergyFlux 4400mAh Rechargeable Double-Sided Hand Warmer / USB External Battery Pack
The cold weather is already upon us, so it's important to keep your hard-working gardening hands happy. This product warms on both sides of the device, and includes two temperature settings: 109 degrees F and 120 degrees F. Oh – by the way, it also charges digital products like mobile phones, MP3 players and digital cameras.

Sugru Moldable Glue
OK, so I'm skirting the edge here as far as this gift selection actually relating to vegetable gardening… but here me out. The gardening tools we use, particularly the hand-held ones, can take a lot of abuse. Many of these tools have rubber-covered handles that may in time fall apart. Sugru to the rescue. From their website, "Our patented silicone technology is unique. Out of the pack, Sugru feels like play-dough, and it's that easy to use too. It bonds to almost any other material and cures just by exposing it to air. Its durable cured properties mean it'll stay strong and securely bonded anywhere from the freezer to a steamy hot shower, from the home to the great outdoors." This unique product permanently sticks to materials we gardeners may use, like glass, metal, wood, most plastics and fabrics. How cool is that?

SNaPPY GRiP Ergonomic Handles
Strewn about my yard and garden are several 5-gallon buckets, which perform tasks such as hauling compost, spent plants, soil, etc. Although the buckets themselves have faired admirably in the north Texas climate I live in, the handles; however, have not. Almost all of the buckets' plastic handles have literally shattered in my hands, leaving a very uncomfortable wire bail. SNaPPY GRiP™ Ergonomic Handles remedy this problem perfectly. These handles can reduce hand fatigue by more than 50% by distributing the weight over more of the surface area of your fingers, which will reduce the possibilities of arm, back, and shoulder injuries. Your hands will love you for it.

UNDER THE TREE
Giant Heirloom Portabella Mushroom Kit
I consider mushrooms one of those food delicacies that I don't use as much as I should. I never considered growing them because I know the climate I live in won't support it. However, recently I discovered that I could simply grow them indoors. Enter the mushroom growing kit. This kit can grow large portabella size mushrooms with little effort. The mushrooms are thick and can often grow as large as the opening of the mushroom kit itself. The kit contains inoculated mushroom compost, casing and instructions… all you add is water.
https://www.mushroomadventures.com

Edyn Garden Sensor
I've always appreciated it when technology meets old-fashioned gardening in the form of gadgets. In this case, it's a smart-watering gadget. The Edyn in-ground garden sensor pairs with your existing irrigation system, as well as a smart phone app. The sensors offer real-time feedback on soil moisture levels, nutrition, and temperature for up to 250 square feet. The app can also allow you to water garden beds with the click of a finger. Way cool.

Garland 2 in 1 Sieve
If you make your own seed starting mixes like I do, you know that having a consistently-sized, lump-free planting medium is important. I achieve this with a small sieve, as I sift the soil mix like a prospector mining for gold. This plastic sieve comes with two interchangeable screens – 6mm and 12mm hole sizes. The screens are made of tough, galvanized woven wire, and are great for sifting seed starting mix, potting soil, or compost.
https://www.greenhousemegastore.com

Bucket Boss Super Stacker
I mentioned 5-gallon buckets earlier. If you use them a lot yourself, you know that they get the job done, but they yearn to do something more. The Bucket Boss Super Stacker is a tray with 4 compartments to organize and hold your gardening goodies. Made out of durable red plastic, the tray goes inside the bucket, with a handle to easily lift it out. You can put, or stack, 3 Super Stackers in most 5 gallon buckets.

Boiled Linseed Oil
I will admit that I can be lazy when it comes to maintaining some of my garden tools. I have two shovels, a rake, and a cultivator with dried out and very weathered wooden handles. One of my projects this winter is to sand down said tools and apply boiled linseed oil to them. Linseed oil is a plant-based product that protects wood handles by repelling water. It is typically applied in late fall before tools go into winter storage. Wooden handles on garden tools become gray, dry and splintered over time and from exposure to the elements, but a yearly application of boiled linseed oil maintains their smooth, silky finish.
https://www.jamestowndistributors.com

The Bokashi Bucket System
As an avid composter, I usually have more than one form of composting active (pun intended) at all times. I've written before on the great benefits of bokashi composting, and how easy it is to get started. As our garden beds are becoming bare as winter approaches, it's the perfect time to amend them with compost. This product has everything you need to get started – the bokashi bucket, one bag of bokashi activator mix, a strainer plate, and the masher tool.

Gardener's Tool Seat
This lightweight steel and nylon garden stool combines the features of a tool bag and a folding chair. The handy work station is made of lightweight steel and water-resistant nylon. The bag detaches easily from the frame via hook-and-loop fasteners and has two carrying handles, 21 pockets for different sized tools, and a large catch-all interior.

White Ceramic Compost Bucket
One of the keys to composting your kitchen scraps is ease of disposal. Going out to your compost pile every time you have something to put in it isn't a very efficient use of your time. I use the triage approach – putting the scraps in a temporary container, then taking that out to the pile when it's full. World Market's White Ceramic Compost Bucket sits right on the kitchen counter, accessible at all times. Holes in the lid keep it ventilated, and it's attractive to boot.

Leaf 'n' Lawn Chute
It's funny how your disposition can change as a gardener. For example, before I actively sought out fallen fall leaves to use as mulch or compost material, I used to curse the leaves that were in my yard that were 'donated' by my neighbors who didn't want to rake them up. These days, I have actually volunteered to rake up neighbors' leaves. From their website, "The Leaf'n'Lawn Chute is a tri-fold sheet of high-density plastic that easily forms into a 3 sided box shape that helps keep the paper bag upright and reinforces the sides of the bag to prevent ripping, or seam bursting. The top of the leaf chute device folds back on itself to form a funnel shaped chute, which makes filling the leaf bags much easier and more efficient." The chute is designed for use with 30 gallon paper leaf bags, requires no assembly, and is durable enough to last several seasons. It is also water-resistant, made of 100% recyclable plastic, and of course, very easy to use.

Easy Heat Freeze Thermostatically Controlled Valve and Pipe Heating System
If you grow your own transplants in a cold frame, small greenhouse, or even in your garage under grow lights, you'll need some form of thermostat device to control the heat and temperature of your system. This unit automatically turns on your heating cords only when needed; saving energy and eliminating the need to unplug or re-plug cables due to changing weather or overnight temperatures fall. The unit features a power indicator light and is easy to install.

Compost Happens T-Shirt
OK, you know you couldn't get out of this post without a cool gardening t-shirt suggestion. This shirt features the most basic mantra of composting, "Compost Happens". The shirt is standard fit with a crew neckline, and is either 100% preshrunk cotton for the dark color, and 50% cotton/50% polyester for the grey.

I Love Gardening T-Shirt
Speaking of t-shirts, here's another great-looking option. This t-shirt features a great design, and is printed using cutting edge direct to garment technology. 100% cotton.
Good luck and happy shopping!