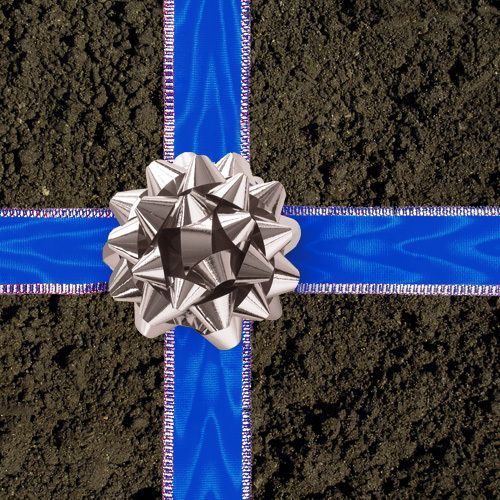 Well, here we are again my dirty-nailed friends, the holiday season is upon us. If you're like me, you've been working very hard at your garden most of the year and you're ready for a break as the year winds down. If you have a gardener on your shopping list, or you need to start dropping hints to family and friends, I would like to offer the following suggestions to get you started.
STOCKING STUFFERS
Wind & Weather – Large-Digit Indoor/Outdoor Color Spot Thermometer and Clock
Minding the weather is a given for us gardeners, as it affects what we do and when we can do it. This indoor/outdoor thermometer meets the Wind & Weather standard for engineering, and does it in a colorful way. The thermometer can be wall mounted or self-standing, and includes one remote sensor. Other features include: minimum/maximum recording, a 12/24-hour clock, instant transmission, and large easy-to-read digits.
https://www.windandweather.com
Arbico Organics – BugLoupe
Gardeners often need to observe things very closely – a bug on a leaf, a fruiting flower, new plant growth, etc. The Carson 5x magnification BugLoupe is large enough to be easily held by small, big and even arthritic hands. The BugLoupe has no movable parts and requires no batteries. Professional grade optics allow you to see insects and other small objects up close and personal. Dimensions: 4.0″ x 4.0″ x 3.0″.
https://www.arbico-organics.com
Sharpie – Fine Point Black Pens, Set of 4
"How did pens make your list" you might be asking? Simple. If you grow your own transplants, it's nice to have a pen is that doesn't bleed. This is my favorite pen for plant labels, containers, or anything else that needs a crisp, precise and consistent line-width. Sharpie Pens resist smearing, are fade-resistant, and feature a durable tip and quick-drying ink.
Hardy – Large Mechanics Gloves
Among the many favorite tools we gardeners use, good gloves are always on the list. "But these aren't gardening gloves" you might be thinking. You're right. However, having used these mechanic's work gloves for several months, I can attest to their comfort and quality. From their website, "These gloves protect your hands from heat, cold, abrasion and cuts with breathable comfort. Constructed of 50% synthetic leather in the palms and fingers, these mechanic's gloves combine strength and comfort. The work gloves are made of 36% lightweight spandex so they fit snugly and feature an extended cuff for extra protection."
UNDER THE TREE
Williams-Sonoma – Chef'n Fall Vegetable Set
They say there's a 'tool for everything', and this trio of tools makes preparing your favorite fall veggies easy. The Twist'n Sprout removes brussels sprout cores in a single motion, so they will cook more evenly. The Stalk Chop separates cauliflower stems from the stalk quickly and without waste. The Looseleaf Kale and Greens Stripper removes leaves from stems in seconds. You can also use it for kale, collards, oregano, mint and more. They are all top-rack dishwasher safe.
https://www.williams-sonoma.com
Gardeners Supply – Small Batch Fermentation Kit
Having lived in South Korea for two years as a child, I have an appreciation for one of their staple cuisines, kimchi. While I've been successful in making my own kimchi, making sauerkraut has been a disappointment. In my quest for probiotic-rich veggies such as pickles, kimchi and sauerkraut, I discovered this personal-sized kit. This kit makes up to a half gallon of pickled vegetables in just a few days. A unique air-lock lid prevents outside air and contaminants from entering. When your pickled veggies are done, you replace the lid and refrigerate. The kit includes a 1/2-gallon glass jar, air-lock lid, storage lid and two ceramic weights.
Orbit – Titanium 33″ Shower Wand with Shut-off
For watering my raised and perennial beds, I've come to depend on a long watering wand with an adjustable head. The longer length wand is great for getting to those hard to reach areas without having to stretch or stoop. An included shut-off lever allows you to adjust to the flow of water without going back to the faucet, while a foam grip ensures comfort while watering.
Greenhouse Megastore – Seedling Propagation Mat
I start almost all of my veggie transplants each year from seed. I've learned (the hard way) that the temperature of the seed-starting mix can make a huge difference in germination success, particularly for big crops like peppers and tomatoes. This is where a heat mat pays for itself. This Seedling Propagation Mat is waterproof, fits under the common 10″ x 20″ seed trays, and automatically warms the soil 10-20 degrees (F) over ambient temperature. In addition, helpful tips on watering, lighting, and transplanting are printed on the mat, so you will never lose the instructions.
https://www.greenhousemegastore.com
Ocean Potion – Instant Burn Relief Ice
It's bound to happen to us sooner or later, even though we always try to avoid it. I'm talking about getting sunburned. The pain can be debilitating, and certainly can discourage us from wanting to be out in the sun right away. We all have our favorite remedies to relieve the pain, and this stuff has more than proven itself over the years. From their website, "Derived from nature, Instant Burn Relief Ice provides temporary pain relief from sunburn, scrapes, windburns, minor burns, insect bites and other skin irritation." This Ocean Potion product is enriched with lidocaine and aloe vera to help prevent peeling and aid in the healing of the skin's natural moisture. It's non-sticky and will not stain.
Fiskars – 3 Piece Softouch® Garden Tool Set
We gardeners tend to have our 'favorite' tools; those that we depend on every season. Those we know will make those hard tasks easier. If you haven't tried Fiskars products, or are looking to replace your current aging tools, this 3-piece set makes a great gift. These tools make digging, weeding and aerating quick and easy. The contoured soft handles fit great your hand, which helps reduce hand stress and fatigue. From their website, "Durable and comfortable, our Softouch® Garden Tools The flat end pads of the handles also offer a smart way to generate more leverage than other garden tools. The cast-aluminum heads resist rust and won't snap off while you're working no matter how tough your soil is. Additionally, the handles feature hang holes for convenient storage."
Etsy – Personalized Garden Stone Custom Engraved Stone 6-7 Inch Garden Stone
One of the joys of gardening, is that we can make our garden 'our own', and personalize it to our heart's content. How about a customized stone for a gardening gift? The company can customize any stone. Mom, Dad, Grandma, Grandad, whoever loves their garden. The personalized stones are approximately 6-7 inches wide, and is handpicked for your design.
Zazzle.com – Zombie Slayer Master Gardener T-Shirt
What's a holiday season without zombies? OK… I know… I'm stretching it. This cool shirt will tell all of your family and friends that you're ready for the apocalypse, while still managing to grow a great garden every year. The shirts are 100% Fine Jersey cotton and feature a durable rib neckband.
Etsy – I love gardening from my head tomatoes green gardening shirt
OK, so I'm not off my shirt kick. Yet. Get the tomato growing person on your list this shirt with a cool play on words. The print reads "I love gardening from my head tomatoes (to my toes)". Shirts are Gildan 50/50 fabric blend, and feature white print on the front.
Crisp Cooking – Rinse and Store Berry Baskets
The Crisp Set of 3 Berry Baskets is useful as well as eye catching. Great for rinsing, straining, storing and serving your berries, chopped fruits and veggies. They also feature an innovative design that keeps water from pooling underneath the baskets. The baskets fit together for easy storage, are dishwasher safe, and have a 1-quart capacity.
Bosse – Round Point Shovel
It never ceases to amaze me that you can take a long-lived simple design, such as that of a shovel, and improve on it in a unique way. The Bosse Round Point Shovel does just that. Near the middle of the shovel is a 360-degree housing that features a 16-position locking mechanism, spaced in 22.5-degree intervals. This allows for greater power and control. The Bosse shovel is a heavy-duty tool meant for daily use, and suitable for any home or garden. It also features a die-cast aluminum center handle, a 1.25″ fiberglass shaft, and 16 gauge steel shovel head.
Academy Sports & Outdoors – Folding Sport Wagon with Removable Bed
There are many tools on the market designed to transport your garden stuff, and my favorite is sold by, of all places, a sporting goods store. The Academy Sports + Outdoors Folding Sport Wagon with Removable Bed features a telescoping D-ring handle, a folding frame that can be stored flat or upright, a powder-coat steel frame, removable bed liner, 7″ heavy-duty rubber wheels, and dual mesh cup holders.
Nature's Footprint – The Worm Factory 360
You don't have to garden very long to learn that one of the best sources of natural fertilizer is 'vermicompost', or worm compost. The great thing about this type of composting is that it can be done inside, year-round, and in a confined space. From their website, "The Worm Factory 360 has a standard 4-Tray size which is expandable up to 8 trays, giving it the largest volume of any home composter." The composter features a built-in "worm tea" collector tray and spigot for easy draining and the newly-redesigned lid converts to a handy stand for trays while harvesting the compost.
Uncle Jim's Worm Farm – 2000 Red Composting Worms
OK, so I've got the worm composter… now all I need are the worms. I've got ya covered. Uncle Jim's Worm Farm is your source for composting worms. 'Red wiggler' worms are only 1-3 inches long, and about as thin as a pencil lead, but are some of the best gardeners on the planet. The trash that they consume gets digested, and then transformed into some of the most nutritious material that gardens can grow in: worm castings. According to their website, "Worm castings are 7 times richer in phosphates, 5 times richer in nitrogen, and 11 times richer in potash than the average lawn soil."
Good luck and happy shopping!