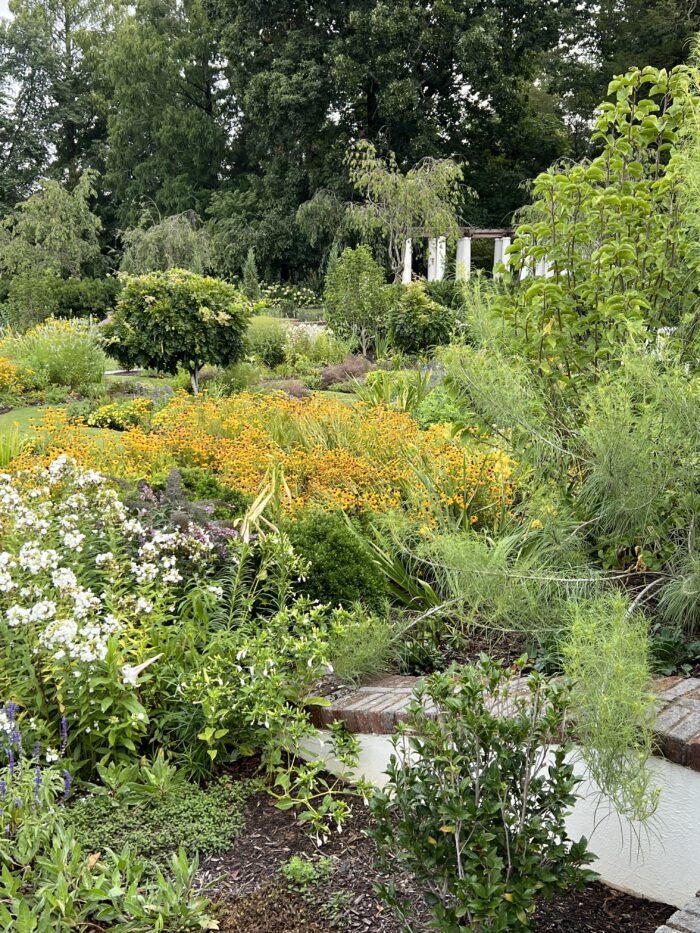 Amy Birdsong is taking us along to this beautiful garden today.
My husband and I moved our youngest back to college in Winston-Salem, North Carolina, this weekend and stayed overnight so we could visit Reynolda Gardens. This space was designed and built in the early 1900s by the Reynolds family, and much of the layout and concepts remain the same to this day. The garden is divided into two larger sections by a series of "teahouses" that provide interesting viewing angles and viewpoints to play off of. The front half holds four parterres, each with its own color scheme. The pictures primarily show the pink and white parterre and the blue and yellow parterre, which are holding up the best in this hot, end-of-summer time. How the plantings are interwoven to hide the messy or bedraggled bottoms of the flowering plants is inspiring, and they mingle to create a tapestry. Another design element that has a strong impact is gladiolus used as punctuation marks, which are mixed in among more flowy plants. What is most impressive about these formal gardens, though, is that almost all of the flowers and plants are fairly common, even to a novice like me. Zinnias, phlox, hydrangeas, cleomes, roses, impatiens, black-eyed Susans, salvias, irises, lilies, and buddleias are varieties you see at your local nursery, but the way they are mixed here is magical.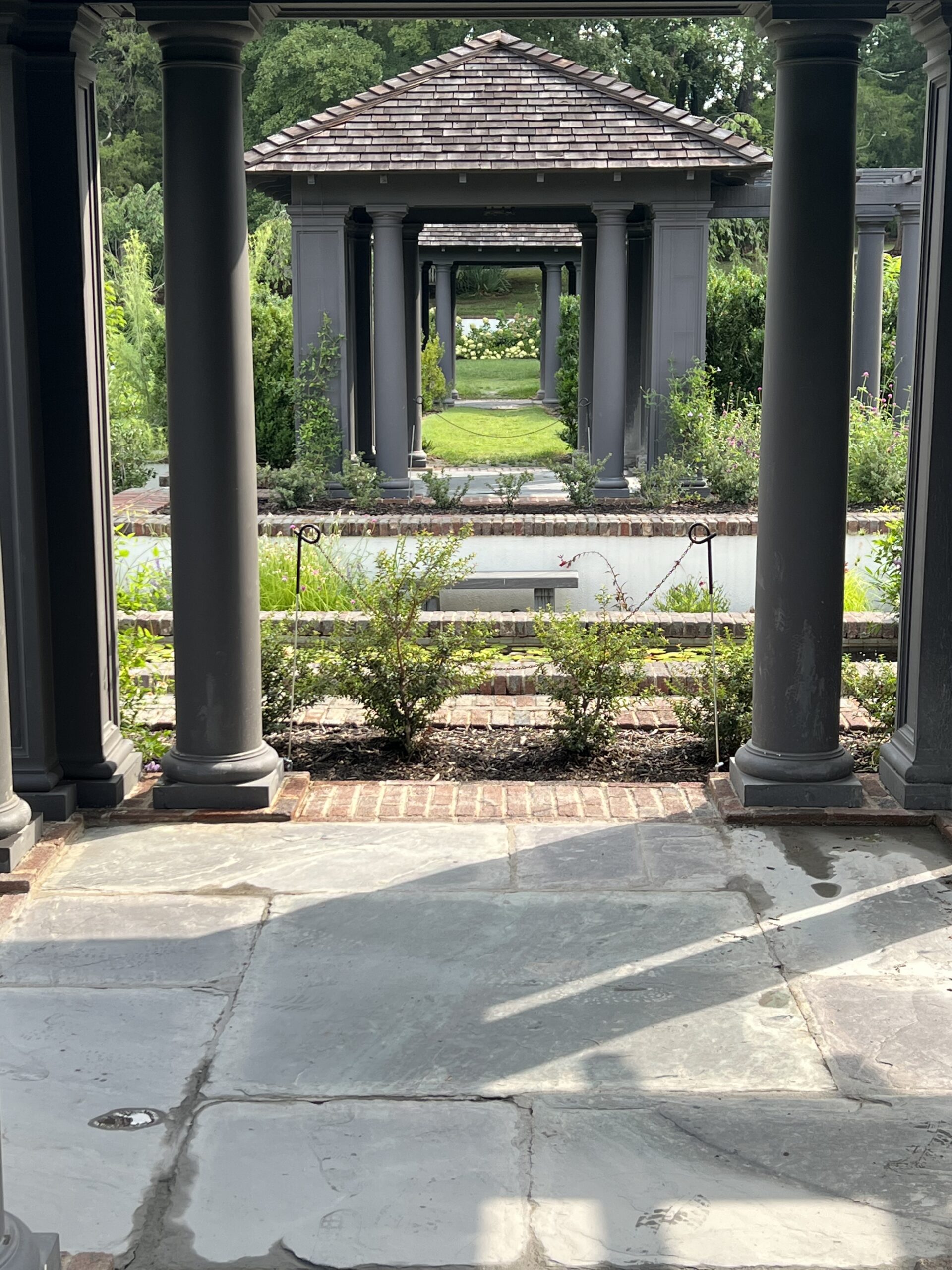 The garden teahouses give beautiful structure to the garden.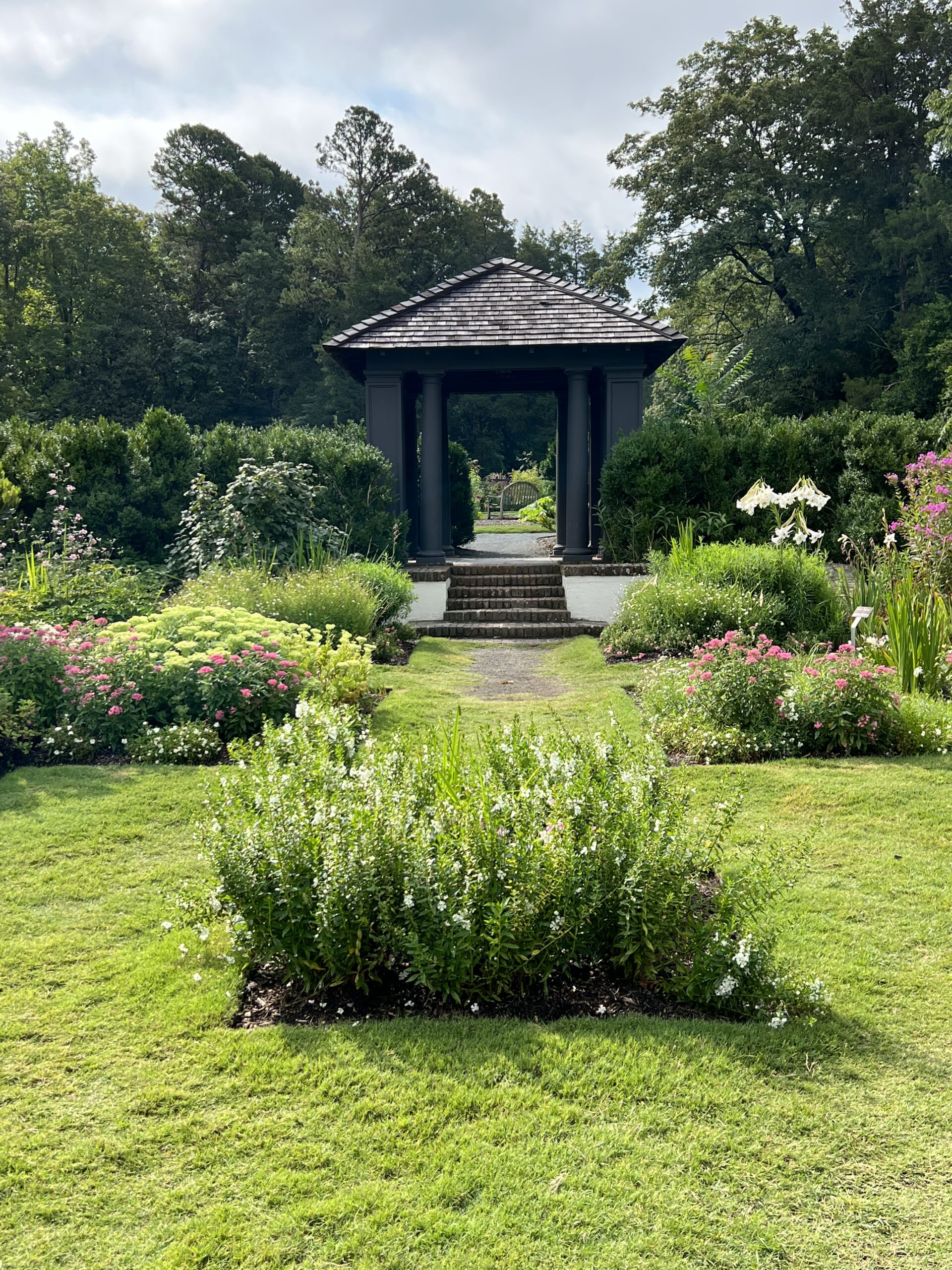 The garden design is formal, with straight, square-cornered beds that give structure to the looser plantings within.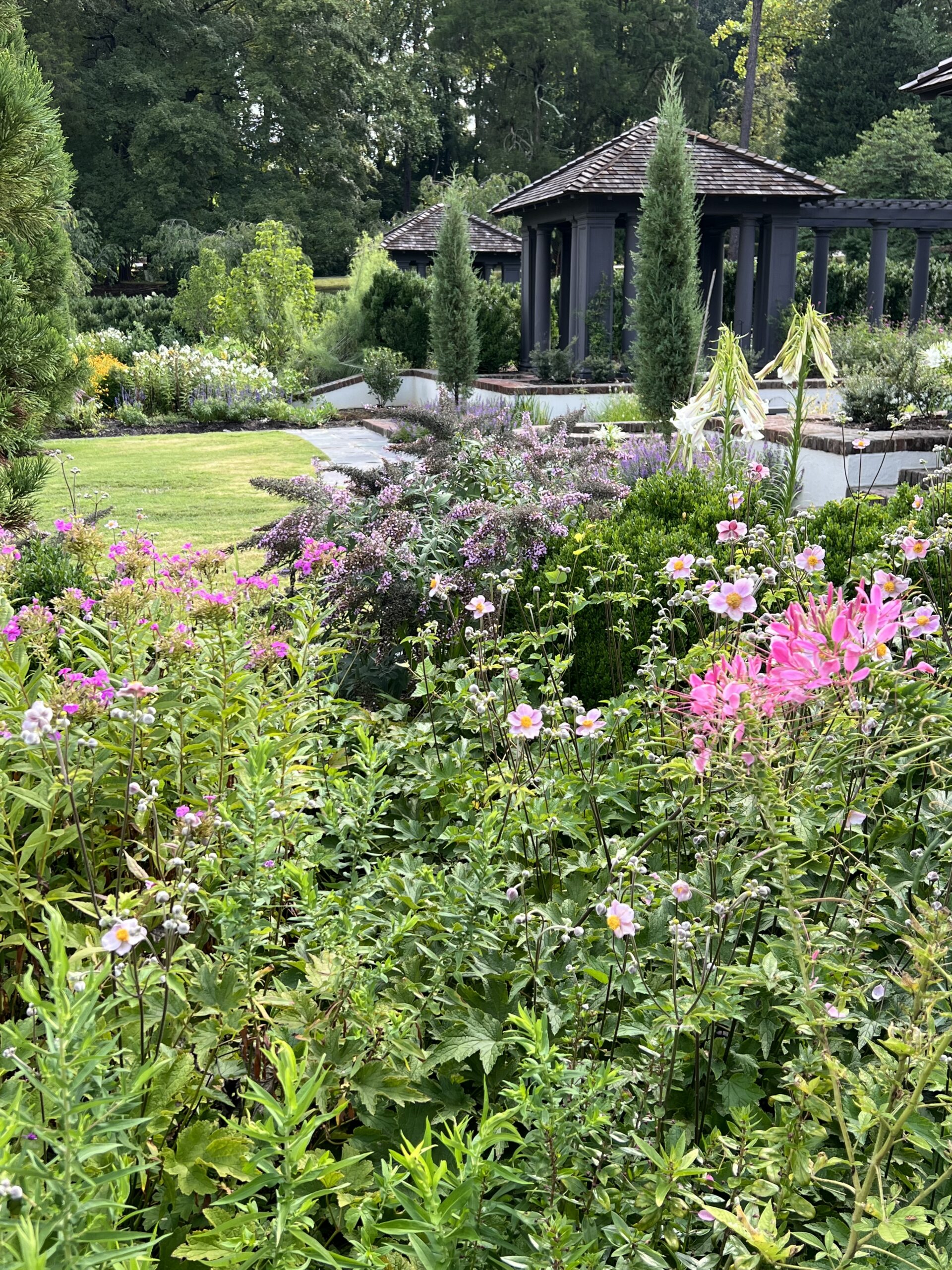 Pink cleome (Cleome hassleriana, annual) and Japanese anemones (Anemone hupehensis, Zones 4–8) bloom in the foreground, with purple butterfly bush (Buddleia hybrid, Zones 5–9) in the background.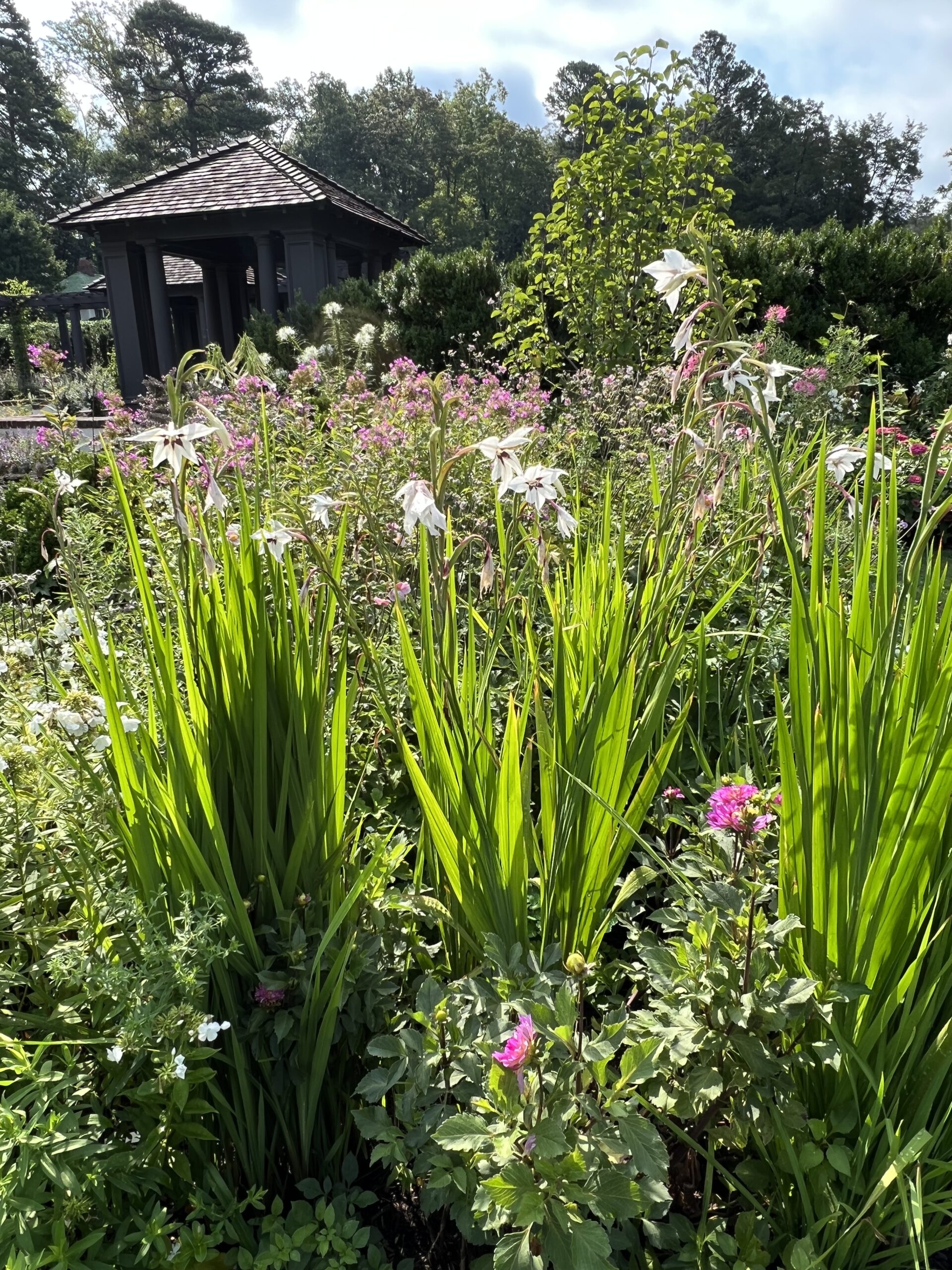 Gladiolus murielae (Zones 6–10) gives strong vertical structure to the garden. This species of gladiolus is quite different from the familiar hybrids, with an elegant presence in the late-summer garden and a wonderful fragrance, especially in the evening.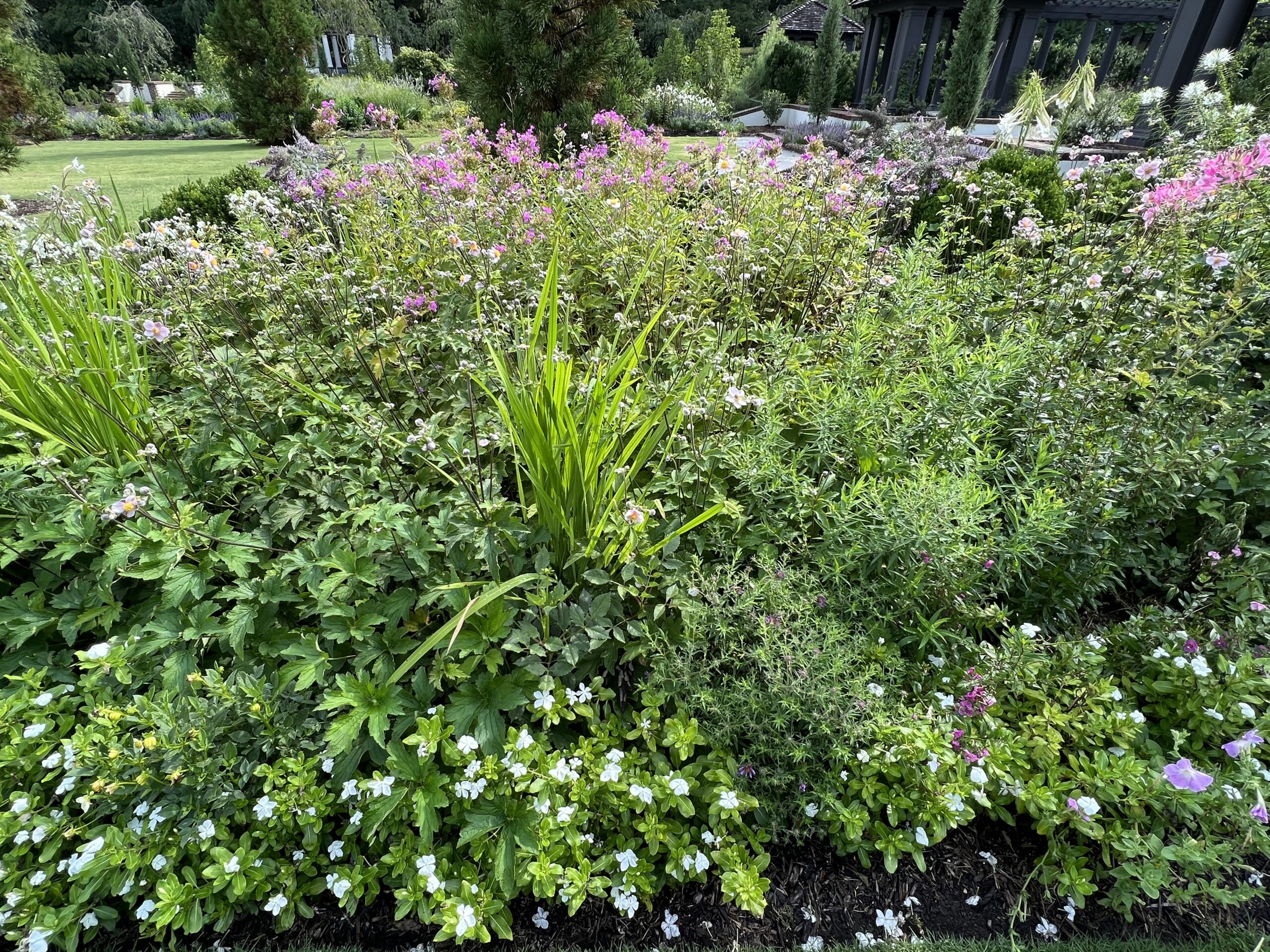 Wide view of the pink-and-white planting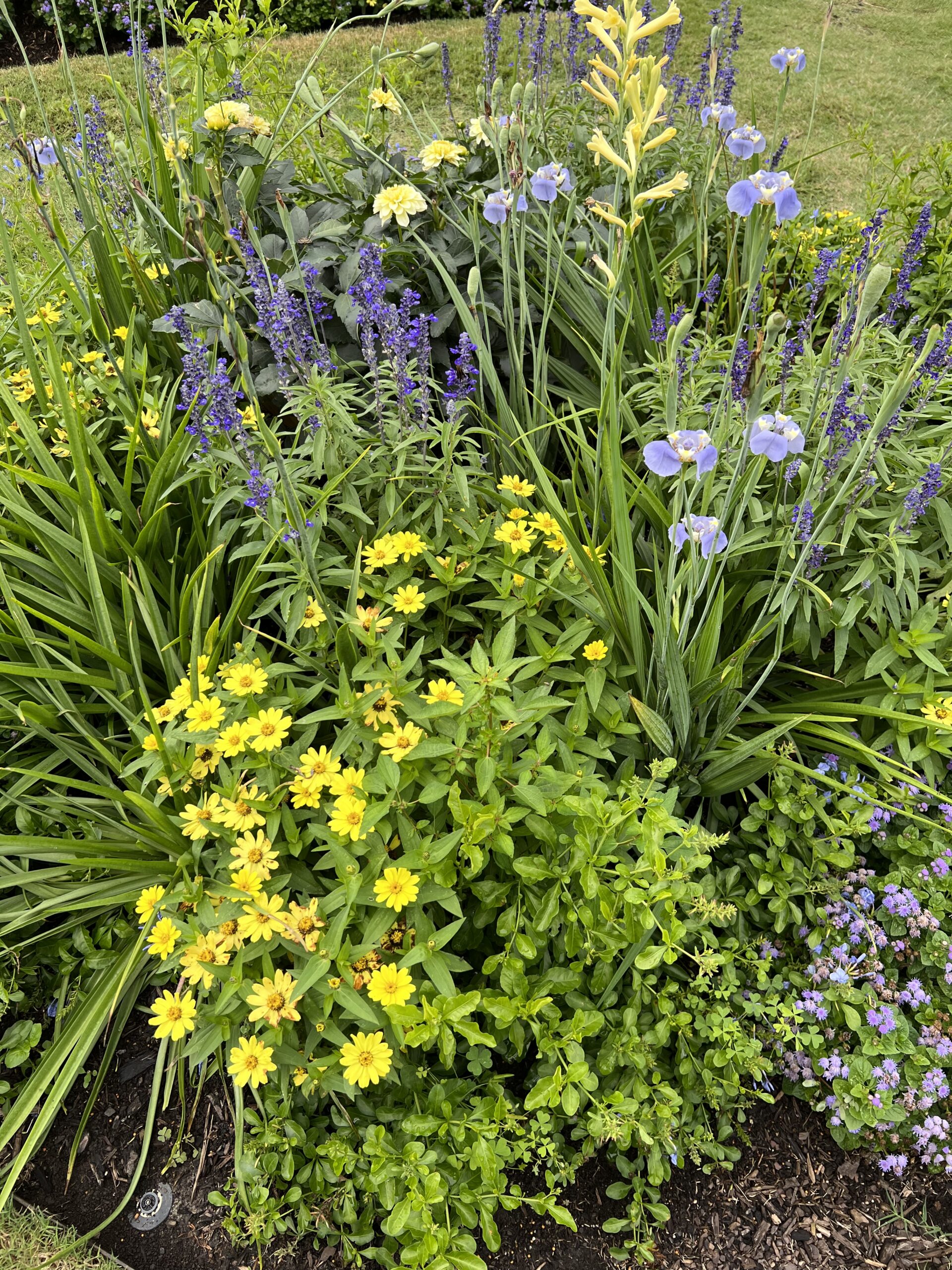 The yellow and blue planting is a magical color combination!
A beautiful cloud sweep of black-eye Susan (Rudbeckia fulgida, Zones 3–9)
Salvia uliginosa (Zones 6–9) provides clouds of soft blue flowers.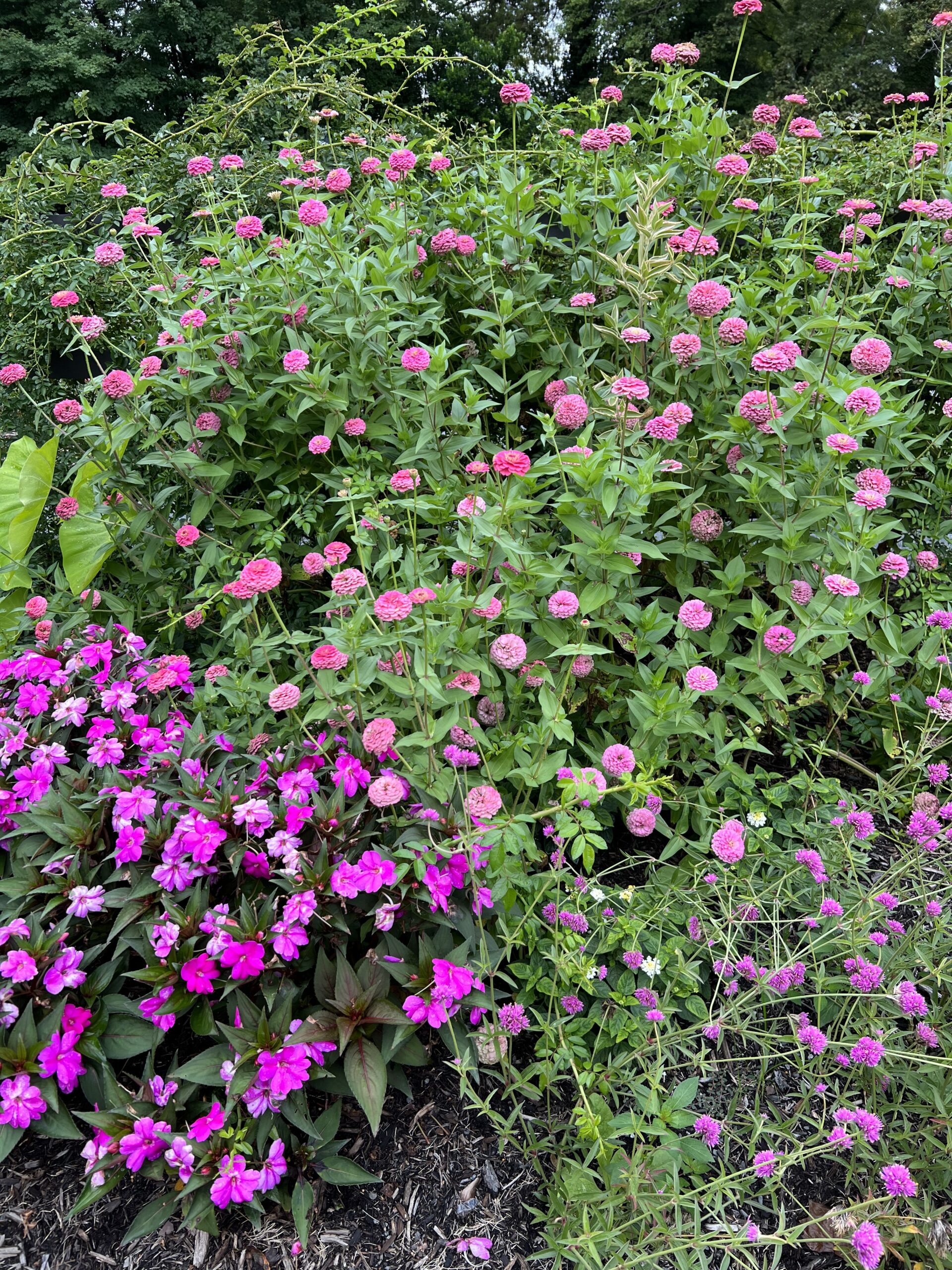 A magenta combo of zinnias (Zinnia elegans, annual) and impatiens (Impatiens hawkeri, Zones 10–11 or as an annual)
Have a garden you'd like to share?
Have photos to share? We'd love to see your garden, a particular collection of plants you love, or a wonderful garden you had the chance to visit!
To submit, send 5-10 photos to [email protected] along with some information about the plants in the pictures and where you took the photos. We'd love to hear where you are located, how long you've been gardening, successes you are proud of, failures you learned from, hopes for the future, favorite plants, or funny stories from your garden.
Have a mobile phone? Tag your photos on Facebook, Instagram or Twitter with #FineGardening!
Do you receive the GPOD by email yet? Sign up here.