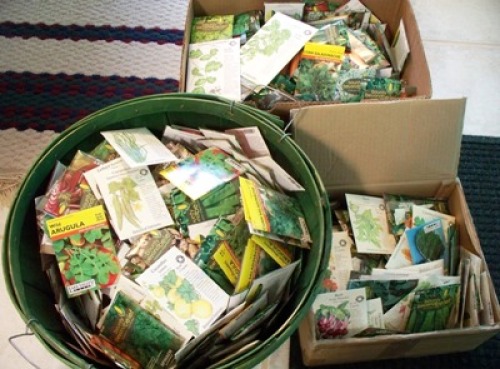 Colorado's Plant a Row for the Hungry effort got a big boost this year when three Boulder-area seed companies donated over 2000 seed packets for the effort. Volunteers packed the seeds, donated by Botanical Interests, BBB Seeds, and Lake Valley Seed, into garden starter kits to give to gardeners who want to help.
This is my second season for volunteering to lead the Denver Metro area campaign. This weekend we'll have groups of volunteers at three kick-off events spreading the word about the people-helping-people program and handing out 300 garden starter kits.
The beauty of the Plant a Row (PAR) campaign is that anyone can join in. It's called Plant a Row for the Hungry, but gardeners don't have to plant an entire row. A few extra vegetable plants will do nicely.
The Garden Writers Association is the national organization behind the campaign and hundreds of communities across the country participate every year because the need is so great. According to the association, more than 49 million Americans live in households that experience hunger or the risk of hunger daily.
In the two years I've been involved with PAR, I've never had to twist any gardener's arm to plant and donate. Gardeners understand the long tradition of sharing their harvest with others.
It doesn't matter whether they grow in a balcony container garden or a large community garden, the gardeners I've met know how important it is to donate fresh produce to help feed hungry households. It's also a wonderful way to get rid of the extra pounds of zucchini at the end of the season.
Even if your community doesn't have an organized PAR effort, you can join in, too. All you have to do is plant a few extra vegetable, herb or fruit plants and deliver the harvest to a food pantry, soup kitchen, or food agency near you. Every single donation helps someone.
No matter where you live, you're welcome to join the Plant a Row Colorado campaign. We'd love to include you in our growing and giving effort. Please join our community on Facebook and let us know what you'll be planting.