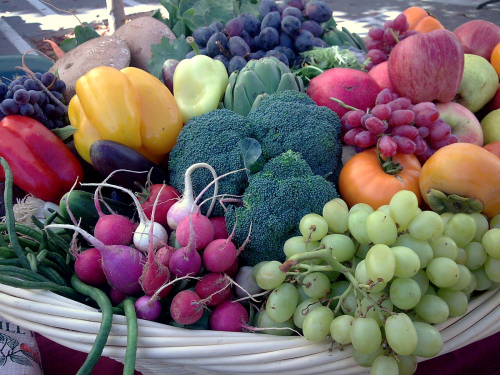 Years ago my son's friend was at our home hanging out. This kid may have been in 6th or 7th grade, and he said something referring to dinner that struck me as odd. So I asked him a couple more questions before I realized that he was quite hungry. I asked him if he'd had anything to eat that day, and he said that his dad didn't have any money and there was nothing to eat in their house.
Then he said, "It's OK. My brother and I drink sugar water, so we're not hungry."
Wait . . . what?
Aside from the many reasons that fruit and vegetable gardening is so good for us personally, we're also capable of sharing the bounty with others—which is also very good for us.
Most of the gardeners that I know experience at least some overabundance when it comes to their gardens and may find it challenging to put it all to good use. Sharing vegetables and other produce with the community is an eye-opening experience for the whole family.
Fresh food can be offered to extended family, friends, co-workers, and neighbors. But beyond the obvious, millions of Americans are going hungry on a daily basis in our own neighborhoods. Don't believe me? Call a food pantry near you and ask for numbers, or ask the school district to tell you how many kids in your area eat only one meal a day—the one they get at school.
I'm not trying to depress you; I'm just trying to let you in on something that you may not have realized was going on all around you. I had no idea that my son's friend and his brother weren't eating.
I was going to share some statistics, but I tend to find them rather cold. I don't think that statistics allow you to feel painful stomachs. But I will mention that millions of children in the United States suffer from chronic undernutrition, the underconsumption of essential nutrients and food energy. We're all aware that nutrient deficiencies can lead to serious health problems, including impaired cognitive development, growth failure, physical weakness, anemia, and stunting.
But forget impaired cognitive development. People are hungry. People shouldn't go to bed hungry.
Where to Bring Extra Produce (or Any Other Food)
Your local food bank or pantry. Ask local food banks if they take fresh produce (many do, some don't). Bring your kids.
A local church or community group. In town, we have a church group that servers dinner to anyone who needs it every single day—365 days of the year. They need fresh food. You may have something similar that's put on by a church or other community organization. Find out.
Local senior center. Senior centers might be thrilled to receive fresh produce! They might also need some help preparing meals. What if you planted a garden with them?
Plant a row for the hungry. This is a wonderfully simple yet effective food program, and I hope you'll check it out. The Garden Writers Association Foundation has a program called, "Plant a Row for the Hungry." This program has already supplied over 14 million pounds of produce to those in need throughout the United States and Canada. Guess how they did that? Yup, one gardener at a time. Look them up and find a PAR campaign in your area. All you do is plant one row of veggies that's specifically for sharing with a food panty. If you're interested in starting a Plant a Row for the Hungry campaign in you area, please contact the Garden Writers Association Foundation.
This growing season, consider feeding your community.