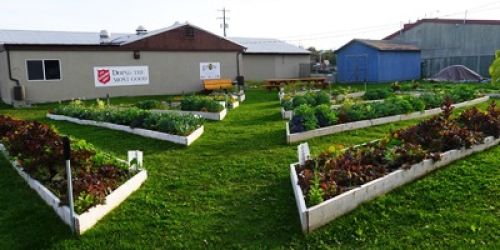 Ever since I started organizing a local effort in Denver for the national Plant a Row for the Hungry campaign in 2010, I've been heartened by the hundreds of individual gardeners who participate every year.
I've also watched as more community and school gardens also embraced the idea of growing and giving fruits, vegetables and herbs to help feed their neighbors in need.
But on a recent trip to Palmer, Alaska, I saw a different kind of giving effort. On the grounds of the Salvation Army's office, at a busy intersection, there's a vegetable garden that encourages folks to harvest what they need.
The raised beds are planted with fruits, vegetables, herbs and flowers that make the garden as beautiful as it is edible. There are different colors of lettuce, kale, Brussels sprouts, strawberries, leeks, nasturtiums, celery, Swiss chard, cabbage, collard greens, chives and more.
There are also little pairs of scissors, conveniently anchored to each bed, for snipping and clipping whatever is desired.
The garden is part of a grassroots movement called "Grow Palmer" and funded by grants. Sponsors include the Salvation Army, the Mat-Su Health Foundation, Sustainable Design Group, Valley Garden Club, the City of Palmer and Job Corps. 
A sign at the site encourages anyone and everyone to harvest responsibly by "taking only what you need and the time to pull a weed." 
While I was there, I saw one visitor use the scissors to harvest a plastic grocery bag full of red leaf lettuce and then pull several handfuls of weeds to add to another bag. 
The Grow Palmer effort is evident throughout the town, too. Containers of fresh herbs and vegetables dot the streets, just waiting to be picked. "Grow Palmer" signage means the harvesting is free.
At the end of the season, volunteers gather at a Harvest Party to put the Salvation Army vegetable garden to bed. That last harvest is donated to local food pantries and Senior Services. Then the planning begins for the next planting that starts as soon as the garden thaws in spring.