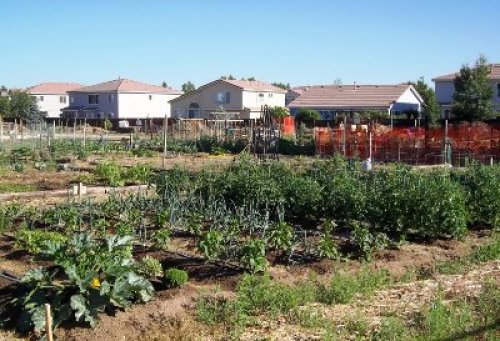 This year marks my fourth season as a volunteer coordinating Denver's Plant a Row for the Hungry campaign. Last season, gardeners here donated 4890 pounds of fresh vegetables and herbs to 16 different food pantries. That's almost 2 ½ tons of vegetables to help feed hungry families.
Individual gardeners certainly did their part and donated generously from their home gardens, but it was the combined effort of community gardeners that filled many bushels to boost the total.
Plant a Row is a simple concept started by the Garden Writers Association years ago: encourage gardeners to plant a little extra and ask them to share with others.
If you have a plot in a community garden, I hope you'll join us in our efforts. You can participate on your own or you can get other gardeners involved. Here are the basic steps for starting a vegetable donation program in your community garden:
Ask for help. Gauge the interest of other community gardeners either individually or in a group meeting.
Find a pantry. Look for a food pantry near the garden and talk with the coordinator to ask if the pantry can accept fresh produce, drop off days and times, and what kind of produce is need the most.
Create a donation plan. Share the pantry information with other interested gardeners and write an action plan. Decide how vegetables will be harvested, cleaned, collected and stored. Decide who will be responsible for delivering the produce. Try to make the process as simple as possible to encourage gardeners to participate.
Track donations. Gardeners like to stay involved by knowing how much produce is being donated. Weigh and record donated produce weekly or as often as collected. Post the totals on the community board or start a Facebook page.
Celebrate. Plan a celebration at the end of the season to recognize the contribution of all the gardeners.
The Garden Writers Association has more ideas for starting a Plant a Row campaign in your community.